Oily skin is the type of skin which produces too much sebum(oil). The face has a greasy appearance , especially after waking up. Your face will become shiny after a few hours after you washed it. It is characterized by large visible pores as well. This type of complexion is prone to acne and skin problems due to the activity of the sebaceous glands.
Skin challenges includes :
breakouts
uneven skin tone (sun damaged skin)
large pores
razor bump prone
Combination skin is a mixture between oily skin and dry skin. The skin produces excess sebum(oil) on some parts of the face and doesn't produce enough on others. Usually the oily part is the T-zone, meaning the forehead and the nose area, leaving the cheeks and chin dry. The pores are more visible in the T-zone and less visible on the dry parts of the skin
Skin challenges includes :
breakouts
dry flakey skin (fine line, wrinkles)
uneven skin tone
razor bump prone
Dry skin is the type of skin which doesn't produce enough sebum (oil), leaving the skin matte. You will experience tightness especially after washing your face with water. Dry skin is caused by the skin protective barrier's inability to retain enough natural skin lipids or oils to keep skin moist. A weakened barrier is often hereditary but occurs naturally as we age and can be accelerated with lifestyle
Skin challenges includes :
dry flakey skin
advanced aging of the skin
easily irritated skin
uneven skin tones
MORE ADVICE BELOW —-> CONTINUE READING MORE >>>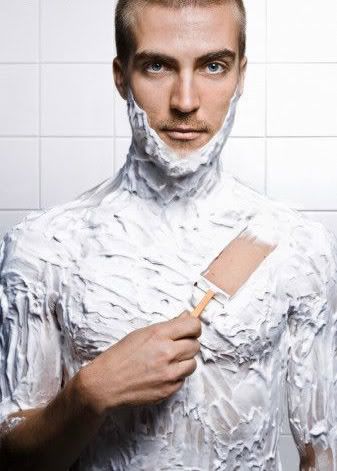 There are many options to removing your unwanted hair….
Please note: Most African-American males have to put more care into shaving. Here's some shaving advice for African-American males… (this mainly is for facial hair).
Applying a shaving lotion after shaving will reduce the appearance of redness. This is also great for women after shaving legs, bikini lines and underarms.
Be sure to always use a clean blade when shaving with a razor. This can be best achieved by only using new blades and discarding ones that have been previously used three or more times.
If you use an electric razor, replace the rotary blades or foil after a few months. Of course if you're required to shave daily, you may have to replace them sooner. This can be a headache since many rotary blade components cost more than half of what the entire razor is worth.
While shaving with a handheld razor, always shave in the direction of hair growth. Most hair on men's faces, slant downward, so be sure to shave in that direction. This is also important around the neck areas since shaving against the grain is one of the main causes of pointy, sharp hairs that can burrow back into the skin.
Don't stretch your skin while shaving. Pulling your cheeks, chin or neck while shaving in order to get a closer shave, can cause darkness and discoloration of underlying skin tissue. This is especially true for light and fair-skinned Black men who have dark, prominently textured hair.
Watch what you eat. A lot of skin irritations may subside if certain foods are avoided. Fatty foods, foods containing oils, cholesterol and sodium, can make your skin more susceptible to damage while shaving.
Give up on razors and use a depilatory. Depilatories work well on most skin, but not on all. They can remove facial hair in a matter of minutes, but just like blade shaving, can cause a bit of irritation and redness. Be careful not to use alcohol-based aftershaves or creams immediately after using a depilatory. Mixing the two is like throwing flames onto your face.
Grow a beard. This may not be the best solution for those required to shave daily, such as the military and other business professions. But if you can swing it, why not? You will totally eliminate the razor bump worries and ingrown hair issues. Even better, you can get rid of those sharp blades!
More advice (some tips may repeat).
• Always use a sharp razor blade and discard old blades after 4-5 uses. You might think this is excessive, but dull blades force black men to go over the same area of skin again and again, increasing the chances of irritation and improperly cutting hair. This goes for electric razors, too: replace the blades after every few months of use.
• Reduce your number of shaves by shaving every other day. Giving the skin time to heal will allow hairs to grow straight through the skin's surface, without forcing too-short hairs back into the skin. Frequent shaving too close to the skin will trap hairs inside the follicles.
• Exfoliate! Exfoliating with a gentle scrub removes the top layer of dead cells and allows hairs to grow out more easily. It also helps soften skin, clears pores and evens out patchy skin tones.
• Many African-American men benefit from using a single-blade razor, or a DE razor. One doctor said, "I highly dissuade patients who suffer from razor bumps from using triple or quadruple blade razor systems. The closer the shave, the worse the razor bumps will be."
• Always shave in the direction of hair growth. While shaving upward seems to give a closer shave, shaving in the hair's direction reduces irritation and the likelihood of hairs growing back into the skin. Don't pull skin taut when shaving since this can also cause ingrown hairs to form.
• Soften hairs before shaving by massaging warm water into the beard area and then applying a professional-grade, highly-lubricating shave creme. Allow it to sit on the face for a minute or two to completely coat hairs before shaving.
• Follow a shave with an after-shave solution that contains hydrating ingredients like aloe, witch hazel and tea tree extract like a post-shave repair creme to cut down on redness and discomfort. Stay away from products that contain alcohol since this can dry skin out and provoke an ashy appearance in black skin.
• Resist the urge to simply pluck ingrown hairs out. A new hair will just grow again, and you'll be facing the same exact problem.
• Most importantly, take your time when shaving. Everyone's been guilty of the 30-second shave on Monday morning, but shaving slowly and with care can dramatically reduce nicks, cuts and abrasions that can aggravate razor bumps.
• If you find that you are suffering from severe cases of inflammation or razor bumps, talk to your doctor or dermatologist. You may be a candidate for electrolysis (a low-level current is used to destroy follicles) or skin depilatories (chemical creams that soften and minimize growth).tips via menscience and mybrotha
Don't forget to moisturize as well- especially in the winter.
For some reason somebody created the myth that men don't need to do worry about skincare… "Lever 3000 and Suave is all I need" are words that have been echoed by many- and I must say, "It's sad, oh-so sad". A man doesn't need 20 cremes to take care of his skin, but please guys you can do better than Lever, Suave, and Old Spice.
First off everyone has a different type of skin, some of you may have really dry skin while others may have really oily, sensitive, normal, or problem skin- it's important to realize what type you have. Once you realize it you can buy products that are best for your type of skin.
There are a few key products that most men should use and own:
1. Palmers Products: Shea, Cocoa, or Olive
The realness of it all is that Shea Butter, Coca Butter, and Olive Oil are GREAT for the skin of people of color. If you want smooth, bump-free, stretch mark free (yes men get stretch marks too, especially if you work out) then it's all about these products. Palmers has the best range of products from oils to lotions to cremes to soaps they have it all. And the price of their products are great!
Where to buy: Walmart, Target, Walgreens (most drug stores), and online.
Try this:
After washing your body in the shower, rub some Palmers Coca butter oil on from neck to toe then rinse it off. And once you step out the shower dab yourself dry instead of harshly rubbing the towel against your body… I promise you'll see a difference within a week or so.
2. Jack Black Products
They have such a comprehensive range of products that fits all skin types and complexions. There are many men who absolutely swear by Jack Black (I've met a few).
Where to buy: Nordstrom, Bloomingdales, Sephora, and online.
Try this:
After washing your hands put on some Jack Black Hand Healer. It's the perfect product for men who work out alot and have rough hands from lifting weights, it's also great for guys who always work outdoors or have jobs that leave their hands rough and dry. I suggest carrying some in your car and having one at home.
3. The Art of Shaving
Oh how I love the name… it just sounds like it's good, huh. Like Jack Black, The Art of Shaving carries products that are great for all skin types. But the difference is that this brand specializes in products for shaving, every gentleman should own atleast one Art of Shaving product.
Where to buy: The Art of Shaving Store, Nordstrom, online.
Try this:
Many men, especially men of color, tend to get ingrown hairs and lots of bumps when shaving.
If you run into this issue then dab some Ingrown Hair Night Cream before going to bed.
Other Good Products:
4. Lab Series
5. MenScience
Try these:
Buy it online from labseries.com
Buy it online from menscience.com

For ALOT more Men's Skincare products go here.
*BEST SKIN CARE PRODUCTS FOR MEN
What are your favorite skincare products?