Not too long ago, we covered the undeniable great stylings of White Collar's Neal Caffrey (Matt Bomer). Another USA star, whose style is pretty impressive is Covert Affairs' Jai Wilcox, real name Sendhil Ramamurthy.
I remember writing the Men's Hair Guide that displayed hair inspiration photos of several celebrities with various hair types. Moreover, I remember getting a comment from one T.U.G fan who was a little disappointed in the examples of Indian stars, saying he wanted better examples… I guess Kal Penn and Aziz Ansari wasn't cutting it, lol. It was an understandable comment, although let me just once again express how magnificently hilarious Aziz Ansari is– who doesn't love that guy? But anyway… Senhil Ramamurthy, though not initially on my radar has made his way there after I watched an episode of Covert Affairs. And he, dear T.U.G fan who wanted better examples of indian-american hair, is quite the dapper gent… Sendhil has plenty of hair examples for you to indulge in. Matter of fact before going on about his style, let's have an interlude to check out a few of his past hair styles/hair cuts…
Great grooming, huh? There's plenty more photos below.

Chicago-born, Texas raised Sendhil Ramamurthy definitely has a very relaxed, casual sense of style. Perhaps that's brought about by his Indian roots or even likelier, it's a side-effect from all that tennis playing (he's a great tennis player). Either way most of the time you will find Sendhil in a crisp pointed-collar button-up modern-fit blue or gray suit, and of course– no tie ( yes he's one of those guys who prefers to forgo a tie). Similar to his red carpet looks, when Sendhil is playing Jai Wilcox, former Yale Lacrosse players, on Covert Affairs he's often styled in navy or gray modern-fit suits as well, but with matching ties of course.
It's been said that Sendhil Ramamurthy is a very private person, so the paparazzi barely ever catch him out, but when they do he's often sporting a simple polo (sometimes Louis Vuitton), medium-blue wash denim, baseball cap, and shades (he's a fan of Lacoste eyewear).
Get Sendhil Ramaurthy Style below:

More Photos Below —> CONTINUE READING MORE >>>
men's street style espadrilles

Our next featured style essential? Men's espadrilles… the perfect summer kick-around shoe, along with your canvas lace-ups of course.
And this year designers and brands have really expanded their espadrille offerings, they're not just offering the basic slip-on anymore… we've got high-top espadrilles, lace-up espadrilles, suede espadrilles, even leather espadrilles.Check it all out below:
Check out the complete Spring Summer Men's Style Guide, here.
More Espadrille Street Style Below –> CONTINUE READING MORE >>>
A few gift ideas for Father's Day 2011.
Another holiday is around the corner– this time Mother's Day. Of course, as always, we have you covered with a gift guide.
The best way to approach gift giving to a woman, or just in general, is to think about what the person's interests are and to simply think back to what they've said they've needed… what's that one thing your mother or wife has been nagging you about? If she has everything she needs, what's the one thing you know she wants? Maybe she's been saving up for something– a new camera, a certain designer dress, well go ahead and get it for her so she can have the gift and keep the money she was saving.
Thoughtful gifts always get the best and most genuine reactions, they show you've been listening and paying attention. For example, if your mother or wife is going back to school– maybe get her a new laptop. And lastly, if she truly does have most things she wants and needs just get her something that fits her personality– if she's into fashion get her a new handbag, if she likes to "feel pretty" get her jewelry and perfume, if she likes unique things, something sorta out of the box– maybe an ice cream maker. Skies the limit, but we have a couple of ideas below in our…
Mother's Day Gift Guide:
Also, check out eBay's Mother's Day Gift Guide if you're on a budget.
-or- Mother's Day Gifts on Amazon
if you're in need of one-day shipping.
And you know we had to top of this post with the #1 classic Mother's Day song:
"A Song for Mama" by Boyz II Men
photo from SmallRoots

A little while ago, we got an email from Barneys New York wanting to interview The Urban Gentleman for Barneys.com. And of course being the historic and iconic store they are we were very obliged and honored to do so. Check out "The (anonymous) Urban Gentleman" interview, as they playfully say, HERE.
We're excited to be one of the very first men's fashion features, on, or should I say "in" the famous Barney's Window. Side note: I didn't know there was so much "mystery" around The Urban Gent team, lol, but for those who don't know us: Kanayo King, Cindy Samoht, ( <— we're the main two) and there are a small handful of contributors (and a meticulously expanding Urban Gent family) who help make The Urban Gentleman possible. (special thanks to Jean and Max).
More Below –>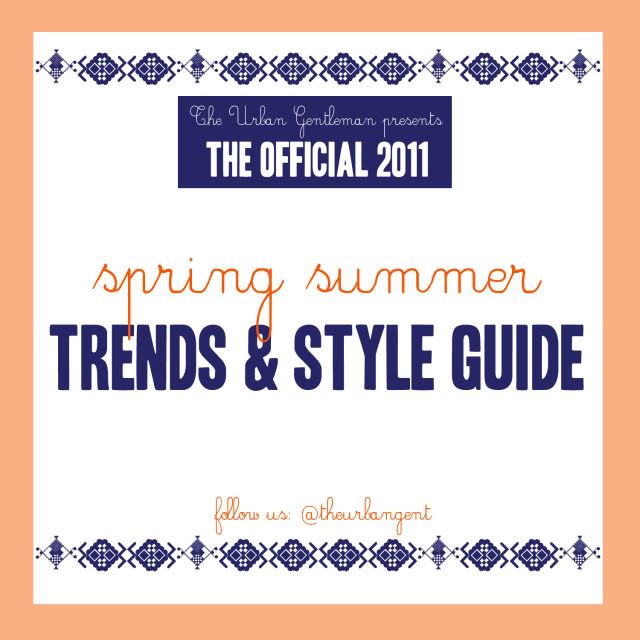 The world of men's fashion has really matured over these past few years, and the trends certainly reflect that. Baggy to extra-skinny to "fits just right", no accessories to over accessorized to "masculinely accessorized just the right amount", but best of all I feel like we've finally managed to combine the styles of different cultures and decades to create a sort of modern day celebration of men's fashion. And this season's trends continues this celebration…
Presenting The Official Men's Spring Summer 2011
Fashion, Trends, & Style Guide.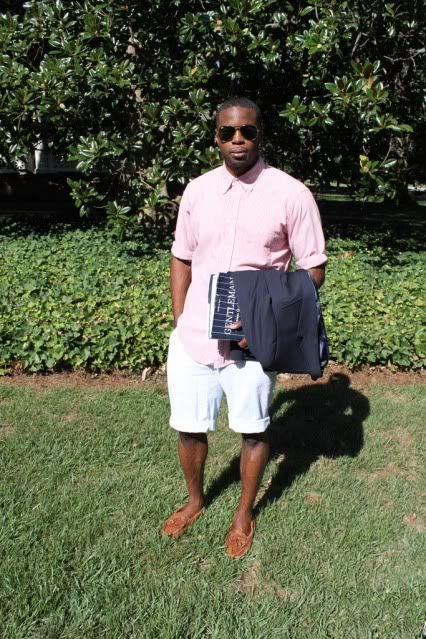 Insouciant Prep. We've been internationally prepping it out for a minute, and now it's just our lifestyle so we can be more relaxed with it. You don't have to be bow-tied, striped socked, oxfords with matching vest and pocket squared-up for every single look. Keep it simple– button down with rolled up sleeves, shorts with a print of some sort, and deck shoes or loafers worn sockless.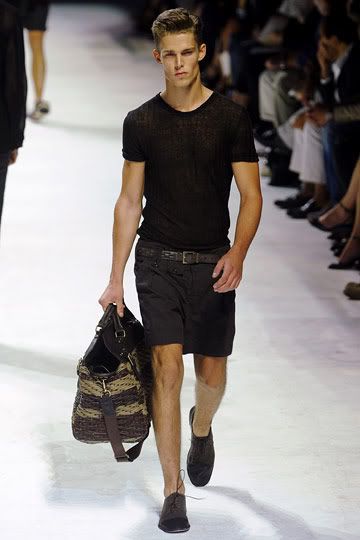 Dolce and Gabanna

Summer Black. Even more consistent than white, designers flooded their Spring Summer 2011 shows with black. Simon Spurr, John Varvatos, Louis Vuitton, Burberry, Y-3, Balenciaga, Yves Saint Laurent, Jeremy Scott and the list goes on. So when you're feeling "New York" or just a little moody– as Jay-Z said, opt for "all black everything", black shirt, black shorts, all black everything.
Get the Look: SUMMER BLACK look book, HERE.
Michael Bastian

City Refined. It's simple classic urban gentleman type dress, but adapted to the summer sun. Basically being spiffy and immaculately well-groomed wherever you go. Casually wearing well-tailored suits more than the average guy, loafers and oxfords even in casual settings. Double breasted blazers and crew neck shirts, paired with trousers that show a little ankle and shoes that compliment.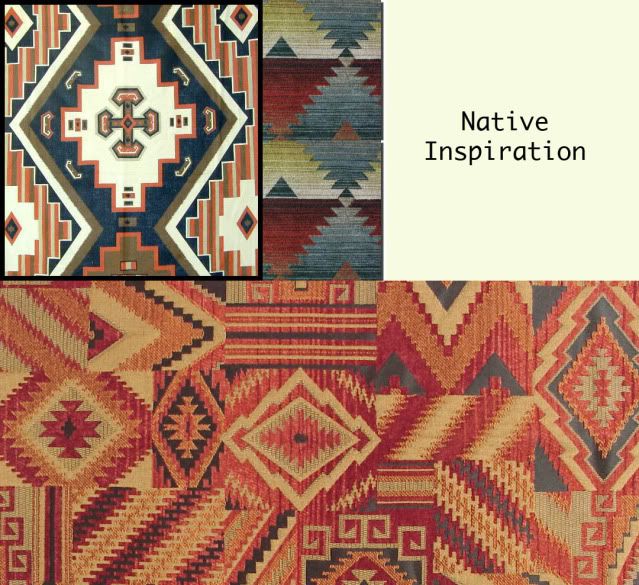 Native Inspiration. Whether we're talking cowboys and indians or Aztec, Mayan, and Inca civilization being inspired by the natives of North, Central, and South America is probably my favorite trend of the summer. The fashion elite, both male and female, have made native prints their new plaid. And because of its lack of being in many designers collections (for men) and the sheer fact that many folk just don't know how to coordinate native prints, you won't see everyone walking around in it (which is a bonus). The best way to approach this trend is to keep it simple by focusing on collecting specific native pieces– a vintage Navajo print blazer, an Aztec patterned rucksack, even a bolo tie.
MORE TRENDS & ESSENTIALS BELOW –> CONTINUE READING MORE >>>