Hey TUG Family we recently had a feature in American Express's new online magazine – AMEX ESSENTIALS. Check out our fashion and style contribution to their December Issue, here.
The Urban Gentleman for AMEX Essentials
The beauty of simplicity should be
embraced
, especially when it comes to winter fashion. While the winter is a wonderful time to layer up, it's easy for some gents to go overboard on the layering — long-sleeve shirt + vest + sweater + coat + scarf + gloves + hat + earmuffs + glasses + well, you get what I mean. Some people wear their
entire
closet… don't be one of
those
people.
Over at
The Urban Gentleman
we've deemed it
"The Year of Cashmere"
, it's our sweater material of choice for 2015-2016. Yes, it's a bit more expensive, but it's super soft, fits the body well, and most importantly keeps you MUCH warmer. The additional warmth that a cashmere sweater provides will help streamline your
winter layers
silhouette, transforming you from stout to svelte.
Try this look under your coat:
crewneck cashmere sweater + straight or tapered fit denim + tassel loafers = an Urban Gent winter style win.
AT&T x The Urban Gentleman Holiday Giveaway
12 Days of Giving #ATTGiftSweeps
We've teamed up with AT&T to bring Urban Gentleman readers our first 2015 holiday giveaway #TUGiveaways… a brand spankin' new Samsung Galaxy S6 Edge+. Yea bruh… only the best for our loyal TUG fans. AT&T is running a 12 Days of Giving campaign (started Monday) and we're happy to be apart of it.
To prepare for the giveaway I was able to experience the Samsung Galaxy S6 Edge+, and overall it's hands down one of the most beautiful phones on the market right now. The gold case, the beautiful screen spilling over like an infinity pool, vibrant colors… seriously, it's nice.
THE REVIEW.
I went snowboarding and skiing in February with a group of friends, one of which is an avid Samsung gadget collector. My friend sported both the Samsung Watch and the Edge. He was showboating a little, but I had to go ahead and admit that the phone was gorgeous. I'm happy to be able to experience it, see The Urban Gentleman review below:
LOOKS: Beautiful… the Samsung Galaxy Edge is the infinity pool of phones – it's modern, luxurious, and attractive. The large 5.7 inch HD screen, vibrant color, and clarity are everything… it almost looks 3D.
DURABILITY: I've found Samsung Galaxy's to be very durable in general– my S4 was dropped on several occasions and never cracked. The S6 Edge Plus suffered it's first drop this morning, face down on a granite floor — I'm happy to report it's still pristine. That said, I'm always sure to have a case and screen protector on my phone.
EDGE:
The edge feature is the highlight of the phone, hence the name. My first few days of having the phone I didn't really do much with it, besides admire it of course, lol… then I decided it was time to learn the Edge. With a few back and forth swipe motions you're able to view the time, your alarm, weather, and any notifications you have set up (texts, emails, etc). You're also able to have folder like tabs for your main contacts and apps.
MORE STATS AND FEATURES:
The battery changes super fast– fully charged in an hour, for the win! 4GB RAM Memory, Storage in 32GB or 64GB. 16megapixel camera. Mobile wallet – so you can keep your cards at home and just carry your phone. And of course, tons of apps.
CHANGES: With all its beauty and perks it doesn't have a removable battery and SD card slot, which is a bit of a bummer. Buuuut that's been standard fair in the world of iPhones for years, so really its not the biggest deal.
Overall we're definitely fans of the edge. After visually swimming in an infinity pool, it'll be hard for my fingers to go back to the regular.
Check out the
A
T&T/Samsung Holiday Gift Guide, here.
In the spirit of giving, I was asked to mention an item that I've re-gifted. That got me thinking… hmmm, I don't think I've ever re-gifted something, but I'm not opposed to the idea. If the items is worth giving and you're pretty sure the receiver will be happy then it's a win. You've saved money, you've saved time and energy, you cleared up some space, and perhaps reduced your carbon footprint just a little.
I have a new luxurious chocolate colored cashmere cardigan sweater I was given a couple years ago that's just sitting in my closet… I think I'll be re-gifting that this year. What's your take on re-gifting? Have you ever done it and if so what?
How To Win the Samsung Galaxy S6 Edge Plus: Follow us on all social media, repost a link to this article, and comment below on re-gifting. Contest starts Monday, December 7th and will run until Monday, December 14th.
Cologne Convenience: The Scentbird Men
Scentbird Men is a subscription cologne provider that delivers your favorite cologne to your door for $15. There are alot of subscription services out there these days, but sometimes it's hard to commit to one– many of us barely want to subscribe to magazines. However, I think with grooming items, like cologne, it's easier.
For most, cologne is a staple in our grooming collection, so Scentbird Men is a natural fit. You'll especially become a fan if you like to switch up your fragrance and try new ones. Scentbird has over 350 colognes to choose from monthly: Gucci, Dolce and Gabanna, Hermes, Burberry and many more. You get a bottle of cologne that lasts 30 days or 120 sprays (4 per day), then right around spray 100 or so you'll get your new bottle.
Decluttering your Grooming Products.
Between the special facial cleansers, beard oils, and hair gels men are starting to have just as many products as women. So I like the fact that this can help you become a little more minimalistic. Instead of a tray of 3, 4, 5, 15, or so colognes sitting on your dresser or window sill there's just one. Plus, the bottle is small so it's also very easy to carry around you could have it in your car or gym bag.
What Scents Should I Try?
For some of you this is easy– you're faithful to your top 3 colognes that you keep in steady rotation. On the other hand if you're unsure about which colognes to choose then take a trip to a large retailer to do a little "cologne window shopping". Test a few fragrances, remembering to sniff coffee beans in between (to refresh your palette), and write down your top 4 or 5. This will provide you with the perfect Scentbird List to start with.
For my first bottle I chose YSL L'Homme. It arrived quickly and securely in Scentbird packaging. I worried about whether or not the fragrance would be as strong as the traditional bottled version, and after a week of using it I can luckily say it is. Next month I may go for Tom Ford.
LAYRITE: DELUXE POMADES & HAIR PRODUCTS FOR MEN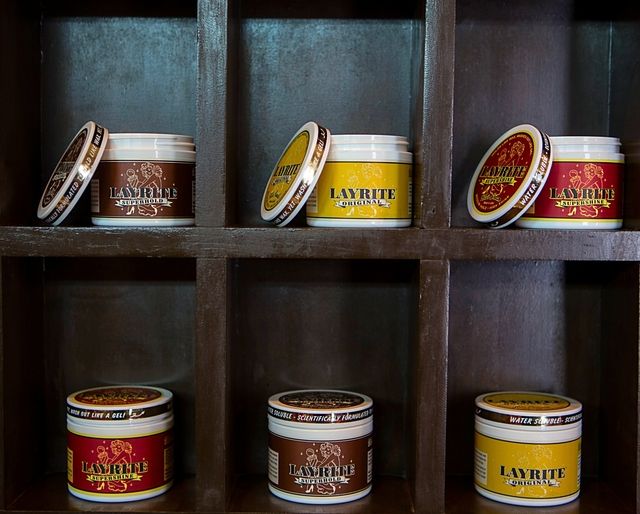 Summary of LAYRITE Products: This is a really great hair care line for the guy who doesn't care to spend a long time in the mirror, but wants to look good. These products offer all day hold without the stiffness of other gels or the greasiness of some pomades. I personally vouch for these products and appreciate the compliments I get because of them. Sidenote: there's something for all hair types. We got to try three products: Original, Superhold, and Supershine.
Below are individual reviews with the following information: 1.)Feel/Application 2.) Immediate Results 3.)Short-term/Long-term Results
Original: 1.) Feels like a solid gel but not sticky like most pomades 2.) When put in damp hair, it dries light and clean 3.) Holds for most of the day with my coarse hair type so I had to reapply, but there's no greasy feeling which is a plus.
Superhold: 1.) Feels a lot like the Original 2.) Also feels light 3.) Although this looks and feels like the Original, it definitely offers better hold. No reapplication necessary.
Supershine: 1.) Feels creamy and has a nice smell. 2.) It immediately gives the hair a shine that's neither overpowering nor greasy looking 3.) The shine is long lasting and also leaves the hair feeling soft and moisturized.
You can find these and other LAYRITE products here.
Chike for The Urban Gentleman
The Urban Gent x Jeffrey Rudes
Lately we've been prepping you for the cold weather – a couple of Fall looks to sport with your dog, our favorite scenic sweaters, and of course, a declaration that one of our chosen sweater material. We were sent a beautiful luxurious camel hair and wool sweater from designer Jeffrey Rüdes, who has just opened a store at 57 Greene Street in SoHo, New York.
The new flagship store
Iconic denim designer – Jeffrey Rudes
Jeffery was the creator of J BRAND – a premium denim brand. He sold J BRAND in 2014 to start his new namesake brand – Jeffrey Rüdes. And although he's no longer singularly in the denim business, his new line is meant to compliment it. A nice pair of jeans can accompany many pieces in his collection. You don't have to, of course, but you can and you'll look good doing it. So naturally, that is what we did with our Rüdes winter knit.
Perfect fit and very soft
An ivory crew neck sweater is the perfect winter neutral. With dark skin it'll beautifully contrast, with paler skin it'll beautifully blend – almost like a nude. Both perfect palettes for this winter season. Get this winter staple, here.
We paired our ivory wool and camel hair sweater with dark gray denim and brown tasseled loafers. This gave us an elegant, mature, neutral palette. The sweater would also look great if paired with matching ivory jeans and black velvet loafers -or- straight fit blue denim and your favorite pair of classic white kicks. How would you wear it?
See more of the Jeffery Rüdes collection here.
Ooo, you feel that breeze— it's a little chilly outside. Shorts move to the back of the closet and sweaters to the front. Well, actually, we've joined the
Kondo movement
so shorts can stay where they are… but multi-seasonal closet organization aside, sweaters are what we are about to move into our daily rotation. The thing is though, this year is the year of cashmere. Our crew necks and shawl collars aren't simply sheepswool or cotton, we've upgraded to grown man status. Pass the cashmere please.
And to get us started on our new winter fabric of choice, we introduce Naadam Cashmere. Naadam is looking to bring out the inner nomad in us all. You see, Naadam isn't just your typical luxury cashmere sweater. They fall into that category, of those people, you know the ones that insist on being socially responsible and supporting the actual economic growth and livelihood of a particular group of people? Yea, those folks. And in this instance that group of people are nomadic herders.
So we've chosen to experience 3 responsibly sourced Italian-made luxury cashmere sweaters to show our Urban Gent family. The cashmere cardigan, the cashmere high neck (turtle neck alternative), and the cashmere coatigan – all stylish and ready to keep you warm for many winters to come.
S W E A T E R O N E
RIBBED CARDIGAN: A cardigan is an essential in any persons closet. This ribbed cardigan serves as your everyday sweater— dress it up or down. Wear it to walk your dog or to go out on a nice date, it's versatile, flattering, and super comfortable.