It's the beginning of the year and the coldest part of winter is about to hit. So, we wanted to suggest a few under coat layering options. I styled 3 looks on TUG ambassador Ben Swann to pay homage to early 1900s America, mixing hard edge workwear with southern sensibilities.
A Man's Winter. So what is a man's winter? It's stylish, yet simple. Detailed, but not ostentatious. It's a layered tribute to his favorite styles. And it provides the opportunity to showcase his entire essence in one glance.
1: Desert Bixby
Faded desert palette meets good ole boy. Stag Provisions, the company that provided our threads, is a Texas based company, so we mixed in a of bit southwest flavoring for the first look. The sandy coloring of the entire ensemble, the shirt pattern, and of course the desert boots gives us SW. While the shawl collar sweater, argyle socks, and fedora gives us classic casual 1950s southern gentleman.
I especially love this look without the cardigan… its so simple and refreshing. Although many of us naturally wear dark colors in the winter, lighter hues display beautifully in crowds full of humdrum gray and black apparel.
WINTER COAT: This look should be paired with a classic peacoat – navy, olive, tan, or beige.
Scroll the options below:
STYLE DETAILS: Universal Works Olive Shawl Cardigan; Alex Mill Horizontal Donegal Shirt; Save Khaki Slub Twill Jeans; Yellow Luke Fedora; Clarks Desert Boot; Timex Weekender Watch; Garrett Leight Harding Sunglasses; Wooden TUG Pinback; Vinatage Beaded Bracelet; Bronze Pin.

There comes a time in a gentleman's life when he realizes that his physical health and physique are important. In this moment, he may feel the need to lift some weights, jog on the treadmill for a few miles, or (if he's bold) take a workout class of some sort. But hey, let's face it- exercising can be a pain. Especially when your never-ending cycle of weight lifting or treadmilling has left you without results and even worse- bored. Whether you lift big like The Rock or prefer to take a more Richard Simmons approach to exercise, there is one thing that is essential to becoming the most in shape you: change.
"Change is good", the cliché of all clichés, applicable to anyone going through a breakup, getting a drastic haircut, or even just ordering a different sandwich from Subway. However, it is super relevant to your workout regimen. Sticking with a workout plan is very important, but being able to change it up is even more important. When you do the same type of exercises for a long period of time, your muscles reach a plateau. Meaning they get comfortable with what you're doing and don't need to work as hard, therefore, inhibiting their growth. What does this mean for you? Less results and less motivation to continue on. This is when you need to change up your plan. To:
Surpass your plateau.

Get better results.

Increase motivation.

Avoid getting bored.
Luckily, there are millions of ways to go about this. All you need is a little determination, and maybe a cool new pair of kicks. That always helps! Here are a few ideas for you to try.
1) Revert To Your Old Ways
Sometimes going back to a routine that you have used in the past is a perfect way to rev up your results. If it has been a while, it'll be as if it a completely new workout.
2) Use Fun To Your Advantage
There are fun things to do in this world (besides buying clothes) that actually help you get in shape. Adding in a hike, going kayaking, hitting up one of those cool trampoline parks, or playing a sport recreationally are all great ways to burn extra calories and beat that plateau.
3) Find Inspiration
Pick up a copy of a men's fitness magazine or check out Internet for new ideas. These platforms are all loaded with new workout routines that can help you change it up.
4) Get A Workout Buddy
No, not from craigslist. Start lifting with a friend of yours who has a different workout style than you. Working out with a friend can help motivate you and the change in routine will challenge your muscles.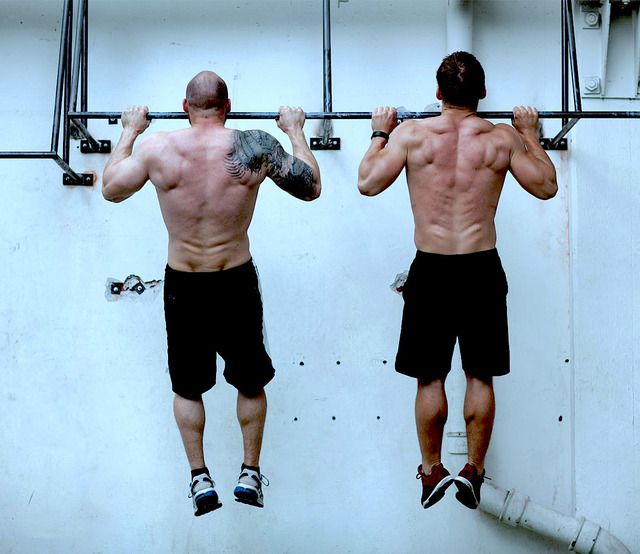 5) Take A Class
Workout classes come in all shapes and sizes. For example, there's CrossFit, spin, or Zumba classes. They can be really freaking hard, but are a good way to spice up your routine.
Changing up your workout is essential to continue your progress and advance toward your individual health goals. Even small changes can yield big results that you will be able to see. Boredom should never be an option, whether it relates to your clothes, to your life, or to your workout. Don't fear change, embrace it.
By Max Rutcofsky for The Urban Gent
It's no secret that fashion can be pretty cyclical, and the 90s are making a huge comeback in casual streetwear at the moment. I'm not talking about pagers, mood rings, or rolling up one pant leg. Think ripped jeans, flannel shirts tied around the waist, snapback caps worn backwards, and Starter jackets. Yep, those jackets you probably had as kid are cool again.

Beyond being on-trend, they're a really cool way to rep your city or favorite sports team. So when I had the chance to visit Chicago for the first time, I wanted something that paid tribute to this great city and its legendary basketball team. The Chicago Bulls Starter jacket became my uniform while exploring the streets. As we walked from the Virgin Hotel to the SkyDeck to Millennium Park with the Cloud Gate, more popularly known as the "Bean", the "Windy City" lived up to its name, but I was warm in my jacket. We passed through shops, the Chicago Theater, and Costel Iarca's art gallery, and the satin finish of the jacket helped me stand out without being flashy.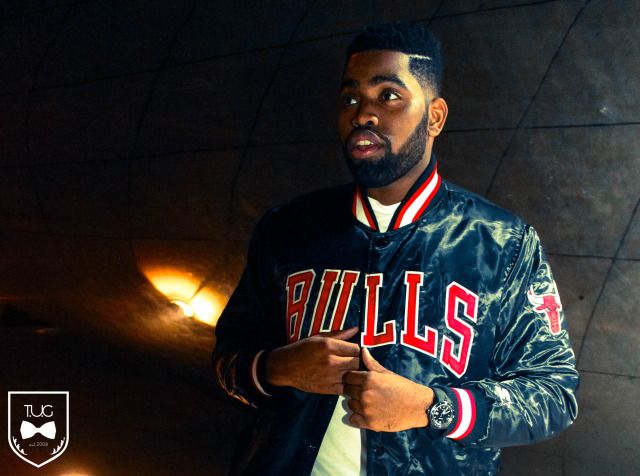 The company's latest collaboration, Starter x VILLA, is a collection of four capsules highlighting a mix of college and NBA teams. Needless to say, my favorite is the all black Chicago Bulls 72-10 Jacket. Check out the collection here, and tell us which is your favorite in the comments.
C.I for The Urban Gent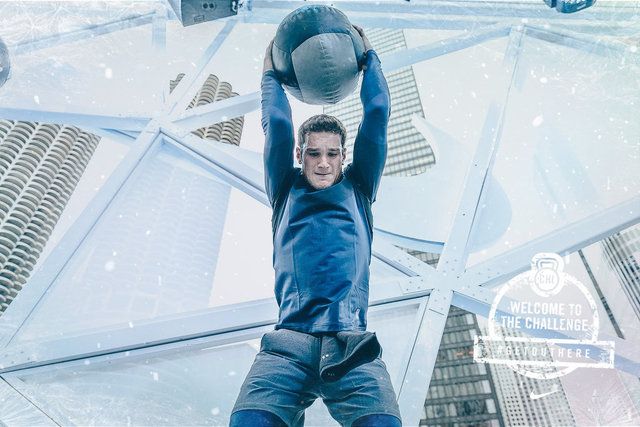 As the season shifts from chilly fall to frosty winter, it's natural to want to stay warm indoors. While this reaction to cold weather is logical, it can be pretty bad for the midsection. I mean, it's called a "winter body" for a reason. Nike's #GetOutHere campaign is the solution for these excuses. It encourages people to brave the cold with their new gear that keeps you both warm and dry while training outdoors.

We were lucky enough to head to Chicago to train with Nike and use some of the new gear first-hand. We got to try the Nike Pro Hyperwarm Compression tights, the Nike Pro Hyperwarm fitted top, and the Nike Therma-Sphere Max Training Jacket.
The Nike Pro Hyperwarm Compression tights and Nike Pro Hyperwarm fitted top are made with breathable Dri-Fit Max fabric and thermal mesh that wicks away sweat and keeps you warm. Trust me, they both did their jobs while we were battling the wind chill factor in the Windy City. But my personal favorite piece of training gear was the Nike Therma-Sphere Max Training Jacket. Its slim fit and stretch fabric let you move freely, and its Thermal Dri-Fit fabric wicks sweat. The lightweight 3-layer composite fabric keeps you warm while the DWR (durable water resistant) finish keeps you dry in rainy conditions.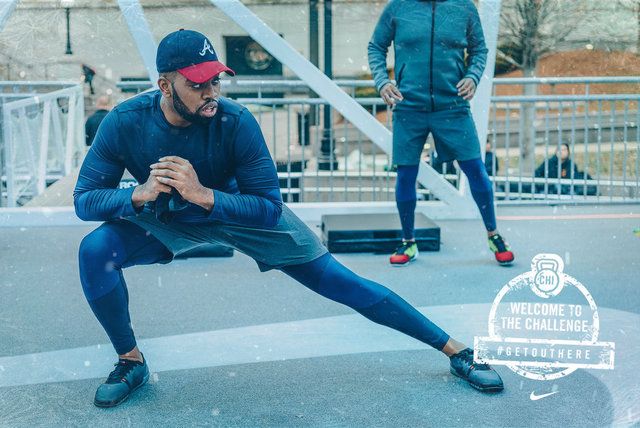 Since this is The Urban Gent, style and function go hand-in-hand. Nike is known worldwide for providing both quality and style, and the products from this collection don't disappoint. Offering different color ways, I'm sure you'll find something that fits your personal style. So get some dope new gear, and #GetOutHere. After all, summer bodies are made in winter.
By Chike Ibezue for The Urban Gent