LAYRITE: DELUXE POMADES & HAIR PRODUCTS FOR MEN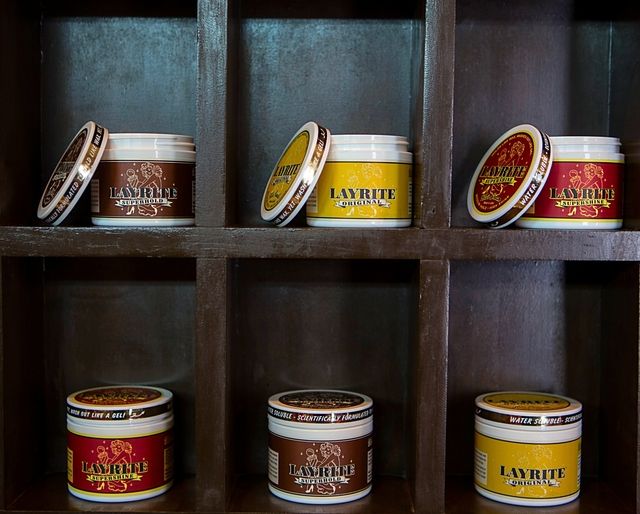 Summary of LAYRITE Products: This is a really great hair care line for the guy who doesn't care to spend a long time in the mirror, but wants to look good. These products offer all day hold without the stiffness of other gels or the greasiness of some pomades. I personally vouch for these products and appreciate the compliments I get because of them. Sidenote: there's something for all hair types. We got to try three products: Original, Superhold, and Supershine.
Below are individual reviews with the following information: 1.)Feel/Application 2.) Immediate Results 3.)Short-term/Long-term Results
Original: 1.) Feels like a solid gel but not sticky like most pomades 2.) When put in damp hair, it dries light and clean 3.) Holds for most of the day with my coarse hair type so I had to reapply, but there's no greasy feeling which is a plus.
Superhold: 1.) Feels a lot like the Original 2.) Also feels light 3.) Although this looks and feels like the Original, it definitely offers better hold. No reapplication necessary.
Supershine: 1.) Feels creamy and has a nice smell. 2.) It immediately gives the hair a shine that's neither overpowering nor greasy looking 3.) The shine is long lasting and also leaves the hair feeling soft and moisturized.
You can find these and other LAYRITE products here.
Chike for The Urban Gentleman
The Urban Gent x Jeffrey Rudes
Lately we've been prepping you for the cold weather – a couple of Fall looks to sport with your dog, our favorite scenic sweaters, and of course, a declaration that one of our chosen sweater material. We were sent a beautiful luxurious camel hair and wool sweater from designer Jeffrey Rüdes, who has just opened a store at 57 Greene Street in SoHo, New York.
The new flagship store
Iconic denim designer – Jeffrey Rudes
Jeffery was the creator of J BRAND – a premium denim brand. He sold J BRAND in 2014 to start his new namesake brand – Jeffrey Rüdes. And although he's no longer singularly in the denim business, his new line is meant to compliment it. A nice pair of jeans can accompany many pieces in his collection. You don't have to, of course, but you can and you'll look good doing it. So naturally, that is what we did with our Rüdes winter knit.
Perfect fit and very soft
An ivory crew neck sweater is the perfect winter neutral. With dark skin it'll beautifully contrast, with paler skin it'll beautifully blend – almost like a nude. Both perfect palettes for this winter season. Get this winter staple, here.
We paired our ivory wool and camel hair sweater with dark gray denim and brown tasseled loafers. This gave us an elegant, mature, neutral palette. The sweater would also look great if paired with matching ivory jeans and black velvet loafers -or- straight fit blue denim and your favorite pair of classic white kicks. How would you wear it?
See more of the Jeffery Rüdes collection here.
Ooo, you feel that breeze— it's a little chilly outside. Shorts move to the back of the closet and sweaters to the front. Well, actually, we've joined the
Kondo movement
so shorts can stay where they are… but multi-seasonal closet organization aside, sweaters are what we are about to move into our daily rotation. The thing is though, this year is the year of cashmere. Our crew necks and shawl collars aren't simply sheepswool or cotton, we've upgraded to grown man status. Pass the cashmere please.
And to get us started on our new winter fabric of choice, we introduce Naadam Cashmere. Naadam is looking to bring out the inner nomad in us all. You see, Naadam isn't just your typical luxury cashmere sweater. They fall into that category, of those people, you know the ones that insist on being socially responsible and supporting the actual economic growth and livelihood of a particular group of people? Yea, those folks. And in this instance that group of people are nomadic herders.
So we've chosen to experience 3 responsibly sourced Italian-made luxury cashmere sweaters to show our Urban Gent family. The cashmere cardigan, the cashmere high neck (turtle neck alternative), and the cashmere coatigan – all stylish and ready to keep you warm for many winters to come.
S W E A T E R O N E
RIBBED CARDIGAN: A cardigan is an essential in any persons closet. This ribbed cardigan serves as your everyday sweater— dress it up or down. Wear it to walk your dog or to go out on a nice date, it's versatile, flattering, and super comfortable.
THE UPGRADE:
There's been a point for most of us, when we've decided to switch from our classic Colgate double-bristle toothbrush to a Phillips Soniccare. In the same way, it may be time for some of us to go from our classic cotton washcloths to a FOREO LUNA.
The FOREO LUNA for MEN is a 1-minute cleanser that removes dead skin cells and unclog pores. It also preps the skin in a way that makes shaving a little more comfortable, while also prevent razor burn. As a bonus the pulsations of the LUNA leaves the skin looking young and fresh – so it's also anti-aging.
THE REVIEW:
I like the actual unit itself, it's sleek and black, easy to use, portable, and the silicone bristles are very soft. I've decided to keep mine in the shower for easy access. (I have one of those tension rod, ceiling to corner tub caddies, so most of my products are at eye level).
THE PROCESS:
As shown in the photos above you simply lather up your chosen face wash then turn on your LUNA and get to work. I did as such and I'll admit– the vibrations are actually sorta of therapeutic – it essentially gave me a face massage. I then rinsed off the face wash, and my face felt baby smooth. Hmm… I can get used to this.
It's too early for an in-depth review, but in the few days I've had it I really like it. It feels nice taking my skincare routine up a notch. Try it and let us know what you think. Or if you currently use it, feel free to give your opinion on FOREO LUNA for MEN
below.
GET 10% OFF USE CODE: LFMEN1
As I steadily climb the staircase of my 20s, only a few flights away from the next floor, I find myself really thinking about life. About living, creation, why we're here and what we're suppose to be doing. What is a life well-lived?
I've settled on the idea that it's doing what you love, to the best of your ability, and just accepting the beautiful journey of life. Louis Moinet, born 1768, seemed to have done just that, he did what he loved, and he did it masterfully… so that even 247 years after his birth he lives on.
The Chronograph
Louis Moinet is the creator of the chronograph. A chron·o·graph / ˈkränəˌɡraf,ˈkrō-/ noun/ is an instrument for recording time with great accuracy. A stopwatch.
So essentially you can find him, Louis Moinet, on the wrist of every serious timepiece
aficionado.
Not only that, but throughout the world of astronomy, aviation, deep sea diving, and he was even on the NASA Apollo missions when each astronaut was equipped with a fully functioning chronograph.
On wrist and pocket watches, the chronograph is a stopwatch function that uses sub dials to keep track of seconds, minutes, and hours. Chronograph watches have a long fancy history, dating back to King Louis XVIII of France who had one custom made to better time horse racing — one of his passions. And since then, in these modern times, every major watchmaker has atleast one chronograph style watch in their collection. In fact, Memoris, the first chronograph watch in history was created by, of course, Louis Moinet in 1816.
The Journey to Genius
Genius is a word that came to mind as I began to do my research on Louis Moinet. And so I thought to myself – how does one cultivate a life so rich, in whatever capacity, that genius is created? Steve Jobs genius may have been a cumulation of a Californian bohemian lifestyle mixed with the side effects of your two best friends being engineers. Tupac Shakur
'
s genius may be directly related to having parents who were active members of the Black Panther Party mixed with being in an environment full of raw creativity and artistry. Genius takes many forms, and the world gives it out generously for those comfortable with taking a journey.