Search Results for ''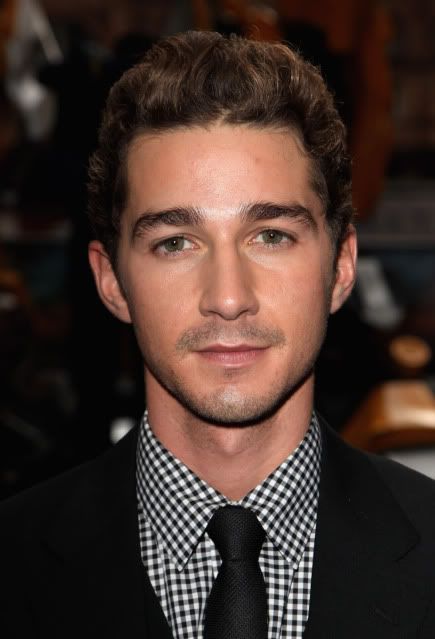 He first caught our eye on Disney's Even Stevens as a mischievous teenager and ultra annoying younger brother. Then his overall "swag" changed to the world on July 3, 2007 when he starred in the blockbuster hit Transformers…
After Transformers, there was Indiana Jones, then Eagle Eye. And I must say, that's where Mr.LaBeouf truly metamorphized in my eyes. About an hour into Eagle Eye I said to myself, "Hmmm, this guy has really grown up", as he went from the lil' kid on Even Stevens to the handsome action-movie stud who has a secret taste for island chicks, lol (ie. Rihanna,). Then there was Transformers II, and in his latest film, Wall Street: Money Never Sleeps, he just, well, he just exemplifies the looks of an Urban Gentleman.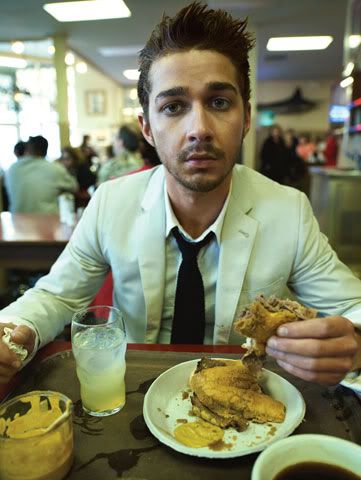 Suit and shirt

by Thom Browne New York.
Tie

by Ralph Lauren Black Label.
Shia's charisma, comedic charm, and seemingly bad boy behavior keeps us all captivated… and patiently awaiting his next move.
Jock it, Love it, Own it.
The Style of Shia LaBeouf
Are all the fly guys double-dressing these days? Seems that way.
Bobby Ray
isn't the only one that has two noticeably different styles, urban gent Shia does too. Check out the scruffy vintagey casual and meticulously polished dressy style of Mr. LaBeouf.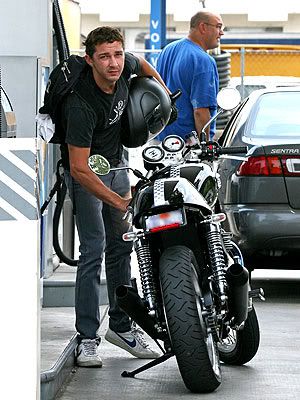 Casual or Dressy Shia gives it to us old-school cool from the skinny ties to skinny jeans and characterized canvas lo-tops.
Casual:
Retro-inspired or vintage tees and plaid button-ups are how he likes his shirts, with the occasional cardigan or vintage jacket for that extra carefree umph. His jeans are always skinny and in some shade gray, black, or blue. Authentic Vans, PF Flyers, and Nike Sweet Classics are usually his shoes of choice. And lastly, Shia usually accessorizes with a vintage hat, vintage belt, retro-frames, and an occasional backpack (nothing beats the one he got from Egypt,
below
).
Get the Look: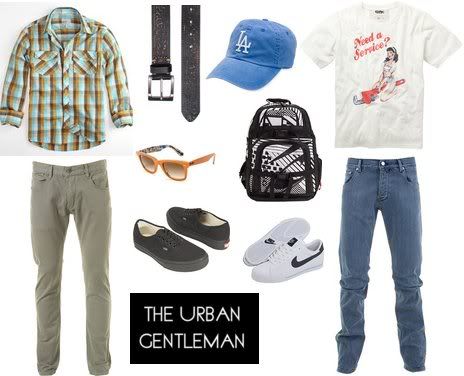 When Shia dresses up, expect nothing but perfect slim-fit suits, skinny ties, and all things that are
Sammy Davis Jr-esque
.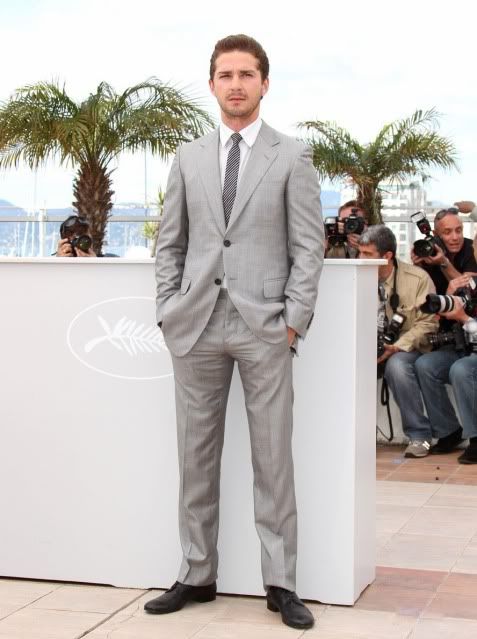 Shia LaBeouf and girlfriend/co-star Carey Mulligan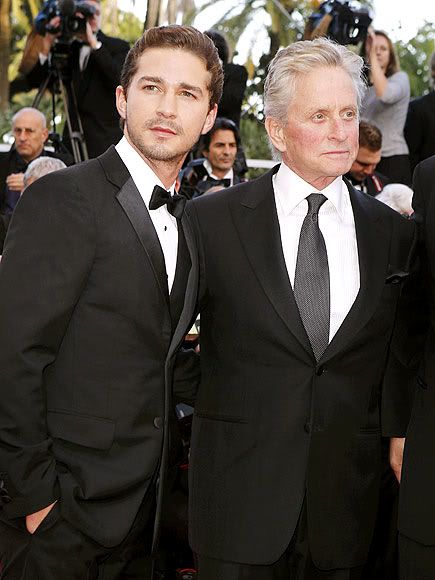 Shia and Michael Douglas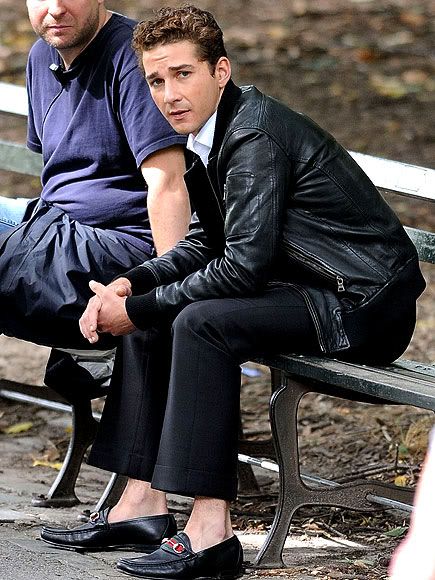 Gucci 'loafing' on the set of his movie.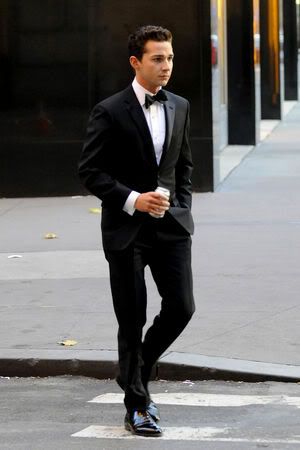 His casual ensemble in France is much different than his casual style in Cali. Shia wears a basic blue button-down, black sweater, black jeans, and black oxfords.
Get the Look:
More LaBeouf: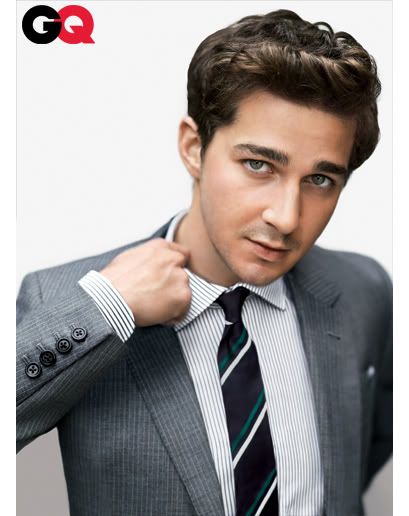 "He's so money", Shia in his latest
GQ
spread.
Wool suit

, $518, by Club Monaco.


Shirt

by Spurr.

Tie

by Band of Outsiders.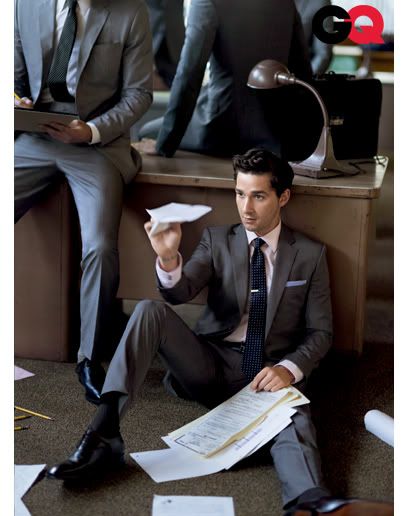 Wool suit

, $895, by Boss Black.

Shirt

, $295, by Jil Sander.

Tie

, $150, by Alexander Olch.

Shoes

, $595, by Salvatore Ferragamo.

Socks

by Pantherella.

Pocket Square

by J.Press.

Tie bar

by Thom Browne New York.
Wool three-piece suit,

$1455, by D&G. Shirt, $430, by Neil Barrett at Jeffrey.

Tie,

$175, by Dior Homme.

Shoes

, $950, by Ermenegildo Zegna. Mackintosh (in hand) by Gucci.

Tie bar

by Thom Browne New York.

Briefcase

by Bottega Veneta.

Shia filling up his 'Heavy Chevy'

Shia has had several surgeries on his left hand
(that's why its in bandages in so many photos)