Search Results for ''

I visited a friend's house a few weeks ago, and the image I saw while there, well, it's still scarring my brain tissues.
So imagine this… I pull up to a nice semi-exclusive neighborhood, get out the car, glance over at my friend's black on black Porsche Cayenne as I walked up the driveway (I've always loved that car). I get to the door and am met with happy salutations by this friend, and of course he looks nice as always. Fresh shape-up, sea-sick waves, he has on part of his ensemble… well, just the shirt… I believe it was some sort of unique Burberry or Ralph Lauren jean button-up with a club collar. He says to me, "I have to get finished getting dressed", and just as he turns to go upstairs I glanced down at his feet, and was Highly disturbed at what I saw. Long chipped toenails and ashy semi-crusty feet. I thought to myself, it should be a crime to look good on the surface of things, but then have major grooming flaws underneath it all.
He later came downstairs smelling of YSL, looking dapper from head to toe… he had completed his ensemble with slim fit jeans, desert boots, a custom jacket, and vintage eyewear… but I still couldn't erase the image of before.
Being stylish, fashionable, wearing well-tailored clothing and all things alike are indeed muy importante, but it almost means nothing when the underneath isn't matching. Just like women have their beauty routine men must have their grooming routine. And no I'm not saying you should have five or six different specialty cremes and spend as much time grooming yourself as a woman, but you should have a few key basics things that you do on a daily or weekly basis that will keep you a well groomed urban gentleman.
When I first thought of creating the outline for the urban gentleman's grooming routine I couldn't help but get constant flashes of Christian Bale in American Psycho. I haven't seen that movie in years and I only saw it once, but for some reason it stands out as one of the most specific and detailed grooming routines I've seen in a film. Though admirable, such a detailed routine may turn some men into narcissists– and no one likes a narcissist. So this routine will be well-balanced, not over the top or bare minimum.
Let's get started….
The Grooming Basics will always be the same: hair, nails, skin, teeth. Every gentleman must deal with these four key areas.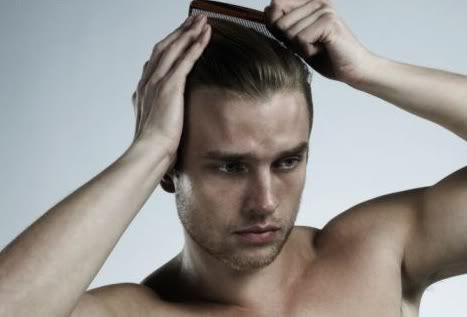 The hair routine for each man will greatly differ, depending on the hair texture and chosen hair style.
Men with STRAIGHT HAIR, WAVY HAIR, or a LOOSER CURL PATTERN (European-American/Caucasian, Asian, Pacific Islander, Hispanic/Latino, Mixed-Race):
– Should wash their hair on a daily basis or every other day if the hair stays clean and there isn't a large amount of oil build-up.
– It's been a long-standing tradition for men with this hair texture to get their hair cut once a month, but it all boils down to the rate at which your hair grows back, the chosen hair style, and the budget you set aside for hair care. I find that many men with straight hair need a cut after about 3 weeks. *It's very important that your barber knows how to cut your hair so it grows out evenly and looks great for the entire month between cuts.
Shampoos & conditioners:
Axe
2 in 1 Shampoo and conditioners, Patene Pro-V, MenScience
Daily Shampoo, Billy Jealousy
Fuzzy Logic Hair Strengthening Shampoo and Conditioner, American Crew
shampoos, conditioners, and styling products. Redken for men, Baxter of California, there's so many to choose from.
Men with CURLY HAIR/TIGHT CURL PATTERN (Men of Color/Black Men, Mixed-Race, Hispanic/Latino):
– Should generally wash their hair every couple of days or once a week. It is important for men of color to maintain the moisture in their hair so shampooing/conditioning once a week, then washing the hair with a conditioner twice a week is a good routine to acquire. For example: Shampoo/condition your hair Thursday morning while in the shower then get a haircut or shape-up later that evening. Wash your hair with a conditioner Sunday and once again on Tuesday. (If you're maintaining a certain hairstyle, like if you're trying to process your waves for the first time then you may want to wait a week and half between washes until your waves process).
– Hair should be lightly moisturized on a daily basis to keep hair from becoming dry and breaking off.
– Again, the frequency at which you cut your hair depends on the hairstyle, rate at which your hair grows back, and budget. I generally recommend a hair cut every two weeks and a shape-up the week between getting your hair cut. So basically, if it's in your budget, you should be visiting the barber every week: hair cut, shape-up, hair cut, shape-up. Most guys I know have a specific day they go on each week (the more routine your visits are the better).
Shampoos & conditioners:
Patene Pro-V for Natural Hair shampoo and conditioners (in the bronze bottle), ORS (Organic Root Stimulator) Olive Oil Replenishing Conditioner, Creme of Nature shampoos and conditioners.
Hair moisturizers/conditioners/oils:
Xotics Sweet Jamila, Nairobi Essentials Botanical oils (purchase at a high-end black/of color american salon, online
, or in some beauty supply stores), Softee Extra Virgin Olive Oil Hair & Scalp Conditioner, and ORS (Organic Root Stimulator) has a great line of carrot and olive oil hair moisturizers, and of course Bronner Brothers
(BB) makes great products for extra curly hair (purchase the last three at most major stores or at a local beauty supply store). Basically look for natural hair conditioners and lotions that have natural ingredients.
Also, consider a sheen spray, especially if you have braids, dreads, or a thick head of hair. Mizani, Bronner Bros, Organic Root Stimulator Olive Oil, and Palmer's Olive Oil hair spray are great choices. Lightly spray your hair each morning.
For more tips on hair styles for different hair types go here.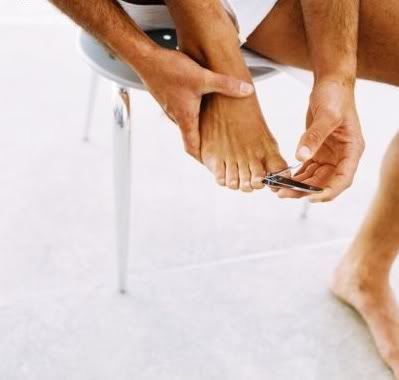 There really isn't too much to say here, but to just get in the routine of cutting your nails every week. It literally takes no more than 5 minutes to cut both your finger nails and toenails, so this can be easily fit into a Sunday morning, Monday evening, or even a Friday night before hitting the town.
I've been meeting a plethora of guys who have cut nails, but maintain the preferred nail length by biting them off instead of cutting them off. This is a habit that many men and women share alike, it's more common than I realized and is quite unpleasant. The best way to stifle this habit is to simply keep your nails cut so that there isn't any nail to bite.
If you have the budget, getting a professional manicure and pedicure may be an option. If you do have the budget this should be bi-monthly, weekly if you're a nail biter.
Skin is such a broad topic to cover. There's the face and the body and both areas need to be washed and moisturized. This means every man should have a cleanser and moisturizer for the face and soap/cleanser/wash and moisturizer for the body. The type of product you use depends on your skin type, and each person's skin type varies of course.
A basic routine for normal skin could be: Noxzema
or Cetaphil as the facial cleanser and moisturizer, Dove Men + Care
or AXE bodywash, and Nivea for Men lotion or Palmer's cocoa butter as body moisturizers.
Another routine for normal skin might be: L'Oreal for Mens Expert Power Clean
face wash, Jack Black Double Duty facial moisturizer, Billy Jealousy Ocean Front
body wash, and Kiehl's Deluxe Hand & Body lotion.

(MenScience
Daily face wash and Kiehl's Facial Fuel moisture treatment are also popular choices.)
Raw african black soap
is also a popular natural product to use on your skin (thanks YH for the info), especially those with extremely dry skin, eczema, or come in contact with harsh chemicals on a daily basis.
Choosing the correct product can be difficult because there's not a shortage on choices. You can start with recommendations from friends or our website then pay close attention to how your skin feels and reacts immediately after using the product(s) and 7-10 after using the product(s). This is usually enough time to see whether a product is making your skin better, smoother, clearer, etc.
Body scrubs, exfoliating gels, facial masks, etc go beyond the basics, but there are many of those type products for those that are interested in a more detailed routine. You can usually find products that are a combination of many types of products ie. a moisturizing and exfoliating body wash. As a man the less product you have the better, so a combination grooming product is usually the best way to go.
It is recommended that you exfoliate your skin up to twice a week (so atleast once). A few scrubs many men love: LAB Invigorating Face Scrub, MenScience Face
Scrub, Anthony Logistics Facial Scrub, Anthony Logistics Sea Salt
Body Scrub.

There's no big guidelines to keeping your grill fresh. Brush twice a day or after every meal, floss atleast once a day, and use mouthwash (listerine) everyday. If your teeth are dull, stained, or just out right yellow use a whitening kit. Check out one of our previous 'whitening' post.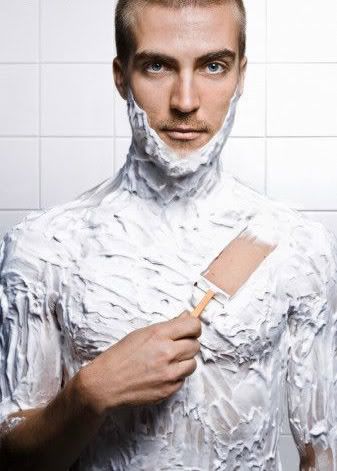 MANSCAPING

We've had plenty of articles on manscaping, and our main one breaks down each section: the Face (head, mustache, beard, nose hair) and Body (chest, armpits, groin, leg/arms, back, and rear) as well as options on whether to wax, trim, or shave.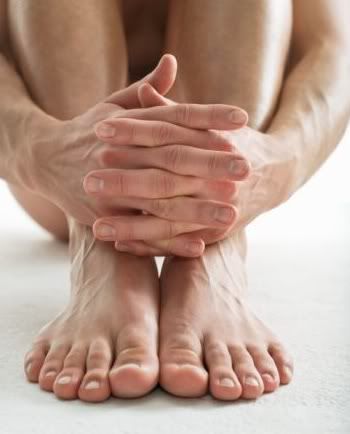 We've technically covered hands and feet since they would be included in nails and body, but it doesn't hurt to go a little more into detail.
Let me first get the point across that men shouldn't have extra extra extra soft hands, your hands shouldn't feel like a woman's hand, but it should be smooth and well-moisturized.
Firstly, be sure to moisturize from top to bottom when you lotion-up each day, that means from your chest to the soles of your feet.
Hands:
If you have calluses on your hands, depending on the severity, a simple hand creme may work: Jack Black Industrial Strength Hand Healer
, Nivea Hand Smooth Indulgence Hand Cream
, Kiehl's Body Care Ultimate Strength Hand Salve, Neutrogena Norwegian Formula Hand Cream.
If your hand calluses are very hard and tough use a callus shaver
or pumice stone. Just be sure to be careful when using a callus shaver on your hand– focus on removing the hard callus not the softer skin around it.
Feet:
If you have calluses on your feet use Ped Egg
. (There's also a Ped Egg for Men
, which is a little bigger and more masculine looking).
Heal Tastic Intensive Heel Therapy
will quickly smooth out rough cracked feet.
One of the quickest ways to soften/smooth out/heal dry cracked feet is to simply moisturize your feet each night before going to bed. Generously apply vaseline/petroleum jelly, cocoa butter, or natural shea butter (raw, pure, or organic
) to both feet then promptly put on socks. When you take the socks off in the morning you'll notice how much better your feet look. This is a very "old-school" method, but it really does work.
*
Beyond the hair, face, and body products there's: deodorants, lip balms, and colognes. I think most guys have those down pact, and if you don't then just click on the links for more help.
So now that we've dished it all out, lets organize our thoughts. We know what is needed and included in The Grooming Routine, but what will the actual routine be. There's millions of urban gentlemen out there, different schedules and lifestyles so it would indeed be hard to customize the routine for each and every person. We will however provide a rough draft that will aid and guide you as you customize your own.
An Urban Gentleman's Grooming Routine:
Daily:
Brush teeth, floss, rinse with mouthwash
Wash & Moisturize Body
*Wash & Condition Hair
(if you have straight/wavy/loosely curly hair)
Wash & Moisturize Face
*Lightly moisturize hair
(men of color/black men)
Brush/Comb/Style Hair (including facial hair)
2-3 dabs of cologne
Nightly:
Moisturize feet
Brush any dirt from underneath nails
Thursday
(men of color/black men):
Shampoo/Condition Hair
Hair cut or shape-up
Sunday:
Cut nails
Manscape (trim excessive body hair if desired)
Exfoliate face and body
Notes: Men with straight/wavy/loose curly hair should wash hair daily or every other day. Hair cuts every 3-6 weeks.
The Grooming Routine is all about discipline and efficiency. Having a set routine saves you time, sharpens your organization skills, and most of all makes you more of an urban gentleman.
Lastly, grooming goes beyond the products but extends into having a healthy diet and exercise routine. Having an at minimum quickie calisthenics workout each morning and/or night will go a long way. To maintain healthy skin, hair, and nails eat foods or take vitamin supplements with Vitamin E. Most importantly drink lots and lots of water.
Feel free to share your grooming routine and favorite products below.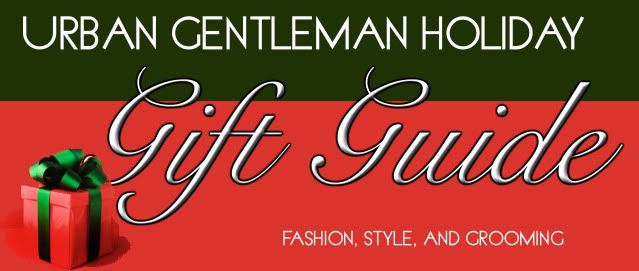 Okay, lets get down to business, you need gifts and you need them now. You're a guy or a gal who's in serious need of help on what to get: the fashion-forward stylish friend or man in your life (you know the one who technically dresses better than you), or the young up and coming urban gentleman who has watched a little too much of Run's House (particularly Diggy) and now wants to emulate everyone stylish (he's on a mission to have the best style, the sickest fashions, and is the only 13-yr old you know who wears glasses without prescription), or you're just simply looking for a unique solid gift idea that will appease your friend, brother, boyfriend, husband, dad– basically a guy or guys in your life that deserve (or don't deserve) a nice thoughtful gift.
Loyal Urban Gent readers already know the trends, but if you're not a regular go ahead and boost your style IQ by reading about the TRENDS in men style (seriously click on the link then come back to this article and continue reading). You want to choose a gift that will either compliment his style or up-it, and based on the current trends and your personal analysis of him you should be able to gauge how "fashionable" he is and get an idea of what you would like to purchase him.
From the current Urban Gentleman "What Do You Want for Christmas" Poll, it seems as if most guys want casual apparel for the Holidays, followed by dressy apparel, then electronics. So we're going to work with that. With that said, grooming items are always an easy surefire way to atleast bring on an authentic smile and thank you. Grooming items may not be on the very top of most gift lists, but a great smelling fragrance will be used everyday.
Okay so here's the approach: you call or text the guy you are purchasing the gift(s) for, and ask for his basic size information, "Hey ___his name___, I'm about to go holiday shopping and I just wanted to get your sizes just in case I buy you clothing?" You should get their pants/waist size (a number like 32, 34, 36), their shirt size (M, L, XL), shoe size, and dress shirt size just in case you opt for the dressy apparel (based on their neck and arm length you should get a number like 17/35 or 16.5/36). Coats, blazers, and jackets usually come as M, L, XL or 36,38,40 (which is the chest size) If you are buying someone a suit (how nice), be sure to get that information as well.
Here's a basic chart of the S-M-L conversions: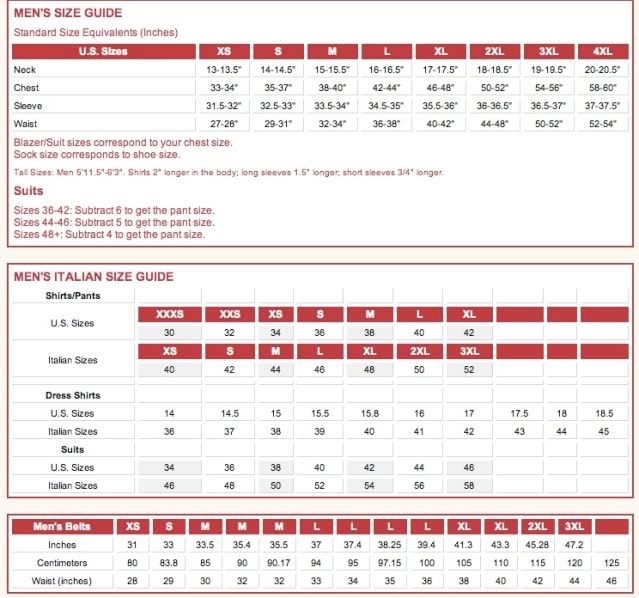 chart from Overstock
For more European & American sizing, go here.
I always try to, if possible, give gifts in pairs– it's fun to have more presents to open up, right? If having to choose from one pair of $150 jeans -or- one pair of shoes and 2 shirts at $150, most people would go with the latter. But at the end of the day quality is better than quantity (for the most part).
Obviously a Playstation, Xbox, Wii, and DJ Hero Renegade Edition with Jay-Z and Eminem will be on the lists of many young Urban Gentlemen. A flat screen, blackberry, GPS navigational system, or slr may be on the lists of all the other Urban Gentlemen. If you have the money and they don't already own it, I'll certainly suggest getting them one of the items above, but besides those fun gadgets I've listed a few specific gift ideas below. Note: though most of the suggestions combine two or three items, they can also be broken down into individual items that would make as great singular gifts.
THE URBAN GENTLEMAN
ULTIMATE MEN'S HOLIDAY GIFT GUIDE

Gadget-Friendly:
Watches & Headphones. Everyone's tired of the tiny earbuds, they are useful when working out, but when you're relaxing at home or at a friend's place you want headphones. We all thought cell-phones replaced the watch, but they're actually more popular than ever. Artistic, colorful, and creative looking headphones and watches are heavily in vogue, especially for the younger urban gentlemen.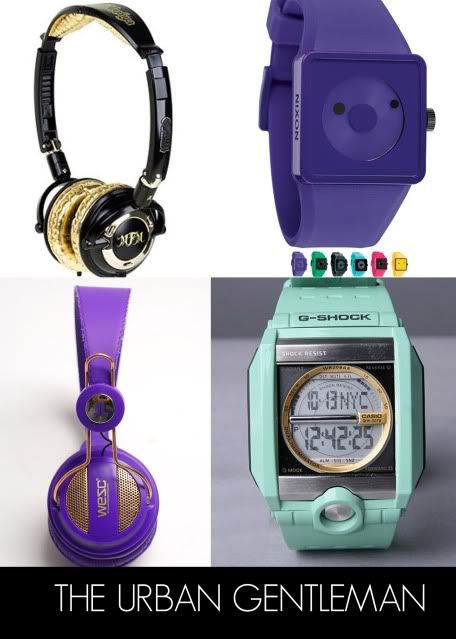 SKULL CANDY The Lowrider Mic'ed Headphones
, $39; Nixon watch, $100; G-Shock Japan limited edition watch, $80; Wesc Oboe headphones $55
Shop more watches here. Shop more headphones here
.


★ ★ ★ ★ ★
Lumberjack Hipster:
Plaid shirts, dark denim, and maybe a pair of boots while you're at it. For someone transitioning into being a trendier guy a few plaid shirts will help jumpstart his wardrobe. Dark denim jeans are a basic that every person needs, and the boots– well its Winter and if you have a larger budget a pair of boots would be the icing on the cake.
Plaid shirt
, $60;
Armani dark premium denim jean
, $125;
Timberland Men's Premium Boots,
$120 (free overnight shipping)
Shop more plaid. Shop more jeans. Shop more boots. Shop more button-downs and plaid shirts.


★ ★ ★ ★ ★

The Intellect:
For a stylish student who has preppier taste or wants to move over to a classic sustaining wardrobe- a messenger bag, cardigan, and 'father's readers', would really compliment his style.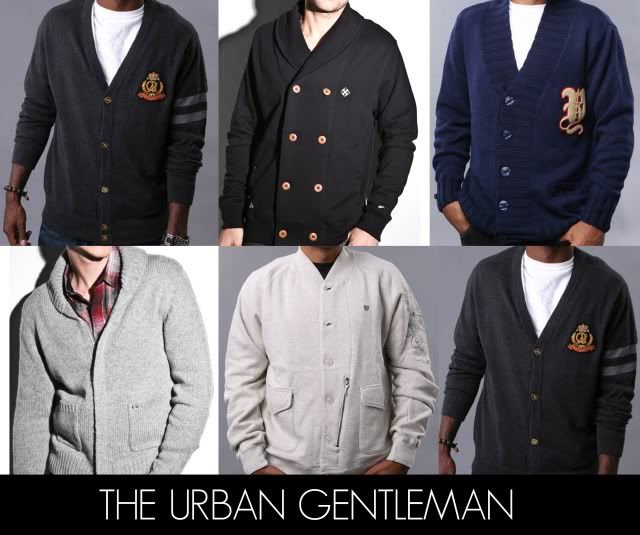 Cavi B. varsity club sweater, $46.99; Deep 10 black shawl sweater $96; RY cardigan sweater $125; Obey grey cardigan $103; Insiders fleece cardigan, $64.99; Cavi B. varsity club sweater, $46.99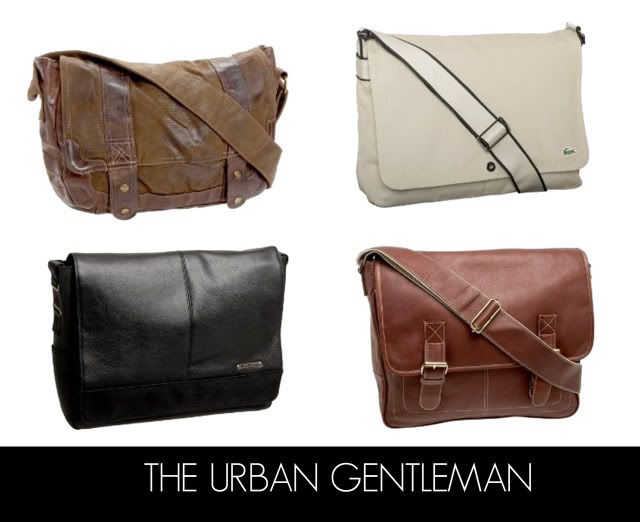 BedStu Sobel Messenger Bag
$90; Lacoste City Casual Large Messenger Bag
$100; Ben Sherman Premium Messenger
$119; Latico Basics Adventurer Messenger Bag
$149 (all messenger bags have free overnight shipping).
– Get the perfect pair of 'father's readers' here. More clear glasses and accessories here.
★ ★ ★ ★ ★

Simple Style:
Combine two essentials that exemplifies the style of the person you're shopping for. Denim jeans and oxford lace-ups. Denim jeans and sneakers. Sneakers and a graphic tee. Any combination you see fit.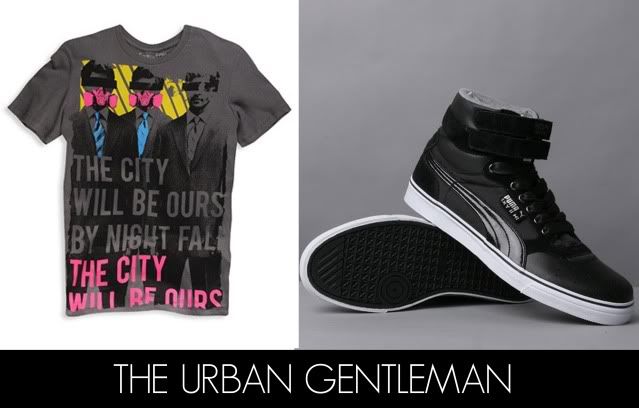 Shop the flyest kicks. Shop the high-end fly kicks. Shop more oxfords and other style shoes.
★ ★ ★ ★ ★

The Upgrade, the Businessman:
Many guys have enough casual clothing in their wardrobes and above all else need to seriously up their dressy attire. Suits are pricey, but would make as a very thoughtful gift, as would dress shirts, ties, cufflinks, and pocket squares. They are all nice additions to the closet of a business man or someone who needs a businessman upgrade.

Shop more dressy apparel. Shop more ties & accessories.
★ ★ ★ ★ ★
Groom Him:
If you don't know enough about a guy to buy them clothing, then colognes makes a for a great gift option. You can read a few of our cologne posts to get an idea of what fragrance might be best. Here's a great collection of Men's Fragrances.

Budget Friendly: $40ish or less.
If you have a small budget… no more than $50, but more like $20/$25, then I suggest getting a gift that compliments something they already have or plan to receive for the holidays. If they are going to get an ipod, then get them stylish headphones
or a digital docking speaker system
. If he's a sneakerhead who expects more fly kicks, get him a unique fitted hat. If his Christmas is going to be filled cardigans and blazers, purchase a quality scarf or men's messenger/satchel bag. If he's getting alot of money– maybe a new wallet
would be nice. When you don't have alot of money to spend thoughtful gifts are best, they show the person that you really do pay attention and care. If the linked items above didn't catch your eye, check out the budget finds below:
Men's messenger/satchel bags:

Men's wallets, hats, scarves, gloves:

The Urban Gent staff will give more Holiday gift ideas throughout the week. Merry Christmas, Happy Kwanzaa, Happy Hanukkah, Happy Holidays!
More Urban Gentleman Gift Ideas here.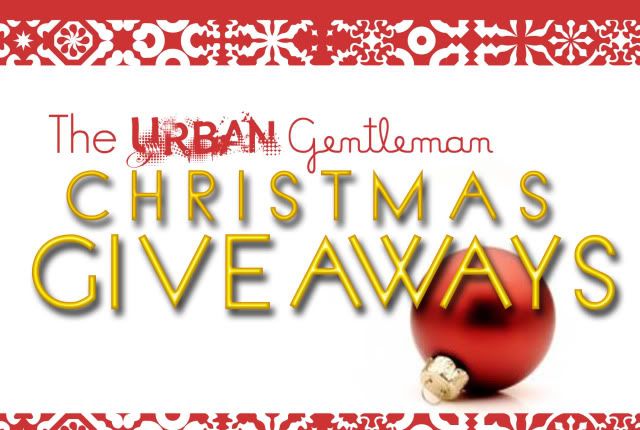 And it begins! The first of a series of Holiday Giveaways…
First up we have
Derek Jeter Driven Sport.
As always, for some reason or another, I'm a bit skeptical when it comes to sport
colognes
. But just like
Challenge by Lacoste,
DJ Driven Sport has dismantled my skepticism. When first sprayed, the scent of the cologne comes off a little strong, I believe its the mint and juniper, but the lingering smell is quite nice. I envision this as a weekend or vacation cologne for the older gentlemen and a everyday cologne for the younger gents. More information on this masculine sporty cologne below:
Derek Jeter and Avon have collaborated once again to create a new scent to reflect the passion for the things that drive him, on and off the field.
The Inspiration
Created exclusively by Avon for the man who plays hard in every area of his life, Derek Jeter Driven Sport is a fragrance infused with the bold spirit of courage and competition. The energizing scent defines Derek's drive and passion for competition and success.

Just as he did with other fragrances in the Driven collection, Derek Jeter played a vital role in the creative process for the newest addition to the lineup.
"While every fragrance I've worked on with Avon is about being driven, this latest scent is all about the dedication and commitment it takes to succeed—no matter what your goal," explains Jeter. "Driven Sport evokes passion, drive, and energy. It is the excitement and hard work that leads to a win."
The Fragrance
The Woody Green Fougere scent opens with a fresh, energizing introduction that gives way to a masculine and aromatic heart, leaving a lasting impression of casual sexiness. The notes include:
TOP NOTES
: Mint, Lemon Zest, Juniper
MID NOTES
: Rosemary, Crisp Apple, Sage Leaves
BOTTOM NOTES
: Cedarwood, Sheer Musk, Sandalwood
*Available exclusively through Avon Representatives. To locate an Avon Representative call 1-800-FOR-AVON or visit us online at www.avon.com.
The
Urban Gentleman Holiday Giveaway
products will make as perfect gifts or stocking stuffers for family and friends– best of all they're free!
As usual there are several ways to enter the giveaway:

*Leave your

name and email address
-AND-
(one of the below)
1. Answer the question: What do you want for Christmas/Hanukkah/Kwanzaa?
2. Subscribe to The Urban Gent (look on right column)
3. Fan us on facebook
(and answer the question on the wall or via a message)
4. Tweet about the contest (then tell us you did via "comments")
5. Follow us on blogger
Any one of the above will do, but the more ways you enter the more chances you have to win. So I suggest atleast commenting on this post then choose any of the other entry ways.
Contest ends Sunday, December 13th.