Search Results for ''
We're starting 2010 off on a high note, with one of the most stately
Local Urban Gentlemen
to date. He looks more like a Nordstrom men's model than a student/lecturer… but I guess that's the true making of an Urban Gentleman– innate versatility.
Jason Simon
is the first Urban Gentleman to exclusively represent New York, but he's not just representing the state; he's representing Brooklyn in particular, a place where more than half of its inhabitants seem to have a fetish for good taste and style. Jason not only offers us his above the bar elegance through his choice of words and style, but provides urban gentlemen around the world with quality examples on how to dress in the winter.
The Urban Gentleman is very proud to present, Jason Simon…
Button Collar Oxford Shirt, Belt, Down Vest,
Shoes: Polo RL / Polo Sport
Jeans: Earnest Sewn; Denim Jacket: Diesel; Silk Knit Tie: J Crew;
Tie Bar: Vintage Swank, Duffel Bag: David King Boston; Beads: H&M
Name: Jason Simon
Age: 24
Location: Brooklyn, NY
Occupation: Grad Student/Adjunct Lecturer
Style Icons: Gianni Agnelli, Sean Connery circa 'James Bond', Michael Caine circa 'Alfie', Harry Belafonte, Sidney Poitier, Malcolm X, JFK
Favorite Quote: "There is no better than adversity. Every defeat, every heartbreak, every loss, contains its own seed, its own lesson on how to improve your performance the next time."- Malcolm X
Favorite Brands: Know what designer/ brands work for your style and body type and stick with them: Earnest Sewn, Ralph Lauren, Scotch & Soda, Cole Haan
Favorite Store: Century 21
Favorite Piece of clothing: Blue Bengal L/S Shirt
Bow tie or tie: When in doubt! Four in hand knot.
Flat front or pleated: Flat
Shades, hat, or scarf: Shades!
Ultimate goal: To have increased autonomy to contribute my energies and resources in places that warrant them most.
Favorite Books: Blink! M. Gladwell, The Apology of Plato Aristotle, Black is The New White P. Mooney
Hobbies: Traveling, Reading Periodicals, Thrift Stores,
Grooming product of choice:
Andis T-Liner
Blazer, Khakis: Polo RL; Pocket Square: Robert Talbott
Hat: Weatherproof; Vest; Silk Knit Tie: J Crew; Gloves: Fownes; Duffel Bag: David King Boston
1. How would you describe your style?
Classic, functional, and above all, appropriate for my environments and activities.
2. How did you become so stylish?
Style is inward-driven. My style develops as I discover more about myself. I pull from what other folks are doing but my style begins and ends with me.
Beanie, Quilted Jacket, Shirt, Boots: Polo Ralph Lauren
Silk Knit Tie: RL Black Label; Gloves: Vintage Daniel Hayes
Jeans: Earnest Sewn; Duffel Bag: David King Boston
3. What advice would you give someone trying to find their personal style?

To thine own self be true. Forget trends, express yourself through what you wear, be appropriate for your spacings, function over fashion, and most of all, BE COMFORTABLE!

4. What's the best clothing advice you ever received?
"The world is bigger than timberland boots"
The story behind the quote:
I was 19 going on 20 years old at the time I was in SoHo window shopping. I went into a few local boutiques like Union NYC (their store will show you how I was style wise at the time) because I was looking for a Leroy Jenkins floral hoodie. By chance and boredom I wandered into a small shoe store, a very non descriptive place. I saw that it sold footwear, but the pieces were too trendy/avant-garde for my taste. They had alot of pointed toe boots with different insignia's and designs (very Mark Nason-esque). A little italian guy sized me up and down (i.e. for those who step into high end stores as consumers sales associates are taught to look at your feet first.) I'll never forget [what he said], I can quote his exact words til this day,
"The world is bigger than Timberland boots"
. It was not rude, he was trying to be helpful (I was wearing a pair of beeswax 6-inch premium boots at the time). I replied "I know" and promptly left the store, but that comment resonated with me more so at the time because I had
4 different colors of
size 13 Timberland, and those were only the ones good enough to be in the rotation.
Blazer: Scotch & Soda, White Dress Shirt: Ike Behar, Hat: Weatherproof
Shoes: Frye, Jeans: Earnest Sewn; Pocket Square, Socks: Robert Talbott
Tie, Belt: Polo RL Blue Label
(a small letter of appreciation from Jason to the Urban Gent editors)


Your advice helped a pal of mine buy his first bespoke suit in Hong Kong. He is a heavy set guy; he played as a college linebacker for the past four years, is about the graduate in May, and wanted to step away from LRG for his life as a professional. The tips you posted guided him to a sound choice insofar as cut, detail i.e. double vented and color.
– Jason

Jason in Hong Kong. He just returned to the USA not too long ago.
Trench: Club Monaco; Shirt: Scotch & Soda;
Tie, Belt, Pants: Polo Ralph Lauren

What's the esteemed Urban Gentleman manifesto/decree:
"The Urban Gentleman is the modern gentleman, he is a man of style, class, culture…"
In order to sufficiently become a cultured gentleman, one must travel when the opportunity avails itself. For the readers who are still students, please take advantage of the Study Abroad programs at your school. Explore the many countries in South/Central America, Africa, and Asia– indulge in their bountiful culture, try to learn their language. Take summer internships overseas if possible… if you are American go over to Europe perhaps London, Paris, or Milan if possible and vice versa. Don't bankrupt yourself traveling, but seek programs that will extricate most of the costs.
Get a piece of Jason's look:

Are you the next Local Urban Gentleman?
Answer the questions above and submit them to
urbangentblog @ gmail.com
along with 4 or more stylish pictures.
Our newest Local Urban Gentleman can simply be defined as classic. Classic style, taste, and interest. His name is Tk Usayiwevu and he like
Local Gent
alumni
Pat Wolinski,
Steven Powell,
and
L.David Stewart
, hails from the great city of Chicago. Sometimes… actually, alot of times style isn't about how flashy you are or what designer threads you wear- its about having the innate ability to exhibit the confidence you have through the clothing you wear. It's easy to spot a person who's trying to make up for their insecurities through alot of extra accessories and flashy clothes. It's also easy to spot a man who naturally has confidence and style- that's exactly what we have here.
Presenting,
Tk Usayiwevu
…
Name: Tk Usayiwevu
Age: 17
Location: Chicago, Illinois
Occupation: Student
Style Icons: John Legend, Kanye West, Pharrell
Favorite Quote: "Seeking attention and approval only shows how weak and insecure you are, instead, be yourself…improve yourself and have resilience all the time.."
Favorite Brands: Ralph Lauren, Brooks Brothers, Calvin Klein, Guess, Lacoste, D&G
Favorite Store: Brooks Brothers, Lacoste, Joseph A. Banks
Favorite Piece of clothing: Chinos
Bow tie or tie: Slim Tie
Flat front or pleated: Pleated
Shades, hat, or scarf: shades and scarf
Ultimate goal: Be the best there is…
Favorite Books: Portrait of Dorian Gray, Great Gatsby, Catcher In The Rye
Hobbies: Photography, Music, Singing, Dancing, Acting, Modeling, Sketching
Grooming product of choice: Cologne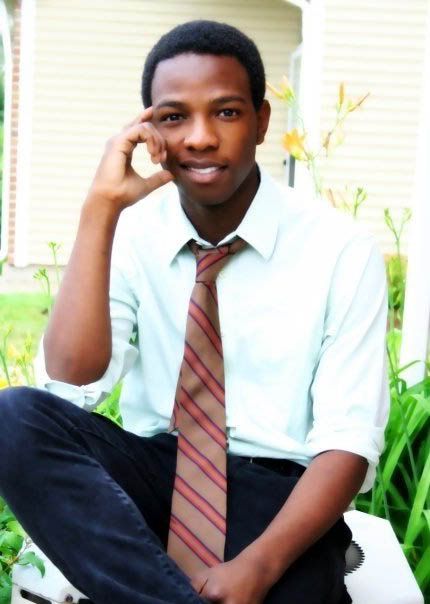 1.
How would you describe your style?
Classically original, and mostly flexible.
2. How did you become so stylish? Icons and media usually are the beginning but then later on you realize there is more in grooming and looking gentlemanly each and every day. It shows class, style, and confidence.
3. What advice would you give someone trying to find their personal style? It's good to experiment after you've have the gist of other styles, but don't go overboard. With everything there is a limit…
4. What's the best clothing advice you ever received? Don't buy the first item you see in one store..look around first at least 5 other stores for both prices and quality. Never look stuffy, and always dress accordingly..
Are you the next Local Urban Gentleman?
Answer the questions above and submit them to
urbangentblog@gmail.com
along with 4 or more stylish pictures.
I've recently become an avid reader of your blog and I appreciate all of your tips, caveats, and suggestions regarding men's fashion and style. With that said, I was wondering if you could opine on color theory with respect to fashion/putting outfits together. I have a hard time coordinating (as opposed to matching) colors and patterns (What should I wear my baby blue Dunks with? (or) What can I wear with a fire red pique polo?). At the end of the day I just end up looking like a monochrome. Help! lol.
Answer:
Thanks for reading the blog! Okay, so you have an issue with coordinating and matching colors– there are many things you can do to overcome that minor glitch:
1. Match/coordinate 2 colors at a time- one neutral (navy, black, khaki, brown, gray, white) and one color- yellow, blue, red, orange etc.
2. Fashion and art coincide and there are certain colors in art that "match" or "belong together"- purple and yellow, green and red, blue and orange- those are complementary colors. You can wear different shades and tints of those colors together.
3. Then remember that there are color families like brights, emeralds/jewel-tones, pastels. For example, all pastel easter egg type colors will coordinate because they have the same light tone. Colors like burgundy, hunter green, navy, plum purple, burnt orange, and deep gold (aka old gold) will coordinate well, as will basic crayon-box colors- red, green, blue, yellow.
4. There are also colors that coordinate or go together because they represent a certain season or country and we see them over and over again: red, white, and blue -or- yellow, black, and green -or- red, green, and black -0r- purple, silver, and black -0r- burgundy, white, and heather grey… there are a plethora of these combinations.
With keeping all of that in mind, you will more easily be able to match patterns and designs. For example, if you have a hunter green striped button up- you can pair that with dark khaki pants (neutral) and a navy or burgundy cardigan (same deep color family) -or- you could pair it with navy trousers and a plum or old gold cardigan… and with this color family brown accessories opposed to black usually look best… so brown loafers, brown belt. These are often the colors traditional, old-english, ivy type designers use.
Another technique to keeping your colors cohesive and stylish is by adding a splash of color (sometimes opposing color) to a neutral or one shade palette. For example, if you're wearing black and white you'll add a splash of red, sherbet orange, hunter green, or whatever color you like -or- if you're wearing all red you can wear one yellow piece.
You can also do this with patterns- if you're wearing a navy plaid shirt and navy pants you can add an electric purple sweater, or shoes, or bag… This can also be used for shades/tints/tones- if you're wearing all jewel-tone colors- turquoise, emerald purple, etc then you could wear one pastel piece.
All in all go with the colors that feel right. Color evokes a particular mood and its always good to pair the same moods together. If you're wearing a happy yellow, pair it with a happy blue and happy green. If you're a bit shy of colors then follow the sapuer rules of 3 principle– never match more than 3 colors at a time… I think that's a good rule for everyone because few people are able to successfully match more than 3 or 4 colors.
So baby blue dunks or fire red pique polo?
– Baby blue dunks with rugged stonewash jeans, and a light yellow polo or a graphic tee that has yellow and baby blue.
-Fire red pique polo with purple baggy skinny jeans, and shoes that have some red or purple in them -or- if you're more fashionable then wear a pair of blue high-tops that match in tone.
You just have to try out different color combinations- look at them in the mirror and see what you like. Also watch the men's runway shows and see how designers pair colors.
And don't worry about looking too monochromatic this season because its in

Here are a few photos:

here i've paired a plaid shirt with purple jeans.
The shirt consists of two main colors- red and blue. when you mix red and blue what color do you get? purple. This is an easy technique to use to coordinate colors- white, black, and gray -or- yellow, blue, and green -or- blue, white, and light blue, etc etc.
etro spring 2010
If you need help matching patterns, textures, and colors- just go through Etro's past collections. No one coordinates patterns like Etro.… so many colors, and styles you'll learn alot by just spending a few hours browsing their collections: 2005-2010. Their color and pattern palette is very bold, so you may not agree with the looks they create- it may be too overwhelming for some you, but look past that and focus on the coloring- it's quite beautiful.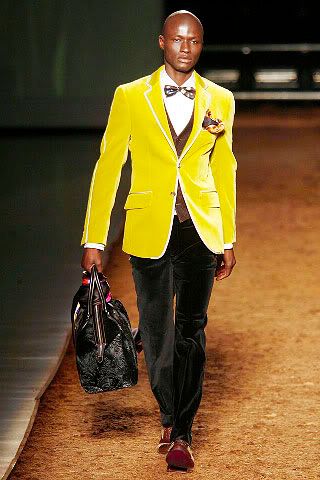 etro fall 2008
For a more traditional color palette, look through Ralph Lauren's past collections.
Also check out the Local Urban Gentlemen- they do a superb job at coordinating.
And here's a few more photos I pulled from the Urban Gentleman archives: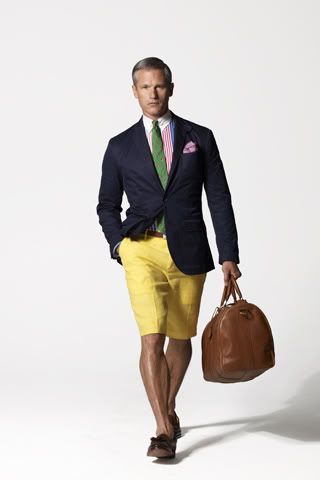 his color palette is basically gold, white, black (= gray)
then he adds splashes of colors with the blue shoe string
and purple croc murse.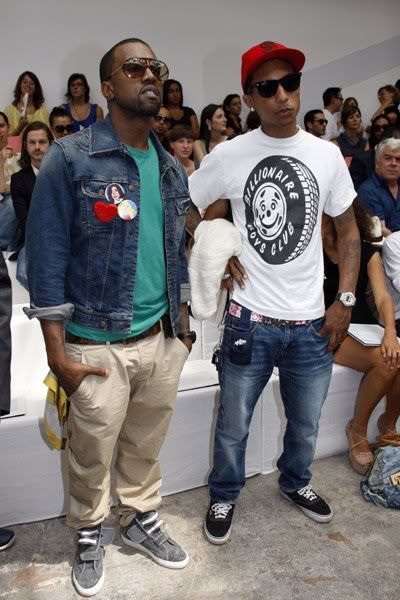 this picture isn't the best to show for an example, but its good enough.
pharrell-
note his basic coloring, then pops of color with the red hat and belt.
kanye-
he's working with a nice color palette- mixing neutrals- gray, khaki, and jean, then a pop of color with the green. he wears brown accessories- belt and shades.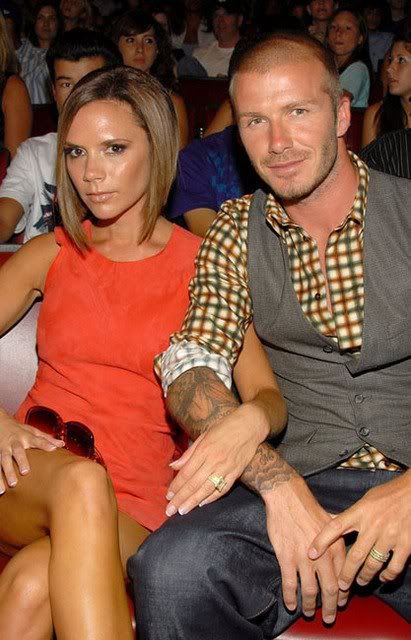 there's nothing like having a pretty lady to match your fly 😉
david and his wife victoria coordinate flawlessy (without being too
matchy matchy). their color palette is sort of autumn-like.
burnt-orange, basil/olive green, warm gray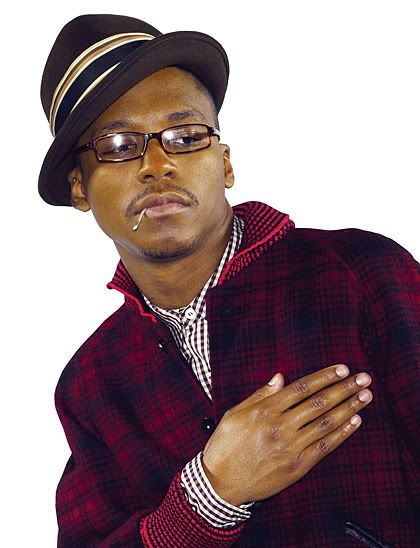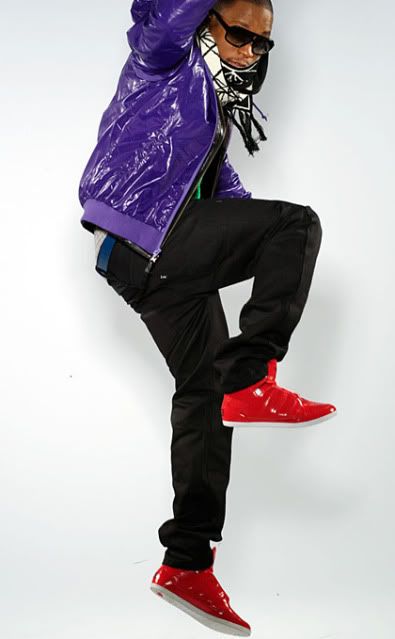 this is where texture and color come into play.
coordinating colors are easiest when you also match the texture.
here lupe sports patent leather jacket and shoes
both are crayon box colors- red and purple.
black is usually a great neutral for crayon box colors.
We're going back to the basics and re-starting some of the basic urban gent sections, like our beloved
Local Urban Gentleman
! So if you have serious style with a bit of swag send an email to
urbangentblog@gmail.com
, expressing your interest. Send about 3 pictures of your style and answer the questions below.
This weeks featured
Local Urban Gentleman is L.David Stewart.
He's a Chicago native that lives a double life as an architect and rapper– pretty impressive. He spends his weekends kicking, pushing, and coasting, basically he skates– seems like a popular recreation choice among chi-town rappers. Amongst his living a double life, Mr. Stewart also finds time to model and is a proud member of Alpha Phi Alpha fraternity…
Presenting L. David Stewart, aka Nizm…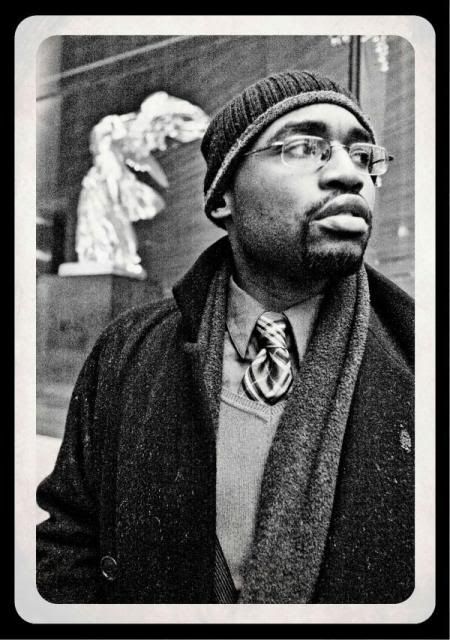 very nice layer combination.
Name: L. David Stewart
Age: 27
Location: Chicago
Occupation: Designer (Architectural)
Favorite Quote: "Character and temperament change under my dominant power"
Style Icons: John Legend, James Bond, Sean Carter
Favorite Brands (up to 3): Ben Sherman, Do Denim, Seven
Favorite Store: Too many
Favorite Piece of clothing: T-shirt
bow-tie or tie: Tie
flat front or pleated pants: Flat front
Shades, hat, or scarf: Hat
Description of favorite accessory: something that works within the architecture of the outfit as it's own piece but has it own character.
Ultimate career/life goal: architectural designer of the restaurants and offices worldwide Favorite Book: The Bible
Hobbies: Rollerskating, writing, traveling, reading
Grooming product of choice:
ANY type of AXE body washes mixed together (2 minimum)
1. How would you describe your style?
A grown hip-hop/sophisticated casual with a touch of business.
2. How did you become so stylish? Where did it come from or who inspired it? In terms of stylish I feel its because of my love for design and music. Can't be into creating style without loving style. I outline my style by my persona and character. As far as inspiration my mother as well as successful Black men in all industries.
3. What advice would you give someone trying to find their personal style? Like music, don't go with trends, our personalities are not trends, we are who we are, and let your attire market the corporation that is you and be the best representation of that.
4. What's the best clothing advice you ever received? Be yourself.