It's no secret that fashion can be pretty cyclical, and the 90s are making a huge comeback in casual streetwear at the moment. I'm not talking about pagers, mood rings, or rolling up one pant leg. Think ripped jeans, flannel shirts tied around the waist, snapback caps worn backwards, and Starter jackets. Yep, those jackets you probably had as kid are cool again.

Beyond being on-trend, they're a really cool way to rep your city or favorite sports team. So when I had the chance to visit Chicago for the first time, I wanted something that paid tribute to this great city and its legendary basketball team. The Chicago Bulls Starter jacket became my uniform while exploring the streets. As we walked from the Virgin Hotel to the SkyDeck to Millennium Park with the Cloud Gate, more popularly known as the "Bean", the "Windy City" lived up to its name, but I was warm in my jacket. We passed through shops, the Chicago Theater, and Costel Iarca's art gallery, and the satin finish of the jacket helped me stand out without being flashy.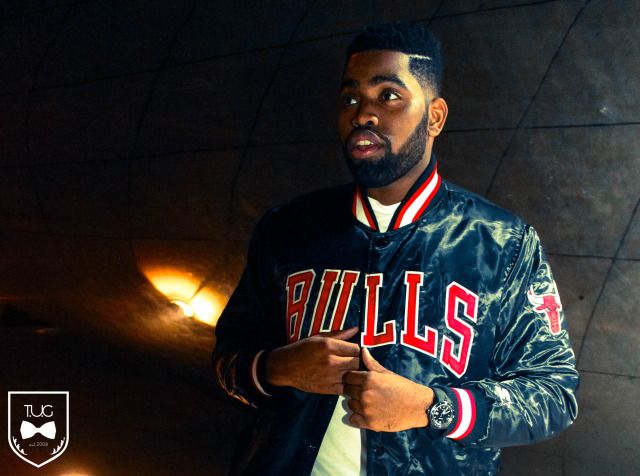 The company's latest collaboration, Starter x VILLA, is a collection of four capsules highlighting a mix of college and NBA teams. Needless to say, my favorite is the all black Chicago Bulls 72-10 Jacket. Check out the collection here, and tell us which is your favorite in the comments.
C.I for The Urban Gent
If you don't wanna go the subtle 90s route, then there's the literal option with modern accents. Instead of wearing your overalls with an oversized tee or jersey like Zac (Saved by the Bell
) or Will (Fresh Prince of Bel-Air
), pair it with a fitted denim button up. Instead of baggy pants or shorts with your boxy printed tee, opt for tailor fit denim
AllSaints denim shirt, Topman Overalls, Vintage RL Denim Hat, Floral Vans
Zanerobe shorts, Vintage Georgia Tech hat, Nike Air Huarache
Introducing New TUG Crew members Josh & Chris
Get the Look:
Check out Part 1 and Part 2 of this Men's Fashion Look Book.