It's starting to get a little chilly out there, so our wardrobes are undergoing slight modifications. One item that luckily doesn't have to be packed away from season to season are sunglasses… shades… sunnies – whatever they call them in your part of the world. Browse a few of our top pics below, as you listen to "Fell in the SUn" by Big Grams.
$50 and Under
$100 and Under
$100++
Taariq Tut sporting Smoke X Mirror "Golden Brown" Sunglasses
See the entire Early Fall 2015 LookBook, here.
Yasiin Dante Smith Bey aka Mos Def

Sometimes it's those simple defining pieces, that make you different. Gotta have the proper accessories to add that special uniqueness to your look.
Take your pick: Sunglasses, Pocket Squares, Ties
(pocket squares and ties below, click the article title or "continue reading more") CONTINUE READING MORE >>>
Parks & Recreation: Snapback & Tees (Summer Edition).
(behind-the-scenes video of Parks & Recreation: Summertime Style)

Lately we've been so caught up in button-downs, selvedge denim, shawl collar cardigans, and double-breasted blazers that we've forgotten about the relaxed easiness of a simple t-shirt and shorts. So we pulled out the snapbacks, fresh tees, a variety of shorts, and matching accessories to help get you through what seems to be the hottest days of summertime. Also, introducing, Ben Swann #TeamTUG.
An afternoon at the park.
10:37AM// Eat breakfast.
(snapback hat: AN 'Arched Atlanta Braves', shirt:t-shirts.com 'Animal House', shoes: Native' Miller', watch: Timex)

11:15AM// Pack your bag for a good ole time at the park (yo-yo, check, frisbee, check, a ton of games to have old-fashion fun, check…).
(bookbag: Sprayground.net)

11:45AM// Always say "hi" to the neighbors or passersby, wave or casually throw up deuces (aka peace sign).
(shirt:t-shirts.com 'Beatles 1962', shoes: Native 'Howard' , jacket/rain coat: Vintage London Fog, bag: Nametag Sprayground, watch: Timex, buttons: Good Wood and T.U.G)
11:51AM// Look both ways before crossing the street.
(snapback hat: AN 'Nineties' Oakland Athletics, shirt:t-shirts.com 'Retro Bob Marley', shoes: Native 'Miller', watch: Timex 'Camper', rucksack: Duluth )
12:03PM// Keep cool and be nostalgic– buy a popsicle from the ice cream man.
(snapback hat: AN 'Across the Board' Detroit, shirt:t-shirts.com 'Bayside High', shoes: Native 'Howard', watch: Timex 'Camper', jacket: Vintage early 90s Levis, buttons: Good Wood and T.U.G)
12:19PM// Sit on a bench (in the shade of course), people watch, and ponder upon life.
(snapback hat: AN 'Across the Board' Detroit, shirt:t-shirts.com 'Bayside High', shoes: Native 'Howard', watch: Timex 'Camper', jacket: Vintage early 90s Levis, buttons: Good Wood and T.U.G)
12:43PM// Play frisbee with a friend. (or any other park-friendly sport to your liking)
(snapback hat: AN 'Across the Board' Braves, shirt:t-shirts.com 'Hangover One Man Wolfpack', shoes: Native 'Corrado', watch: Timex)
1:42PM// Take a breather and relax before heading home, or to your next destination.
(snapback hat: AN 'Across the Board' Braves, shirt:t-shirts.com 'Hangover One Man Wolfpack', shoes: Native 'Corrado', watch: Timex)
Get more of the look below:
MORE PHOTOS below: CONTINUE READING MORE >>>
The Urban Gentleman x Good Wood Custom Pinbacks
We got these custom made pinbacks in awhile back, and have been waiting to display them in a shoot. Well, our "Parks and Recreation" summertime photoshoot was the perfect time to unveil. These are custom wooden Urban Gentleman pinbacks/buttons made by the good folks at Good Wood (based on our classic T.U.G pinbacks), pretty sweet, huh? Thanks guys!

Check them out in our casual summer men's style shoot.
Snappin' is back. We've been talking about it for the past couple years, but 2011 is probably the more official year of snapbacks being on the scene for fashion kids and on the shelves of retailers that have kept their ear to the ground in terms of what's hot. The in-trend wearing of snapbacks got me thinking about the origin of the popular late 80s/early 90s style hat. After a little digging I found that snapback hats are thought to have originated in the mid to late 1800s– when different types of hats were being used for the old American pastime of baseball. At the time, several different caps were being used with the baseball uniform– straw hats, boating caps, cycling caps, jockey caps, etc. So a less modern, more basic version of the snapback might have been around.
Brooklyn Excelsiors and New York Knickerbockers in 1858

The official baseball hat (as we know it today) was first worn by the Brooklyn Excelsiors in the mid 1800s, but the hat first became an official part of the baseball uniform on April 24, 1849 when the New York Knickerbockers unveiled their official club uniform.
old style (vintage) baseball caps

I guess if there was a "snapback" back in the 1800s, the "snap part" had to have been similar to the metal snap buttons you often find on windbreaker jackets. There is still some speculation on how far back the history of snapping baseball caps go. But what we all know for sure is that the famous snapback caps we know today came about in the 1980s, and were made popular by the hip-hop/rap music culture of the era. That's where American Needle comes in…
Tupac Shakur wearing an American Needle snapback

American Needle (AN) is the original snapback maker, and started selling "the snapback" everyone loves today in the late 80's. The vast majority of the high fashion snapbacks of the time were American Needle designs. A lot of the hats were worn by musical icons of that era – even American musical icon Tupac
wore American Needle's Blockhead style in the movie Poetic Justice
. And now, AN has brought back many of their originals for us to indulge in… pretty sweet, right? Moreover, they've chosen to giveaway 5, yes five of their original Blockhead style snapbacks to The Urban Gentleman readers. I mean, who doesn't love a free snapback?
To win: Follow on Twitter, Fan on Facebook, and/or sign-up for T.U.G Mail. Then simply comment or retweet. And as always the more ways you enter the higher your chances of winning. (winners are chosen via random.org)
I'm pretty intrigued by American Needle's history (In 1946, American Needle supplied the first Major League Baseball team caps ever sold to fans in a ballpark – in Chicago's Wrigley Field. ), and I'm very impressed by the vast array of hats they have. I've never quite seen an online retail collection of hats like theirs. They manage to cover most, if not all, historical style baseball hats. (plus you can search them in order from 1869 onwards, check that out here.) I actually felt like I got a mini history lesson just from perusing there website. Case-in-point: I didn't know that the Braves franchise was first in Boston, then Milwaukee, then moved to the best city for the team– Atlanta
From left to right: 1908 Boston Braves, 1915 Boston Braves, 1934 Boston Braves, 1940 Boston Braves, 1946-1952 Boston Braves, 1953-1965 Milwaukee Brave, 1968 Atlanta Braves, 1974 Atlanta Braves, 1982 Atlanta Braves.

Read more of American Needle's history, and see some historical photos below –> CONTINUE READING MORE >>>
This week we've featured lots of rucksacks/backpacks, and while some of you may mainly carry these for style, we have something for those who are "hard core" backpack wearers– those who wear them when biking, mountain-climbing, hiking, yanno, stuff like that…
CHROME BAGS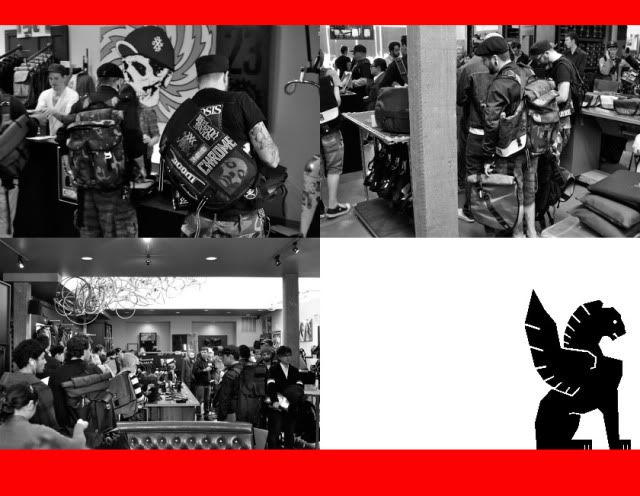 Their Story: Chrome started in Boulder, Colorado 14 years ago when a couple of guys needed bags and couldn't find anything that met their standards. So they got the toughest materials they could find, headed into their garage and started sewing. Functional seatbelts from used car lots were re-purposed into bag straps, and tough vinyl fabric salvaged from old furniture was sewn into bag liners.
Before long, people were knocking on their door. Word was out that Chrome was making the best messenger bags around. What started out of necessity became a business with an ethic: build functional products that people can rely on and do it well.
Eventually they moved to San Francisco, a city with a huge urban cycling scene. The business grew. Bags were joined by clothes, gear and shoes. "Our products showed up from Brooklyn to Berlin to Tokyo. But what matters today is what mattered in the garage – building products that work, and standing behind everything they make."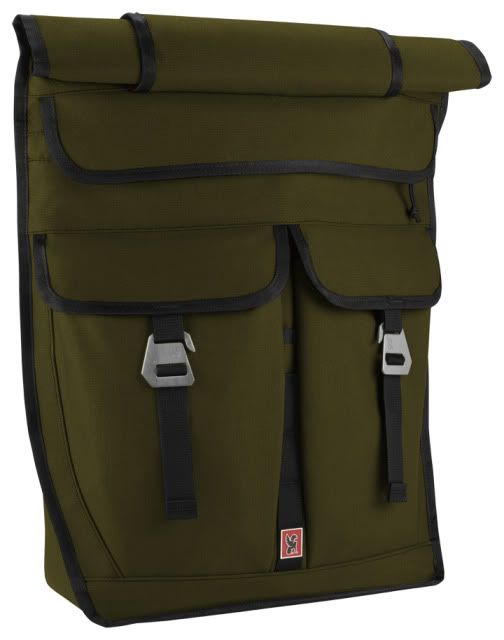 Our favorite Chrome bag: The Pawn. Their most compact, all purpose pack with a seam-sealed, roll-tight, waterproof compartment (beer cooler). Made in the USA (we like this). Guaranteed for Life (we like this even more). Dontcha just love how so many products Made in the USA have lifetime guarantee these days. We'll be giving away The Pawn, read more below…
The GIVEAWAY: To win: Follow on Twitter, Fan on Facebook, and/or sign-up for T.U.G Mail. Then simply comment or retweet. (winners are chosen via random.org)
Check out one of Chrome's many videos below…