Urban Gentleman Taariq Tut
Armani Exchange aka A|X— the brand first came onto my radar as a young teenager in the early 2000s when I walked the marbled hallways of Phipps Plaza (a luxury mall in Atlanta) one day. With it's chandeliers, dogs in strollers, mahogany walls, and indoor exotic cars (Bentleys, Astons, and Lotus's) I figured any store in this mall had to be great in its own way. But overtime I came to view A|X as just a line of logo t-shirts…. so I didn't really care for it and stopped noticing their clothes.
When Mainline Menswear presented their new Armani Exchange collection to us last month, I was pleasantly surprised. While A|X certainly still has its fair share of logoed tees, they also have some great polos, shorts, and sweaters (aka jumpers). The shorts are especially nice— the length is perfect and I sorta view them as luxury loungewear. Instead of the usual Nike or Champion branded shorts you might find yourself sporting for that Saturday pick up game of basketball, you could easily wear these. They're comfortable and have a luxurious enough sheen to be dressed up if needed. Just add a polo, some nice sneakers, and you'd be ready to go to brunch. Don't forget to refresh the shorts though… gotta stay fresh (the Febreeze unstoppable collection is the truth btw).
Shop the Armani Exchange collection here.
Easily go from a light workout at the gym to lunch with your girlfriend in these.
All Navy: Knitted Crew Neck Jumper; Short Sleeved Pique Polo T Shirt; Track Shorts
Just in case some of you guys aren't familiar with the styles, I've posted a few designer sneakers below.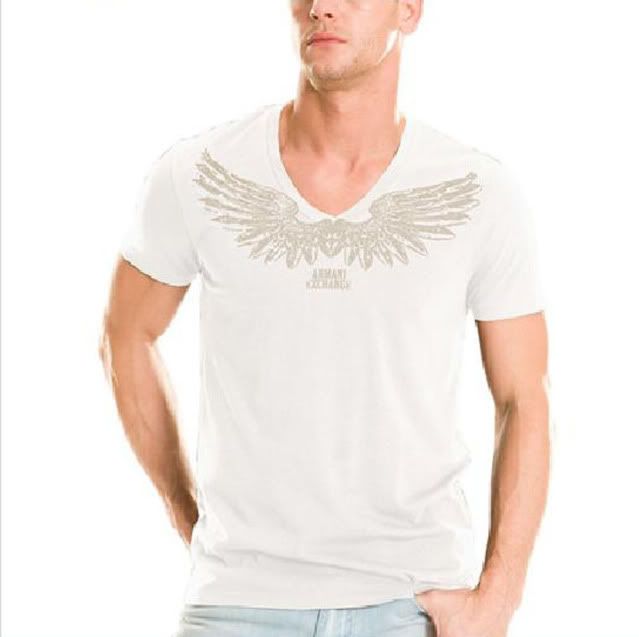 Wings V-Neck, $32 (Armani Graphic Tees)
2 Men's Pima T-Shirts for just $40.
Today I traveled to Macys Herald Square with a friend. While at the uberLarge Macys I decided to check out some of the new fall fragrances. I smelled about 14 colognes (I didn't have time for many more) and two of the colognes I found were pure perfection. These two colognes will make perfect gifts for yourself, upcoming birthdays, or for Christmas, check them out:
Pour Homme by Versace

Masculine smell with a hint of spice.
Gucci by Gucci

Masculine smell with a smidge of sweet.
Honorable Mention:
Eau Fraiche by Versace
This was also one of my favorites as well.
You can find these fragrances at macys.com or nordstrom.com, but I recommend getting them from an online discount fragrance place or eBay. If you buy these fragrances from the actual stores you'll probably get some free gifts– samples of other colognes etc.