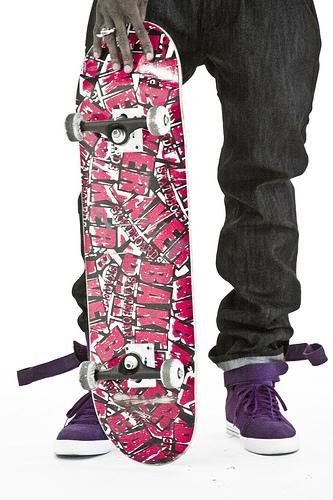 First, let me start out by saying I think skaters are cool– they just are. I had a friend who dated a skater once… a few times last year we went to Union Square (New York) and watched her bf and his friends skate (in this randomly blocked off area). It was fun and the guys were really chill. It seems to me that skaters are the new "rockstars" of sorts… they're cool, get loads of cash from sponsors, everyone wants to be like them, and the list goes on. There are alot of great skaters out there: Jereme Rogers, Terry Kennedy, Paul Rodriguez, Stevie Williams, Ryan Sheckler, etc etc. But today I will only focus on two of the "skater kings":
Terry Kennedy
and
Jereme Rogers.
For those who aren't versed on the skater world- you may know Terry Kennedy from his dramas with ex girlfriend Angela Simmons- yeah Rev Run's daughter. And Jereme Rogers well his recent
mushroom shenanigans
has lot of people shaking their heads laughing, but you also may have seen have him hanging with rockstars like Travis Barker on occasion.
Quicky Bios:
Name:
Jereme Rogers
Hometown: Boston
Years in the game: Four (pro)
Signature trick: Backside flip
Name: Terry Kennedy
Hometown:Long Beach, California
Years in the game: Seven (pro)
Signature trick: Fakey stuff down handrails
I think it goes without saying that the typical skater style is… the stereotypical hip-hop style. I say stereotypical because these days most categorical "hip-hop" artist dress preppy or "
urban prep
" or they just do their own thing- which could mean wearing suits or dressing like a nerd. The baggy jeans, graphic tees, fitted hat, and bling bling can truly only be seen in movies or tv shows, on certain rappers, and on skaters kings.
Up first….
Jereme Rodgers
: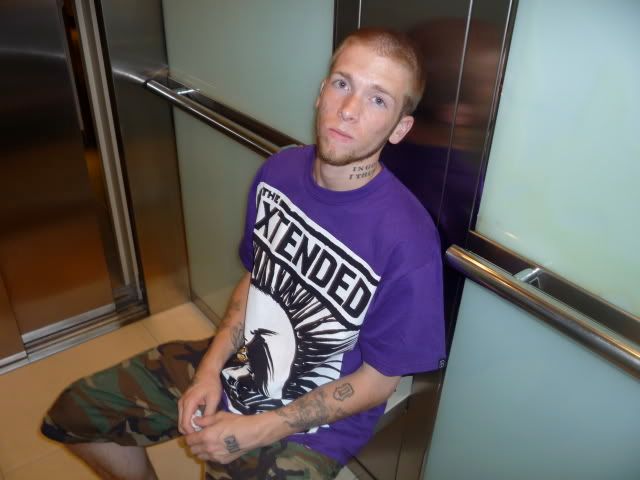 Jereme reminds me of some of the guys I went to high school with. He just seems like he's really laid back and always up to have a good time.

Terry Kennedy
Terry is seemingly one of the freshest skaters alive with his blinged out grills, chains, and he even has his own line of shoes and apparel-
TK Fly Society
by Supra. His shoes have been worn by the Fall Out Boys, Lil Wayne, Heidi Klum, and Souljah Boy just to name a few.
Overall, to get their looks it doesn't take too much:
graphic tee + baggy jeans + fitted hat + fresh kicks (Supra) + blinged out necklace = The Pro Skater Look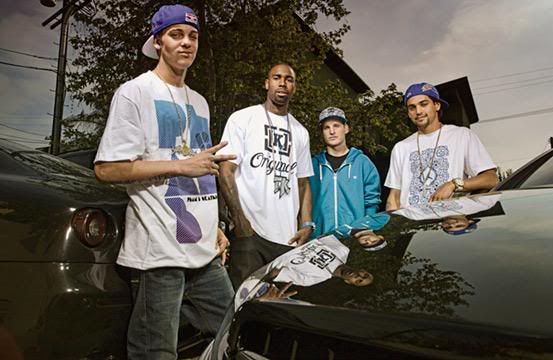 Popular brands
among
pro skaters
range, but they usually wear the threads of their endorsers plus whatever they feel is hot: DVS Shoes and apparel, Supras, Fly Society, KR3W clothing, Famous Stars and Straps, BBC, Nike SB, Nixon watches, RS by Sheckler, New Era fitted hats
Where to buy these brands? … they all have a website.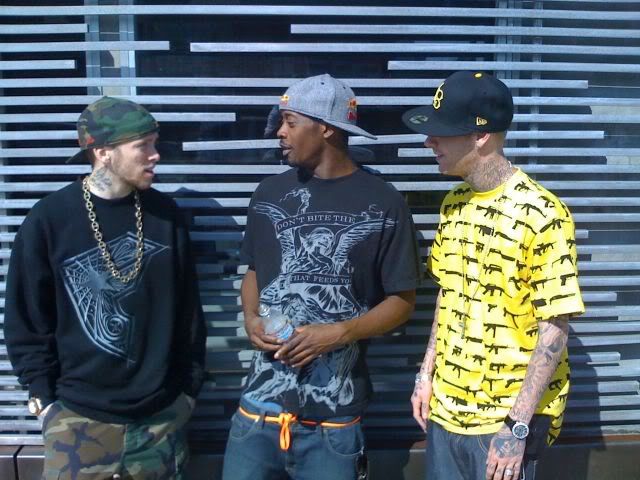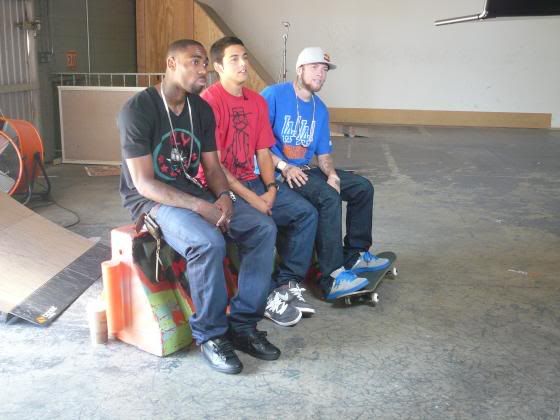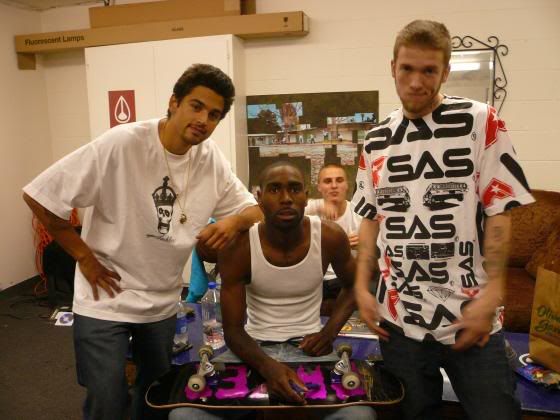 Both guys along with buddy Paul Rodriguez have a website called SK8SITE (go figure). And on it it has everything a skater fan could possibly want… videos, photos, event info, etc etc.
So what's your take on skater style?
The 2008 ESPY Awards were held at NOKIA Theatre L.A on July 16, 2008 in Los Angeles, California. The 2008 ESPYs will air on Sunday, July 20 at 9PM ET on ESPN.
I must say- I was a little disappointed in much of the attire at the Espy Awards. Don't get me wrong, everyone looked nice, but only a select few were truly stylish and well-tailored. At first I only wanted to put up the best-dressed celebs from the event, but I decided to include some of the plain and not so great ensembles as well.
Check our David's collar
It's a rounded or club collar.
Not every guy can pull it off, and if you have a big head don't try
(I'll add more pics over the next few days)
When I was out shopping for blazers and sport coats with one of my friends last week, he kept mentioning how he wanted to get that "Dwayne Wade Look". I chuckled as he continued, "He had on this orange and brown outfit one day, and I want to get that same look, you know that Dwayne Waaaade look". Well my friend based his opinion of Dwayne Wade's style on one outfit he saw him wear in a magazine or on tv. . . little did he know that Dwayne Wade is more often than not, found looking quite stylish. But Dwayne Wade isn't the only professional athlete who dresses so well he could double as a model, there's a slew of well-dressed men in the athletic world.

My top picks (in no particular order):
1. Lebron James
He's called King James for a reason and style is definitely one.

Lebron, dude. . .you look fly
Jay-Z and Lebron in Vegas
Lebron's casual look is really cool as he's posing w/ Jimmy Kimmel
2. David Beckham
He's always at the top of my best-dressed list. What can I say those Brits just have great style. Not only is he the new face of Emporio Armani, he also has a wife that's equally as chic- Victoria Beckham.
Classic perfection in this suit
The new face of Emporio Armani. . .underwear
He really has a thing for the "one shirt tail in, one shirt tail out" look
3. Thierry Henry
Some of you Americans may not know who he is (lol), but my international readers and true sports fans know that he is a sharp dresser. His charm and style has landed him a contract as an international "brand ambassador" for Tommy Hilfiger.
I love the suit, great color & material
4. Dwayne Wade
He always shows up to award shows and events wearing the latest trends and wearing them well. And besides. . . it seems like alot of gentleman are trying to get the "Dwayne Wade look".

Dwayne rockin the "country/cowboy" look
At the Jay-Z/MJB Tour Kick-off in Miami, 2008
Dwayne loves those Tom Ford aviators
At his 26th birthday bash, 2008
Will Demps – he's most women's picture of perfection and his fashion sense has allowed him to snag Hollywood hotties like R&B singer Letoya Luckett.

Tom Brady – he dresses how I expect and want athletes to dress- stylish & clean. I'm sure his girlfriend, supermodel Gisele, gives him plenty of fashion tips.


Alex Rodriguez – he has a really classic style that has made him a GQ favorite.

Terrell Owens – some say cocky athletes always have great style. . .hmmm, I don't know about that, but T.O definitely does.



Reggie Bush – he's actually one of the best dressed men in the NFL, he dresses up & down almost flawlessly. He has the complete Urban Gentleman look, he just doesn't have the UG swagger or class quite yet. . .but I'm sure he'll get there soon.