"Wait… I sneaker exhibit at The High?!" That was the general reaction when people learned that Atlanta's finest museum would have a bunch of rubber-soled athletic shoes on display this summer. The concept intrigued me so I made plans to go opening night, and I must say it was quite the experience.
THE OPENING NIGHT:
As I walked up to the High Museum of Art it seemed as if I had entered into an alternate universe or atleast onto the set of a movie… "Panda… Panda Panda Panda". Are they playing Future, I mean, Desiigner? Bro… seriously, what's going on here?! I had never seen so much hip-hop flavor at my neighborhood museum. You see I go to The High quite often, just about once a week or so. And while I've definitely experienced lots of music, people, and dancing in the courtyard of The High, I'd never seen this before. It was like a high-end, fancy HBCU cookout where dress code required sneakers valued no less than $300..
Left
: vintage Emory University
crewneck
circa 1960; Vintage high school
varsity jacket
; Destroyed
selvedge
Levi's circa 1985 (after 3 washes and 1 repair); Brooks Brothers oxford; Red Wing Pecos boots
Right: Vintage Brown University wool sweater; Vintage Lacoste windbreaker; J. crew chinos; J.crew desert boots; J.crew utility chambray
Get the Look:
MORE PHOTOS/detailed shots below –> CONTINUE READING MORE >>>
Winter is just about to come to an end, but before it warms up completely we have one last late winter/early spring T.U.G installment. This time in Oxford, Ga (photos from earlier this year– Jan/Feb 2011, w/ friends of the expanding T.U.G Crew: Cameron and Nedu)

Note: Even though it's warming up in the USA and many other places, it's cooling down and Autumn has just arrived in Australia, New Zealand, and other countries. So this will should especially be useful inspiration for readers in those locations.

Left: Vintage striped knit sweater; Vintage camo utility jacket; T.U.G pinback; J. Crew jeans; Arrow moccasins; Military issued laundry bag
Right: Vintage tri-color Columbia jacket; RRL camo thermal; Gucci marine belt; RRL herringbone camo hunting pants; Clark Wallabees; Supreme duffle bag; Eleven Eleven camo watch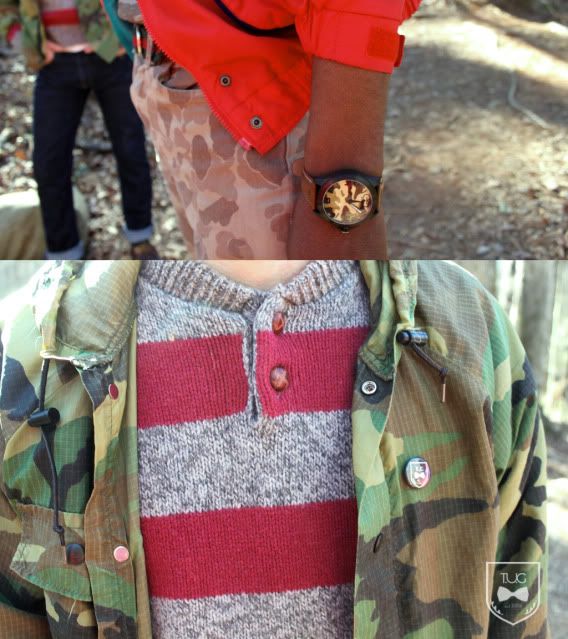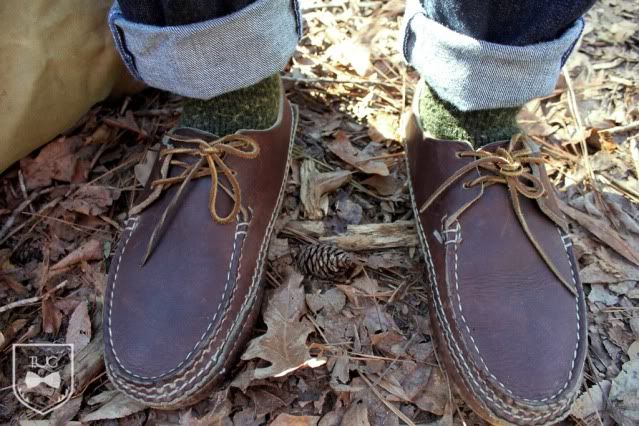 Get the Look: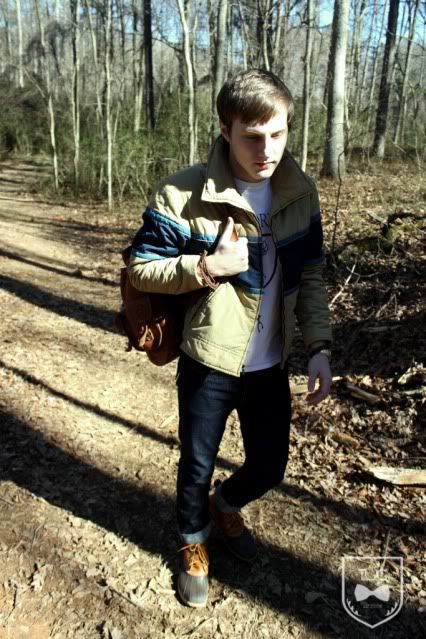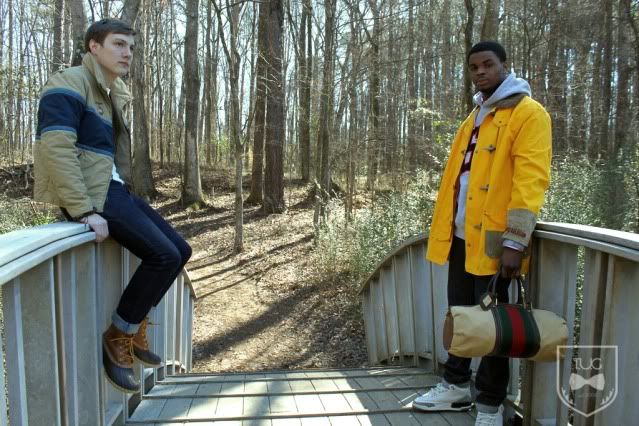 Left: Vintage Head USA ski jacket; Emory t-shirt; J.Crew denim; LL Bean duck boots; Handmade leather backpack
Right: Brooks Brothers oxford; Supreme varsity letter hoody; Ralph Lauren Polo fireman jacket; RRL raw denim slim fit; 2003 Air Jordan iii retro; rare Vintage Gucci mini duffle (est. circa 1950s or earlier)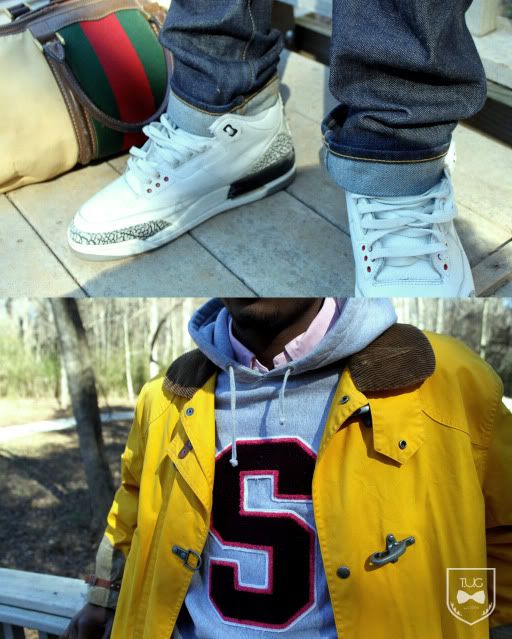 Get the Look:
Very early this fall Strivers Row designer/owner Jason Geter sent us a few photos of his new clothing collection and invited us to check out the store…. and I must say we were thoroughly impressed.
First, The Brand: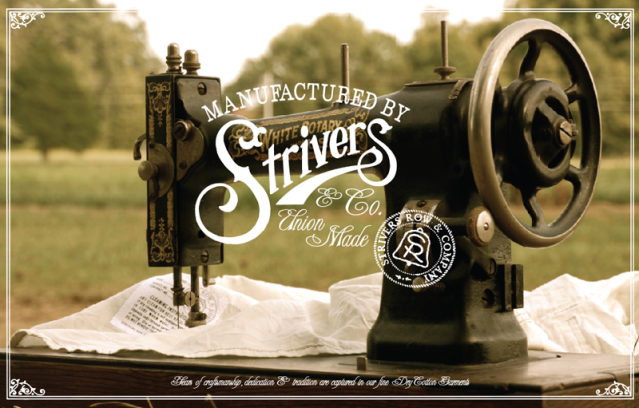 Strivers Row is one of those brands with a strong sense of history and meaning. It's a men's lifestyle brand that breathes life into fashion by studying the past.
The collection is a personal expression of a lifestyle that respects the juxtaposition of form and function, past and present, and in an environment that is both relaxed yet refined. The collaborators behind the Strivers Row brand, Emmett Harrell (the creative mastermind behind Akademiks and PRPS) and Jason Geter believe that in fashion, more than any other form of expression, the work must commend itself for some other reason than its cleverness or originality, or it will clearly wear out its welcome.
The Flagship Store
Walking in we were warmly greeted by the manager, Will. This guy is very congenial, he told us that he tries to make sure that Strivers Row isn't just some "stuffy" boutique in a rich area where the employees are arrogant for no reason. So whether you step into Strivers Row in jeans and t-shirt or a Canali suit and 7-fold tie you'll get good customer service. Why can't all stores be like that!?
Will showed us around and filled us with plenty of information from the brands they carry to selvedge denim and much more…
Strivers Row & Co. carries a number of brands: Strivers Row, PRPS, Stone Island, Canterbury of New Zealand, Jean Shop, Warehouse Co. Duck Digger, BkC, Mister Freedom, Dita, and more. We had a long discussion with Will about selvedge denim: the 'highest-selling' brands: (Nudie, G-star, True Religion, Evisu, APC, and Diesel, just to name a few)… he put us on to one of the very few American custom jean shops: Imogene and Willy... and of course we took a closer looks at Strivers Row denim.
Strivers Row is one of the few denim brands, if not the only, that has their name custom embroidered on the selvedge. Other companies may have their names pre-stamped on the selvedge, but Striver's is actually embroidered (post jean being made)… so there's a very high attention to detail when it comes to Strivers Row, which makes sense since Jason Geter spent months researching denim in Japan before creating their own.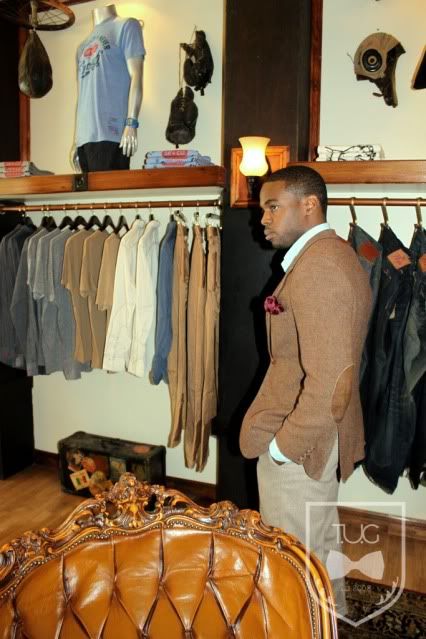 READ MORE AND SEE MORE PHOTOS BELOW —->
CONTINUE READING MORE >>>