"Wait… I sneaker exhibit at The High?!" That was the general reaction when people learned that Atlanta's finest museum would have a bunch of rubber-soled athletic shoes on display this summer. The concept intrigued me so I made plans to go opening night, and I must say it was quite the experience.
THE OPENING NIGHT:
As I walked up to the High Museum of Art it seemed as if I had entered into an alternate universe or atleast onto the set of a movie… "Panda… Panda Panda Panda". Are they playing Future, I mean, Desiigner? Bro… seriously, what's going on here?! I had never seen so much hip-hop flavor at my neighborhood museum. You see I go to The High quite often, just about once a week or so. And while I've definitely experienced lots of music, people, and dancing in the courtyard of The High, I'd never seen this before. It was like a high-end, fancy HBCU cookout where dress code required sneakers valued no less than $300..
As I made my way past the DJ booth, dancing, and model-types I headed up to the exhibit. There it was: "SNEAKER CULTURE" p a c k e d to the max. An elementary school single file line had organically formed, as hundreds began making there way around the exhibit. That night I got a good look around, saw a few stylishly-inclined friends, and a even a few NBA players (also a first for me at The High). But I realized if I wanted to truly experience SNEAKER CULTURE, the exhibit, I had to return post-opening weekend. So I did.
Yesterday I made my way back to The High Museum of Art. First I perused the main building, floor 1, floor 2, floor 3, then cross the bridge and down a level to see it once more. Let's just say, the crowd was very different this time, instead of 6'9 NBA players and their entourage I was met with spry 80 yr old, I mean young, folks and their grand children. It was cool. Now, I could really see what this exhibit was about.
THE EXHIBIT:
I understood the simple, minimal concept from day 1… the shoes are the art, put them in cases. I get it, I do. But, *pondering face*, I don't know. I can't front I was skeptical the first night, it almost seemed elementary. But I decided that I needed to calm my millennial self down, chill, and steadily peruse the exhibit like you're suppose to. I made my rounds again, this time paying more attention to the detail and actually reading the information about the shoes.
On opening night some friends and visitors commented on each shoe lacking: the original price vs current valued price, the popularity of the shoe now vs then (basically the #'s), etc. I thought those were solid critiques, but now I could more obviously see that it was about the story of the shoe or about the shoe in a certain segment of culture. ON DISPLAY you have: "the collaboration celebrity shoe" (Rihanna Creepers and Yeezys), "the high end shoe" (Louis Vuitton), "the original hip hop shoe" (Adidas shell-toes), "the how some people take it a step further and personalize their shoe shoe" (the President Barack Obama Air Force Ones). Okay, cool. I appreciated it each shoe more and I chuckled at the low-key coolness of how some shoes came from the collection of what seemed to be regular guys (Mike Haze, etc)
RICK OWENS 2014 RUNWAY SHOW FULL VIDEO
ROOM TWO:
This time as I entered the second room I noticed the video in the corner looping sneaker focused music videos from the 70s, 80s, 90s, and now. I hadn't seen the 2014 Rick Owens greek inspired show… that was kinda dope, check that out above. (For those not plugged into black greek culture, the video emulated pledges crossing / greeks having a step show).
The exhibit checked our PC box and gave a nod to the combo of women and sneaker culture and even highlighting a few like the beloved Va$htie Kola. This room went deeper and also mentioned the concerns of cultural appropriation and the impact of sneakers on the world. It displayed the old vintage tennis shoes + gave a brief history of the athletic shoe. Most importantly and most worthwhile in the entire exhibit was the video. The most worthwhile thing of all was the video, it gave you history, context, and laughs.
Personally, I could relate to parts of the video… as a person of color from an outwardly upper middle family sneakers were important. I had two big brothers and I think that sealed the importance of good sneakers for me. I wore uniforms in elementary school, but the sneakers, the sneakers were up to me. I would spend hours picking out the perfect pair of both unique yet subtle colored shoes. (we could only wear white, black, brown, navy). And in middle school, I was one of those people who didn't repeat the same outfit for moooonths at a time. I thought I made that concept up but apparently Jay-Z and Damon Dash felt the same way in their 30s that I did at 12. The video is riddled with facts that are worth knowing, even if just for fun. That was the coolest part. Combining the visuals of sneakers in glass cases to history and knowledge. Well, it's a museum after all.
The Rise of Sneaker Culture VIDEO
When I first visited the exhibit I thought it was lacking, although I loved what was going on in the courtyard…. literally looked like a movie scene. I hope someone recorded it please, please God let someone have recorded that awesomeness, lol. But upon returning I was able to appreciate the exhibit much more…. The Rise of Sneaker Culture gives you the history and the story behind the importance of sneakers and visual references that come from the sneaker collection of sneaker heads, celebrities, brands, and other museums. My favorite thing is that it so clearly pays homage and respect to the people who through sheer talent, natural swag, passion, and talking about it made tennis shoes what they are today… specifically: rappers, athletes, and the people of their culture. It's dope. So if you're in Atlanta be sure to swing by The High Museum of Art and check out, "The Rise of Sneaker Culture." See details here.
photo and video credits: The Urban Gentleman, Wish, @jasonbroom, @dalinrenka, @soyjomz – thank you!
Left
: vintage Emory University
crewneck
circa 1960; Vintage high school
varsity jacket
; Destroyed
selvedge
Levi's circa 1985 (after 3 washes and 1 repair); Brooks Brothers oxford; Red Wing Pecos boots
Right: Vintage Brown University wool sweater; Vintage Lacoste windbreaker; J. crew chinos; J.crew desert boots; J.crew utility chambray
Get the Look:
MORE PHOTOS/detailed shots below –> CONTINUE READING MORE >>>
Winter is just about to come to an end, but before it warms up completely we have one last late winter/early spring T.U.G installment. This time in Oxford, Ga (photos from earlier this year– Jan/Feb 2011, w/ friends of the expanding T.U.G Crew: Cameron and Nedu)

Note: Even though it's warming up in the USA and many other places, it's cooling down and Autumn has just arrived in Australia, New Zealand, and other countries. So this will should especially be useful inspiration for readers in those locations.

Left: Vintage striped knit sweater; Vintage camo utility jacket; T.U.G pinback; J. Crew jeans; Arrow moccasins; Military issued laundry bag
Right: Vintage tri-color Columbia jacket; RRL camo thermal; Gucci marine belt; RRL herringbone camo hunting pants; Clark Wallabees; Supreme duffle bag; Eleven Eleven camo watch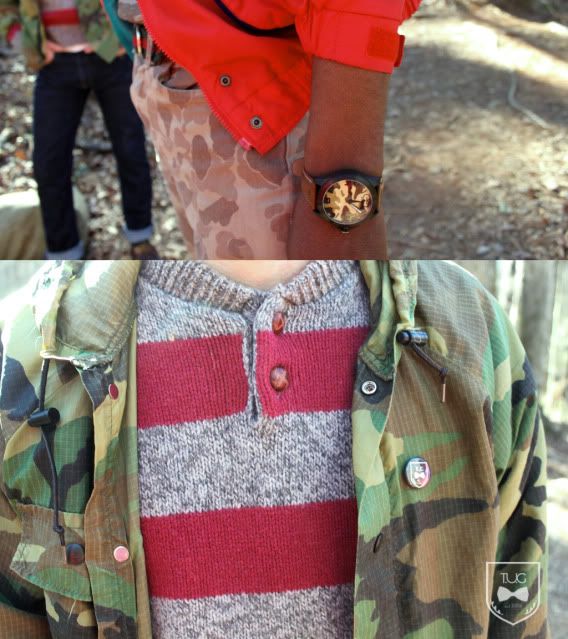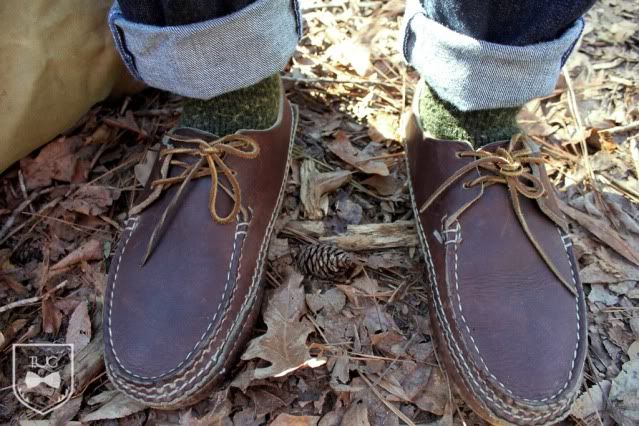 Get the Look: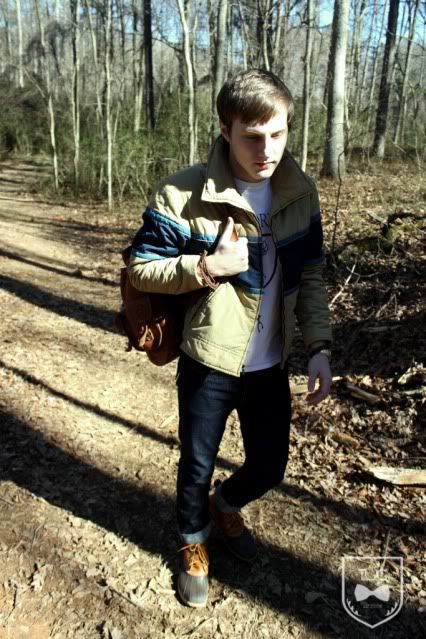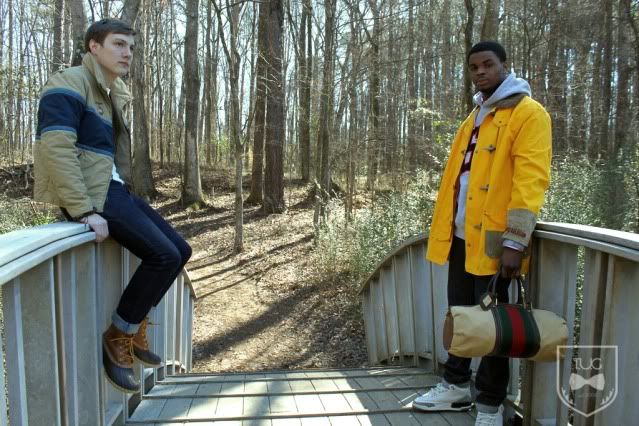 Left: Vintage Head USA ski jacket; Emory t-shirt; J.Crew denim; LL Bean duck boots; Handmade leather backpack
Right: Brooks Brothers oxford; Supreme varsity letter hoody; Ralph Lauren Polo fireman jacket; RRL raw denim slim fit; 2003 Air Jordan iii retro; rare Vintage Gucci mini duffle (est. circa 1950s or earlier)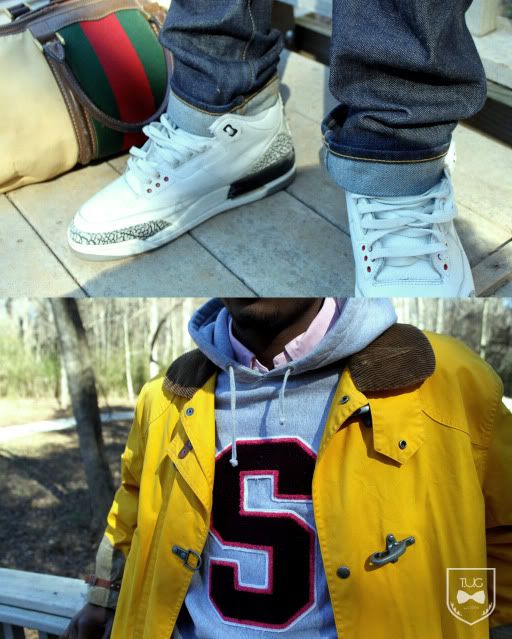 Get the Look:
Very early this fall Strivers Row designer/owner Jason Geter sent us a few photos of his new clothing collection and invited us to check out the store…. and I must say we were thoroughly impressed.
First, The Brand: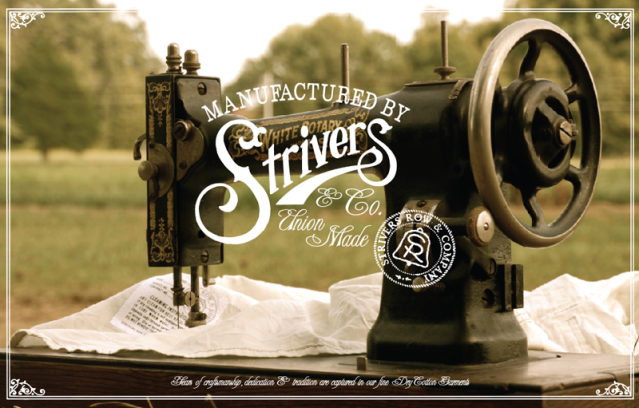 Strivers Row is one of those brands with a strong sense of history and meaning. It's a men's lifestyle brand that breathes life into fashion by studying the past.
The collection is a personal expression of a lifestyle that respects the juxtaposition of form and function, past and present, and in an environment that is both relaxed yet refined. The collaborators behind the Strivers Row brand, Emmett Harrell (the creative mastermind behind Akademiks and PRPS) and Jason Geter believe that in fashion, more than any other form of expression, the work must commend itself for some other reason than its cleverness or originality, or it will clearly wear out its welcome.
The Flagship Store
Walking in we were warmly greeted by the manager, Will. This guy is very congenial, he told us that he tries to make sure that Strivers Row isn't just some "stuffy" boutique in a rich area where the employees are arrogant for no reason. So whether you step into Strivers Row in jeans and t-shirt or a Canali suit and 7-fold tie you'll get good customer service. Why can't all stores be like that!?
Will showed us around and filled us with plenty of information from the brands they carry to selvedge denim and much more…
Strivers Row & Co. carries a number of brands: Strivers Row, PRPS, Stone Island, Canterbury of New Zealand, Jean Shop, Warehouse Co. Duck Digger, BkC, Mister Freedom, Dita, and more. We had a long discussion with Will about selvedge denim: the 'highest-selling' brands: (Nudie, G-star, True Religion, Evisu, APC, and Diesel, just to name a few)… he put us on to one of the very few American custom jean shops: Imogene and Willy... and of course we took a closer looks at Strivers Row denim.
Strivers Row is one of the few denim brands, if not the only, that has their name custom embroidered on the selvedge. Other companies may have their names pre-stamped on the selvedge, but Striver's is actually embroidered (post jean being made)… so there's a very high attention to detail when it comes to Strivers Row, which makes sense since Jason Geter spent months researching denim in Japan before creating their own.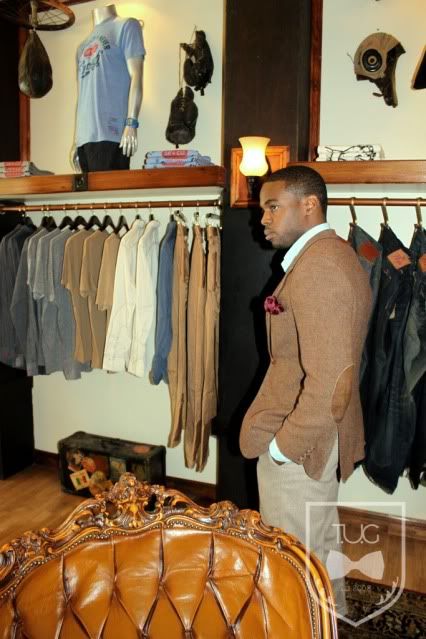 READ MORE AND SEE MORE PHOTOS BELOW —->
CONTINUE READING MORE >>>
Every Urban Gentlemen should be a fan of the outstandingly talented
Janelle Monae
. She is music's latest
sweetheart
phenomenon and everyone should have her latest album, "The Archandroid" it's like a theatrical production.
I think this is going to be
Bobby Ray Day
over here at The Urban Gentleman– it's the least I can do for a fellow Eastsider and friend. All the new album info is on the previous post, and as discussed we're all copping it for
$7.99 at Amazon
. Now, we're going to focus on the style of B.o.B aka Bobby Ray.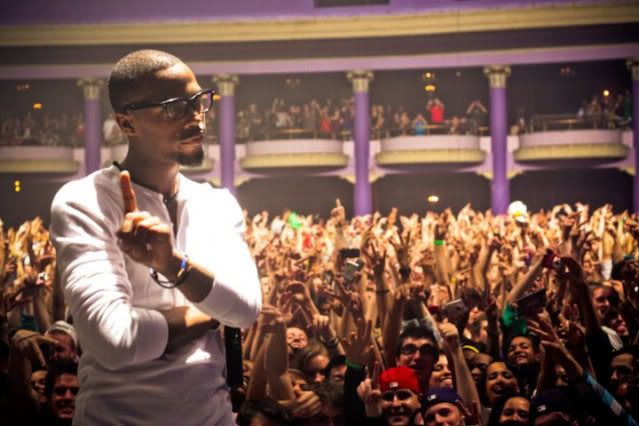 Like most new artist Bobby's style isn't quite set in stone, I'm sure he's still dealing with contractual duties and wearing the threads that the sponsors and record label's stylist provides. But within all of that he still manages to add his personal touch to most of the ensembles he sports.
It's safe to say that when it comes to Bobby, there's two dimensions, two personas, two __(fill in blank with an appropriate word)__: B.o.B and Bobby Ray… and yes they are the same person, but as made apparent by his 2nd mixtape "B.o.B vs Bobby Ray" they're almost completely opposite, not only in sound, but in looks and overall style.
"Jock it, Love it, Own it.
"
Check out
BoB's vs Bobby Ray's style
below…
"B.o.B…. Uno is my numeral, they said that hip-hop was dead, hmph, I musta missed the funeral". B.o.B doesn't like to be categorized in a genre, but humbly accepts the fact that guys like him are bringing back hip-hop… making it respectable again, making it an art form, making it the feel good music it once was instead of the, well, ummm– crappiness it had become.
And with his hip-hop flavor, BoB brings the one day classic 2010-ish hip-hop style. An eye-catching graphic tee, sneakers, a cool jacket (if the season calls for it), trendy shades, and maybe an optional well thought-out tattoo or two, is all it takes to get his look down.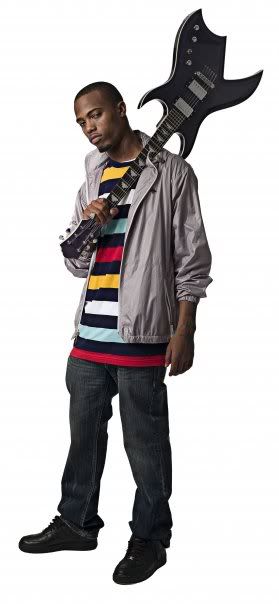 Get the Look:
The Style of Bobby Ray
"B dot O dot B was the name, I ain't like Bobby Ray, cuz I was ashamed, but you can call me Bobby Ray from this day forth and I could give a damn about the fame and fortune…"
Now Bobby Ray, the artist, from Atlanta, the eastside of Atlanta, yeah, well he can't be put into a box. He's some type of southern mosaic of indie alternative country rock&roll hip-hop pop… basically alot of stuff in one. And his style reflects just that.
Fedoras, classic wayfarers, beaded alternative looking accessories (usually one necklace and one bracelet), button-ups, henleys, cardigans, basic tees worn under button-ups and cardigans, and whatever shoes fit the look– maybe classic allstars, maybe boots, maybe boat shoes, its whatever that particular moment in time calls for.
I slightly prefer Bobby Ray's style at this point, only because his fedora collection is sick! And he manages to wear them without looking cheesy. He just looks like a really cool southern guy (georgia born and bred)… I can think of several artist that should take note, I would call names, buuuuut I won't.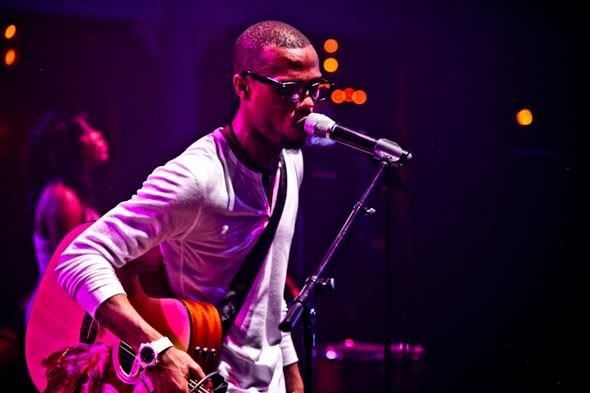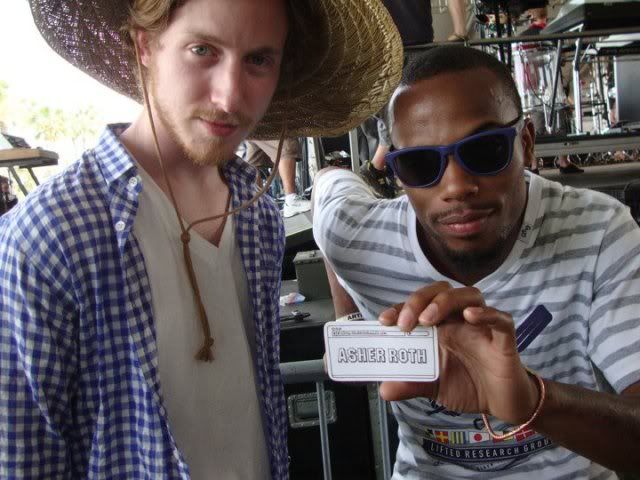 Bobby Ray and Asher Roth