I am American, but I was taught to almost exclusively love foreign cars. "They're more reliable, and just all around better…" are just a few of the things my dad would say to my siblings I growing up. But nevertheless, I'm American, and I am a sucker for an old-school American Car– always was, always will be.
(My loves: old Mustangs,

Camaros

, and

Firebirds

… but mainly old Mustangs)
Last Weekend (not this past one, but the one before) after attending the Georgia Tech Auto Show I went out to eat with family and friends.
Upon entering the restaurant I found myself staring at this really clean old-school American car and I couldn't figure out what car it was… I feel that I'm a pretty knowledgeable car person, I can name the make, model, and year of almost any car (though I may have a tad bit more knowledge of foreign luxury cars), but this car just left me drawing a blank. My brother quickly told me it was the Dodge Challenger… I'm thinking "Niiiiice, what a tight car, but how did I miss it especially if its been out for a little over a year now". I really don't know how I missed this, but I think the car is cool. I'm really loving all the retro cars American automakers have decided to re-make : Mustang, Challenger, Camaro, and maybe the Firebird.
2009 Dodge Challenger.
1972 Dodge Challenger.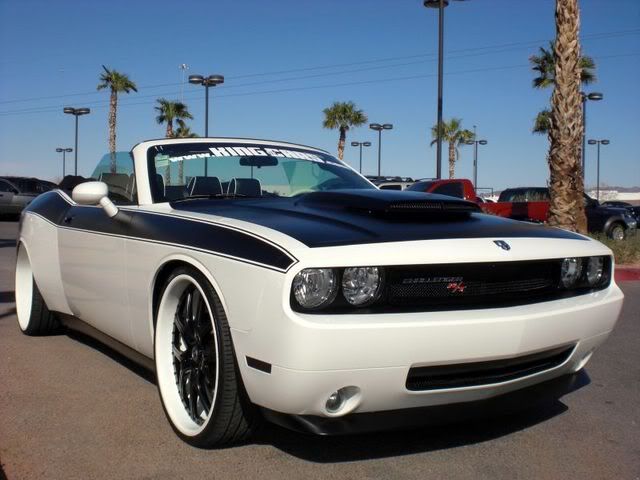 photos via: carconnection.com, musclecarsociety.com
I was taking my monthly stroll through a few auto blogs and saw something that was really cool… a wooden car.
Here's a blurb from autoblog.com:
The world's greenest supercar project is progressing nicely. The
last time we checked in
with Joe Harmon and his team of
woodsmen
craftsmen from North Carolina State University, the all-wooden car's hand-laid bodywork had been mated with the chassis, which was awaiting installation of the twin-supercharged, 32-valve Cadillac-sourced V8 engine and six-speed rear-mounted transaxle from a modern Chevrolet Corvette. Those 600 ponies will be funneled to the rear wheels, which have center hubs made from pressed and laminated wood, naturally. Even the transverse leaf springs are made from orange osage wood.
Work on the project has slowed so Harmon and his colleagues can finish school, but the Splinter continues to garner attention having appeared in a flattering piece published by Automobile Magazine. While we wait for Team Splinter to graduate and finish the car once and for all, take a look at these new high-res renderings of the arts and crafts supercar.
The Splinter is one of those rare projects that's truly inspiring, and Harmon seeks to prove that wood is anything but an outdated material with no place – outside the dashes of expensive luxury cars, of course – in modern automobiles. Point taken.
Who ever said fashion and cars don't mix, was lying. The new Lamborghini Murciélago LP 640 Roadster VERSACE is undoubtedly car of the year.
The bright white exterior is plastered with Versace's Greek motif, while the interior gets special full-grain, hand-embroidered, ultra-soft, white nappa leather on the seats, dashboard and center console. The Versace edition also gets a transparent engine cover that showcases the V12 for the first time.
For those of you who can't quite buy the cars, but want to stunt- Versace will have a whole host of Lamorghini Versace goods. Including: luggage, gloves, driving shoes, hats, wallets, and more.
these bags will never be mistaken as murses, lol. . .
I know that v12 engine sounds so good. . .what a sexy ass car.
This isn't the first time Versace and Lambo teamed up, this is just the first time that the car is open to the public. . .yeah that's right you can go buy it- well maybe not you, but a rich uncle or something perhaps??
Check out there previous collaboration:
2006
Only a select few were able to get there hands on this bad boy
Bugatti Veyron FBG by Hermes
Imagine pulling up to your house in one of these

These auto & fashion collaborations have been popular over the past few years, but one of the sickest collabs has to be Bugatti & Hermes. When you combine the fastest car in the world with one of the MOST exclusive fashion houses in the world- you just CAN'T go wrong.
I wonder if Pharrell would rock this with his purple Hermes bag. . . mmmmm, I'm thinking no. I can't really see a purple bag and this car together- the colors clash, lol.

Cost? 1.55 milion euros
Yeah this is pretty much an instant orgasm when seen in person . . lol, sorry if I've offended anyone.
info via Autoblog