Last night the Beverly Hilton Hotel held the 68th Annual Golden Globe Awards in Beverly Hills. Check out the winners and the men of the red carpet, including Urban Gentleman favorites.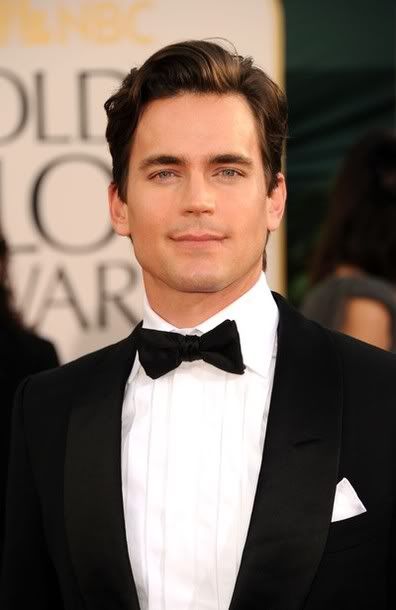 White Collar star Matt Bomer looked dapper.

Johnny Depp rocks his usual Bohemian-Eclectic style with his long hair, glasses, chain, boots, and overall relaxed look., complete with no tie. His label… all Ralph Lauren Black Label. With Martin Katz cufflinks. He opted for a shawl-collared jacket instead of the traditional notch-lapel.

Johnny Depp's man jewelry.
LL Cool J and wife Simone Johnson… he'll never let those Kangol hats go
Ryan Gosling was hands down one of my favorites in a black velvet Ferragamo suit, a white shirt with pearl buttons by Lavin, Hugo Boss black velvet bow tie, and black patent leather Ferragamos.
Inception star, Joseph Gordon-Levitt always brings it. Matter of fact he needs his own Urban Gentleman style profile very soon. Like a few others he donned navy at the Golden Globes. To be more specific a two-button notch lapel Prada suit. With a red button… I wonder what the button stands for– it looks good though.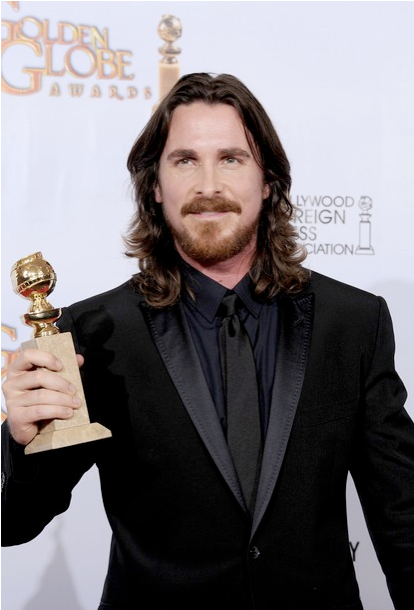 Best Supporting actor winner Christian Bale and wife Sibi Blazic. They've been matching in black all award-season long, maybe they'll switch it up for the Oscars, who knows. Christian hit the red carpet in Dolce & Gabbana from head to toe: black peal lapel tuxedo, black shirt, black tie, and black shoes. ( I do love a nice Dolce suit). Cartier cufflinks and watch.

And Christian's Fighter co-star Mark Walhberg mixes it up a bit (designer wise): Giorgio Armani tuxedo, shirt, black bow-tie, and Martin Katz cufflinks. His wife Rhea Durham looks great too.
LOTS more below –> CONTINUE READING MORE >>>
It's unusual for every guy who hits the red carpet to look almost flawless… but somehow they did. (well, most of them anyway)
40th Annual
NAACP
Image
Awards
at the Shrine auditorium in Los Angeles February 12, 2009.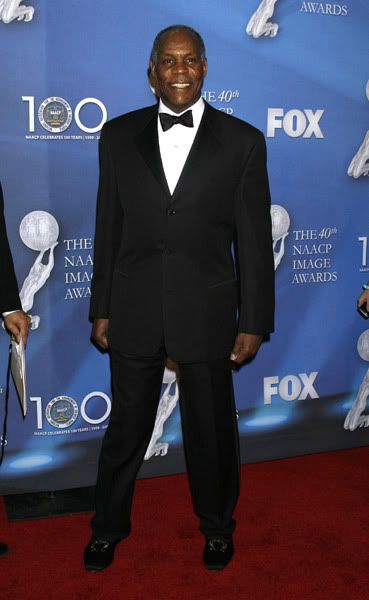 Danny Glover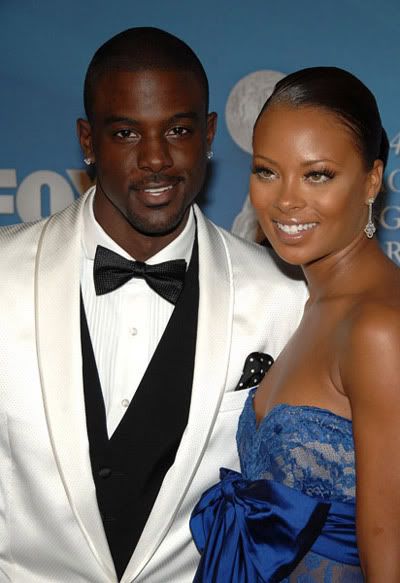 Top Model
Eva Marcille
and actor
Lance Gross
An very attractive couple. Now guys, THIS is how you wear black and white. And again, we see the polka dot trend, but this time solely used in his pocket square.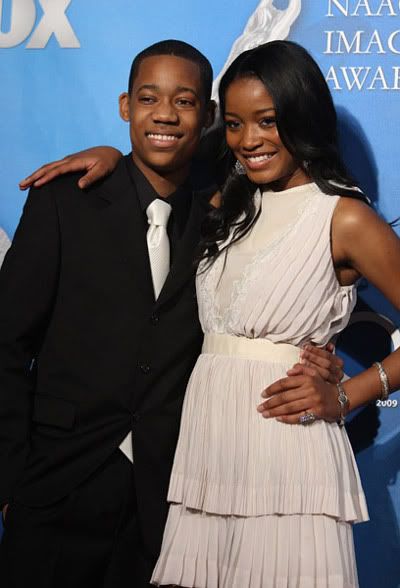 Tyler Williams and KeKe Palmer
For all the young Urban Gent's looking for prom advice
this is a nice look by Tyler and actually… this would be a nice look for your date as well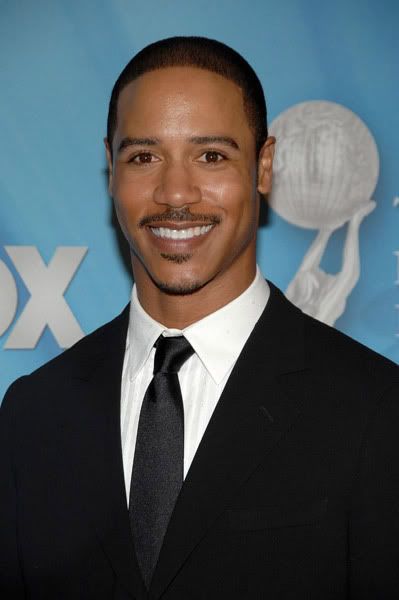 Brian White
Simple, but nice.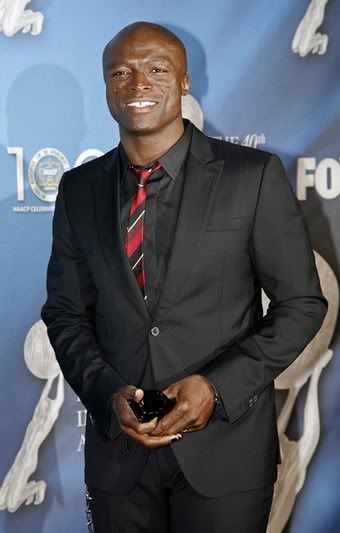 Seal
I wish his tie was straight, but this a clean simple look-
all black (like many guys on the red carpet these days), but instead of a black tie he opted for a skinny tie that compliments his skin tone.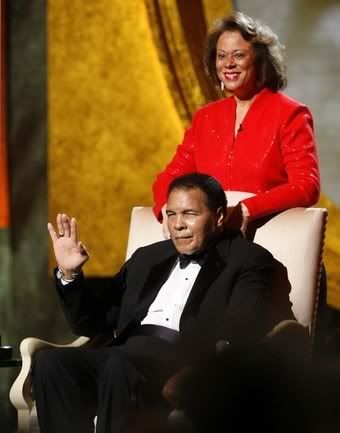 Muhammad Ali
and wife
Yolanda Williams
receiving the President Awards
NAACP Chairman Julian Bond and Rosario Dawson
Aww don't they look adorable.
Russell Simmons
receiving the Vanguard Award with his daughters
Aoki
and
Ming Lee
Sean "Diddy" Combs
I'm starting to notice that this is his typical black-tie wardrobe
(but as they say "if its not broken, don't fix it"…
meaning he looks good every time he wears this look)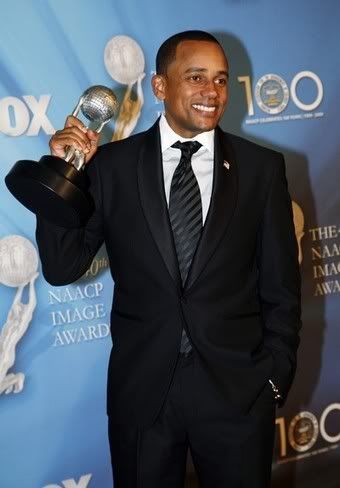 Hill Harper
January 20th
2009
is forever marked in history as one of the most impactful, promising, and inspiring days in history. Barack H.Obama became America's first (50%) African American President (Bi-racial president)… the 44th President of These United States of America and he'll technically be the 45th as well since he'll be serving a second term in another 4 years.
There are millions of photos from yesterdays festivities, but I chose a few that I absolutely love and a few others of celebrities from the Inauguration Balls.
Barack Obama with wife Michelle and daughters Malia and Sasha as he's being sworn in as the
44th President of the United Stated of America.
They used Lincoln's Bible— the same exact bible Lincoln used when he was sworn in as the 16th President of the United States in 1860.
Vice President Joe Biden and Dr. Jill Biden
Celebrities at different Inaugural Balls:
Leonardo Dicaprio
Fonzworth Bentley
Kanye West
Jay-Z
Wyclef
Kanye West
Samuel L. Jackson
Will.I.Am
Bill Bellamy, Usher Raymond, and Sway from MTV
(L-R) Sean "Diddy" Combs, Mary J. Blige, Faith Hill,
Denzel Washington, Trudie Styler and Sting