Just in case some of you guys aren't familiar with the styles, I've posted a few designer sneakers below.
The runways of Paris and Milan have been
haute
for the past week or so as all the top designers flaunt their newest creations. Some left me overjoyed and totally inspired while others left me wondering "
why"
? I'll highlight different shows over the next few months, but I figured I'd start you all off with the ABC's- meaning a quick synopsis of the collection of a few designers whose names just happen to start with A, B, or C.
Fashion Week Milan Paris: (prepare yourself… I'm in fashion mode and I am therefore not responsible for the things I say…
lol
. just
kiddin
)
———————–

Adam Kimmel.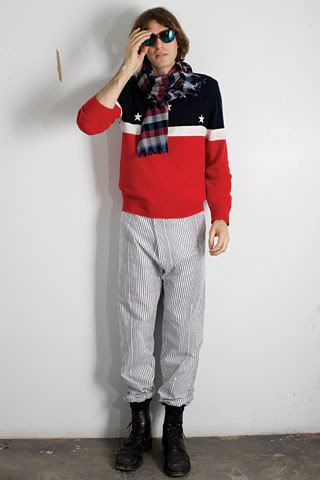 Adam Kimmel. frumpy see as frumpy do. Even though it seems as though many have moved passed baggy and saggy and turned to more clean lines and straight silhouettes, Kimmel like other designers this season, are showing otherwise. Here again we have a rising of the over-sized and bulky… do we leave it or do we love it…. who knows. But he certainly takes the worker look to a real level, almost giving each look its own personal story- and for that reason I am a fan… 7.8/10.
PS- I live for the star and striped sweater. People who dress like this in real life are always so cool.
—————————————————–
Alessandro Dell Acqua. flesh tones, cuffs, bigger tops smaller bottoms, structured shoulders… in the water we all must go (high-watered pants)… Though Dell'Acqua's new catch phrase is "bourgeois revolution", I for some reason, get a feeling of "modern goth with alot of class"- clean yet emotional in subtle ways- the elongated sleeves, cuffed pants, flesh tones… immaculate pieces for the most part… 7.9/10.
—————————————————–
Alexander McQueen.


Alexander McQueen
. drama is his middle name- always has been always will be. I must say aside from the scary faces McQueen unsurprisingly brings it once more-
his array of designs, patterns, textures, shapes, can easily be seen in the wardrobe of any well

dressed

man.
When viewing his collection, like always, you have to look at the individual pieces. And the pieces are very well executed. Though I feel like these models are going to jump off the screen and get me- I do like the overall collection… but I didn't however like the order of the show, I would have changed it a bit… 8.9/10… The man is a brute.
—————————————————–
Bottega Veneta.
Bottega

Veneta

.
"Excuse me gentlemen, but can I take you home with me," that is the feeling I get after viewing
Veneta's
collection.
These are the clothing of a

pristinely

dressed

gentleman

.
Great, I mean just great jackets- especially in the chocolate section- this is what fall is all about! My only
criticisms
would go to the short sweater and large trouser combos- oh how I do hate that
silhouette
, I am simply not a fan… never have been never will be. Overall,
Bottega
makes the
monochromatic
trend I spoke of earlier this month seem like a work of art. I
absolutely
adore this collection… (applauds) 9.3/10.
—————————————————–
Burberry Prorsum.
Burberry
Prorsum
. (Christopher Bailey) We all love you and we all buy you, but… if you don't mind me saying so- "the show" was completely uninspiring. Well, maybe completely is a bit harsh, but the only thing I found special was the use of velvet. Again we see the frumpy crotch heavy harem pants… I really do wonder if this trend will hit America in a big way. Seems totally appropriate for England and the pebble stone streets of Italy, but America,
hmmmm
– who knows.The highlight of the show was… well, there wasn't really one, but
I did like the 2

nd

to last look because of the blouse and jacket- so perfectly tailored, so

burberry
. Besides that, the ever changing shapes and cuts of the pants were completely distracting leaving me slightly annoyed. And the random graphic tees left me perplexed. But again, just for the record- we do all love you
Burberry
– today just wasn't your day.
—————————————————–
Comme Des Garcons.
Comme

Des Garcons
. dressing in the dark is so obviously the name of this game. Perhaps the
Comme
Des Garcons show would have meant more to me if I had been there, but since I wasn't I can only ask "When did the circus come to town"? The
girly
shoes, wide yet short pants, and unsuccessfully playful
silhouettes
left me thinking-
wtf
?
Rei
Kawakubo
', my darling, I hate to ask, but "when will the show end".
Though her shows are always playful, they also always include pieces that can be confidently worn alone- this years collection lacks that
.
Coincidentally
this is the same show
Kanye
and his colorful crew were photographed outside of and many weren't fans of their get-ups either… but hey, maybe we just didn't get the memo.
—————————————————–
Stay Tuned for more mini-
reviews of the
Fall/Winter 2009/2010 Menswear Collections
.
Cindy of the Urban Gentleman

Polos are one of the essentials of a gentleman's wardrobe. You can easily wear them in a dressy or casual manner. There are hundreds of different types of polos you can choose from, but I've narrowed the polo types and brands down to make the 1st official Polo List.
A mini-history lesson: The polo shirt was first known as a tennis shirt. It was designed by 7-time French Grand Slam tennis pro, Rene Lacoste. He designed it because he needed a more comfortable shirt to play tennis in. He first wore it in the 1926 US Open Championship and in 1927 he added the crocodile emblem. Polo players began to heavily wear the shirt in the 1930s (after Lacoste began to mass produce them)- hence the nickname "polo shirt". In 1972 Ralph Lauren included the "polo shirt" as a prominent part of his line called Polo- to further boost popularity. Many English speaking westerners started calling the tennis shirt a "polo shirt" on a widespread level because of Ralph Lauren immense popularity . . . see, you learn something new everyday
okay, back to the list. . .
The Official Urban Gentleman Polo List
Ralph Lauren – the Classic polo
This is the polo that everyone thinks of when they say the word polo. The fit of these are the best and now Ralph Lauren allows you to "create-your-own" polo.
www.ralphlauren.com
Retail price: $79.50 – $125.00
Average Sale prce: $45.00
Lacoste- the Original polo aka the Preppy polo
When you buy Lacoste, you buy the real deal- it's the first
polo ever made. This polo automatically preps up any look,
making it a must in your wardrobe.
www.lacoste.com
Retail price: 79.50
Average Sale price: $50.00
Express– the Modern polo
Express's polo is quickly becoming a favorite of stylish men,
especially since they added the big-face lion logo.
express.com
Retail price: $44.50
Average Sale price: $19.99
Chaps- the Bargain polo
This is somewhat of the "starter" polo, meaning that it's the average guys first polo if they didn't grow up wearing it. It's a good quality brand that can be found in most stores.
www.chaps.com
Retail price: $39.50
Average Sale Price: $19.99 or less
Sean John – the Comfort polo
What can I say, Diddy is a great designer- even if he's crazy,
lol. His polos fit perfectly and they make most guys look fly.
Plus, it's always good to support black designers.
www.seanjohn.com


www.drjays.com
Retail price: $52.00+
Average Sale Price: $30.00
Rocawear – the Hip-Hop polo
Again another rap-star delivers (Jay-Z & Damon Dash). Rocawear has a great line of men's clothing. One of its best feature is the R logo- which always matches the shirts lining. Rocawear polos are really cool, they remind me of Miami for some reason.
www.rocawear.com


www.drjays.com
Retail price: $58.00
Average Sale price: $35.00
Burberry- the Gentleman polo
With Burberry you can do no wrong. The polos are just about as classic as Ralph Lauren and Lacoste. The best thing about Burberry polos is the high-quality material and rich colors.
I've recognized that most rich and wealthy executives almost exclusively wear Burberry polos.
www.burberryusaonline.com
Retail price: $95- $160+
Average sale price: $75.00

Penguin- the Vintage polo

This is everyone's favorite extra polo. Penguin is a brand that not everyone knows about, but those who do swear by it. I've met guys who exclusively wear Penguin polos. They're meant for young stylish guys who enjoy vintage looking polos.
www.penguinclothing.com
Retail price: $59.00
Average sale price: $39.00

Coogi– the Artistic polo
Awwwhh, Coogi- so colorful and bright!
There's nothing like a
coogi polo
, they are so detailed and creatively designed.
www.shopcoogi.com
Retail price: $78-$88
Average sale price: $58.00
AE (American Eagle)- the Schoolyard polo
When I think about AE, I think about private school kids-
which is cool. American Eagle is a really good all-american
brand, with great polos for good prices. You can also
customize your polo, I made a pink one w/ a navy eagle
on it (showed above).
www.ae.com
Retail price: 24.50-34.50
Average sale price: $14.50
Guilty Brotherhood- the Lupe polo
This has to be the most googled polo in the world right now. Ever since Lupe spit his line about liking ". . .Guilty Brotherhood Polos" on
Gold Watch
everybody has been trying to get there hands on one of these. Unfortunately it's not that easy to cop via the internet.
http://guiltybrotherhood.com/
Retail: $105-$170
To order email, info@guiltybrotherhood.com 962-62364
Cindy at The Urban Gentleman