A few recent photos of celebrity style from the past week, month, etc…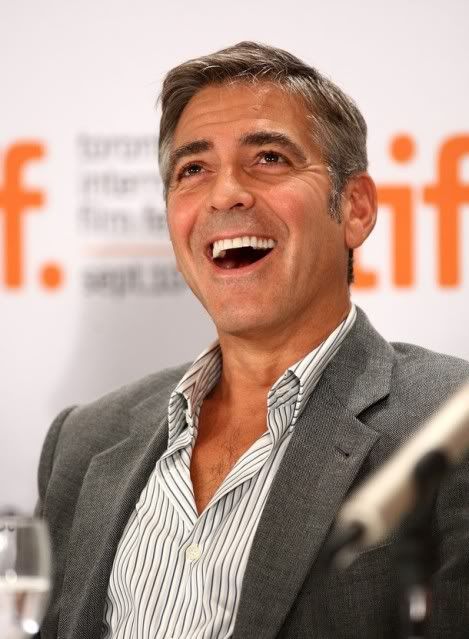 George Clooney
in Toronta, Canada
Clooney always manages to portray such effortless easy style. If he's not attending a black tie event you can count on him to leave 1 or 2 buttons open on his shirt to show a little chest hair, after all–
it's a man world.

Robin Thicke and wife Paula Patton
at Roger Vivier Boutique Opening Party in Miami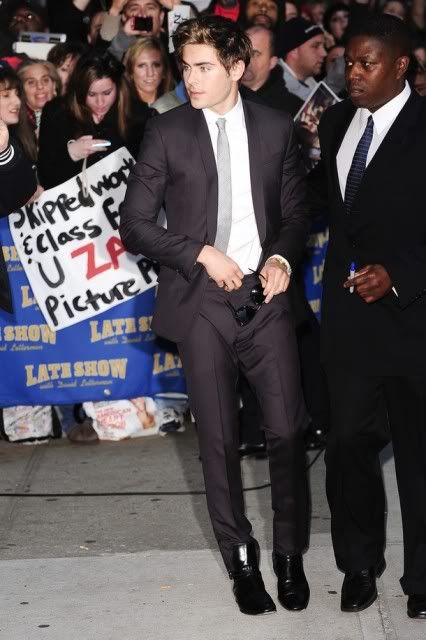 Zac Efron at the David Letterman Show
in New York City sporting perfectly polished ankle boots.
When it comes to dress shoes most men opt for the lace-up oxford, some go for the slip-on loafer, but if you're a truly stylish guy and in need of new dress shoes, look into purchasing a pair of
dress boots
.
Robert Wayne
carries some of the best styles at reasonable prices.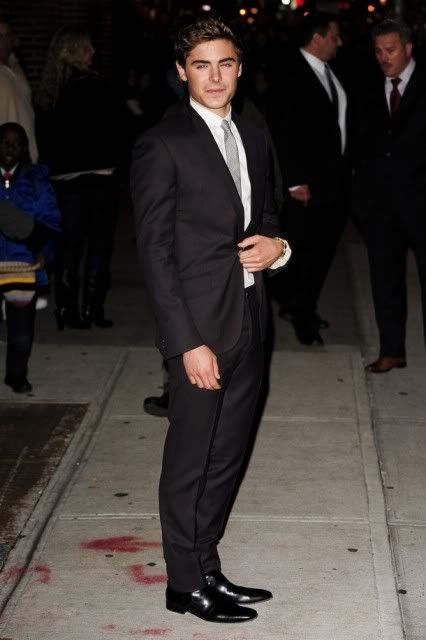 Everything he wears fits exactly how it is supposed to for his body type– the cut of the suit, the break in his pants, Mr. Efron is definitely leading in style these days.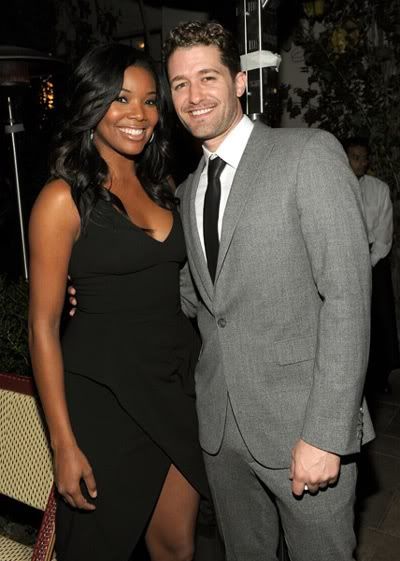 Gabrielle Union and Matthew Morrison
at the 2009 GQ Man of the Year Event
More pics from the GQ Event: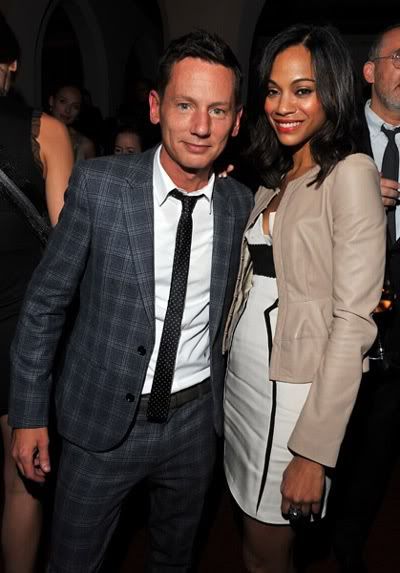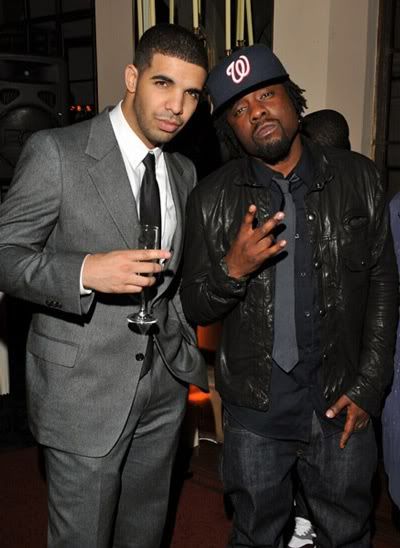 Drake and Wale

Tom Ford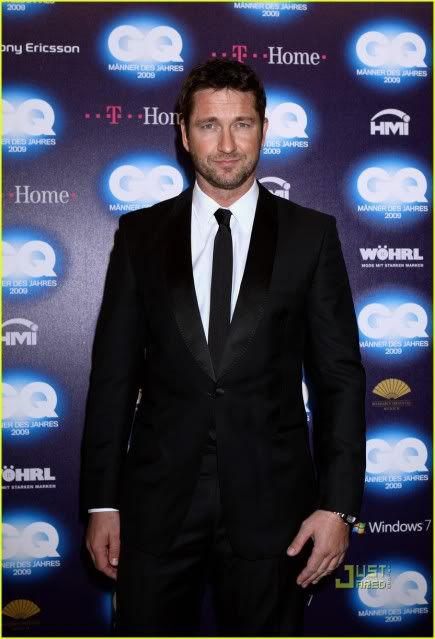 Gerard Butler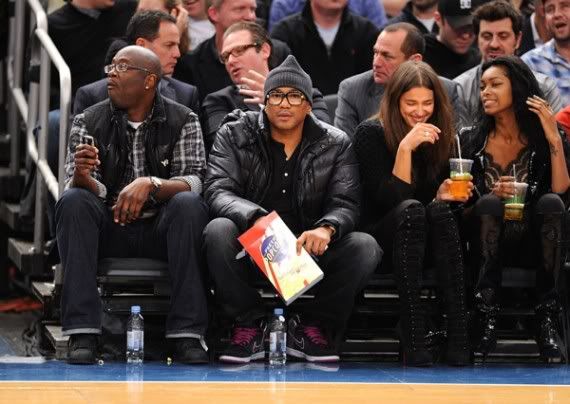 Q-Tip, Michael Kyser, and super model Jessica White (far right), and Jessica's friend at a recent Knicks game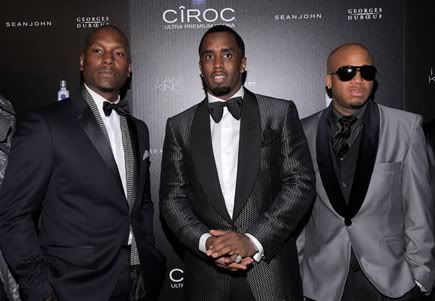 Diddy's 40th Birthday Party in New York
Tyrese Gibson, Sean "Diddy" Combs and rapper Baby

I may not care for his attitude, but Sean Combs is a mean dresser.
No one does cocktail attire quite like Diddy.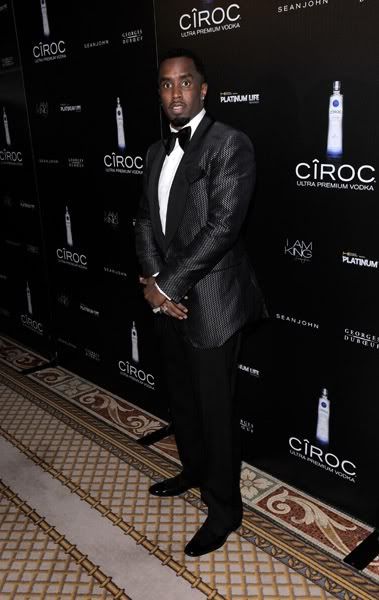 Nelly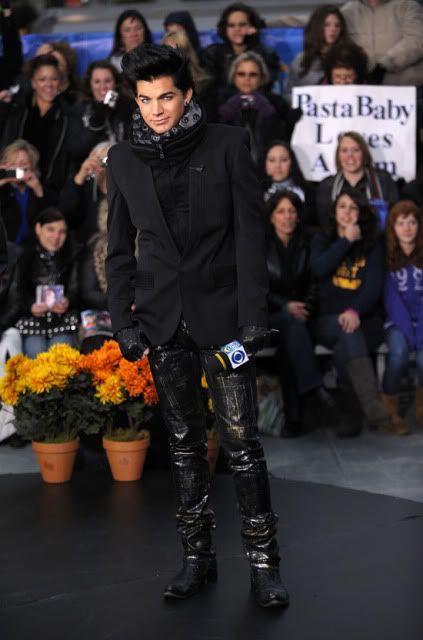 Adam Lambert on CBS's The Early Show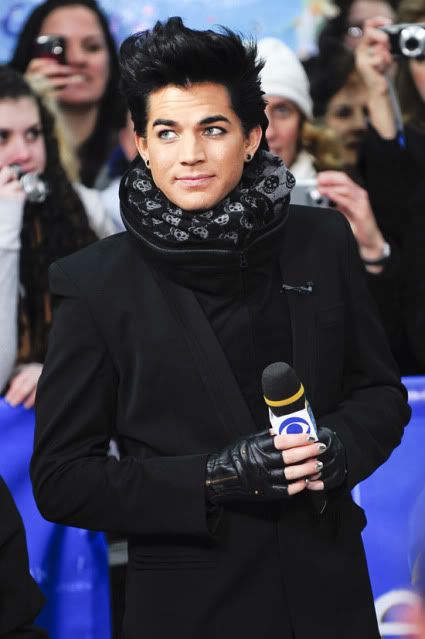 Believe it or not, I'm loving this look. I don't think I'm a usual fan of Adam's style, but the styling on this ensemble, atleast from the waist up, is pretty great. Obviously I'm not saying this look is for everyone, but if you're going to do goth– do it like this. I think it's the hair, the placement of the scarf, and the gloves that really bring it all together… hmm, I don't even mind the metallic finger nail polish.
UPDATE: So after a few request, I found a similarly shaped jacket, it's now available in our store check it out here.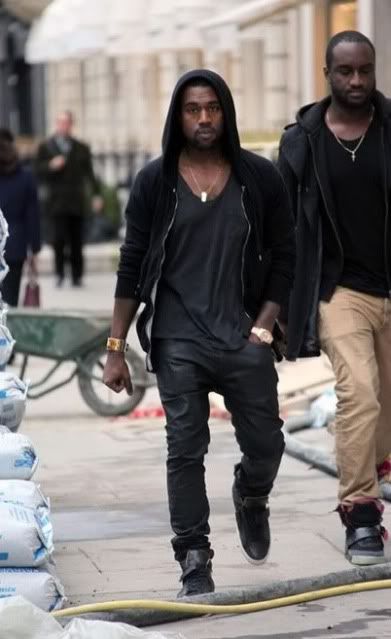 Question: Where art thou Yeezy?
Answer: In Paris!!!!
The paps finally found our beloved gent, in Paris, doing a little retail therapy at Cavalli and Marney. I'm so glad he's laying low, chilling, and just generally getting his ish together. Let's hope he comes back revitalized, humbled, and more creative than ever. And remember Ye' no more
turning hoes into housewives,
lol.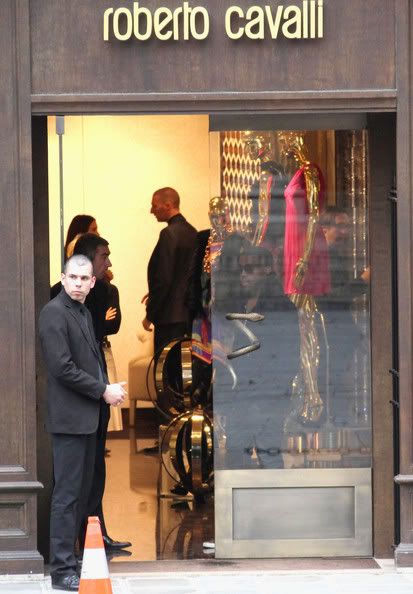 Kanye West indulging in retail therapy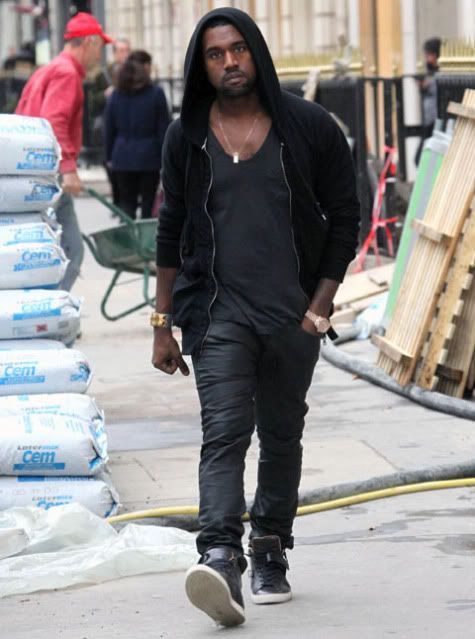 Ye's in mourning… maybe that's what the all black is about. Both he and Rihanna have been sporting
ALOT
of black over the past few months– and both of them have been through some pretty traumatic situations. Either way it goes the black looks good on them both, but I'm sure once they're inwardly happy again we'll start to see more color in their day to day ensembles. (he's wearing Acne House VPatch SB shirt, Martin Margiela regular painted pants, and Hermes crocodile hi-tops)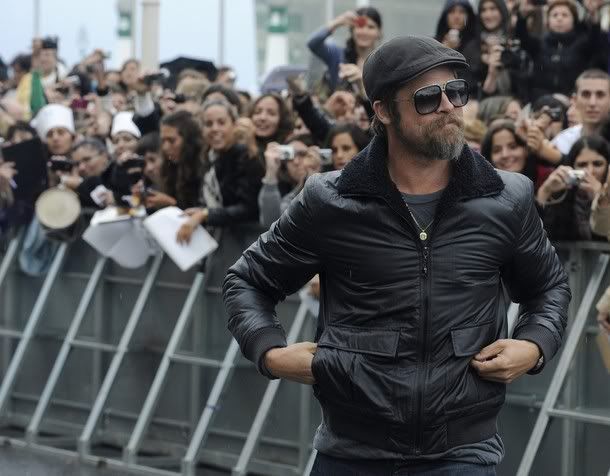 Brad Pitt at the San Sebastian Film Festival
to promote Inglorious Bastards

Kid Cudi and Drake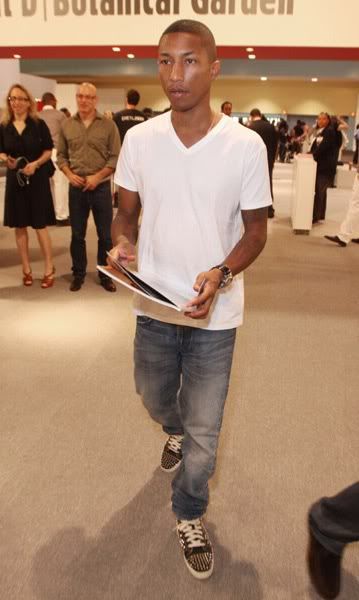 Pharrell Williams at a Miami Art Basel event
I love how he ONLY rocks BBC jeans, which only makes sense. If you have a clothing line you should wear you own clothes, otherwise it will send a clear message that you're not passionate about the line and you're solely doing it for profit. (wearing black Christian Louboutin sneakers from their SS2010 collections)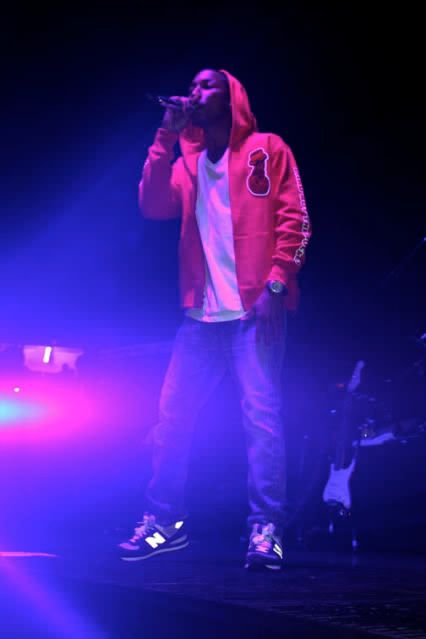 Pharrell
performing on the North American college arena tour. He's sporting a Billionaire's Boys Club heart and mind zip hoodie, BBC jeans, and classic New Balances.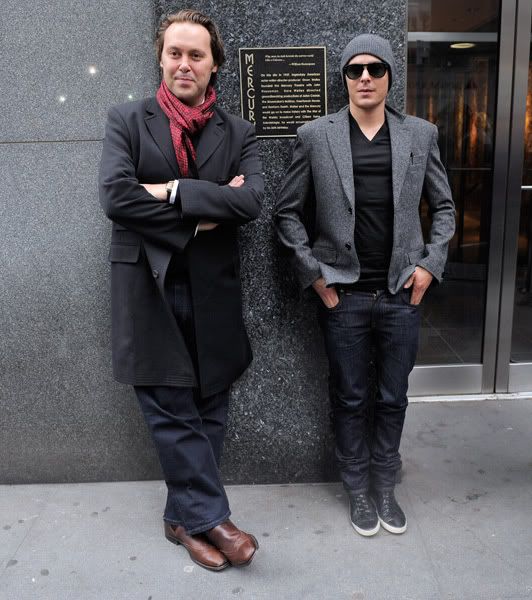 Actors Christian McKay and Zac Efron
at the "Me and Orson Welles" plaque unveiling
at the original site of Mercury Theater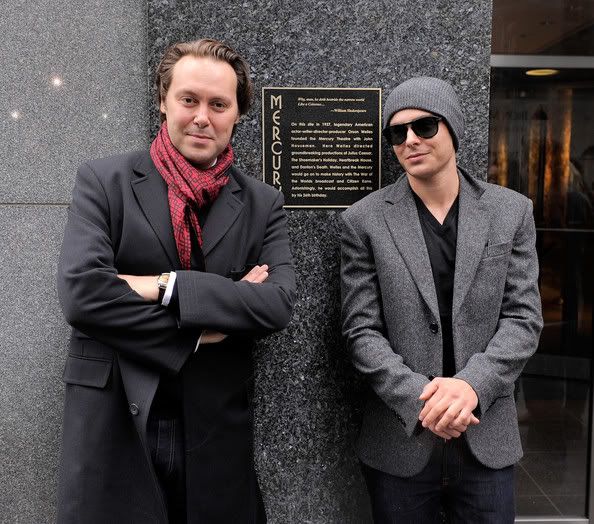 Christian McKay and Zac Efron
I likee Christians's scarf and Zac's blazer
A heather grey blazer is a must for men and women
this year, and next, and just in general.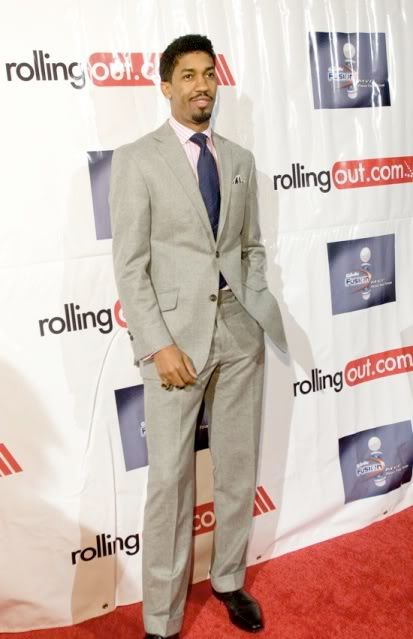 Fonzworth Bentley at a Gillette Fusion Event in DC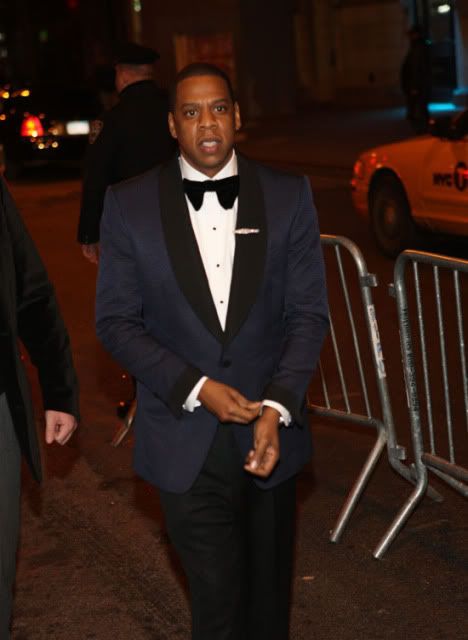 Jay-Z at the opening of Fela! on Broadway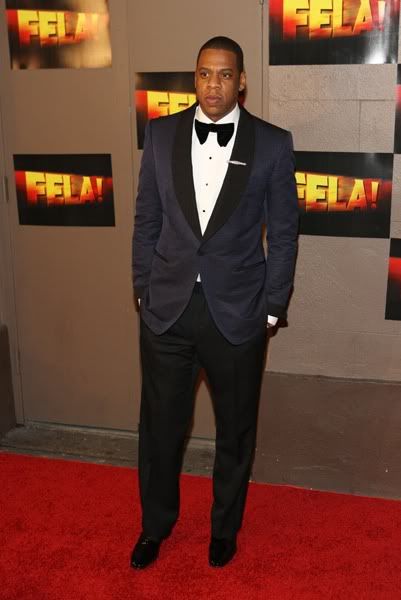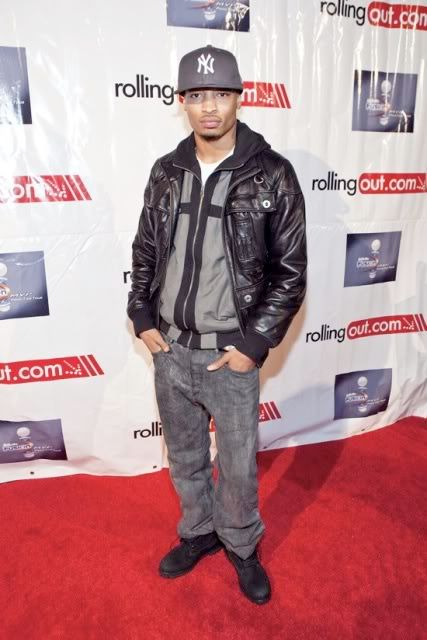 Que from Day 26 at a Gillette Fusion event
Que definitely has the best style in group Day 26,
he loves to rock the hoodie and leather jacket look.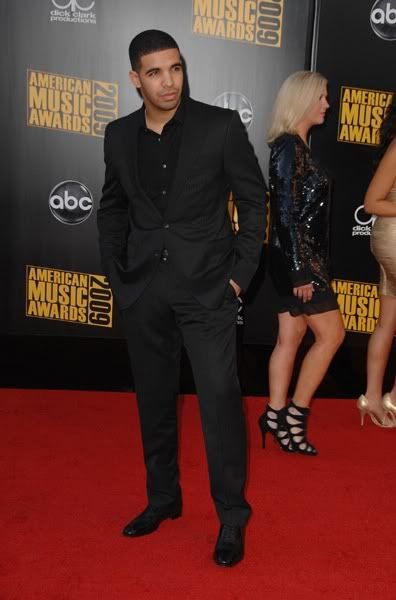 Drake dressed up at the 2009 American Music Awards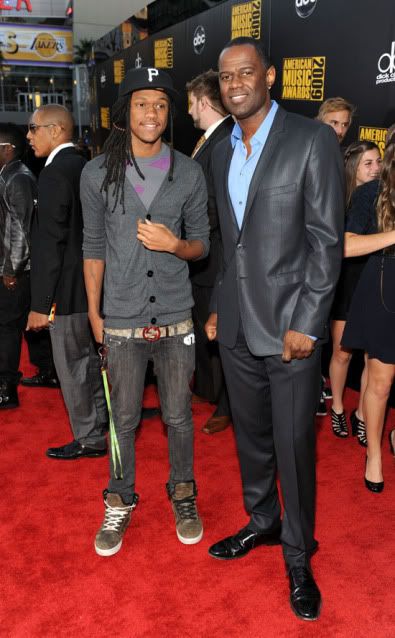 singer Brian McKnight and son hit the AMAs red carpet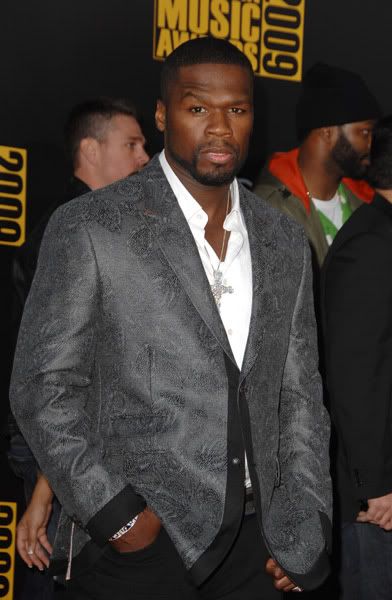 50 cents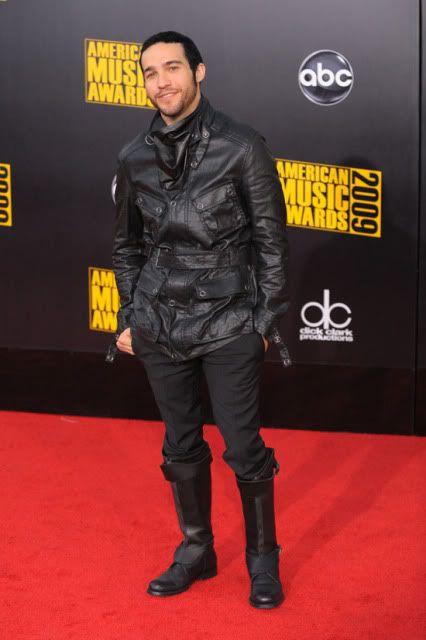 Sooo, this is Pete Wentz
Yea, I didn't recognize him either when I first saw the photo. I'm loving his new look, seriously, whoever is styling him- keep up the good work.

Pete Wentz
The profile is so sick… the jacket, the boots, the overall swag.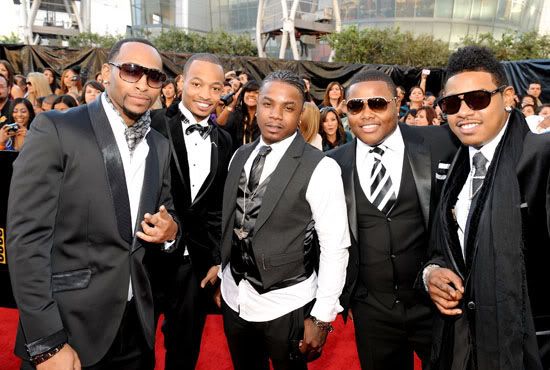 Day 26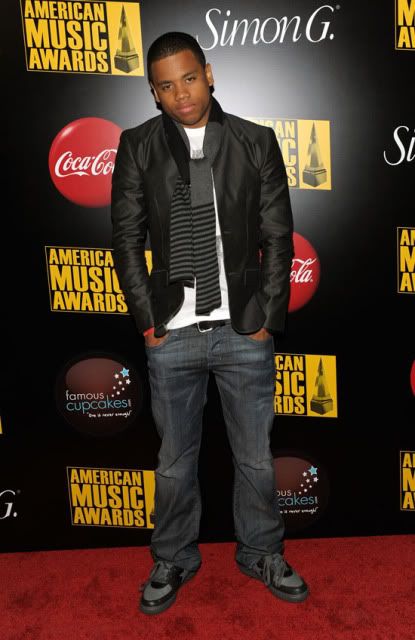 Tristan Wilds

Columbus Short at Planet Hollywood promoting movie Armored
Now I hate to do this, because Columbus is a good-looking guy and he's buddies with one of my close friends, but gentlemen
this is a perfect example of how not to dress
. Okok, let me back up, there are great components in his outfit– the pea coat, white slight v-neck tee, grey trousers, textured grey scarf, but the fit the FIT is sooo off and he looks sloppy.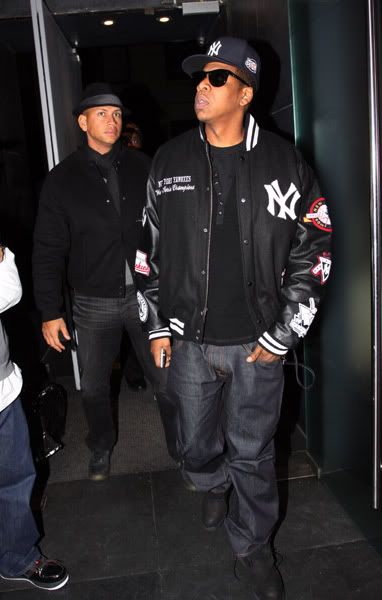 Jay-Z hosts a Yankee 2009 World Series Victory party 40/20 club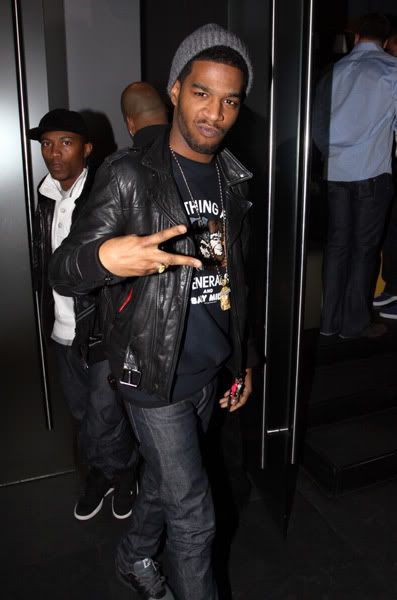 Kid Cudi at the 40/40 club

NY Yankee Maverick Caryer celebrating
at Jay-Z's 2009 World Series Victory party

Alex Rodriguez, Donald Faison, Spike Lee, and Reggie Miller kick it court side at the Knicks vs Lakers game in Los Angeles

Blast from the Past
Grammy-winning band Boyz II Men on the trading floor at the NYSE
Nathan Morris, Wanya Morris, and Shawn Stockman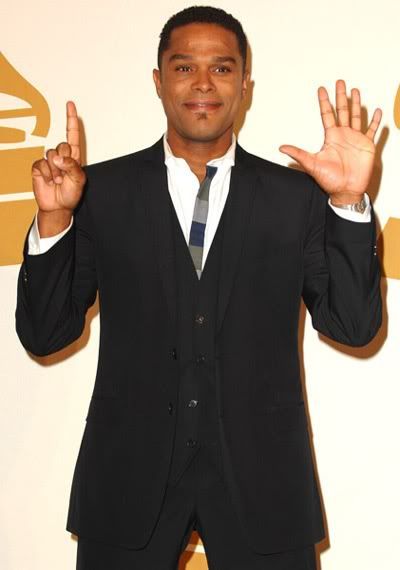 … and speaking of Grammys,
Maxwell
received 6 nominations– very well deserved. What's the deal with his shirt? Looks to be an upscale re-invention of the "tie-shirt". Hmmm, it could just be fabric on the placket, but I have a feeling if he buttoned the shirt up it would look like a skinny tie.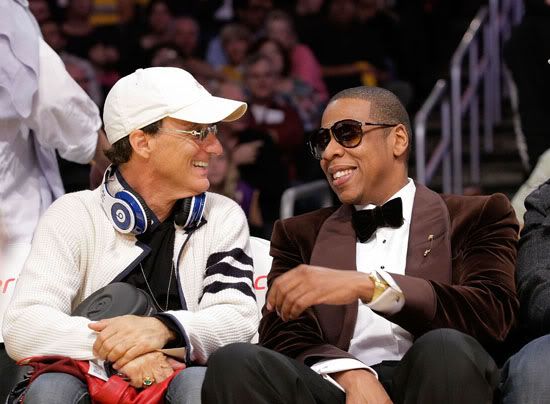 Record exec Jimmy Lovine and Jay-Z at a Lakers game
Mr. Carter looks nice, he loves himself a velvet bow-tie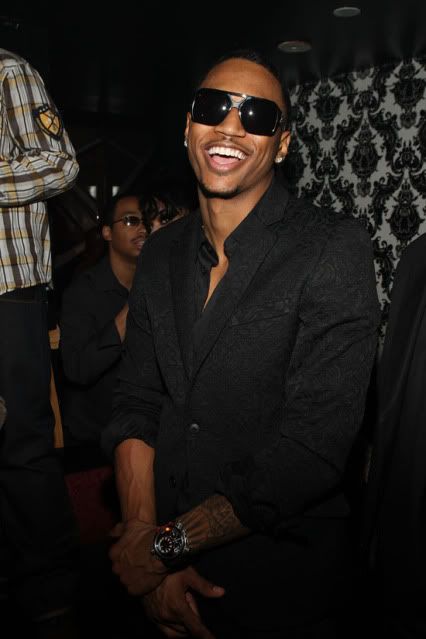 Trey Songz celebrating his 25th birthday at the M2 Ultra Lounge in NYC
I love his textured damask print jacket.
photo cred:


getty images, theybf, just jared
That was alot of celebrity style to take in in huh?
The one thing that they all had in common was color– everyone was wearing black or grey with a little blue here and there. But that's mainly because its winter and blacks, greys, and navys are the most popular colors for wintery clothing.
So whose recent style do you like, dislike, sorta kinda like….
The results from the latest Urban Gent Poll are in… this was sort of a mini poll since it didn't run for that long:
The Question:
Whose Style Do You Like Best?
| | |
| --- | --- |
| Zac Efron | |
| Nick Cannon | |
| Channing Tatum | |
| Kid Cudi | |
| John Legend | |
| Robert Pattinson | |
1st place goes to Kid Cudi, 2nd John Lengend, and 3rd Zac Efron.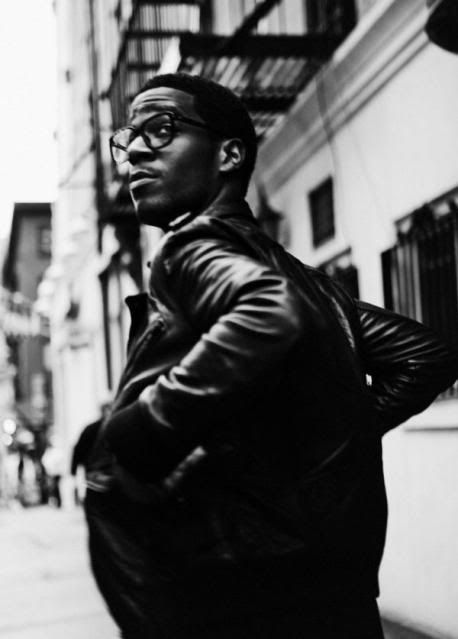 I'm not surprised at
Kid Cudi
winning first, the Winter/Fall Fashion Guide has been posted front and center for the past month or so, and he's posted as my example for Assorted Swank. Plus, alot of Urban Gent readers are big fans of artist like Kid Cudi, Lupe, Pharrell, etc etc. I'll look into doing a more in-depth Kid Cudi style article later.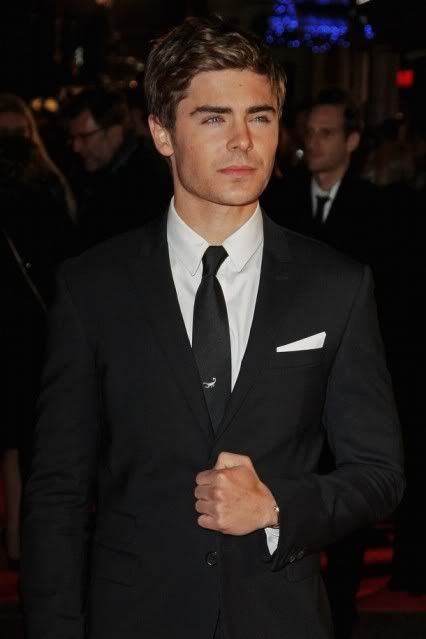 Zac Efron

at UK premiere of 'Me and Orson Welles', Nov 18th
I honestly thought Zac Efron would get 2nd, if not 1st, but he got 3rd. He's been pretty consistent with his style for the past two years and he constantly updates his looks; sometimes its a big update while other times it's subtle. Zac's perfectly polished look from the beginning of 2009 was, well, perfect. And his messy, swept-over hair do from mid-2009 was oookay, not one of my favorites, but I appreciated the update and experimentation. His current look is pretty great as well. Hmmm, I guess when I think of Efron's changing styles I think of his hair. But besides his hair his attire is always perfect… his jeans fit well, as do his button downs. He and his girlfriend always look flawless on the red carpet.
John Legend always look nice. His suits are usually custom-fitted, he wears trendy bow-ties, and just keeps himself well-groomed (hair, skin, clothing) like an Urban Gent should.
***Don't forget to vote on the new poll… What's Your Favorite Fall/Winter Trend? (located on the right side of the page)
2 weekends ago I had a chance to see G.I Joe… and the beginning was good, I just wasn't able to finish it. Not because it wasn't a great film, but because we went to the drive-in theater and had already watched two movies before then, so we fell asleep towards the beginning-middle of G.I Joe. Nevertheless, I enjoyed what I saw mainly because the stars were just so hot…Marlon Wayans has always been cute to me and he added on some muscle for the role (niiiice) and Channing Tatum, well, (sigh) he's probably one of the hottest guys on earth- yeah I said it- he's like the equivalent of… hmmm of a Megan Fox to guys but just hotter. Geeez, I've had a crush on him since… I guess since Coach Carter, buuuut I digress, I know you guys don't want hear all that.
Check out a few pictures of the two (and other GI Joe crew members) at interviews and premieres:
I love
Channing's hair
here- edgy yet simple and stylish.
And his facial hair- low and perfectly trimmed.
(being well-groomed is SO important guys)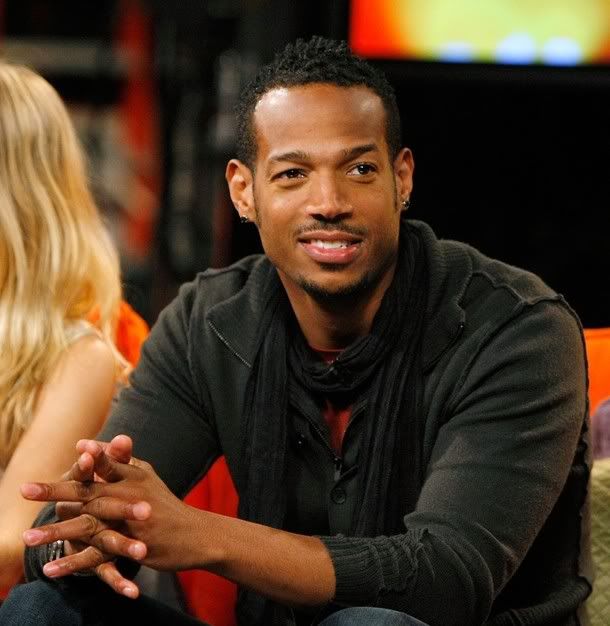 For some reason the first thing that sticks out
in this picture to me is his nails. Weird?
Yeah perhaps, but that's one of the
first
things I notice on a guy.
Marlon's nails
are JUST how Urban Gentleman
should have theirs-
clean
and
short
.
Channing Tatum, Sienna Miller, and Marlon Wayans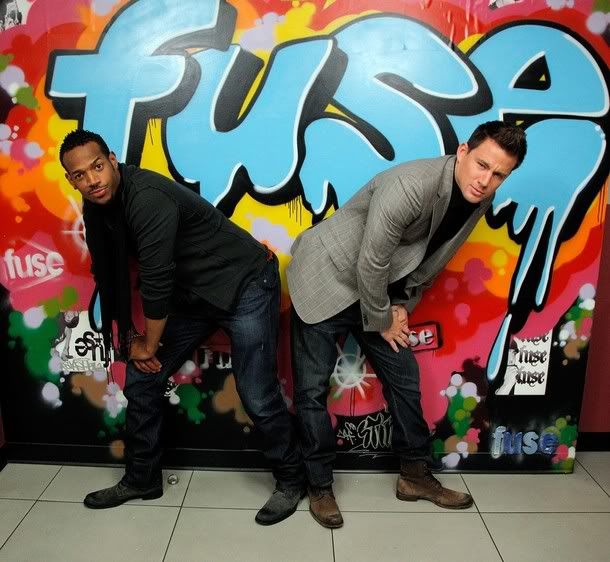 These guys are HILARIOUS
(ps- you KNOW this was Marlon's idea, darn 7th grade poses)
on another note- I'm really diggin' the boots, they sort of remind
me of the Jeffery Campbell tattered "war-boots" from last winter.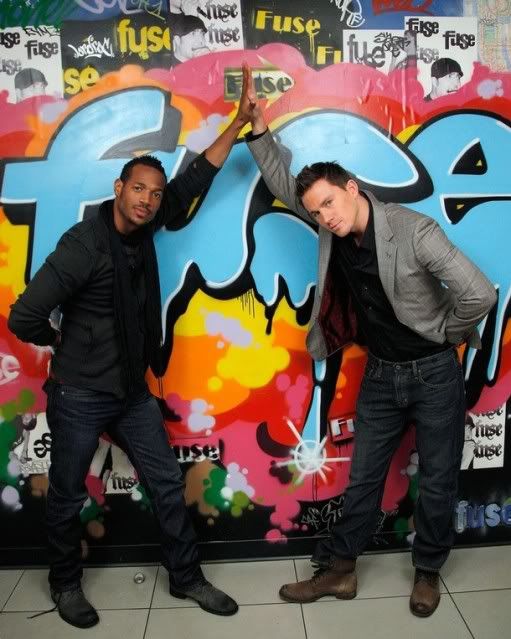 Lol, I love it.
Gentleman, take a good look at Marlon's and Channing's jeans
are you looking? Okay, great.
Now THAT is how your jeans should fit.
It still saddens me when I see guys wearing pants 8x too big
and its getting to be QUITE disturbing to see guys in jeans 8x too small
I really need for you guys to pull a Goldilocks and wear the pair
that fits just right
More of Marlon's and Channing's Style: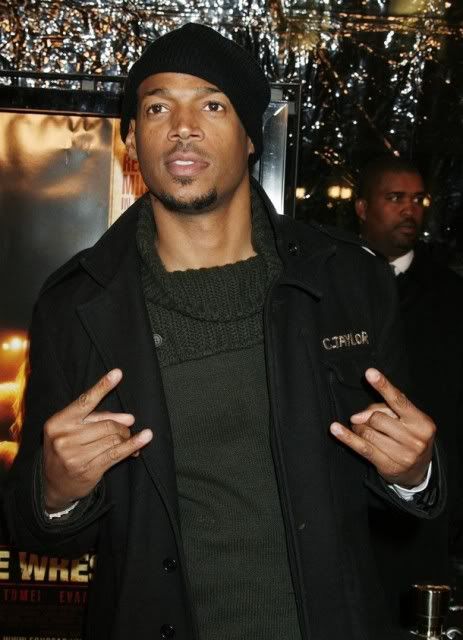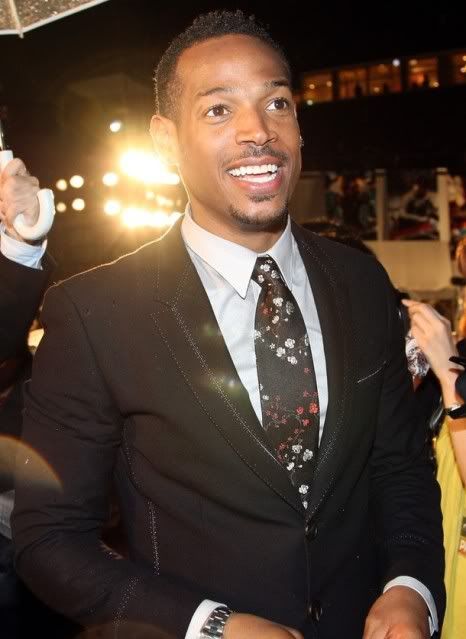 I'm not too keen on the suit choice, but I think it looks good on Marlon
So this is an example of successfully "doing you"- not everyone
can pull this suit off though.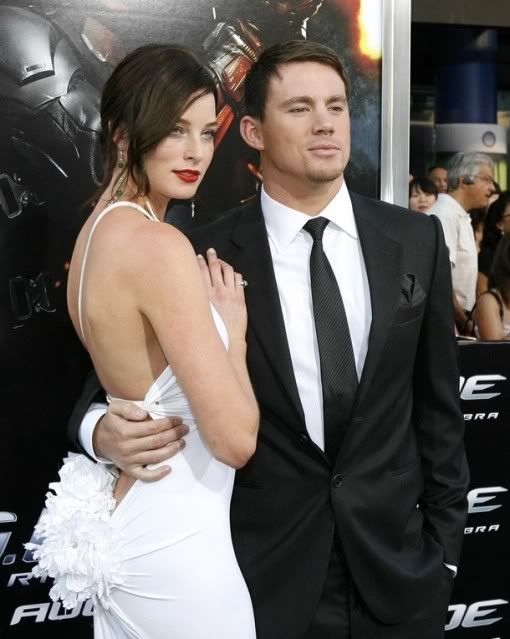 Rachel Nichols and Channing Tatum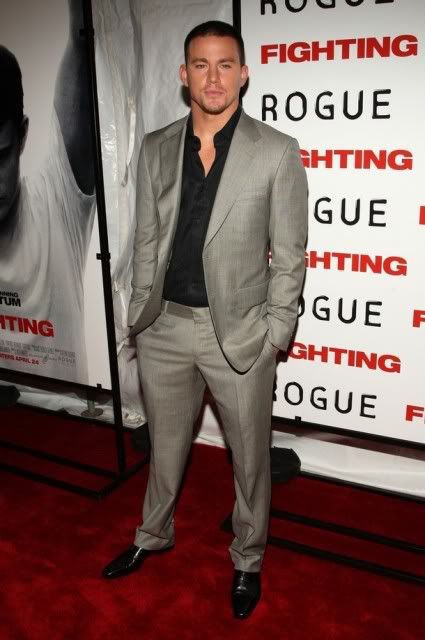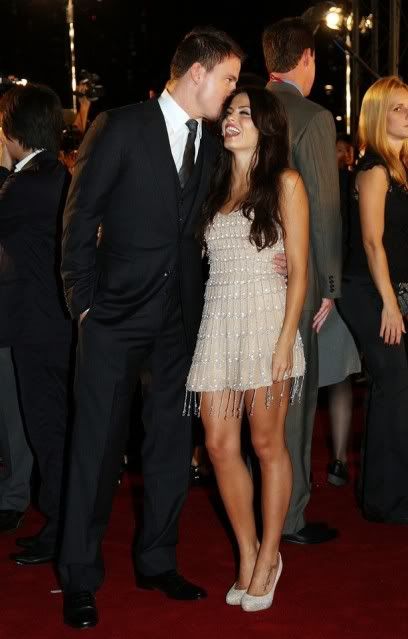 Channing Taylor and wife actress Jenna Dewan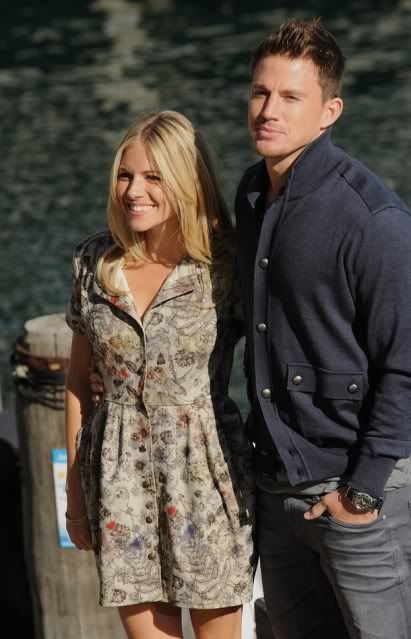 Sienna Miller and Channing Tatum
I love her dress and I love his jacket
Both of the guys are sporting nice simple casual looks.
What do you guys think of their style?
Has anyone seen the whole movie? How is it?
Gentleman's Quarterly August 2009 covers G.I Joe Channing Tatum.
Shirt, $375, and tie, $195, by Prada.
Tie bar, $250, by Thom Browne New York.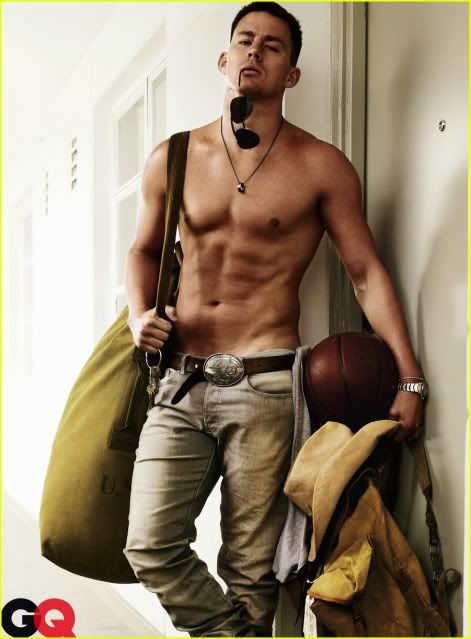 Jeans by Dior Homme. Sunglasses by Ralph Lauren.
Necklace by Rogues Gallery. Watch by Rolex.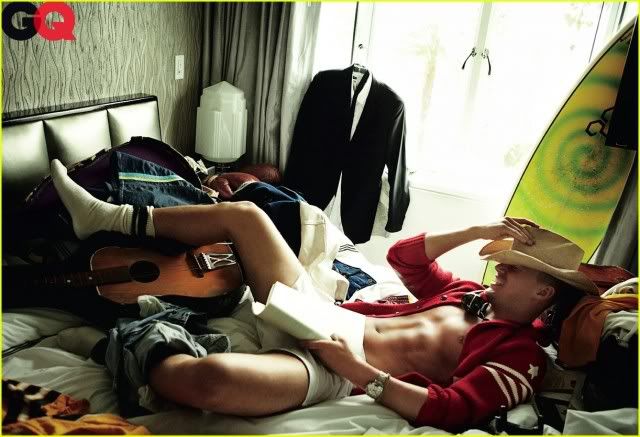 Cardigan and boxer shorts by Polo Ralph Lauren.
Jeans by Levi's. Socks by American Apparel.
Watch by Rolex. Hat by Stetson.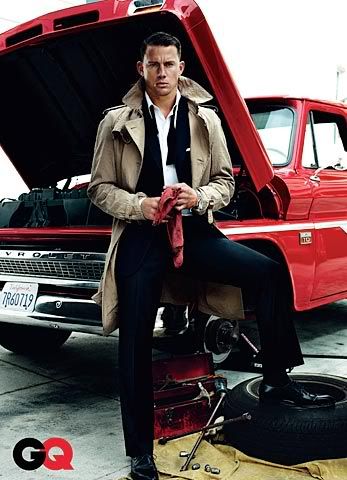 Trench coat by Burberry Prorsum.
Tuxedo and shirt by Calvin Klein Collection. Bow tie by Brooks Brothers.
Shoes by Salvatore Ferragamo. Socks by Falke. Watch by Rolex.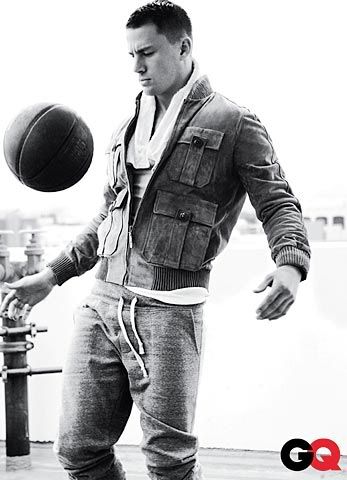 Jacket by Versace. Tanktop by Calvin Klein Collection.
Sweatpants by Save Khaki.
Suit, shirt, and tie by Calvin Klein Collection.
Jeans (in hands) by Levi's American Rag Cie.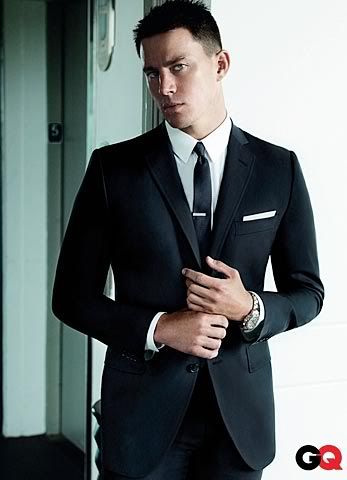 Suit, shirt, and tie by Dolce & Gabbana.
Tie bar by Thom Browne New York.
Pocket square by Paul Stuart. Watch by Rolex
(round of applause… for all that hottness)
photos via GQ Magazine.
When I first saw Kanye's picture from the
Serpentine Party
, I immediately thought about his ensemble from the
Vanity Fair Party
earlier this year… so I checked the Urban Gentleman Archives and voila- Kanye's rockin' the same perfectly fitting shawl collar jacket. And I must say Ye' I ever so do approve. If you look at the ensemble it looks almost exactly the same- black pants, black on black herringbone blazer w/ the slanted pocket, and solid shirt. Why do I like the fact that it's a repeat? Well because a repeat is so un-kanye, as he's admitted he's innately flashy and always raps about designer duds. So for him to repeat a distinctive jacket at an event, well that's cool, practical, and it shows that Mr. West is growing up a bit. But I guess the real question is, will he wear it again, when or if he ever gets words of this post- who knows. But nevertheless I'm digging it… his style is progressing quite nicely, now if he could just relax with
parading around with the chick that he sung about in "Stronger"
… (because Ye' the time is
No longer
right, lol).

On another note, he's been rockin' the Timbs pretty heavy. And, maybe its just me, but I actually think it's the appropriate time for a Timberland comeback… I remember rockin them hard as a freshman in high school back around 2002) my boyfriend and I had matching pairs… he played football I was a cheerleader, so we'd wear them with jeans and our varsity jackets- it was cute stuff, lol.
Besides, a few designers had timberland-esque boots in their winter and spring collections (including Dean and Dan Caten of Dsqaured2). So maybe it's time to dust off your old Timberlands…
Flaunt Magazine's 10th Anniversary Party
I think 2009 is gonna be the year of the bow-tie, seriously… it's like thats the only option.
KROQ Almost Acoustic Christmas Day 2
Z100 Jingle Ball
Z100 Jingle Ball
This is one of the looks for 2009, one of my looks anyway, that I haven't really seen any stars rock until now- I call it monochromatic (I may come up with a better name later), but I'll expound upon it more in January.
post Christmas shopping in Chanel.
post Christmas shopping
Oh how I do heart a nice letterman jacket.