A little midweek celebrity style snack, take a look at what a few of our favorite urban gents have been wearing…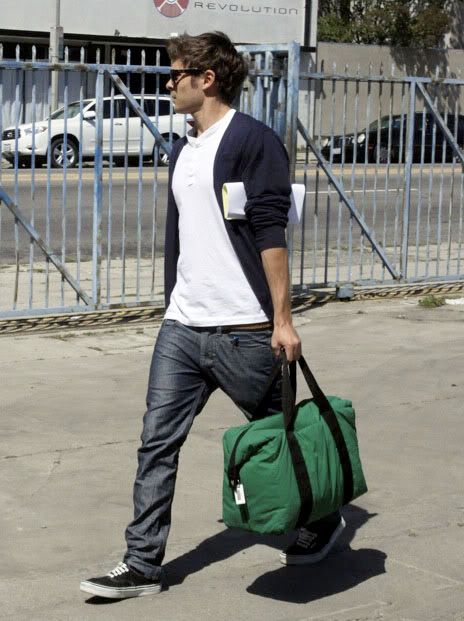 Urban Gent
Zac Efron
running errands in Hollywood, wearing a navy cardigan, white henley, wayfarers, and black Vans.

Usher keeps it simple in a pair of grey and maroon Lanvin sneakers
and distressed Ralph Lauren RRL jeans.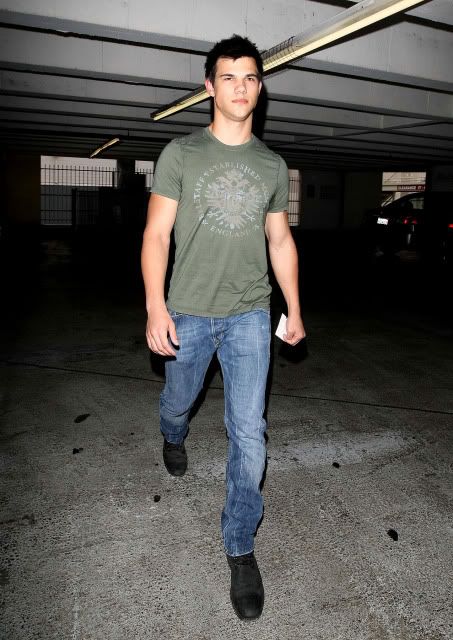 Taylor Lautner in a Bellstaff shirt,
distressed jeans, and and his favorite black boots.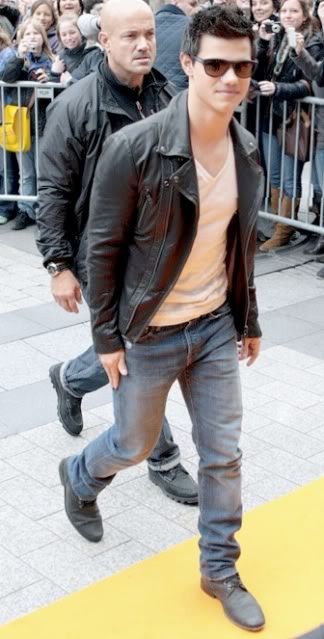 Taylor rockin' his version of the "American Rockstar" trend.
T.I.
in New York City. Wearing a BBC Ice Cream sweatshirt, Louis Vuitton Brazza wallet , Louis Vuitton Monogram Christopher backpack, and Maison Martin Margiela Line 22 sneakers. (And he stays connected with his Blackberry Bold and iPhone).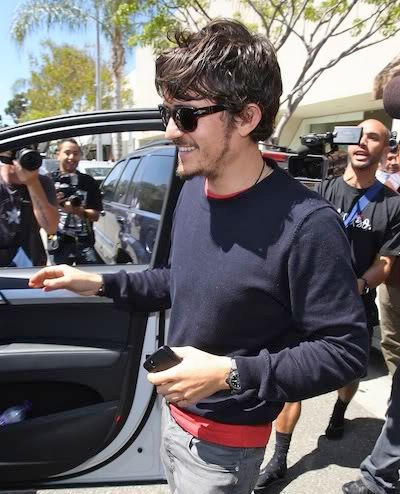 Actor Orlando Bloom in LA sporting a pair of
detailed Persol PO Crystal sunglasses.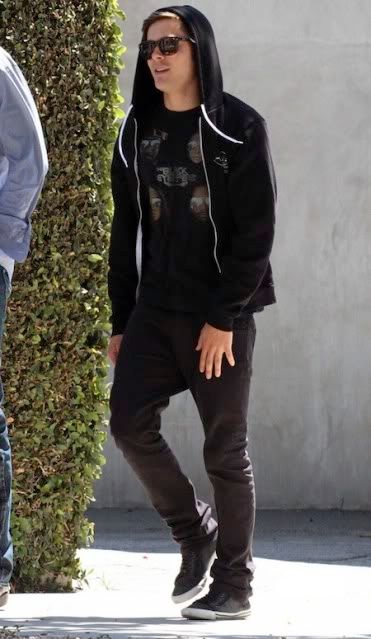 Actor Zac Efron in a Black Eyed Peas shirt, black skinny jeans,
tortoise Ray-Bans, and AllSaints double zip hi-top sneakers.

LOTs more Celebrity Style Photos below, click continue reading…


Scruffy in black, Actor
Brad Pitt
arrives
at the 'Kick Ass' Premiere in London, England.
Futboller David Beckham leaving Dave's Quality Meat with his wife and kids. He keeps it casual in a Stuntman Trucker hat, Ray-Ban gold aviator sunglasses, and Alife Chuck Naval sneakers ($125).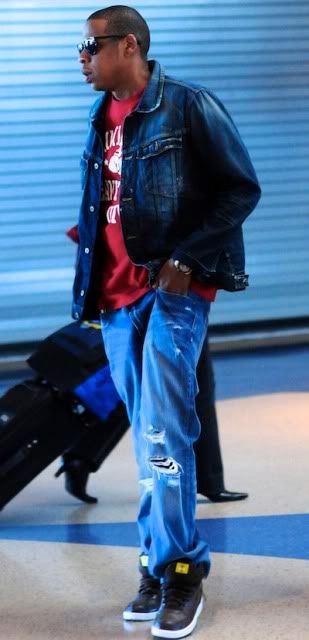 Jay-Z
out and about wearing a G-Star slim "Taylor" Denim Jacket, ripped jeans, Nike RT1 kicks, and Oliver Peoples "Daddy B" sunglasses. Though Jay's style game has stepped up as a whole, he still manages to have a few off days where his clothing is a bit sloppy. I'm all about loose-fitting/relaxed fit jeans when you're in a mood to be extra comfortable (like traveling through an airport, which Jay was doing), but loose-fit jeans usually go best with low-top shoes like Converse or Vans– especially if you wear your jeans a size or two too big, like Jay sometimes does.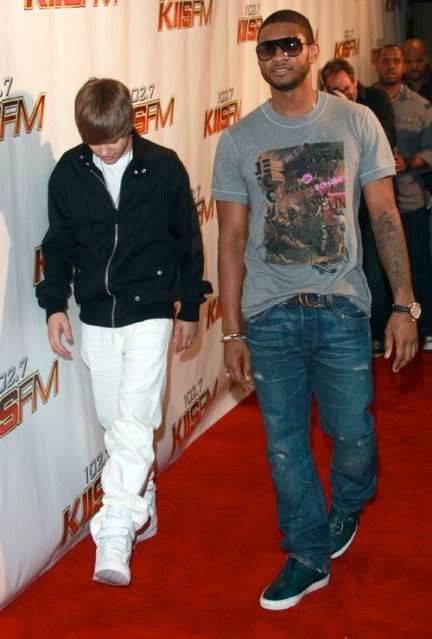 Usher
and teen star/young urban gent
Justin Beiber
walk the red carpet. Usher wears a pair of Marc Jacobs 306 sunglasses, his favorite Ralph Lauren RRL jeans, and green Raf Simons multi-buckle sneakers. Justin keeps it cool in black and white, sporting a pair of Supra TK Society sneakers.
Pharrell Williams
attends the 2010 Formula 1 Monaco Grand Prix wearing a BBC distressed print Hickory jacket, white v-neck, BBC Digi-Camo 3/4 cargo shorts, and a pair of Chanel Denim sunglasses.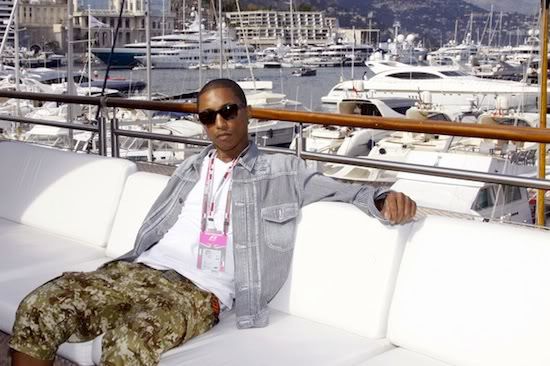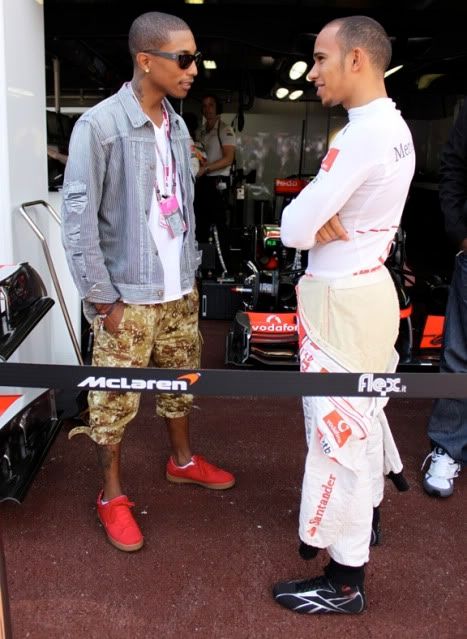 Pharrell and formula-one racer Lewis Hamilton chopping it up.
Pharrell in a BBC jacket and skully, his new staple eyewear: denim-covered Chanel shades, and I know you're probably thinking, "What kind of shoes are those? He wears those everywhere nowadays". Well, they're Billionaire Boys Club "NOTHING" Boutique Sneakers (coming in July) even
Bill Clinton wants a pair
…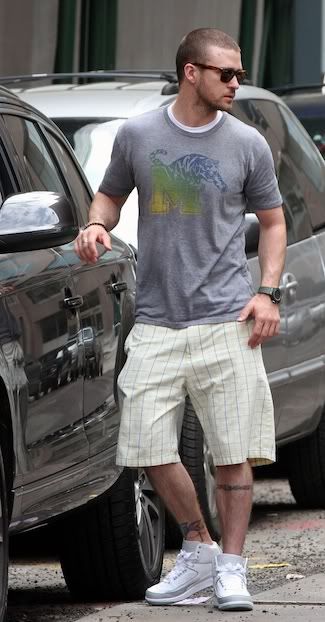 Superstar
Justin Timberlake
keeps it everyday cool in his wayfarers, plaid shorts, and a pair of Air Jordan 2 Retro 25th Anniversary sneakers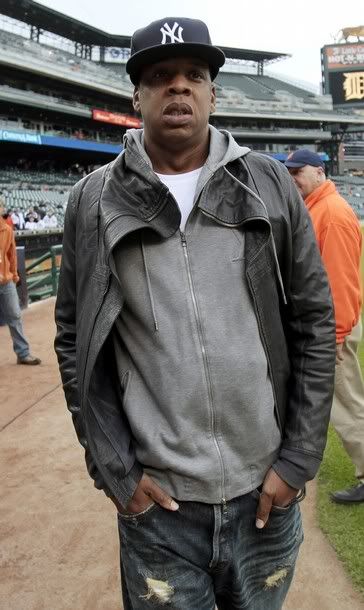 Jay-Z
at a Yankees vs. Tigers baseball game. He sports his signature NY hat, distressed, jeans, and a Rick Owens leather jacket.
David Beckham, wearing his usual Wrangler Blue Bell Destroyed Denim jacket. How does this guy manage to look like a model in every picture? He always keeps it
denim focused
in Wrangler… a little too much, hmmm, maybe he's their unofficial spokesperson of sorts?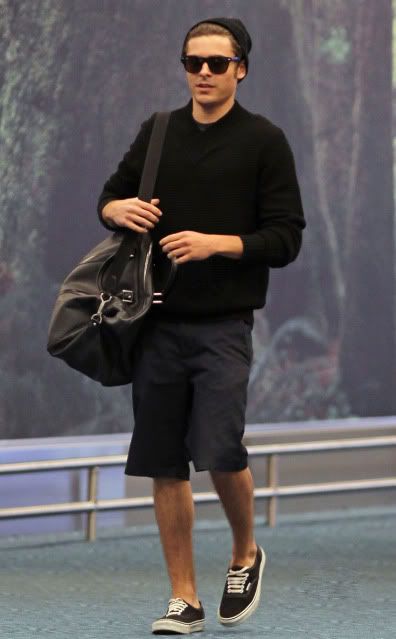 Zac
in a black v-neck knit sweater, his signature skully, black Vans, and tortoise Rayban wayfarers. He carries a Louis Vuitton travel bag. (PS- All Urban Gentlemen must have atleast one pair of
canvas shoes
for the spring and summer.)
Medley of: I've Got You Under My Skin, You Came A Long Way From St. Louis,
You Are My Sunshine, Bee-Bom, One For My Baby
An American of color, Jewish, and Puerto Rican, the multi-cultural and multi-talented Samuel George "Sammy" Davis Jr. reigned supreme throughout his life as one of the greatest entertainers of all time. Not too many people can sing, dance, tell jokes, pantomime, act, do impersonations, play three instruments (vibraphone, trumpet, drums), and tap dance… but Sammy could.
We've watched a few of his videos, now let's take a look at his style.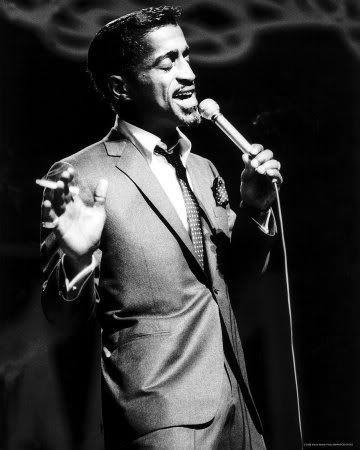 The 1950s were really all about conservatism. Tailored suits in shades of gray, navy, and brown were popular. A hat, pocket square, tie-clip, and cuff-links were as essential as having a belt– no man was complete without his accessories (or his cigarettes).
The style of 1960s is the style many men admire in modern times… slimmer fitting suits, fitted dress shirts, slim ties, and if you were in Hollywood, or let's say a member of The Rat Pack a sharkskin suit was a regular in your wardrobe.
Sammy's style was that of the times, with his own Sammy or hollywood touch like maybe an intentional loosened bow-tie and collar.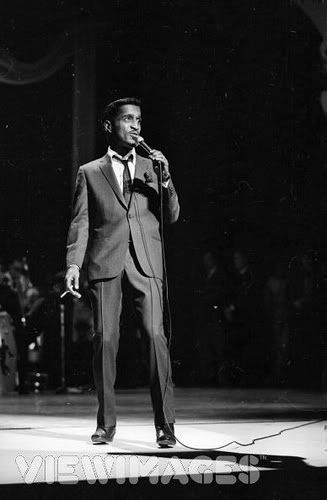 From the staple 50s/60s gray flannel suit to slim ties to Beatle boots, get a piece of Sammy's style below:
More Sammy: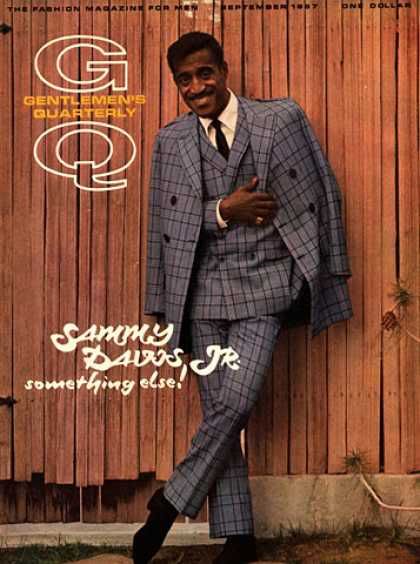 The First Man of Color to appear on GQ Magazine. 1967.
He's wearing a gray plaid Sy Devore double-breasted suit
with a slim black tie.
(Photographed by Milton Greene)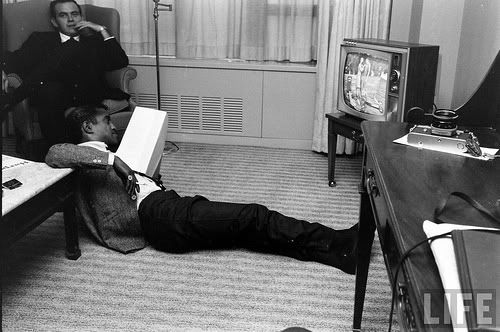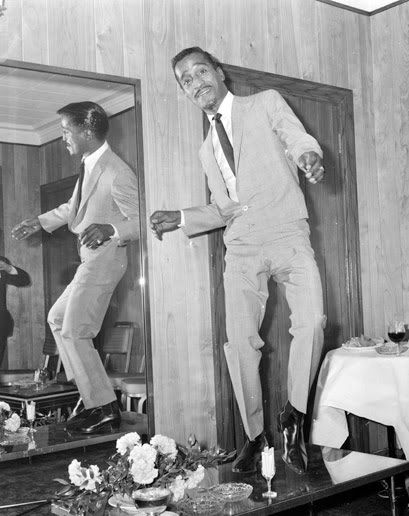 Always an entertainer, Sammy seizes this moment to tap dance on a table in his cropped two button suit and beatle boots.
I think this is going to be
Bobby Ray Day
over here at The Urban Gentleman– it's the least I can do for a fellow Eastsider and friend. All the new album info is on the previous post, and as discussed we're all copping it for
$7.99 at Amazon
. Now, we're going to focus on the style of B.o.B aka Bobby Ray.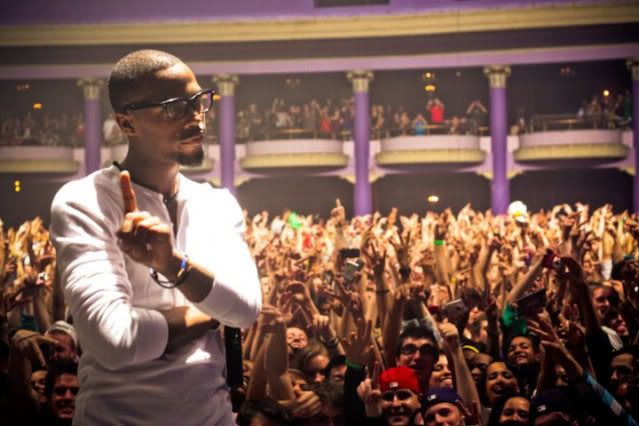 Like most new artist Bobby's style isn't quite set in stone, I'm sure he's still dealing with contractual duties and wearing the threads that the sponsors and record label's stylist provides. But within all of that he still manages to add his personal touch to most of the ensembles he sports.
It's safe to say that when it comes to Bobby, there's two dimensions, two personas, two __(fill in blank with an appropriate word)__: B.o.B and Bobby Ray… and yes they are the same person, but as made apparent by his 2nd mixtape "B.o.B vs Bobby Ray" they're almost completely opposite, not only in sound, but in looks and overall style.
"Jock it, Love it, Own it.
"
Check out
BoB's vs Bobby Ray's style
below…
"B.o.B…. Uno is my numeral, they said that hip-hop was dead, hmph, I musta missed the funeral". B.o.B doesn't like to be categorized in a genre, but humbly accepts the fact that guys like him are bringing back hip-hop… making it respectable again, making it an art form, making it the feel good music it once was instead of the, well, ummm– crappiness it had become.
And with his hip-hop flavor, BoB brings the one day classic 2010-ish hip-hop style. An eye-catching graphic tee, sneakers, a cool jacket (if the season calls for it), trendy shades, and maybe an optional well thought-out tattoo or two, is all it takes to get his look down.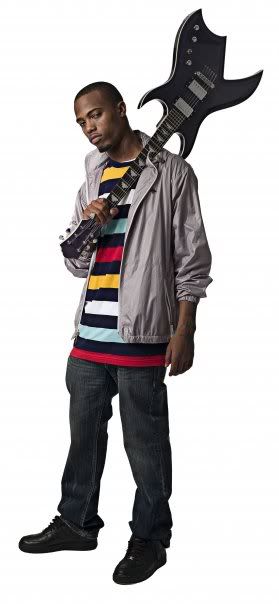 Get the Look:
The Style of Bobby Ray
"B dot O dot B was the name, I ain't like Bobby Ray, cuz I was ashamed, but you can call me Bobby Ray from this day forth and I could give a damn about the fame and fortune…"
Now Bobby Ray, the artist, from Atlanta, the eastside of Atlanta, yeah, well he can't be put into a box. He's some type of southern mosaic of indie alternative country rock&roll hip-hop pop… basically alot of stuff in one. And his style reflects just that.
Fedoras, classic wayfarers, beaded alternative looking accessories (usually one necklace and one bracelet), button-ups, henleys, cardigans, basic tees worn under button-ups and cardigans, and whatever shoes fit the look– maybe classic allstars, maybe boots, maybe boat shoes, its whatever that particular moment in time calls for.
I slightly prefer Bobby Ray's style at this point, only because his fedora collection is sick! And he manages to wear them without looking cheesy. He just looks like a really cool southern guy (georgia born and bred)… I can think of several artist that should take note, I would call names, buuuuut I won't.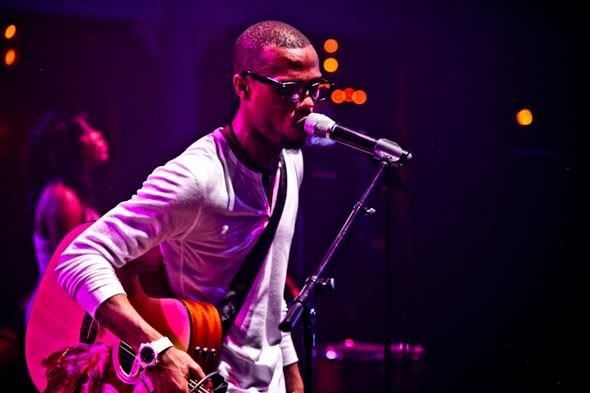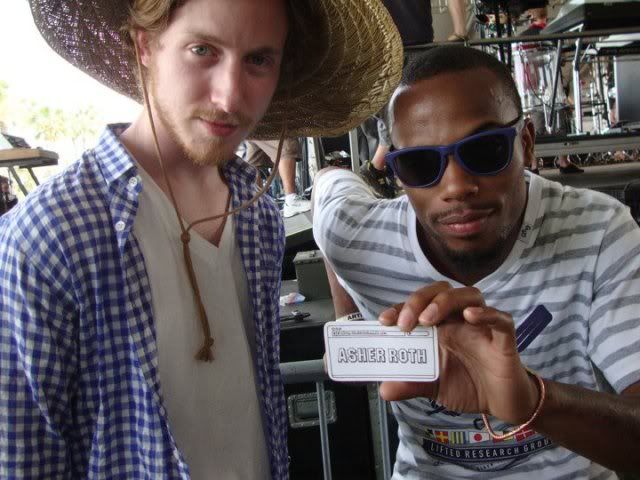 Bobby Ray and Asher Roth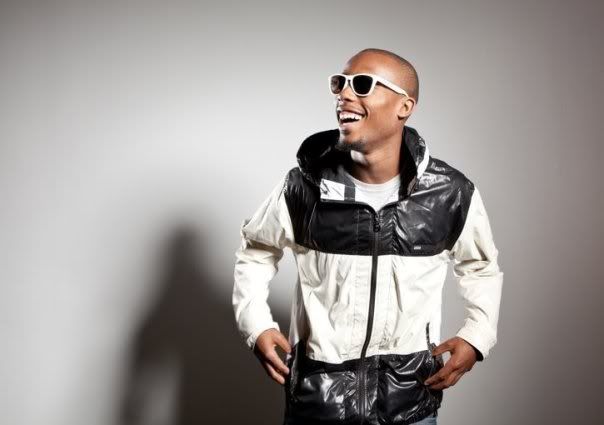 67th Annual Golden Globe Awards
held at The Beverly Hilton Hotel
on January 17, 2010 in Beverly Hills, California.
Taylor Lautner
in a hidden button down shirt and bow-tie
Hidden button down dress shirts (hidden plackets) are among my favorite. They always make for a much cleaner, neater, dapper look. I usually see the younger chicer gentlemen wearing these because the style is more modern (generally speaking). Hidden button down shirts not only give a more handsome/modern look, they can also have a slimming effect on most guys. The slimming effect stems from the lack of button tension sometimes seen on regular button downs, but more notably the hidden placket creates a slimming effect because it makes the eyes focus on the dark suit rather than the shirt and suit, creating a seamless, streamlined look. Be sure to add a few hidden button down shirts to your wardrobe.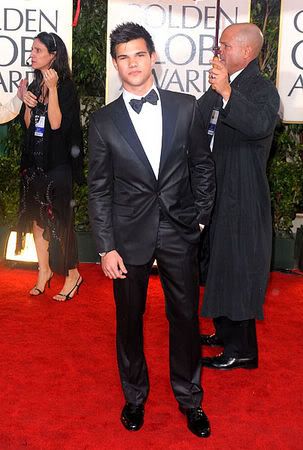 Taylor Lautner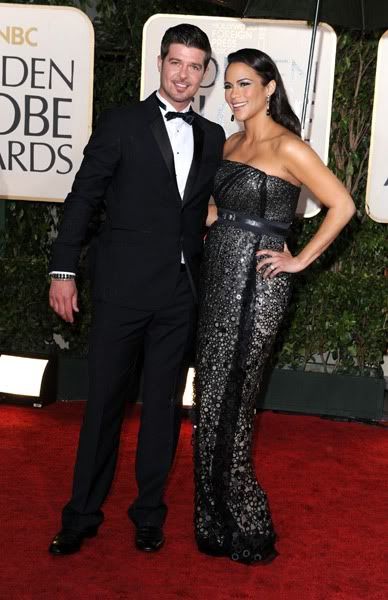 Robin Thicke
and wife
Paula Patton
Robin Thicke in
Burberry.
(custom tailored ink tuxedo and dress shirt)
Paula Patton-Thicke in a gown by Kaufman Franco and jewelry by Neil Lane. ($274,800 worth of jewelry by Neil Lane and Cartier)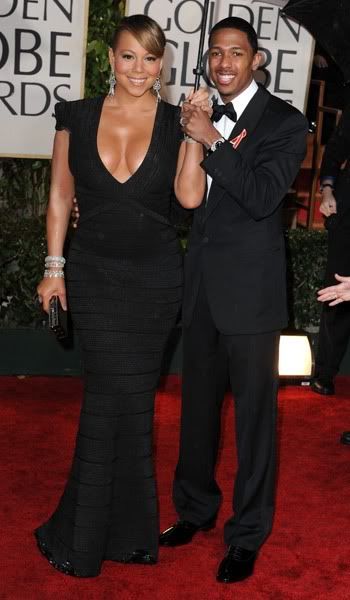 Nick Cannon and wife Mariah Carey in Herve Leger dress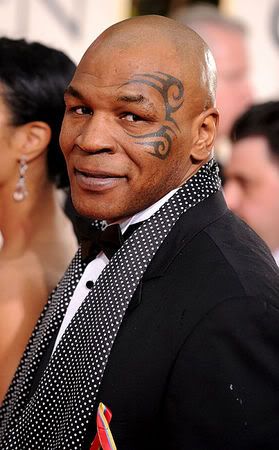 Mike Tyson was there to support his movie Hangover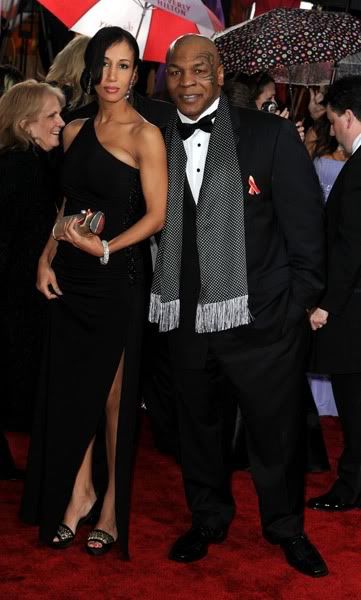 Mike Tyson and wife
He actually looks great, and I love his silk dress scarf.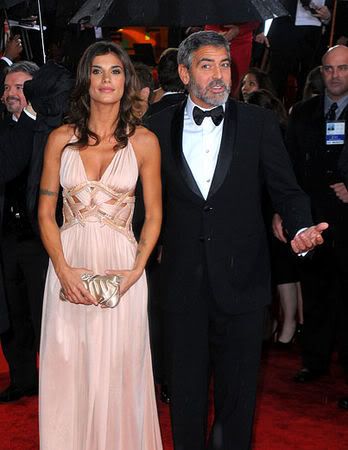 George Clooney and girlfriend Elisabetta Canalis
George Clooney in a Giorgio Armani two-button shawl collar tuxedo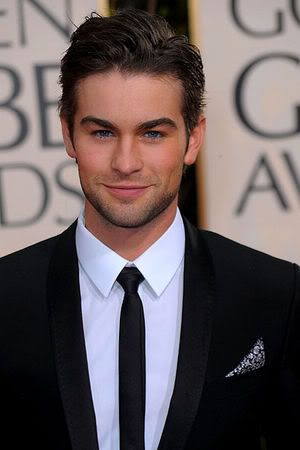 Chace Crawford opted for slim shawl collar suit,
skinny tie, and pocket square. Very well done.
Chace Crawford in a Dolce & Gabanna suit
More photos and last night's winners when you continue to read….
BEST FEATURE – DRAMA
WINNER: "Avatar"
"The Hurt Locker"
"Inglourious Basterds"
"Precious"
"Up in the Air"
BEST FEATURE – COMEDY
"(500) Days of Summer"
WINNER: "The Hangover"
"It's Complicated"
"Julie & Julia"
"Nine"
ACTOR – DRAMA
WINNER: Jeff Bridges – "Crazy Heart"
George Clooney – "Up in the Air"
Colin Firth – "A Single Man"
Morgan Freeman – "Invictus"
Tobey Maguire – "Brothers"
ACTRESS – DRAMA
Emily Blunt – "The Young Victoria"
WINNER: Sandra Bullock – "The Blind Side"
Helen Mirren – "The Last Station"
Carey Mulligan – "An Education"
Gabourey Sidibe – "Precious"
ACTOR – COMEDY OR MUSICAL
Matt Damon – "The Informant!"
Daniel Day-Lewis – "Nine"
WINNER: Robert Downey Jr. – "Sherlock Holmes"
Joseph Gordon-Levitt – "500 Days of Summer"
Michael Stuhlbarg – "A Serious Man"
ACTRESS – COMEDY OR MUSICAL
Sandra Bullock – "The Proposal"
Marion Cotillard – "Nine"
Julia Roberts – "Duplicity"
Meryl Streep – "It's Complicated"
WINNER: Meryl Streep – "Julie & Julia"
DIRECTOR – MOTION PICTURE
Kathryn Bigelow – "The Hurt Locker"
WINNER: James Cameron – "Avatar"
Clint Eastwood – "Invictus"
Jason Reitman – "Up in the Air"
Quentin Tarantino – "Inglourious Basterds"
SUPPORTING ACTOR
Matt Damon – "Invictus"
Woody Harrelson – "The Messenger"
Christopher Plummer – "The Last Station"
Stanley Tucci – "The Lovely Bones"
WINNER: Christoph Waltz – "Inglourious Basterds"
SUPPORTING ACTRESS
Penelope Cruz – "Nine"
Vera Farmiga – "Up in the Air"
Anna Kendrick – "Up in the Air"
WINNER: Mo'Nique – "Precious"
Julianne Moore – "A Single Man"
SCREENPLAY – MOTION PICTURE
Neill Blomkamp, Terri Tatchell – "District 9″
Mark Boal – "The Hurt Locker"
Nancy Meyers – "It's Complicated"
WINNER: Jason Reitman, Sheldon Turner – "Up in the Air"
Quentin Tarantino – "Inglourious Basterds"
ANIMATED FEATURE FILM
"Cloudy With a Chance of Meatballs"
"Coraline"
"Fantastic Mr. Fox"
"The Princess and the Frog"
WINNER: "Up"
TELEVISION SERIES – DRAMA
"Big Love"
"Dexter"
"House"
WINNER: "Mad Men"
"True Blood"
TELEVISION SERIES – COMEDY OR MUSICAL
"30 Rock"
"Entourage"
WINNER: "Glee"
"Modern Family"
"The Office"
More Red Carpet Photos…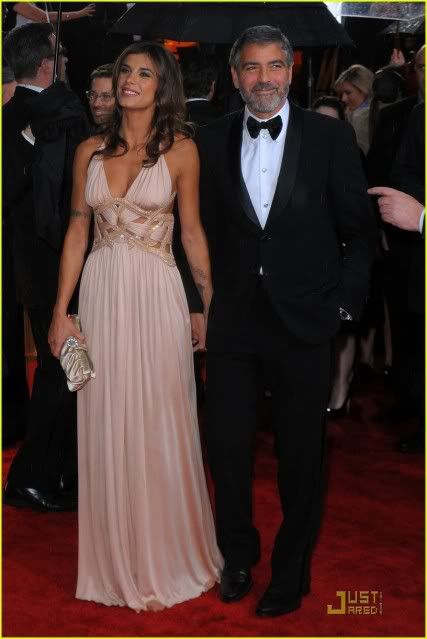 Gerard Butler in a Dolce and Gabanna tuxedo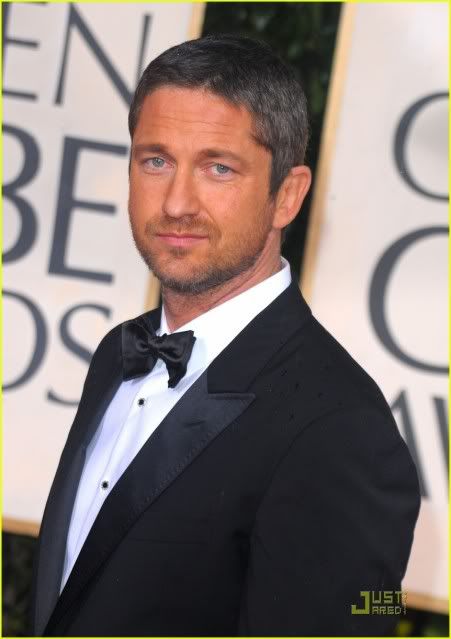 Matthew Morrison in a Dolce and Gabanna tuxedo
Cory Monteith
in
Hugo Boss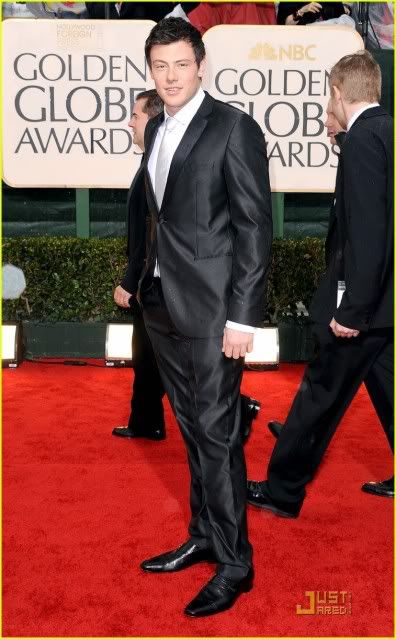 Glee's Cory Monteith
Avatar's
Sam Worthington
in
Burberry
(custom tailored black tuxedo, dress shirt and shoes)
Everyone tended to keep it basic and black this year. Usually there are a number of guys who may opt for suits instead of tuxedos, maybe a few in grey/brown/navy suits, some who decide to wear black on black (black dress shirt and suit), and a few who choose to wear their tux with a bright colored tie… not this year. This year everyone wore a black tuxedo with a black tie, back to the basics I suppose.
(Getty Images, JustJared)