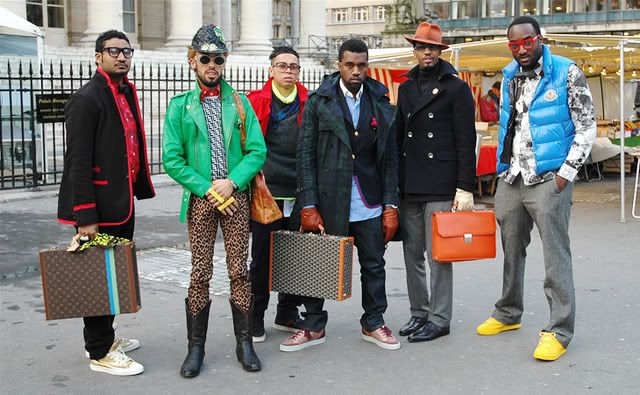 from left to right
Don. (aka deadstock don)
Taz Arnold. (a rapper/artist, has a line called Ti$a)
Chris Julian. (Owner FRUITION in Las Vegas)
Kanye West.
Fonzworth Bentley.(host of from g's to gents)
Virgil Abloh. (a creative force/ PASTELLE designer of sorts)
Ferrai Murakami. (his barber) (not featured here)
there's more depending on the day, the time, the moment.
*These guys pretty much refer to themselves as the G.O.O.D. Music/ Pastelle Fam. So basically everyone you see him rolling with is pretty much helping him with the label in some way or another.
Kanye and friends have been in Paris just "ackin a fool, stuntin' on em"
, but seriously though many of you all HATE the looks being worn by Kanye & Crew, I however have to applaud in many aspects— okay, yes they may seem to be trying to hard, but really they aren't.

Taz, well if you know anything about the dude he just dresses over the top- that's him. Fonzworth he's staying true to himself and continues to make us proud by looking like a true dapper southern-bred gentleman (Georgia-bred to be specific). And Kanye, well he just has a love for labels and that's just how some people are, but I'm pretty sure with age he will transcend the labels. And the other guys, well I don't really know their history per se, but from what I've been learning about them they seem to just be "doing them". They all may be turning it up a few degrees for fashion week, but hey Kanye's trying to launch a label so they're getting ALOT of publicity from this… and from what it seems they will surely have a superb line.
Sidenote: seriously though, these guys have style in their own way… I'll do an individual profile on each of them later.