Two Door Cinema Club at SXSW

We're fans of Two Door Cinema Club, and we know many of you are too, so courtesy of Ray-Ban we'll be giving away a couple of Two Door Cinema T-shirts along with "Never Hide" frames. 6 winners total– 5 people will receive a Two Door Cinema Club official Band t-shirt and a frame, and 1 person will receive all the same gear, but it will also be autographed by the members of Two Door Cinema Club: Sam Halliday, Alex Trimble and Kevin Baird. This giveaway starts today and finishes today.
To win: Follow on Twitter, Fan on Facebook, and/or sign-up for T.U.G Mail. Then simply comment or retweet -and- let us know your favorite concert or best concert moment. (winners are chosen via random.org)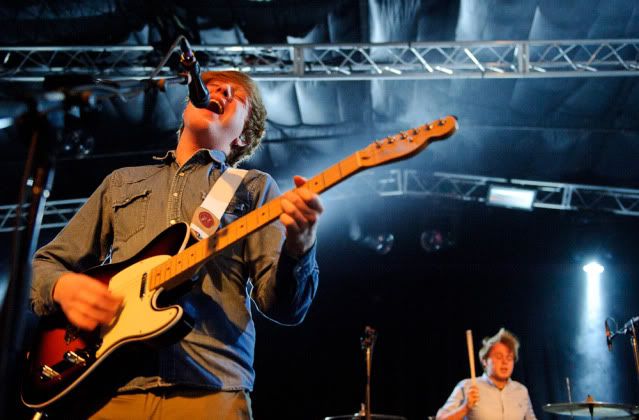 2DCC at SXSW (south by southwest) in Austin, Texas
More below: CONTINUE READING MORE >>>
Kanye West is one of the many headliners at this years Essence Music Festival
One of the biggest gatherings of African-American recording artist happens each summer at the Essence Music Festival. Only headliners perform, and year after year Essence delivers the best artist of every genre. This years artists included everyone from Rihanna to Chris Brown to Kanye West. Check out some of the styles stars rocked at this years festival- held this past weekend in New Orleans.
Our main man
Kanye West
does it up in an interesting
ensemble. He's rockin a snake-skin baseball jacket, leather
gloves, and a hard to find Louis Vuitton Damier Azur
backpack. It's alot going on,but we always make
exceptions for Mr.West.
LL Cool J rocks it the same way he does at every event: graphic tee, cross necklace, baggy jeans, and a NY fitted that matches his shirt. He wore the same "Respect" t-shirt to the BET Awards a few weeks ago, but it was in black. I'm thinking it's part of his new clothing line that is coming out in September. LL's clothing line will be exclusively sold in Sears.
Musiq hit the stage in a red leather jacket, aviators, and
Obama shirt. "Yes We Can"! You can expect to see someone
wearing an Obama shirt, at every single major event in the world for now on:-)
Chris Brown stays stuntin' , this time he rocks a Bathing Ape "Baby Milo" shirt, light royal blue American Apparel pants, and Vans SK8 Hi Dripworks in blue/pink. You gotta admit even if you think the pants are questionable the shoes are sick.
ROCK it Like Chris Brown:

Van hi-tops, $49.99, www.journeys.com
Blue slacks, $68.00, www.americanappareal.net
LRG Green straight-leg pants, $68.00, www.karmaloop.com
A bathing shirts, $45.99, www.bape.com
(www.babymilos.com)
Studded belt, $15.00, www.journeys.com