Last month my grandfather turned 80. Yep, the big 8-0. *round of applause*. He's the man in The Urban Gentleman classic logo. Georgia born and bred. This Southern Urban Gentleman is still moving the same way he did 10 years ago, 20 years ago, shoot 30+ years ago from my perspective. He owns two businesses and just keeps it moving. The oldest of 8 children and a true pillar, a backbone, in our family. I enjoy talking to him about life, business, and generally any topic at all… 80 years of knowledge will certainly give gold nuggets to those who listen.
Well, one Sunday dinner, not too long ago, he told us about A.G. Gaston. I, shamefully admit, that I hadn't heard of him, or perhaps I had, but not in any sort of memorable way. Long story short, A.G. Gaston is nothing short of amazing, truly amazing. He was born in Alabama (the super deep south) in 1893, and he was a multi-millionaire. When he passed away in 1996 at 103 years old, his net worth was over $130,000,000. Many think that's a gross underestimation– it may have been closer to half a billion. So of course, as my grandaddy was sitting their talking and reminiscing about Gaston, to a table full of his grandkids, I had to do a little internet searching (I'm a millennial that's what we do). I discovered a wealth of practical and inspirational information.
Left
: vintage Emory University
crewneck
circa 1960; Vintage high school
varsity jacket
; Destroyed
selvedge
Levi's circa 1985 (after 3 washes and 1 repair); Brooks Brothers oxford; Red Wing Pecos boots
Right: Vintage Brown University wool sweater; Vintage Lacoste windbreaker; J. crew chinos; J.crew desert boots; J.crew utility chambray
Get the Look:
MORE PHOTOS/detailed shots below –> CONTINUE READING MORE >>>
Winter is just about to come to an end, but before it warms up completely we have one last late winter/early spring T.U.G installment. This time in Oxford, Ga (photos from earlier this year– Jan/Feb 2011, w/ friends of the expanding T.U.G Crew: Cameron and Nedu)

Note: Even though it's warming up in the USA and many other places, it's cooling down and Autumn has just arrived in Australia, New Zealand, and other countries. So this will should especially be useful inspiration for readers in those locations.

Left: Vintage striped knit sweater; Vintage camo utility jacket; T.U.G pinback; J. Crew jeans; Arrow moccasins; Military issued laundry bag
Right: Vintage tri-color Columbia jacket; RRL camo thermal; Gucci marine belt; RRL herringbone camo hunting pants; Clark Wallabees; Supreme duffle bag; Eleven Eleven camo watch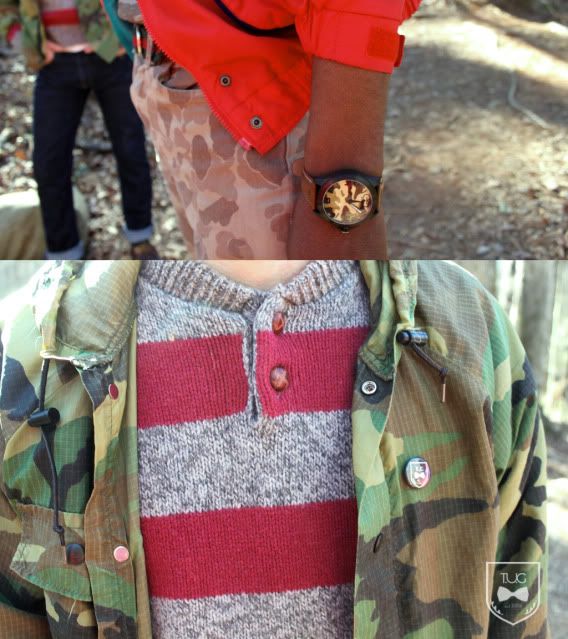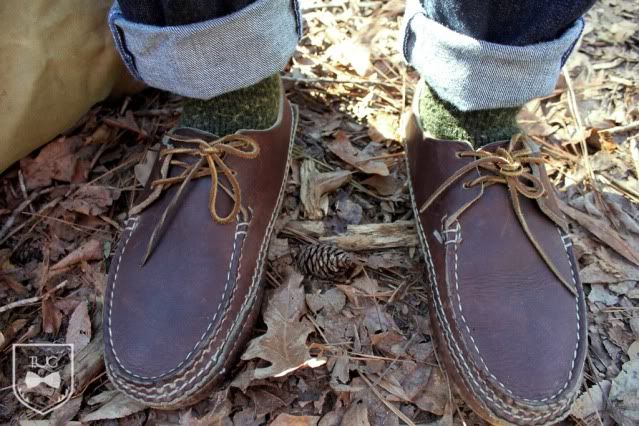 Get the Look: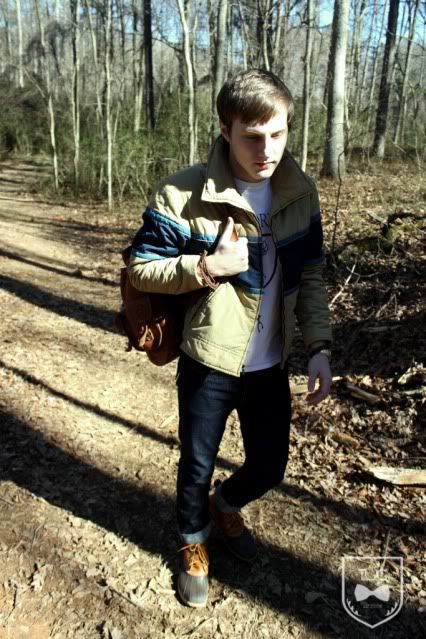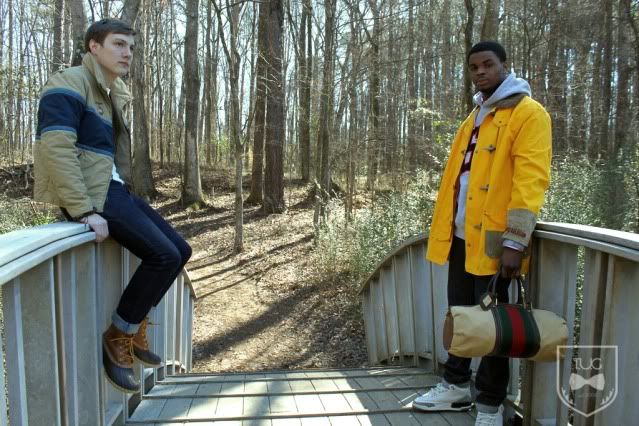 Left: Vintage Head USA ski jacket; Emory t-shirt; J.Crew denim; LL Bean duck boots; Handmade leather backpack
Right: Brooks Brothers oxford; Supreme varsity letter hoody; Ralph Lauren Polo fireman jacket; RRL raw denim slim fit; 2003 Air Jordan iii retro; rare Vintage Gucci mini duffle (est. circa 1950s or earlier)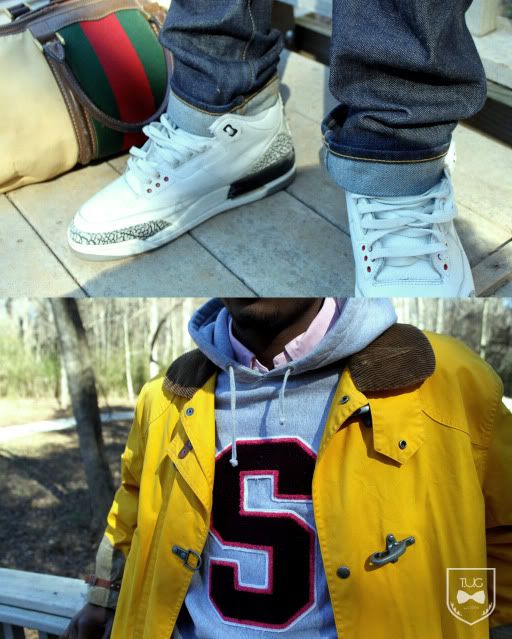 Get the Look: