The Royal Wedding has finally taken place, and Prince William and Kate Middleton have been wed. (They've been named the Duke and Duchess of Cambridge.) To be honest, I didn't really keep up with all the royal happenings over the past months, but I guess in some sense we all did because every single detail of their lives have been on every channel from CNN to Bravo. Not to mention that every talk show has had some sort of Royal Wedding segment… Stephen Colbert's was probably my favorite though (that guy really is hilarious).
So today, I was like– why not get in on the action? Pay a little homage to good ole Prince Willy
.But of course with an Urban Gentleman twist… so we're giving you The Style of Prince William.
Overall Prince William has the simple, clean, and proper style we expect from modern day British royalty such as himself. His suits aren't slim-fit tailored, he doesn't wear brightly contrasting tie and shirt combos, I don't even think I've seen him go sockless since he was a young lad at university. William keeps it completely classic. He mainly wears navy suits (sometimes double-breasted), light blue button-ups with classic pointed medium spread collars, and navy and/or burgundy ties. When he goes casual he usually opts for simple polos paired with khakis, or crew-neck sweaters on-top of button-up shirts and trousers.
Get the Look:
Prince William and Kate

Back in 2000, People Magazine highlighted his style because at the time he was a little more fashion-conscious, even making fashion statements at times– once wearing a Great Britain flag waistcoat with the words "Groovy Baby" sewn on (he was 18 at the time). Now-a-days he isn't making such statements, but who knows what the future holds… Duchess Kate did wear an Alexander McQueen dress to the wedding paying homage to the late designer. So maybe, just maybe, we'll see them front row at a handful of fashion shows in the coming years.
More photos below –>
One of The Urban Gentleman
fall/winter trends
is Hard-Studded, basically it's wearing clothes that figuratively look rough or evoke toughness– leather, studded jackets, rugged jeans, boots, etc. So when I saw this picture on
PimPumPam
I HAD to show you guys… this goes pretty hard huh? So now maybe this trend will get more love on our "What's your favorite fall/winter trend" poll… Assorted Swank and Conservative Dapper are in a constant battle for first place… be sure to place your vote.
Get this Hard-Studded Look below:

I visited the
Satorialist
for the first time in awhile and found a very laid back cool look, worn by no other than an Australian…

… the gently styled mohawk, the black skinny jeans, layered tees, aviators, and the canvas lace-up (an essential for the spring… yess yess I'm going to do a spring article…). The thing I like most about the outfit? The camel colored belt. It gives the look an edge, and takes it from just being cool, to being stylish…. and I'm just really feelin' the understated confidence.
Get the Look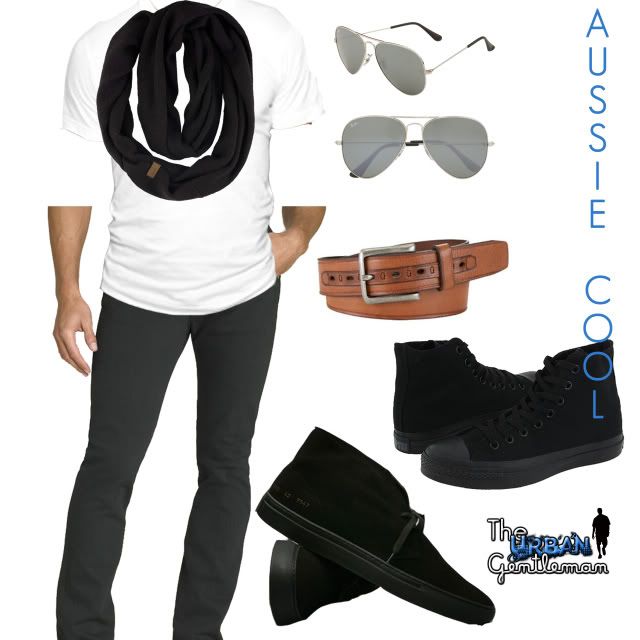 click to enlarge.
American Apparel Tailored Fitted Tee, $5.99; Fossil Scarf, $29.99;
Volcom Skinny Jeans, $64; Fossil Belt, $30
Black Canvas Converse, $45; Black Common Projects, $335;
Classic RayBan Aviator, $129;