Do I dare admit this? … I think I shall, okay here it goes…. I'm not the biggest Star Trek fan in the world… and I don't get excited about it- at all. Sorry if that hurt anyone's feelings, buuut on a positive note I have seen quite few of the movies and they always entertain me. And I've also been hearing alot of buzz about how good the new Star Trek is, so I went over to The Spill and checked their review (posted below)- click the '
Movies'
icon on the top left corner and scroll to Star Trek:
These guys are hilarious, I have NO idea how I came across them, but I check them out every once in awhile when I want to get a random outside review of a movie. Usually I don't agree with movie critics (that includes these guys), but the difference with them is that they make me laugh, lol… (though they can be offensive at times, that's another story though).
But anyway, in his breakthrough role, Chris Pine looks pretty good playing Captain James T. Kirk. He also manages to look equally as jaggedly handsome in his latest GQ Summer Suits spread.
The Linen Suit.
Nothing says summer more than linen. Except do you want to say summer 2009 or 1989? Avoid those billowy, pleated linen suits and hunt for a slimmer, more modern-cut one like this. And no cigars, no sandals, please.
(Suit, $825, DKNY. Shirt, $370, by Thom Browne New York. Tie, $85, by Black Brown 1826. Hat, $110, by Biltmore at J.J. Hat Center. Tie bar and pocket square by Paul Stuart. Watch by Hamilton.)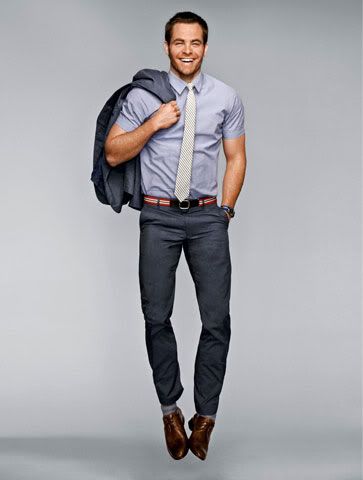 The Dark Cotton Suit.
You can wear a dark suit in summer (especially in the evening), but it should be lightweight. A steel blue cotton suit fills the bill for work and postwork.*
(Suit, $1,450, by Calvin Klein Collection. Shirt, $195, by Theory. Tie, $60, by Gitman Vintage. Belt, $89, by J. Lindeberg. Shoes, $398, by John Varvatos. Watchband by Smart Turnout. Watch by Burberry. Socks by Falke.)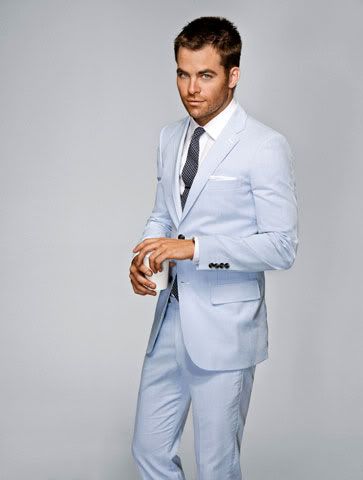 The Whipcord Suit.
Like corduroy, whipcord is ribbed, but minus the fuzziness—and heaviness. Two-tone versions, like this suit in blue and white (also availablein black and white), project a subtle seersucker vibe without that southern lawyer/Ivy League bow-tie-guy oppressiveness.
(Suit, $120, by Uniqlo. Shirt, $40, by H&M. Tie, $135, by Rag & Bone. Tie bar by Kenneth Cole New York. Pocket square by Brooks Brothers.)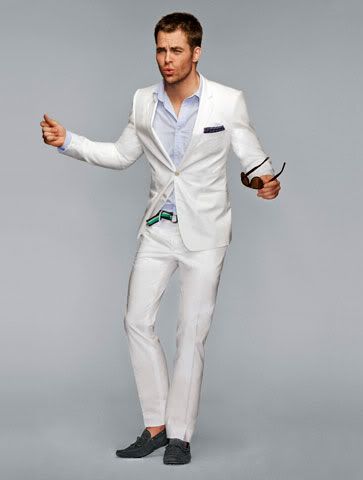 The White Suit.
Pulling off a white suit is easy—as long as you dress it down. You are not Tom Wolfe or Mr. Roarke, so skip the silk pocket square and firm tie knot. Keep it as relaxed and fun
(Suit, $895, by Boss Black. Shirt, $100, by Save Khaki. Pocket square, $30, by Turnbull & Asser. Belt, $33, by Paul Stuart. Shoes, $98, by Banana Republic. Sunglasses by Tom Ford.)
The Warm-Weather Plaid Suit.
You've got your single-malt, quail-hunting wool plaid, and then you've got plaid suits like this one—lightweight, sharply defined pattern, more midtown hustle than country bramble. Like a muted seersucker, it gives your business wardrobe an unexpected—but thoroughly appropriate—edge.
(Suit, $1,900, by Black Fleece by Brooks Brothers. Shirt, $150, by Thomas Pink. Tie, $98, by Theory. Bag, $515, by Porter. Pocket square by Brooks Brothers. Watch by IWC.)
photos by: Tom Schierlitz,Ben Watts
suit verbiage from: GQ Magazine
No explanation needed- we here at
The Urban Gentleman always rank Andre Benjamin number 1
… he's the centerpiece of our main image for pete's sake, lol. Anywho, it seems as if Atlanta is going to be officially put on the fashion map thanks to Mr. Benjamin- sure we have other great designers… but none (besides Mychael Knight) that has graced the catwalks during fashion week and inside pages of fashion magazines recently. Don't worry though, hopefully you'll find me there in a few years (but shhhhh, it's a secret:-)
Check out all the designers below… but ummm Andre could we perhaps get some kind of flagship store in Atlanta? (I'll even run for awhile:-)
(click to enlarge images)

Pharrell Williams is simply fly. He began as a behind-the-scenes guy producing some of the hottest beats and tracks for stars to being his own hip-hop rock sensation. And like wine- with time he's managed to age into one of the coolest most unique easygoing chill nerds we all know. . . and love! Just like his music, his style has also gracefully developed to be one of the best in the world. He's been idolized and adorned by all the top style powerhouses including Gentleman's Quaterly (GQ).
I love Pharrell for his ability to make looking fashionable easy. I absolutely love the style of guys like Kanye West, but let's be real- you Know they take a good bit of time thinking carefully about what to rock. Pharrell, on the other hand, rarely looks like that. And the fact that he's pushing 40, and he's able to wear what he wears without us questioning it, is fly. . .well, lol, he's like 35- which is young, but you get what I mean . . . Pharrell's style should not be taken for granted by anyone. Yeah he may rock an over-sized purple Hermes bag, but hey – he's Pharrell. And the older some guys get the more flamboyant they become as well. . . and that isn't always a bad thing.
Alright so dude is unique. He mixes skater guy + beach bum + hip hop + prep. Alot huh? Yeah it is, but to be honest he is actually one of the originators of this look that every guy tries to rock these days. And since he's an orginator you should pay close attention to how he dresses. Basically his style is a collaboration of different looks and on the average day to get Pharrell's look, you do this:
small/medium one-image graphic tee + quality denim jeans (that are slightly fitted) + ice cream or bape shoes or low-top vans+ trucker hat + keychain on your jeans + digital watch = Pharrell's style.
Pharrell at SS09 LV show
Now of course the easiest way to get Pharrell's look is to just rock clothes from his Billionaire's Boys Club line. But in general, the brands Pharrell wears are: A Bathing Ape (BAPE), Ice Cream, BBC, and Louis Vuitton. And as of late he's shown love for murses and manbags– a term he hates by the way, lol- sorry Pharrell. So rockin a bright colored travel bag with your threads may give you an even more authentic Pharrell look.
Mr.Williams doesn't just do the whole casual hip-hop/skater/beach bum look, he also dresses perfectly preppy on a regular- check out his latest photos from GQ Magazine's July Issue:

At the end of the day Pharrell is a world-wide trendsetter and when you add that to the fact that he was Voted The Best Dressed Man in the World by Esquire in 2005, well that just boosts his fashion credibility and make's him one of the most official Urban Gentleman.
cindy from the urban gentleman