Spring is almost here, so that means Summer is almost here, lol, and that's when the world gets a little, well, skimpy. So its vital that we all look our best during months where more of the body will be exposed, and of course around here we want you guys to be, well,
the sh*t
in every area. So we spoke with Celebrity Fitness Trainer
Dolvett Quince
, and he was able to give us a few tips on how to get your body right– Urban Gentleman style.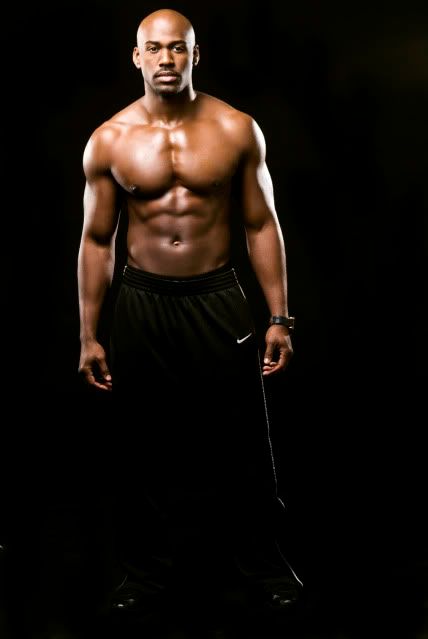 1. Best workout to get fit and in shape quickly?
Do a combination of weight training and cardio, and even mix in some calisthenics (push-ups pull-ups, sit-ups, etc.). Have a "get it done" approach and you can finish this in
30 minutes
. (just mix and match, maybe 10 minutes of each). This is the perfect workout to define muscles and get ready for the spring and summer!!
2. Advice on how to integrate fitness into a busy schedule?
Simply find time, better yet make time! Set your alarm clock an hour earlier than normal for this month, give yourself a monthly goal! Wake up and hit the gym early, you'll be surprised how much energy and focus you have throughout your day! Nothing less than 30 minutes, nothing more than an hour for us busy guys!
3. Foods that will aid in slimming down -and- foods that help when wanting to bulk up?
Slimming down: Try increasing your fiber intake, fiber assist in flushing the body, and usually connected to high vitamin intake. A great example, oatmeal in the morning or
FiberOne
cereal! Also coconut water and oil have tremendous benefits in reducing water retention! I recommend
Zico Pure Premium Coconut Water
as a refreshing alternative for the upcoming spring and summer heat.
If you're looking to gain mass: increase your lean protein intake– chicken breast baked (not fried)! Fish and turkey are great foods to increase and sustain muscle mass!
4. What are some of the benefits of your Special "Me & My Chair: The No Excuses Workout
" workouts?
A huge benefit: You only need a chair to get through this workout, and trust me you have a chair… you're probably on one right now as you read this! If you find yourself away on business, or stuck in a hotel, or even at home and wanna burn off those calories, this DVD is for YOU. It's a great way to speed up and maintain your metabolism! THE Best way to "maintain your sexy"!
5. Let's say an urban gentleman only has 10 minutes to workout per day, he wants to slim down a little and tone his muscles,what should he do?
Jump outta bed and do 30 push ups, 30 crunches, 30 sit ups, 30 squats, 30 lunges per leg! REPEAT until the 10 minutes are up! Watch what you eat.. that means make clean quality choices when eating! As your body gets use to this workout increase your reps and speed!
6. Top 5 singular workouts? Top 5 foods to eat?
Push ups, squats, sit ups, dips, pull ups!
Turkey, Oatmeal, Eggs, Chicken, Spinach!
7. Anything extra you want to add?
Drink water. Why? It flushes your body and reduces water retention by flushing the system continuously! Enjoy this spring and summer gentlemen, and "be better than yesterday".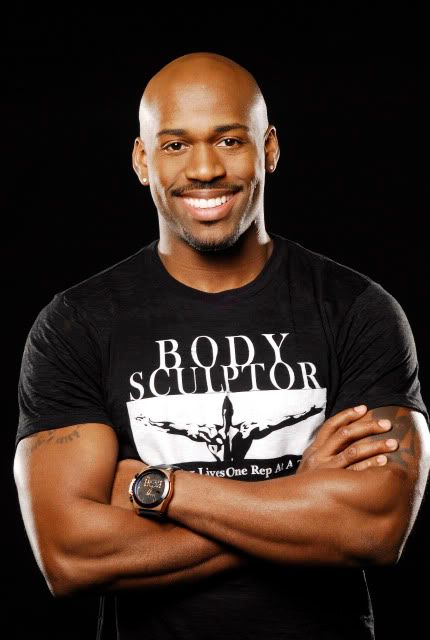 Celebrity Trainer

Dolvett Quince
Want to hear more from Dolvett? Check him out Here.
Get the Me & My Chair Workout Here
.
Check out the Urban Gentleman Health Corner Here.
More about the Me & My Chair workout:
"Me and My Chair" is an extension of Dolvett's commitment to help people change their lives "one rep at a time." "Me and My Chair" is a no excuses workout that can be done anytime, anywhere. Suited for those whose demanding schedules keep them out of the gym, this workout is intended to be a personal trainer on the go. "Me and My Chair" is a low-impact, high intensity workout system that helps you tone up and slim down using only a household chair as equipment. With a Beginner and Advanced workout on the same DVD, you'll be able to see yourself improve as you move between these two calorie-burning workouts!
One of my friends has the hardest time getting up in the mornings, he noticed that I have alot of energy and wanted to know what my "secret" was– I told him there was no real secret, but I do have a few things I drink or take to make getting up less of a task…
– take Vitamin C each morning (taking the Gummy kind makes this really easy:-)
– take a Centrum Multi-Vitamin
– drink tea, green tea is usually best
– try your hardest to get 8 hours of sleep, obviously this is easier said than done
Also, when I find myself feeling groggy I drink
Bolthouse Farms Berry Boost
, this drink is packed with nutrients and antioxidants so after drinking it, you will almost instantly feel more energized and healthy.
Bolthouse Farms has a series of drinks that I love- my favorites Berry Boost, Green Goodness, Perfectly Protein (Mocha Cappuccino), and C-Boost. Green Goodness is just a really healthy drink, good to just drink throughout the week. C-Boost is another drink that gives you a boost, it contains lots of Vitamin C. Perfectly Protein is packed with protein and is very tasty, but it's not a good morning drink because it weighs you down some– it's actually a good drink for guys before or after workouts since it has whey protein (helps you to gain healthy weight). The Bolthouse Farms drinks are usually found on the fruit/vegetable aisle, they're all natural with no sugar added. And different stores will have different varieties, to see the complete list go to their website.
Also, alot of my friends and family use the following to maintain healthy energized lives:
– Emergen-C
– Garlic Supplements
– Omega 3
Check out the Health Corner for more information and to order these vitamins.
This morning routine has helped a few of my friends both male and female, so try it out. And feel free to give your advice on overcoming "morning grogginess".