One Denim Japanese Raw Selvedge Denim, Worn by Urban Gent Taariq Tut
It's been awhile since we've done a proper denim piece at The Urban Gentleman, so when the kind folks at One Denim hit us up we decided to to explore their offerings instead of just bypassing the request like we sometimes do (sorry others). A little history lesson… We wrote our first denim article, "Top 10 Jeans" back in July 2008, just a month after we started (the styles have changed so so much, it's kinda hilarious). In 2010, we were asked to do a Denim Style guide for H&M. Then in 2011 we collaborated with Italian brand Meltin Pot on their in-store and online campaign to relaunch their new collection. I reference all that to say we're definitely denim lovers and we've seen the growth in the past decade from a focus on just jean style to a more dedicated focus on premium selvedge denim.
Since 2010, selvedge denim has been a staple in any stylish man's wardrobe. The rise in popularity of course lead to more and more companies making their jeans selvedge, nearly every brand has caught on, but there's mediocre quality and high quality. You of course want high quality. The price for a really good pair of premium selvedge denim ranges between $195 – $450, generally landing around $300. This can be a little bit pricey if you're on a budget– whether it's saving for university or saving for that floating home you're itching to build in Seattle. The thing we like about One Denim is that they've found a way to cut out the middle man and offer a $300 pair of denim for $100 (£80). Pretty sweet right? Yea, we think so. To test out their line we chose to compare their staple Italian Selvedge Denim and Japanese Selvedge Denim.
Unveiling of our One Denim jeans CONTINUE READING MORE >>>
Denim, jeans, or denim jeans. Created in America by Jacob Davis and Levi Strauss in 1873. Then refined by the Japanese over the past several years or so. The Japanese has raised our standards in denim because of the high level of craftsmanship they put into the process. They use natural dyes, and more notably the pants are selvedge or selvage, from the phrase "self-edge", which refers to the natural end of a roll of fabric which prevents unraveling of the material. The cost of creating denim with that is selvedge and only contains natural dyes is more expensive. But it also leaves you with a superior quality pair of jeans that you're able to personalize over time.
Canadian student Josh and his personalized pair of,15 month distressed, raw denim jeans
Recently, a guy named Josh from Canada wore his raw selvedge denim jeans for 15 months straight just so he could distress them, or personalize them, himself. He wore the jeans 330 times without washing them between September of 2009 and December of 2010. It was more of an experiment for his textile class at the University of Alberta, but I don't know if I could do that. I guess it's pretty cool, and it totally makes sense for a college student, lol. He put them in the freezer when they got smelly, and he miraculously didn't come away with any skin problems although the jeans had bacteria.
I wouldn't advise you to go this long, but it shows the beauty of investing in a good pair of denim. His jeans are Nudie btw, I hope they gave this kid a scholarship for the free awesome press. Ready to personalize your raw jeans? Choose from our selection below:
URBAN GENTS PLEASE REMEMBER: "Selvedge" refers to the edge on the denim -and- "raw" refers to a lack of pre-washing on the fabric. Most selvedge denim/jeans are raw, but there are some they have been pre-treated, pre-washed, or pre-distressed. And on the flip side, there is some raw denim that are just made in the regular projectile loom and are not selvedge. You gotta flip the insides to check.
source: neatorama . com/2011/01/20/as-an-experiment-man-wears-jeans-for-15-months-without-washing-them/
I just got word of
Rock & Republic's new recession jeans.
.. and I would have to say guys- now is the time to buy. There jeans usually retail at about $300, but the new recession jeans will be a staggering $130— hey that's cheap for them. And that's without the store sale, so I figure you'll be able to buy these for $80-$100 at some point. They come in 2 styles: straight leg (Neil) and skinny (
Colburg
). The jeans will be available
March 1
st at
rockandrepublic
.com. Looks like some of you will be upgrading the wardrobe
.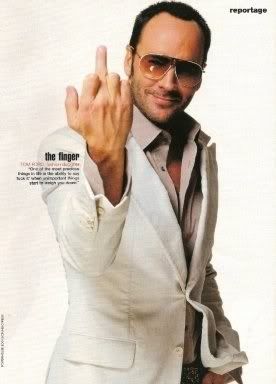 But on the opposite end of the spectrum
WWD
reports Tom Ford is saying, "
Fck
the Recession" (he didn't literally say that,
lol
) and has created a pair of
$990 jeans.
.. yeah you read that correct. Nine hundred and ninety dollars…

Check out the excerpt (from wwd.com):
Tom Ford is taking designer denim to a whole new stratosphere with men's jeans that retail for $990

. The jeans, hitting stores now, are made from Japanese

selvaged

denim that feels and looks raw, but has been

pre

-washed and

pre

-shrunken so the indigo

doesn

't rub off. They also come in

black or white

. The seat is distinguished merely by a straight line, stitched across the pockets, and a small black tab reading

TF

001 or

TF

002. The first number designates the boot cut that Ford wears himself, and the second is a straight-leg cut. In the front, the

button is plated with 18-karat gold,

and the

pockets are lined with

the same

silk

as Tom Ford suits. But is the price justified for classic,

unembellished

jeans? If you have to ask, you can't afford them.
I can just hear him now, "
Fck
the
recession
" "hahahaha".
I don't know why, but…. I'm sort of
lovin
it,
lol
.
The conversation of men and skinny jeans is never-ending. I get emails from those who hate it and love it, but I feel like every single style in the world (for the most part) can look good if worn right, that includes skinny jeans. I think it's still a shock for alot of people because it was a drastic change from baggy jail-house type jeans to fitted almost-rocker tight kind of jeans. The truth of the matter is that if I had to pick between the two, I would pick skinny allllll daaaaaaay looooooong. Grossly over sized pants hanging off your rear is so ridiculously unattractive, and I hope no one still wears their pants 4 sizes too big unless you are forced to wear "hand-me-downs."
Since the beginning, I've been covering this topic and the mixed reactions by males and females never cease… 1st article "
Can Men Wear Skinny Jeans
", "
Jay-Z on Skinny Jeans
", "
Let's Start the Year off Right
", etc. My opinions on the pants has changed slightly over time, but my overall feeling of the jeans will always remain the same- whether or not you can/should wear them depends on your size, personality, age, etc.