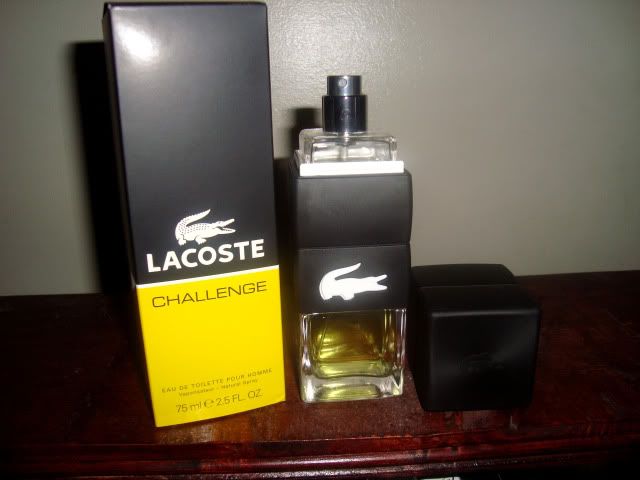 I think, still until this day, that Body Kouros by Yves Saint Laurent is
my favorite cologne for men
. I was quite smitten with the fragrance when I was… I guess "dating" a guy who wore it. I seriously was magnetized by the scent, plus the guy spoke french and he was such a gentleman so he was just an all around good packages… but I digress. Anyway since proclaiming Body Kouros my favorite, the only colognes that have rivaled it upon their release would have to be
Gucci by Gucci and Pour Homme by Versace
. But today, another cologne makes my "best" list…
I initially figured that it would be okay- sort of plain or overly masculine smelling like many "sports colognes", but when I received and opened it I realized I was wrong. The cologne is light and refreshing, it's the type scent that a girl would probably create for a guy if she was hand-picking ingredients to make a cologne from scratch.
The key would be to not wear too much of this (or any cologne in general), 3-4 sprays should be plenty. This fragrance gets 4.5/5- this is hands down my favorite new frangrance.
More Info on the scent, bottle, and inspiration behind Lacoste Challenge:
Challenge is the invigorating new fragrance for men from Lacoste; a positively energizing scent which captures the youthful dynamism of today's assertive male urbanites. Epitomizing the tenacious attitude and effortless panache of the brand's founding father, tennis legend René Lacoste, this energetic new scent is aptly named, having been designed to inspire the wearer to confidently embrace whatever challenges or surprises life throws at him – its motto: 'Never resist the call of the game.'
The Fragrance:
Top Note – THE SERVE
The fragrance opens strongly with fresh and energetic notes of tangerine and lemon, augmented by a burst of aromatic lavender – one of the most classic ingredients in masculine perfumery – which works to sustain the citric zing of the top notes into the heart of the scent.

Middle Accord – THE VOLLEY
The energy of the middle accord is driven by spices including ginger, aptly representing René Lacoste's formidable skills at the net, which he used sparingly to sting opponents when least expected, bringing an exciting kick to his overall game play.

Base Note – THE BASELINE
Just as the legend was renowned for his stamina at the base line; so the base notes are powerful, steady and consistent. Precious rosewood brings a modern edge to the scent, teak has an almost antique quality that reinforces the distinguished heritage of the brand, and the blackness of ebony corresponds to the slick modern design of the flacon. Together they create a sustained strength, giving the fragrance its solid foundation.
Emulating the shape of a tennis racket handle, the solid glass bottle is encased in a lustrous black 'soft touch' grip emblazoned with the iconic Lacoste crocodile logo, while the juice is a bright, eye-catching yellow. The color scheme is also a direct reference to the world of tennis in general, with its classic bright yellow balls and black racket grips.


Bomber jacket: also called a flight jacket. A loose, zippered jacket with fitted waist and cuffs, resembling those worn by American bomber pilots in World War II.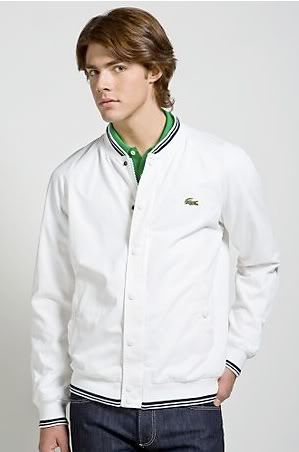 Polos are one of the essentials of a gentleman's wardrobe. You can easily wear them in a dressy or casual manner. There are hundreds of different types of polos you can choose from, but I've narrowed the polo types and brands down to make the 1st official Polo List.
A mini-history lesson: The polo shirt was first known as a tennis shirt. It was designed by 7-time French Grand Slam tennis pro, Rene Lacoste. He designed it because he needed a more comfortable shirt to play tennis in. He first wore it in the 1926 US Open Championship and in 1927 he added the crocodile emblem. Polo players began to heavily wear the shirt in the 1930s (after Lacoste began to mass produce them)- hence the nickname "polo shirt". In 1972 Ralph Lauren included the "polo shirt" as a prominent part of his line called Polo- to further boost popularity. Many English speaking westerners started calling the tennis shirt a "polo shirt" on a widespread level because of Ralph Lauren immense popularity . . . see, you learn something new everyday
okay, back to the list. . .
The Official Urban Gentleman Polo List
Ralph Lauren – the Classic polo
This is the polo that everyone thinks of when they say the word polo. The fit of these are the best and now Ralph Lauren allows you to "create-your-own" polo.
www.ralphlauren.com
Retail price: $79.50 – $125.00
Average Sale prce: $45.00
Lacoste- the Original polo aka the Preppy polo
When you buy Lacoste, you buy the real deal- it's the first
polo ever made. This polo automatically preps up any look,
making it a must in your wardrobe.
www.lacoste.com
Retail price: 79.50
Average Sale price: $50.00
Express- the Modern polo
Express's polo is quickly becoming a favorite of stylish men,
especially since they added the big-face lion logo.
express.com
Retail price: $44.50
Average Sale price: $19.99
Chaps- the Bargain polo
This is somewhat of the "starter" polo, meaning that it's the average guys first polo if they didn't grow up wearing it. It's a good quality brand that can be found in most stores.
www.chaps.com
Retail price: $39.50
Average Sale Price: $19.99 or less
Sean John – the Comfort polo
What can I say, Diddy is a great designer- even if he's crazy,
lol. His polos fit perfectly and they make most guys look fly.
Plus, it's always good to support black designers.
www.seanjohn.com


www.drjays.com
Retail price: $52.00+
Average Sale Price: $30.00
Rocawear – the Hip-Hop polo
Again another rap-star delivers (Jay-Z & Damon Dash). Rocawear has a great line of men's clothing. One of its best feature is the R logo- which always matches the shirts lining. Rocawear polos are really cool, they remind me of Miami for some reason.
www.rocawear.com


www.drjays.com
Retail price: $58.00
Average Sale price: $35.00
Burberry- the Gentleman polo
With Burberry you can do no wrong. The polos are just about as classic as Ralph Lauren and Lacoste. The best thing about Burberry polos is the high-quality material and rich colors.
I've recognized that most rich and wealthy executives almost exclusively wear Burberry polos.
www.burberryusaonline.com
Retail price: $95- $160+
Average sale price: $75.00

Penguin- the Vintage polo

This is everyone's favorite extra polo. Penguin is a brand that not everyone knows about, but those who do swear by it. I've met guys who exclusively wear Penguin polos. They're meant for young stylish guys who enjoy vintage looking polos.
www.penguinclothing.com
Retail price: $59.00
Average sale price: $39.00

Coogi- the Artistic polo
Awwwhh, Coogi- so colorful and bright!
There's nothing like a
coogi polo
, they are so detailed and creatively designed.
www.shopcoogi.com
Retail price: $78-$88
Average sale price: $58.00
AE (American Eagle)- the Schoolyard polo
When I think about AE, I think about private school kids-
which is cool. American Eagle is a really good all-american
brand, with great polos for good prices. You can also
customize your polo, I made a pink one w/ a navy eagle
on it (showed above).
www.ae.com
Retail price: 24.50-34.50
Average sale price: $14.50
Guilty Brotherhood- the Lupe polo
This has to be the most googled polo in the world right now. Ever since Lupe spit his line about liking ". . .Guilty Brotherhood Polos" on
Gold Watch
everybody has been trying to get there hands on one of these. Unfortunately it's not that easy to cop via the internet.
http://guiltybrotherhood.com/
Retail: $105-$170
To order email, info@guiltybrotherhood.com 962-62364
Cindy at The Urban Gentleman