The freshly-released, never before heard new single from Micheal Jackson, entitled "Breaking News" is now streaming on Michael Jackson's website. The song is from his album, MICHAEL, which will be released December 14th. Listen to the song here.
The Jackson family (his mom, sisters, even his children) does not believe it's really Michael. And to be honest, it does sound kind of funny… I think they may have done to this song what they did to some of Aaliyah's stuff after she past away. They mixed in her brother's voice to complete the movie Queen of the Damned (and a few of her other projects). I think they probably mixed in the voice of a Michael Jackson impersonator to finish the song. But who knows…
update: after to listening to it for a second time, this really does not sound like michael… i hope this is the only song on the album that sounds "fake".
I bet some of you didn't know (or forgot)

Michael Jackon's

BAD

video

was actually a short film…. well now you know, so check it out:


via theurbangent.com

The full music video for "Bad" is an 18-minute short film written by novelist and screenwriter Richard Price, directed by Martin Scorsese and starring Michael Jackson. Jackson portrays a boy named Daryl who has just completed a successful term at an expensive private school. He returns to the city by subway, arriving in a derelict neighborhood.

Daryl arrives to find his house empty (his mother is played by Roberta Flack, albeit in voiceover), but is greeted by his old friends, led by Mini Max (an emerging Wesley Snipes) and spends an evening with them. At first relations are friendly, if slightly awkward, but the situation deteriorates once the rest of the gang realize how much Daryl has changed, and in particular how uncomfortable he has become with their tendencies towards petty crime. In an attempt to show his friends he is still "bad", Daryl takes the gang to a subway station (The Hoyt Schermerhorn Station in Brooklyn) where he attempts to mug an elderly man but bottles out at the last minute. Mini Max berates Daryl and tells him that he's no longer bad.

After more abuse from Mini Max, the video jumps from black and white to color and Daryl, now dressed head to foot in leather and joined by a crowd of dancing punks, sings "Bad" (it is at this point that the edited video generally begins when played on television). His insistence that Max is headed for a fall are nearly Daryl's undoing, but eventually his friend accepts that "that's the way it goes down", and, after a final handshake, heads off leaving Daryl. The scene shifts back to black and white as Daryl, alone and back in his tracksuit, watches them leave.
"What I see in these pictures today," he said, "is that you're looking at this young man whose entire life had been spent as a big star. He never really had a childhood."
sidenote: im so tired of the media and their attempt to remember the bad, and their search to make sure michael is categorized as a casualty to drugs (cough cough, CNN) i mean seriously? how many times are you going to interview the same nurse who said michael only inquired about the medicine so he could get a decent nights rest… within 10 minutes, CNN went from saying he inquired about it (the truth), to he begged for it, to he repeatedly pleaded for it… ummm, like, seriously though? seriously? yeaaaaaaah NO. Move on, and let's cover real news instead of doing all you can to damage michael's image, haven't you all damaged it enough? (rest in peace mj.)
via The Urban Gentleman II
photographer jeffery scales, new york times
To be honest, I rarely watch BET (for obvious reasons), but I knew they would be paying tribute to Michael Jackson so I had to tune in. And I must say, Jamie Foxx had me rolling the entire show. He and Ne-Yo dominated this years Awards with their musical ability and I liked their many wardrobe changes into MJ inspired ensembles… basically their jackets were cool. Aside from them everyone else was decently dressed, no crazy ridiculousness except for maybe the over-sized chains of T-Pain and Souljah Boy. Check out some of the photos from the 2009 BET Awards: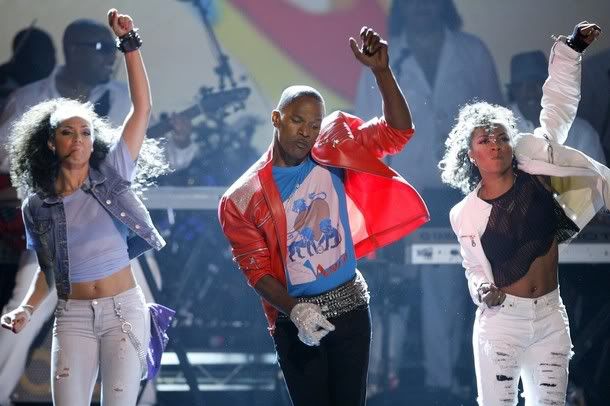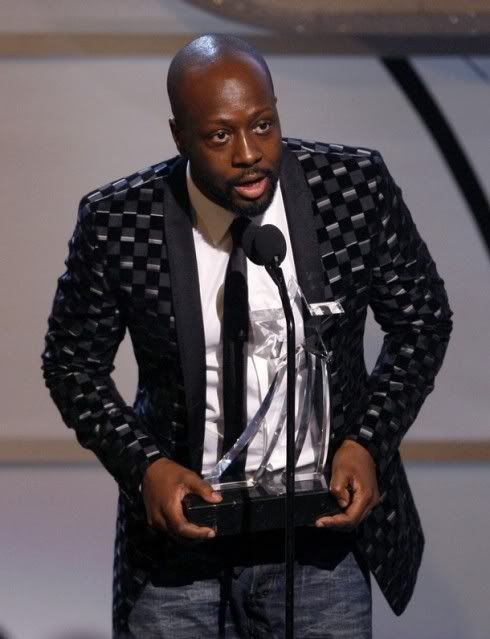 Michael Jackson was one of THE most influential persons in the world, and quite obviously THE most influential entertainer of all time… along with that came his tremendous impact on fashions and trends.
Tracey Lomrantz
of
GLAMOUR
did a great fashion write-up on MJ. Check it Out Below.
(personal sidenote: all this referring to Michael in past tense is Really bugging me, soooooooo weird, still doesn't feel real).
From sequined fedoras to one very special glove, the King of Pop–who died from a sudden cardiac arrest yesterday–was more than a music legend. He was a bona fide style superstar.
1972: As a member of the Jackson 5, Michael was a rising star by the tender age of six. His sartorial wild streak was already showing by age 14, with bold mixed patterns and hair that screamed "look at me."
1983: Jackson's "Thriller" video captured 80s excess in all its glory: Expensive effects, seductive dance moves, and a red peak-shouldered motorcycle jacket that spawned a national fashion fever for zipper-laden leather bombers.
1984: One look at Balmain's intensely popular Spring 2009 collection, and it's obvious Jackson's signature look still has serious impact. The glittered Sergeant Pepper-style military coat he wore to the American Music Awards—with date Brooke Shields on his arm—is as relevant now as it was 25 years ago.
1984: No accessory in pop culture history has enjoyed as much well-earned fame as Jackson's one glove, which made frequent on-stage appearances throughout his career. It was intended to hit auction blocks earlier this year (legal snafus put an end to the sale), and at the time was expected to fetch up to $200,000.
1987: There's subtlety and then there's…Michael Jackson's stage wardrobe from the 80s. His fiercely fetishized look—leather, buckles, an in-your-face attention to his…er, maleness—are also evident in the present-day collections of everyone from Rodarte to Alexander Wang.
1992: Jackson's flair for the unexpected continued into the 90s, when the King of Pop highlighted his patented crotch-grab with a gold lame thong worn over a pair of tight black pants with—what else?—a broad silhouette hologram jacket and some Rambo-style bling.
1995: Before Jackson came along, the rules for showing off your white socks were hard and fast: Don't do it. But once the world saw him perform a magical feat known as the moonwalk, his fedora tilted just so, we decided there must have been some kind of magic in that footwear.
2009: Right up to his last days, Jackson was a loyal (and unpredictable) fashion force, picking pieces straight from the women's runways of fashion insider favorites Givenchy and Balmain. It's difficult to say who was paying tribute to whom, but the whether Jackson was cause or effect is irrelevant—his inimitable stamp is everywhere in the fashion sphere.