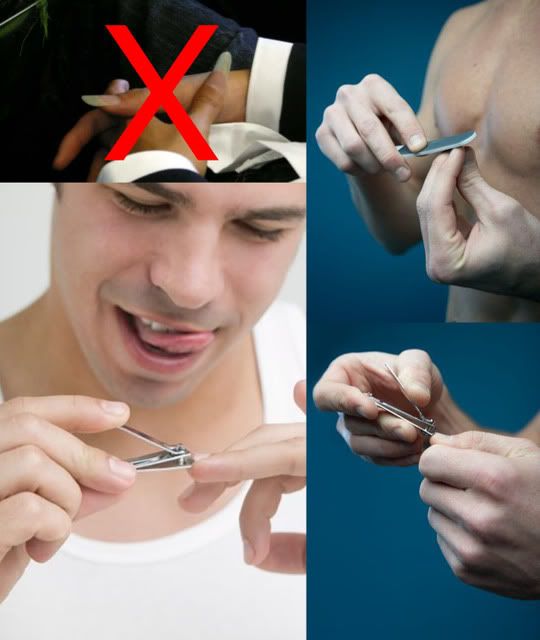 I am always shocked and amazed when I meet a guy with long nails. I ask myself, "Does he think that's sexy?" Because it's NOT- it's soooooo NOT sexy, not even a little. Then I'm even more shocked and appalled when I run into associates with long nails I'm like ,"Don't you read the Urban Gentleman… dude, you need to subscribe." Lol, but seriously meeting a man with unkempt nails is one of the most unattractive things ever! It automatically gives the impression that you weren't taught well and that you may be a dirty/messy person.
Gentleman, for the record, there are two things that even the most basic man must do outside of showering, washing his face, and brushing his teeth… he must:
1.) maintain his haircut /hairstyle
2.) cut his nails.
There is never an excuse to walk around with long nails- you can buy a pair of nail clippers anywhere for about 2 or 3 bucks. But each of you should own a manicure set of some type. If you don't have time to cut your own nails, just go to a nail shop and get a basic manicure for about $15-$20. (go on a Tuesday or Wednesday night if you feel self-conscious about being there b/c those are usually the slowest days).
I asked a variety of women from different backgrounds how they felt about long nails and they pretty much all responded, "ewwwwwwww". One woman even went on to tell a story about her boyfriend having long nails and how every night she's tempted to cut them while he sleeps. I personally think that she obviously doesn't have that close of a relationship with him if she can't just ask him to cut his nails, but who knows…. Anyway guys, I cruised the web and found 3 different quality maniucre sets in 3 different price ranges- check them out on the left or click here.
Please please Urban Gentleman, I implore you to cut your nails!
There are many facets to men's grooming, but there are a few basics that every man should remember, practice, and keep dear to his heart.
Hair + Nails = the bare minimum
No matter the amount of money you have in you pockets $5 or $500, it doesn't take much to keep your hair and nails up.
Every man needs to own a manicure set.
There is nothing more distasteful than seeing a man with long nails. . . its just disgusting. Having long nails makes a man look like an old-school pimp, drug dealer, drag queen, or junky. When you have long nails it's easy for dirt to collect underneath, and what woman wants her man to touch her with long dirty nails? . . . none.
Buy your manicure set from any store: Walgreens, Target, or Publix. . .everyone has them. OR you can order them online, we have a few in The Urban Gentleman Store.
Hair is also very important . . .and for men it's really easy to keep your hair looking good. If you have the dough then make sure you get a fresh cut every 2 weeks. And do your own shape-ups on the weeks in between. For all the longer hair guys keep the hair-do neat and be sure to keep your hair washed . . . nobody likes snowflakes in July.
Once your nails and hair are in tact you can move on to the other basics . . .
Skin + Teeth = a little above the bare minimum
Tyrese Gibson may just be the poster-child for great teeth & skin
Don't just use a Dial soap bar and a washcloth to clean your beautiful physique . . . use a body wash with cocoa butter or shea and a loofah. And if you're blessed to have a face with great skin, then keep doing your regular face cleansing routine, but if you have bumps, pimples, or other little face blemishes try: Noxzema, Sea Breeze, and/or Proactive. Check out the best acne treatments here.
There's nothing more refreshing than a great smile. Everyone may not have the straightest most-even and Hollywood-esque teeth, but it's easy to have the cleanest and whitest. First off, be sure to brush and floss your teeth twice a day. Secondly, the best method to getting a killer-smile is using Crest Whitestrips. Crest Whitestrips are a guaranteed whiter smile, and I strongly believe that everyone should use them at least every 2 1/2 years. If you have really dull or yellow teeth you may want to start by using them every 4-6 months for no more than 2 years- I've seen some great things sticking to that teeth-whitening schedule:-) Check out the best Crest has to offer here.
Okay guys, once you have these 4 basic things down, you're on your way to possessing characteristics that are innately gentleman-like.
Maintaining your hair, nails, skin, and teeth are not only good hygiene, but they will surely get you extra points with the ladies because those are the first things that women notice about a man.
Need Help with finding Grooming Products:
– Manscaping 101 (hair removal and shaving products)
– Grooming Items (colognes, lotions, and more)
– Manicure and Pedicure