Nearly 1.1 million men had some type of cosmetic procedure done last year.
What does Kim Kardashian, Heidi Montag, and Nicki Minaj all have in common? Butt implants (obviously some bigger than others, lol), breast implants, nose jobs, lipo, and the list for Heidi and Kim goes on and on and on (and on). So clearly, plastic surgery is relatively common for women, especially when they're trying to be famous, but what about men? Do guys ever go under the knife when they're on the search for fame? Well, that's what I've wondered from time to time. And after being sent numerous emails from the PR offices of plastic surgeons looking to be featured on The Urban Gentleman, I decided hey, why not ask them a bit more about the topic of men and plastic surgery.
The bulk of men may not be looking to pay big bucks for a bigger backside like Kim K. did, but they are paying for other things… A Manhattan plastic surgeon gave us the rundown:
Average number of men who get plastic surgery: 500,000+ every year. "In an average year some thirty-five percent of my patients are male (and that number is increasing). They span all ages and all professions. This is a very large population and represents a cross section of men of a certain socio-economic group in a position to consider cosmetic surgery."
5 popular / common plastic surgery procedures for men: Microsuction of double chin and jowls, liposuction of love handles and belly, removal of enlarged breasts (gynecomastia), removal of lower eyelid bags (blepharoplasty), nose-reshaping (rhinoplasty)
Average costs of those 5 procedures: Between $5,000 and 10,000 depending on what is necessary. Costs can be lower depending on the doctor and location (it's possible to get liposuction for just over $2,000 in some states)
Other common cosmetic procedures for men (average costs): Laser hair removal ($400), hair transplant ($4700), botox ($300), microdermabrasion– removes dead skin ($180), chemical peel ($600), skin-resurfacing– removes damaged or wrinkled skin layer by layer ($1900).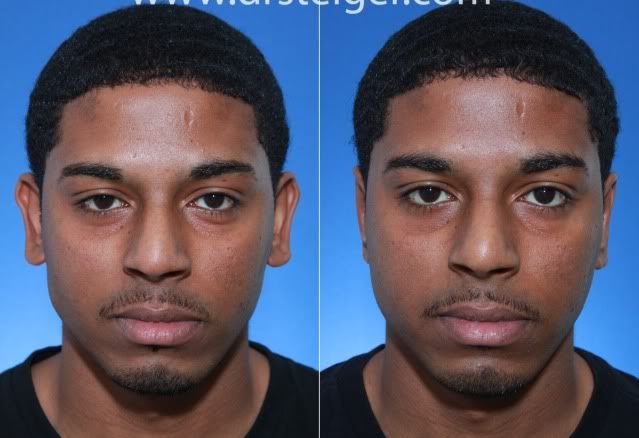 This guy underwent otoplasty— pinning back of the ears.

Top cities where men receive plastic surgery: "New York City, L.A.,and Miami." He also stated that it's more popular in the south than the north, including Texas, buuut I don't know about that. Overall cities that are wealthier and put alot of focus on physical traits have high numbers of men getting some type of procedure.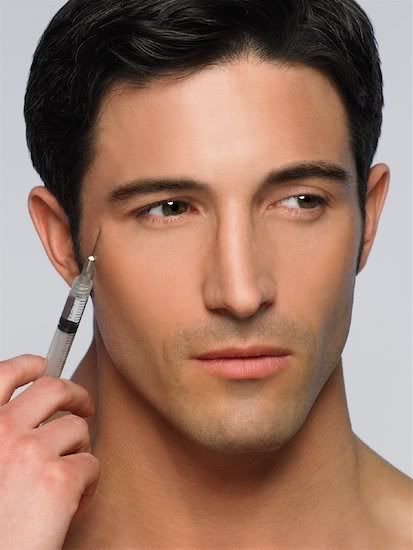 According to the ASPS (American Society of Plastic Surgeons), the number of men who have had minimally-invasive procedures has gone up almost 50% over the last 10 years. The most popular minimally-invasive procedures are Botox, filler injections, and laser skin resurfacing treatments.
Most difficult and time-consuming popular men's plastic surgery procedures: "Hardest surgery to do well is nasal refinement, which require a great deal of aesthetic judgment, skill and most of all, experience. The most time consuming is body surgery to tighten skin after significant weight loss. This often involves extensive skin removal and 'tailoring'."
For years there have been rumors that Jamie Foxx lowered his hairline (via hair transplant)

List of male celebrities with plastic surgery: This particular Manhattan plastic surgeon didn't want to reveal the names of his male patients, but said it included prominent government officials, media moguls, successful businessmen, and entertainers of all sorts. That was waaaay too vague, so I just googled it (of course)…
READ MORE & MORE PHOTOS Below –> CONTINUE READING MORE >>>