Day 3 was the day I most anticipated. Let's put it this way– my dogs first middle name is Bastian (don't judge me). So yea, I'm a fan of his work.
Michael Bastian's showing at New York's first Men's Fashion Week was also his first time showing for women. Job well done, Mikey B. job well done. Personally, I think of Michael Bastian as a mix between Dsquared and Ralph Lauren. Classic Americana, but with a current main stream edge that men want and desire. His Spring/Summer 2016 Collection was no different – he offered lots of obvious multi-use pieces that are easy to place in your closet. From athlete to power broker, polo to double breasted blazer, tassel loafers to high-top kicks… he depicted the new age Bel-air man. Carlton meets Gordon Gekko meets Stephen Curry.
Duck Dynasty has finally made it to the runway – Hey! Uncle Si would be ecstatic:-)
Bastian and his crew also used grooming beautifully. We had our token beard, the proud pompadours, and even a delightful surprise of the ever-so-popular gray/blue/purple pastel hair.
The (Hunger) Fashion Games
Greg Lauren. Greg who? His son, his nephew, his cousin on his mom's side twice removed. The chatters inside the gates of men's fashion week were everywhere… who is Greg Lauren? One things for sure, his last name is Lauren… so we
had
to attend his show. And apparently everyone else did too. The now familiar
Victor Cruz
and real life giant Amar'e Stoudemire was present
, but also actual living icons like Bethann Hardison. Ex polo model Tyson Beckford. And after the show I found myself living out our ode to the 90s by conversing with Jessie
(Elizabeth Berkley)
from Saved by the Bell. Celebrity filled indeed.
But how about the show? Once again I shot from "the pit" and got a straight on view and experience of the runway show. And so, it began. Greg took us on a journey, the western workman brimming with style through the ages. At moments I found myself unintentionally guessing the faction of a particular set of looks, is it dauntless or abnegation? Can't be candor, must be amity. As the looks changed so did the mood which was provoked by an abrupt switch in music. We traveled to the dessert for a little then slowly made our way to the oil mines. From sand to dusty green to faded black. American field worker to English peasants. But no matter his arduous occupation he was movie set ready… hat, scarf, bag, jacket, and all… Lauren gave us abounding variety in fashion apparatus.
An Army of Greg Lauren Looks
It was clear the designer was proud of his work when an army of additional looks came stomping out. Followed by an additional set. It was a good (and popular) first showing.
S
o now you might ask– what's the difference between Greg and Ralph? So far, he's Ralph but with grit. We love Ralph because of his ability to take the clean and classic and make it luxurious, similarly we'll likely love Greg for his ability to take the simple and gritty and make it opulent.
The Trends and Street Style of NY Men's Fashion Week, Day 3:
Men in backpacks at NYFWM
Backpacks.
While messengers and murses may be okay for Europeans and others. American men wear backpacks.
Now of course any man can still carry whichever style bag he'd like no matter his nationality, but the handy dandy backpack– that's a made in the USA type thing.
From models to businessmen NYFWM, and NYC in general, was filled with them. Why? Because they're practical, easy to carry, and now come in a whole host of styles.
I think you can tell a lot about a man from his choice of, hmmm, let's call it "carry wear"
(you heard it here first, lol)
. The style, the color, the texture, the size. Some like it canvas, some leather, others nylon. Some want several pockets, others want clean crisp lines. Which style is best for you??? We'll go more in depth later
So bookmark this page and come back.
Street Style at New York Fashion Week Mens, monochromatic navy and black
Mirror, Mirror on the Wall who's the dopest of them all? You couldn't throw a stone without hitting someone in mirrored frames. Me included. Round, aviator, square, blue mirror, pink mirror, green mirror… all the cool kids can see you, but you can't see them.
After seeing orange shoes, pants, and backpacks, this solidified it all– a bright orange vintage Bronco. It passed us while chillin' in Bloomingdales Tailgate area. This guy must be the one passing around the note…
First there was a few spottings on day 1 and 2, but by day 3… I wondered if there was a secret note being passed around. Pops of orange was popping up everywhere– off duty models, fashion executives, and bloggers alike. Of all the bright colors, orange shined the brightest. Shorts, shoes, backpacks, sunnies, and even… cars.
A palpable palette for all because of its ties to nature and military, this color combo found its way out of the closet and into the streets of many NYFWM goers.
A NYC real estate exec makes his way to Men's Fashion Week sporting an elegant "tuxedo" short set, white crew neck tee, marijuana velvet loafers, and burgundy MCM luggage
The most recognizable branded bag of choice was MCM. In burgundy and tan, each day I'd observe MCM logo gear everywhere. Not many LVs, no MKs… just MCM. Makes sense to me. I see MCM as one of the first true to to heart "street" luxury bands. It's luxury first of course, but it was the first brand in it's range to gain authentic street cred by integrating rappers and street inspired influencers into its brand. While others enjoy the million dollar spoils of their names being mentioned in rap songs, they not dare invite those same artists to dinner. MCM went opposite. So taking 1st place in branded gear at NY's first Men's Fashion Week is deserved… your trophy is in the mail. 😉
See more on our Facebook page for more pics of the trends and fashion shows.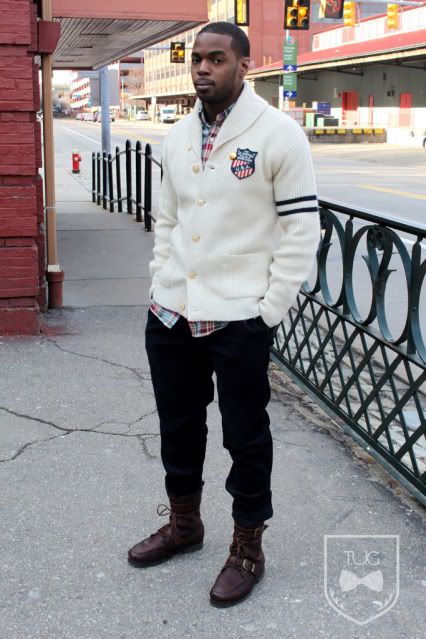 downtown Pittsburgh, Ralph Lauren sweater, button-down, corduroys, and boots; TUG pinback/badge
Sometimes you'll put an ensemble together and later on realize that you look like an old school polo booster kid— that's what happened here, lol (unintentionally RL from top to bottom, I even think the socks are RL…). We were in Pittsburgh last week, too busy to really hit the city, but we made our way to a few spots. One worth mentioning was a vintage spot in Squirrel Hill called Avalon Exchange. Unfortunately I left my camera the night we went, so there aren't any in-store photos, but we purchased a few pieces– vintage Wrangler vest, lightweight baseball jacket, creme Members Only jacket for the Spring, and a few other pieces. (oh, and shout out to all the Steelers fan– the only time I see that much black and yellow in one place is when I'm at a Georgia Tech game, and even then I see more old gold & white than black and yellow).
Get the look below:
If I had to name one designer that never fails, that always creates great garments that can be worn forever, then I would name Ralph Lauren. His clothes are perfect. If you really really want to have undeniable immaculate style then just swear by Ralph Lauren.
Ralph Lauren Spring/Summer 2009
:
Does is get any better than this? Ralph gives you a complete total life look- from casual days to fancy soirées, these are pieces that you can integrate in every sector of your life. Then, to top it all off, you can easily pass down these garments to your younger brothers, sons, nephews, or whomever. This is more than fashion it's timeless style.
(via style.com)
Polos are one of the essentials of a gentleman's wardrobe. You can easily wear them in a dressy or casual manner. There are hundreds of different types of polos you can choose from, but I've narrowed the polo types and brands down to make the 1st official Polo List.
A mini-history lesson: The polo shirt was first known as a tennis shirt. It was designed by 7-time French Grand Slam tennis pro, Rene Lacoste. He designed it because he needed a more comfortable shirt to play tennis in. He first wore it in the 1926 US Open Championship and in 1927 he added the crocodile emblem. Polo players began to heavily wear the shirt in the 1930s (after Lacoste began to mass produce them)- hence the nickname "polo shirt". In 1972 Ralph Lauren included the "polo shirt" as a prominent part of his line called Polo- to further boost popularity. Many English speaking westerners started calling the tennis shirt a "polo shirt" on a widespread level because of Ralph Lauren immense popularity . . . see, you learn something new everyday
okay, back to the list. . .
The Official Urban Gentleman Polo List
Ralph Lauren – the Classic polo
This is the polo that everyone thinks of when they say the word polo. The fit of these are the best and now Ralph Lauren allows you to "create-your-own" polo.
www.ralphlauren.com
Retail price: $79.50 – $125.00
Average Sale prce: $45.00
Lacoste- the Original polo aka the Preppy polo
When you buy Lacoste, you buy the real deal- it's the first
polo ever made. This polo automatically preps up any look,
making it a must in your wardrobe.
www.lacoste.com
Retail price: 79.50
Average Sale price: $50.00
Express– the Modern polo
Express's polo is quickly becoming a favorite of stylish men,
especially since they added the big-face lion logo.
express.com
Retail price: $44.50
Average Sale price: $19.99
Chaps- the Bargain polo
This is somewhat of the "starter" polo, meaning that it's the average guys first polo if they didn't grow up wearing it. It's a good quality brand that can be found in most stores.
www.chaps.com
Retail price: $39.50
Average Sale Price: $19.99 or less
Sean John – the Comfort polo
What can I say, Diddy is a great designer- even if he's crazy,
lol. His polos fit perfectly and they make most guys look fly.
Plus, it's always good to support black designers.
www.seanjohn.com


www.drjays.com
Retail price: $52.00+
Average Sale Price: $30.00
Rocawear – the Hip-Hop polo
Again another rap-star delivers (Jay-Z & Damon Dash). Rocawear has a great line of men's clothing. One of its best feature is the R logo- which always matches the shirts lining. Rocawear polos are really cool, they remind me of Miami for some reason.
www.rocawear.com


www.drjays.com
Retail price: $58.00
Average Sale price: $35.00
Burberry- the Gentleman polo
With Burberry you can do no wrong. The polos are just about as classic as Ralph Lauren and Lacoste. The best thing about Burberry polos is the high-quality material and rich colors.
I've recognized that most rich and wealthy executives almost exclusively wear Burberry polos.
www.burberryusaonline.com
Retail price: $95- $160+
Average sale price: $75.00

Penguin- the Vintage polo

This is everyone's favorite extra polo. Penguin is a brand that not everyone knows about, but those who do swear by it. I've met guys who exclusively wear Penguin polos. They're meant for young stylish guys who enjoy vintage looking polos.
www.penguinclothing.com
Retail price: $59.00
Average sale price: $39.00

Coogi– the Artistic polo
Awwwhh, Coogi- so colorful and bright!
There's nothing like a
coogi polo
, they are so detailed and creatively designed.
www.shopcoogi.com
Retail price: $78-$88
Average sale price: $58.00
AE (American Eagle)- the Schoolyard polo
When I think about AE, I think about private school kids-
which is cool. American Eagle is a really good all-american
brand, with great polos for good prices. You can also
customize your polo, I made a pink one w/ a navy eagle
on it (showed above).
www.ae.com
Retail price: 24.50-34.50
Average sale price: $14.50
Guilty Brotherhood- the Lupe polo
This has to be the most googled polo in the world right now. Ever since Lupe spit his line about liking ". . .Guilty Brotherhood Polos" on
Gold Watch
everybody has been trying to get there hands on one of these. Unfortunately it's not that easy to cop via the internet.
http://guiltybrotherhood.com/
Retail: $105-$170
To order email, info@guiltybrotherhood.com 962-62364
Cindy at The Urban Gentleman