67th Annual Golden Globe Awards
held at The Beverly Hilton Hotel
on January 17, 2010 in Beverly Hills, California.
Taylor Lautner
in a hidden button down shirt and bow-tie
Hidden button down dress shirts (hidden plackets) are among my favorite. They always make for a much cleaner, neater, dapper look. I usually see the younger chicer gentlemen wearing these because the style is more modern (generally speaking). Hidden button down shirts not only give a more handsome/modern look, they can also have a slimming effect on most guys. The slimming effect stems from the lack of button tension sometimes seen on regular button downs, but more notably the hidden placket creates a slimming effect because it makes the eyes focus on the dark suit rather than the shirt and suit, creating a seamless, streamlined look. Be sure to add a few hidden button down shirts to your wardrobe.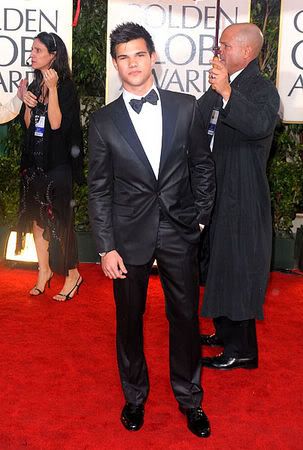 Taylor Lautner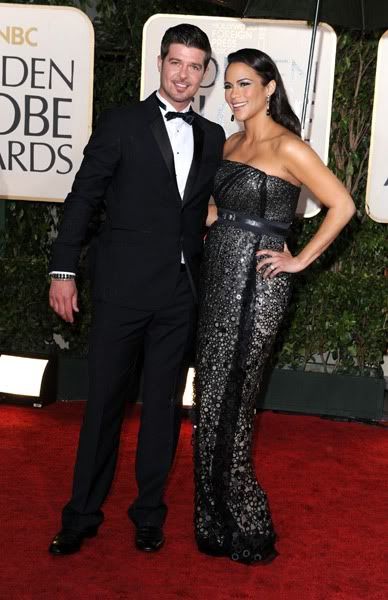 Robin Thicke
and wife
Paula Patton
Robin Thicke in
Burberry.
(custom tailored ink tuxedo and dress shirt)
Paula Patton-Thicke in a gown by Kaufman Franco and jewelry by Neil Lane. ($274,800 worth of jewelry by Neil Lane and Cartier)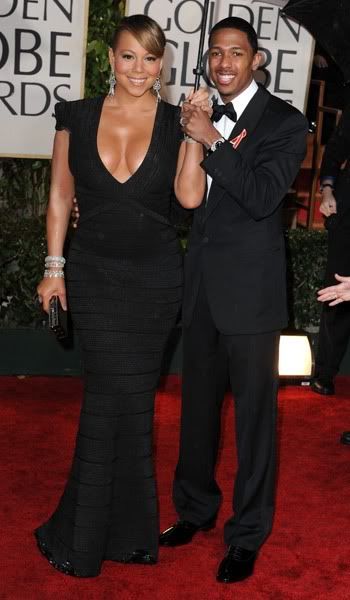 Nick Cannon and wife Mariah Carey in Herve Leger dress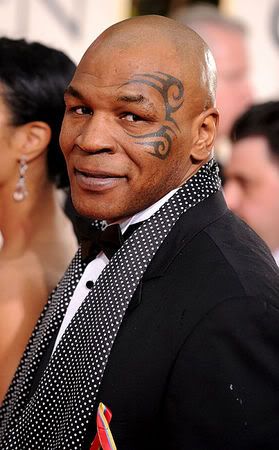 Mike Tyson was there to support his movie Hangover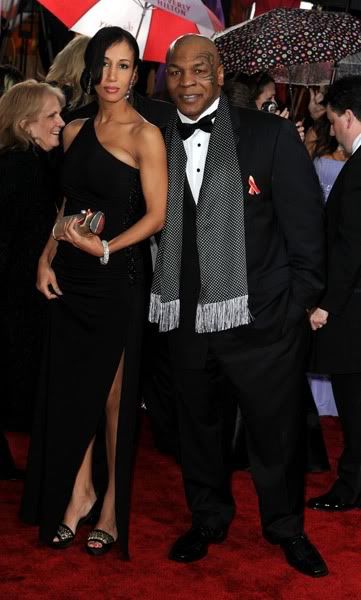 Mike Tyson and wife
He actually looks great, and I love his silk dress scarf.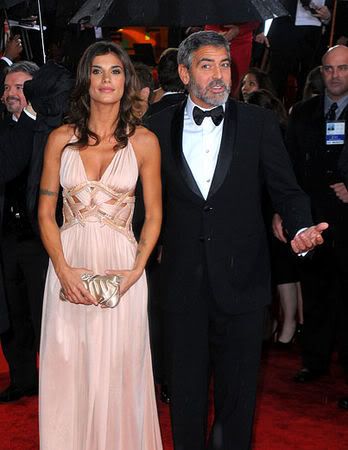 George Clooney and girlfriend Elisabetta Canalis
George Clooney in a Giorgio Armani two-button shawl collar tuxedo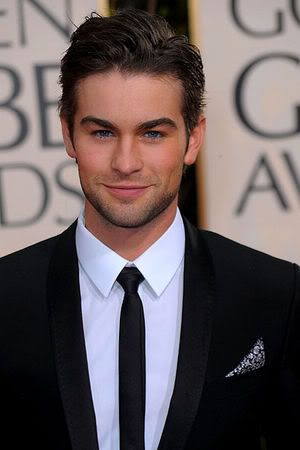 Chace Crawford opted for slim shawl collar suit,
skinny tie, and pocket square. Very well done.
Chace Crawford in a Dolce & Gabanna suit
More photos and last night's winners when you continue to read….
BEST FEATURE – DRAMA
WINNER: "Avatar"
"The Hurt Locker"
"Inglourious Basterds"
"Precious"
"Up in the Air"
BEST FEATURE – COMEDY
"(500) Days of Summer"
WINNER: "The Hangover"
"It's Complicated"
"Julie & Julia"
"Nine"
ACTOR – DRAMA
WINNER: Jeff Bridges – "Crazy Heart"
George Clooney – "Up in the Air"
Colin Firth – "A Single Man"
Morgan Freeman – "Invictus"
Tobey Maguire – "Brothers"
ACTRESS – DRAMA
Emily Blunt – "The Young Victoria"
WINNER: Sandra Bullock – "The Blind Side"
Helen Mirren – "The Last Station"
Carey Mulligan – "An Education"
Gabourey Sidibe – "Precious"
ACTOR – COMEDY OR MUSICAL
Matt Damon – "The Informant!"
Daniel Day-Lewis – "Nine"
WINNER: Robert Downey Jr. – "Sherlock Holmes"
Joseph Gordon-Levitt – "500 Days of Summer"
Michael Stuhlbarg – "A Serious Man"
ACTRESS – COMEDY OR MUSICAL
Sandra Bullock – "The Proposal"
Marion Cotillard – "Nine"
Julia Roberts – "Duplicity"
Meryl Streep – "It's Complicated"
WINNER: Meryl Streep – "Julie & Julia"
DIRECTOR – MOTION PICTURE
Kathryn Bigelow – "The Hurt Locker"
WINNER: James Cameron – "Avatar"
Clint Eastwood – "Invictus"
Jason Reitman – "Up in the Air"
Quentin Tarantino – "Inglourious Basterds"
SUPPORTING ACTOR
Matt Damon – "Invictus"
Woody Harrelson – "The Messenger"
Christopher Plummer – "The Last Station"
Stanley Tucci – "The Lovely Bones"
WINNER: Christoph Waltz – "Inglourious Basterds"
SUPPORTING ACTRESS
Penelope Cruz – "Nine"
Vera Farmiga – "Up in the Air"
Anna Kendrick – "Up in the Air"
WINNER: Mo'Nique – "Precious"
Julianne Moore – "A Single Man"
SCREENPLAY – MOTION PICTURE
Neill Blomkamp, Terri Tatchell – "District 9″
Mark Boal – "The Hurt Locker"
Nancy Meyers – "It's Complicated"
WINNER: Jason Reitman, Sheldon Turner – "Up in the Air"
Quentin Tarantino – "Inglourious Basterds"
ANIMATED FEATURE FILM
"Cloudy With a Chance of Meatballs"
"Coraline"
"Fantastic Mr. Fox"
"The Princess and the Frog"
WINNER: "Up"
TELEVISION SERIES – DRAMA
"Big Love"
"Dexter"
"House"
WINNER: "Mad Men"
"True Blood"
TELEVISION SERIES – COMEDY OR MUSICAL
"30 Rock"
"Entourage"
WINNER: "Glee"
"Modern Family"
"The Office"
More Red Carpet Photos…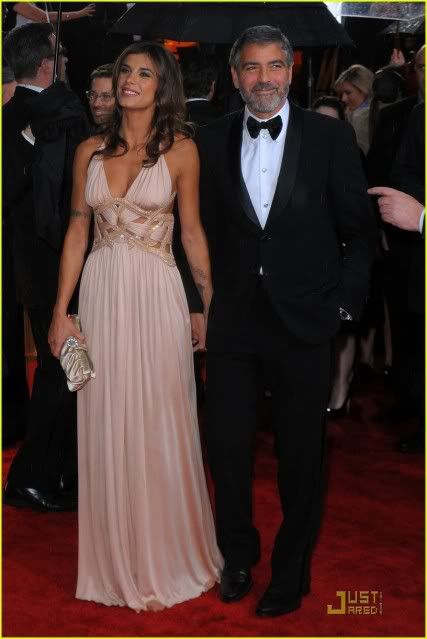 Gerard Butler in a Dolce and Gabanna tuxedo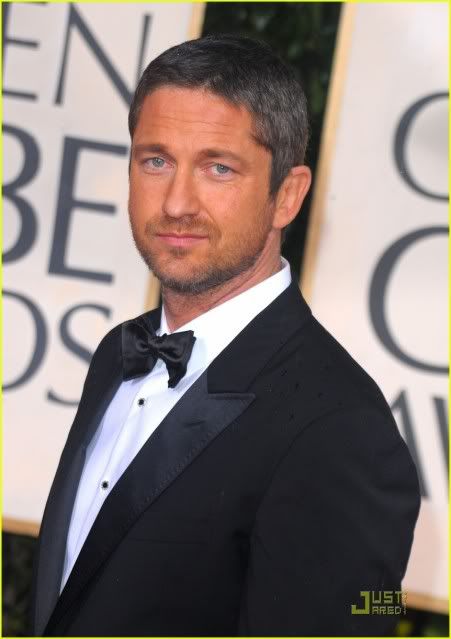 Matthew Morrison in a Dolce and Gabanna tuxedo
Cory Monteith
in
Hugo Boss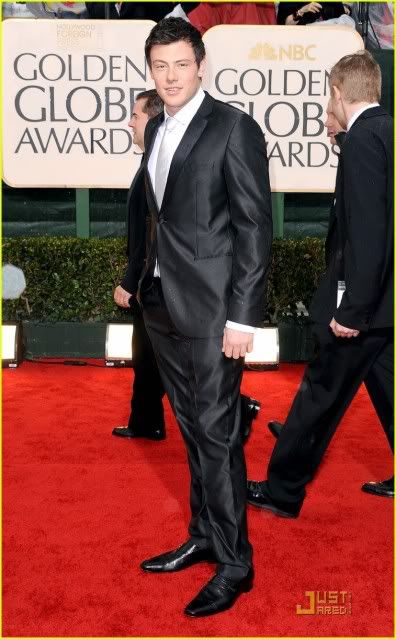 Glee's Cory Monteith
Avatar's
Sam Worthington
in
Burberry
(custom tailored black tuxedo, dress shirt and shoes)
Everyone tended to keep it basic and black this year. Usually there are a number of guys who may opt for suits instead of tuxedos, maybe a few in grey/brown/navy suits, some who decide to wear black on black (black dress shirt and suit), and a few who choose to wear their tux with a bright colored tie… not this year. This year everyone wore a black tuxedo with a black tie, back to the basics I suppose.
(Getty Images, JustJared)
A few recent photos of celebrity style from the past week, month, etc…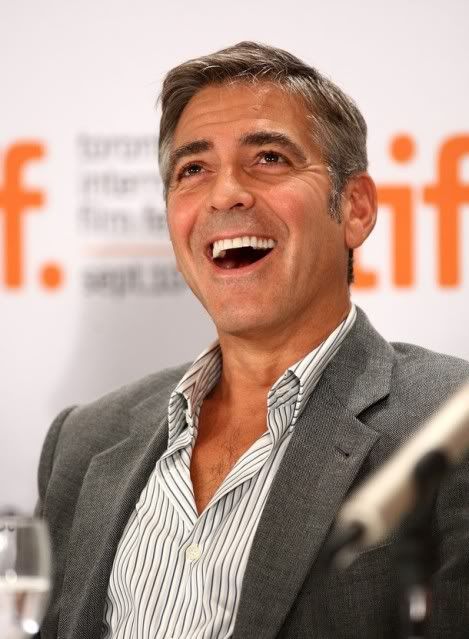 George Clooney
in Toronta, Canada
Clooney always manages to portray such effortless easy style. If he's not attending a black tie event you can count on him to leave 1 or 2 buttons open on his shirt to show a little chest hair, after all–
it's a man world.

Robin Thicke and wife Paula Patton
at Roger Vivier Boutique Opening Party in Miami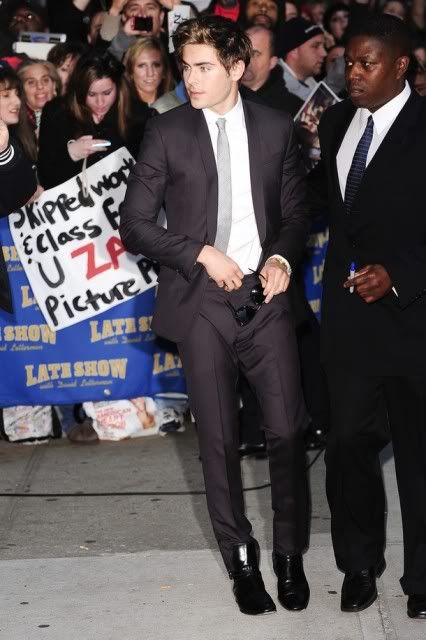 Zac Efron at the David Letterman Show
in New York City sporting perfectly polished ankle boots.
When it comes to dress shoes most men opt for the lace-up oxford, some go for the slip-on loafer, but if you're a truly stylish guy and in need of new dress shoes, look into purchasing a pair of
dress boots
.
Robert Wayne
carries some of the best styles at reasonable prices.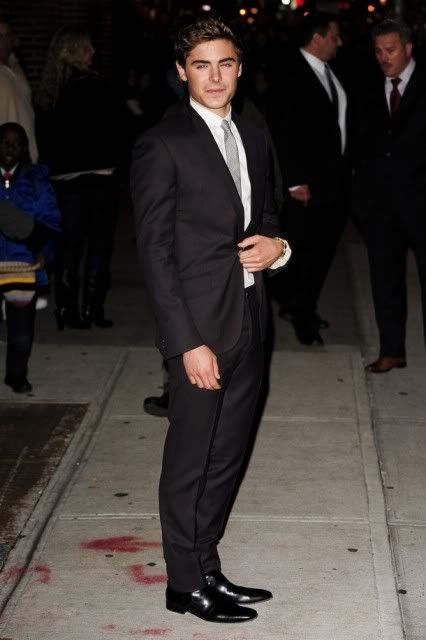 Everything he wears fits exactly how it is supposed to for his body type– the cut of the suit, the break in his pants, Mr. Efron is definitely leading in style these days.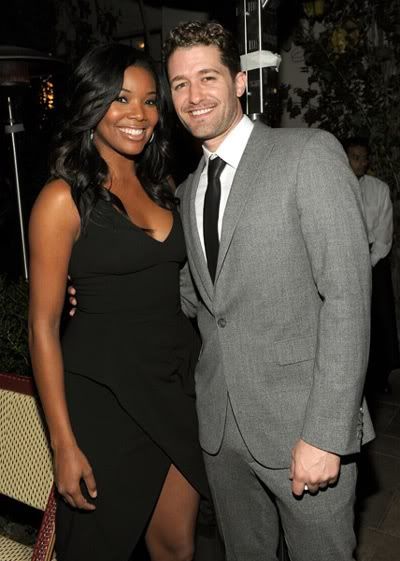 Gabrielle Union and Matthew Morrison
at the 2009 GQ Man of the Year Event
More pics from the GQ Event: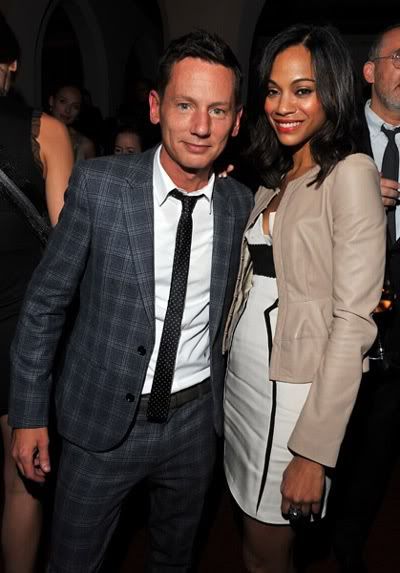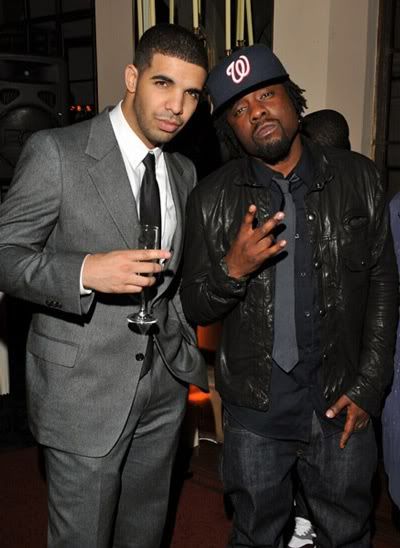 Drake and Wale

Tom Ford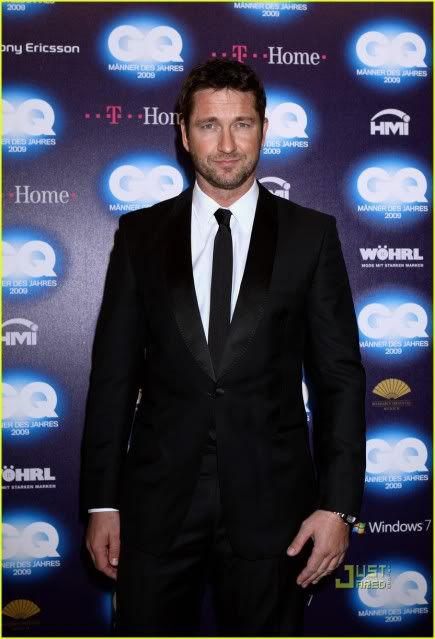 Gerard Butler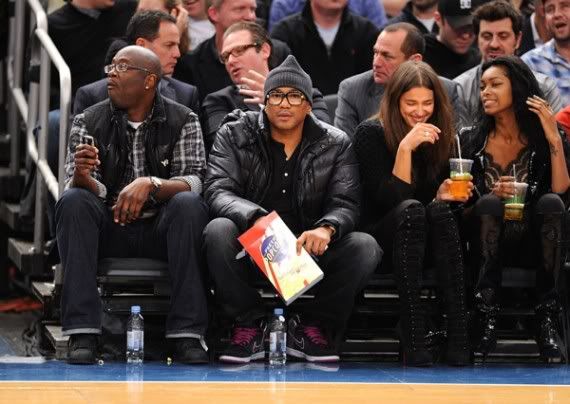 Q-Tip, Michael Kyser, and super model Jessica White (far right), and Jessica's friend at a recent Knicks game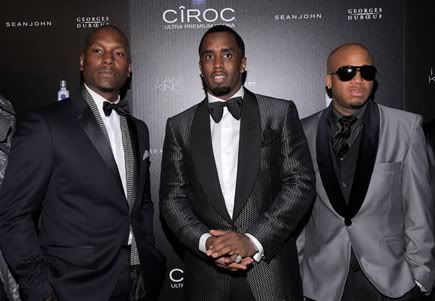 Diddy's 40th Birthday Party in New York
Tyrese Gibson, Sean "Diddy" Combs and rapper Baby

I may not care for his attitude, but Sean Combs is a mean dresser.
No one does cocktail attire quite like Diddy.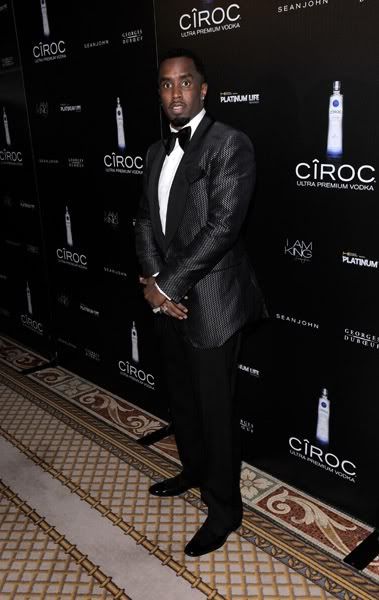 Nelly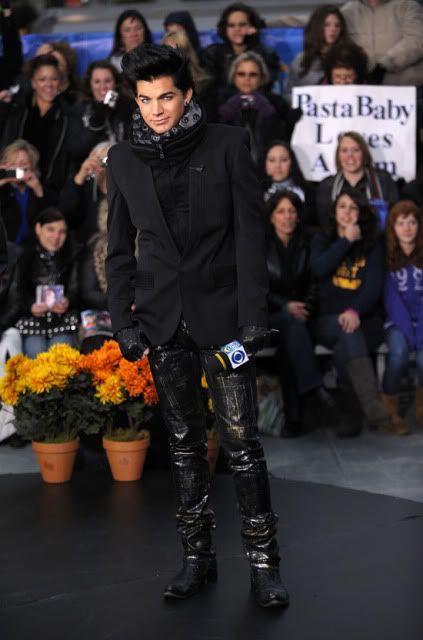 Adam Lambert on CBS's The Early Show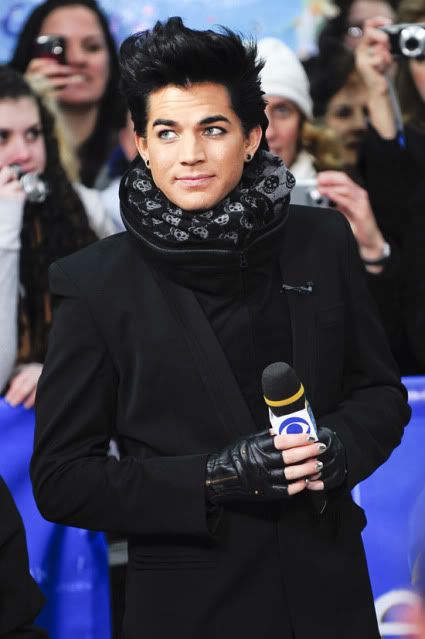 Believe it or not, I'm loving this look. I don't think I'm a usual fan of Adam's style, but the styling on this ensemble, atleast from the waist up, is pretty great. Obviously I'm not saying this look is for everyone, but if you're going to do goth– do it like this. I think it's the hair, the placement of the scarf, and the gloves that really bring it all together… hmm, I don't even mind the metallic finger nail polish.
UPDATE: So after a few request, I found a similarly shaped jacket, it's now available in our store check it out here.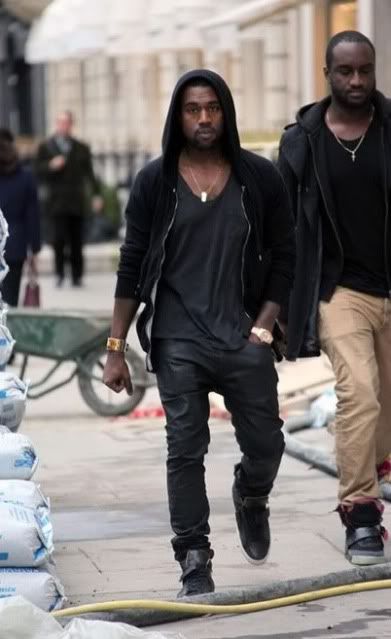 Question: Where art thou Yeezy?
Answer: In Paris!!!!
The paps finally found our beloved gent, in Paris, doing a little retail therapy at Cavalli and Marney. I'm so glad he's laying low, chilling, and just generally getting his ish together. Let's hope he comes back revitalized, humbled, and more creative than ever. And remember Ye' no more
turning hoes into housewives,
lol.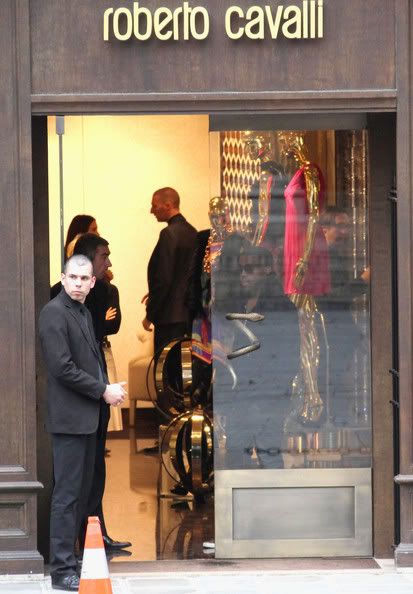 Kanye West indulging in retail therapy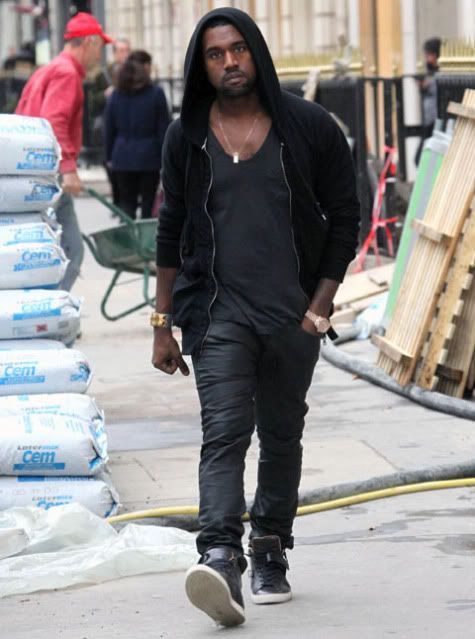 Ye's in mourning… maybe that's what the all black is about. Both he and Rihanna have been sporting
ALOT
of black over the past few months– and both of them have been through some pretty traumatic situations. Either way it goes the black looks good on them both, but I'm sure once they're inwardly happy again we'll start to see more color in their day to day ensembles. (he's wearing Acne House VPatch SB shirt, Martin Margiela regular painted pants, and Hermes crocodile hi-tops)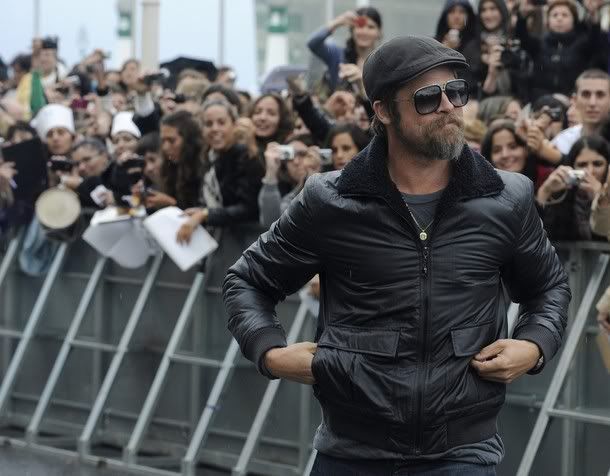 Brad Pitt at the San Sebastian Film Festival
to promote Inglorious Bastards

Kid Cudi and Drake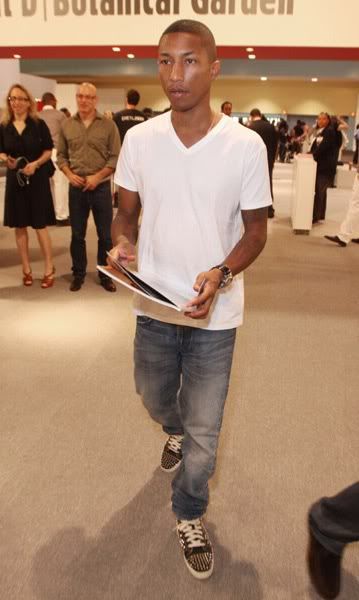 Pharrell Williams at a Miami Art Basel event
I love how he ONLY rocks BBC jeans, which only makes sense. If you have a clothing line you should wear you own clothes, otherwise it will send a clear message that you're not passionate about the line and you're solely doing it for profit. (wearing black Christian Louboutin sneakers from their SS2010 collections)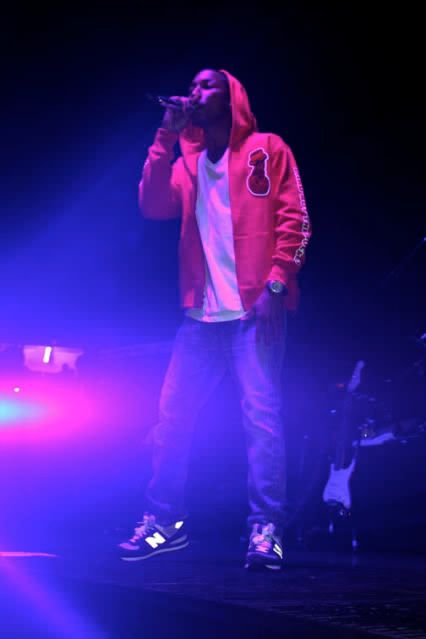 Pharrell
performing on the North American college arena tour. He's sporting a Billionaire's Boys Club heart and mind zip hoodie, BBC jeans, and classic New Balances.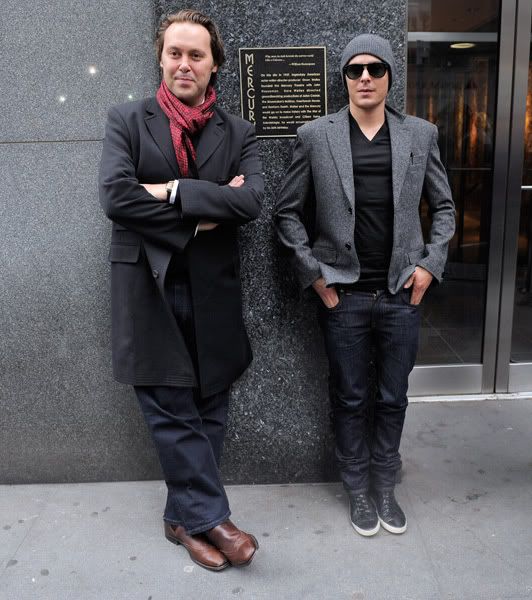 Actors Christian McKay and Zac Efron
at the "Me and Orson Welles" plaque unveiling
at the original site of Mercury Theater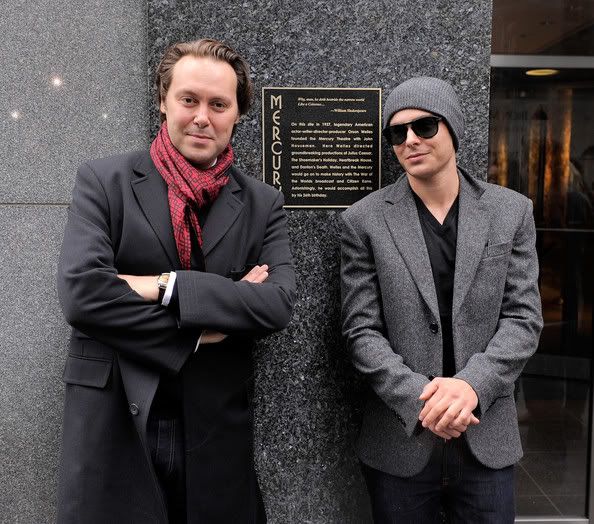 Christian McKay and Zac Efron
I likee Christians's scarf and Zac's blazer
A heather grey blazer is a must for men and women
this year, and next, and just in general.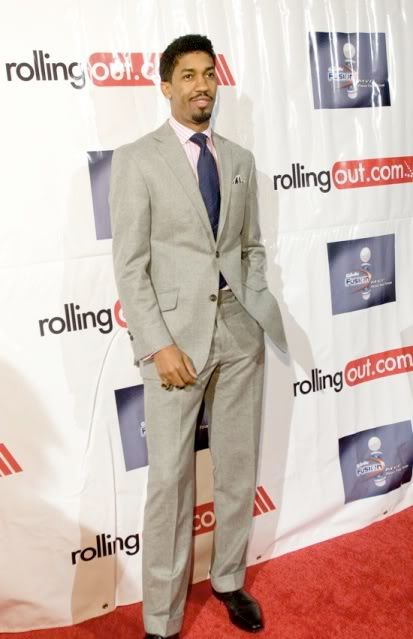 Fonzworth Bentley at a Gillette Fusion Event in DC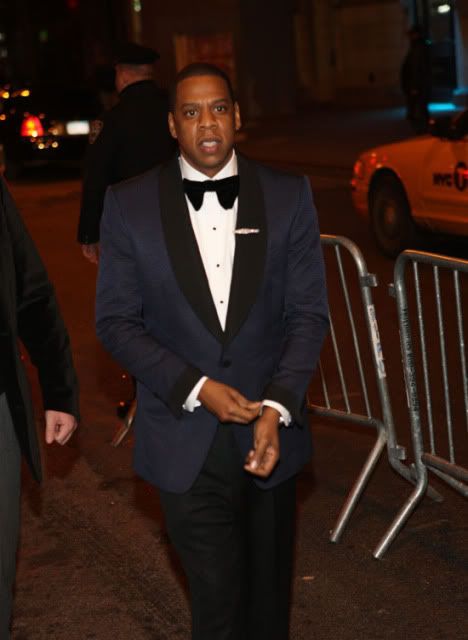 Jay-Z at the opening of Fela! on Broadway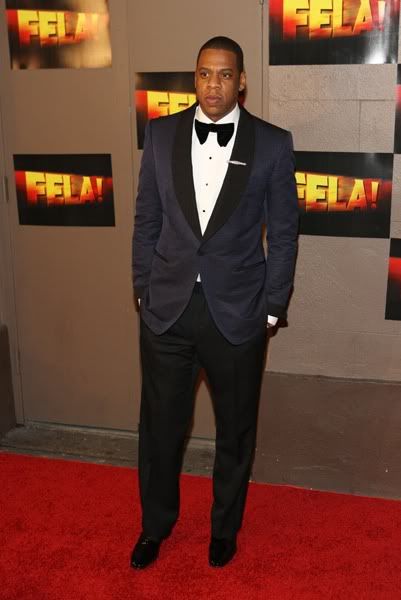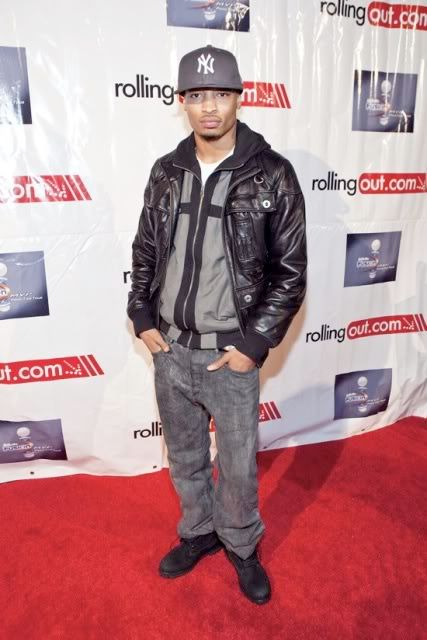 Que from Day 26 at a Gillette Fusion event
Que definitely has the best style in group Day 26,
he loves to rock the hoodie and leather jacket look.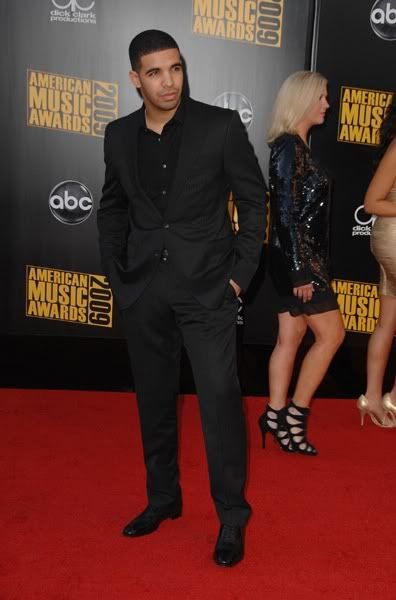 Drake dressed up at the 2009 American Music Awards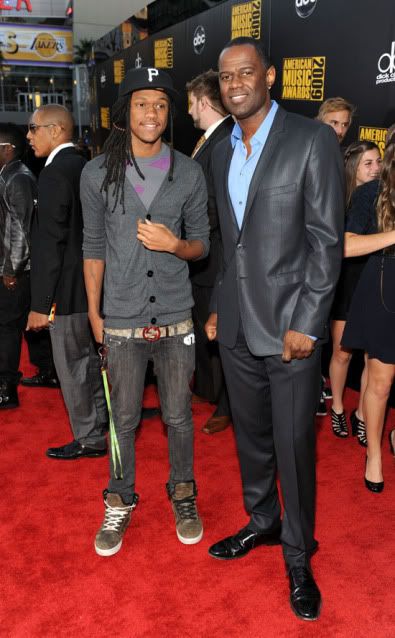 singer Brian McKnight and son hit the AMAs red carpet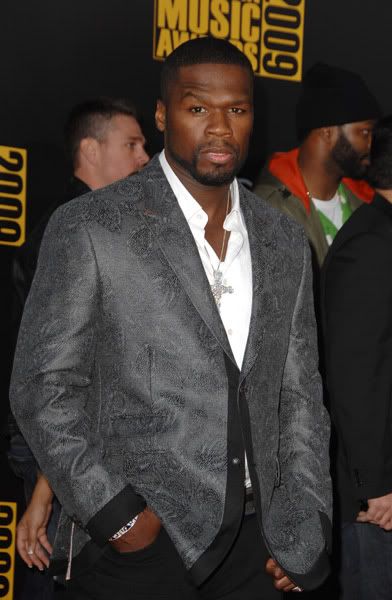 50 cents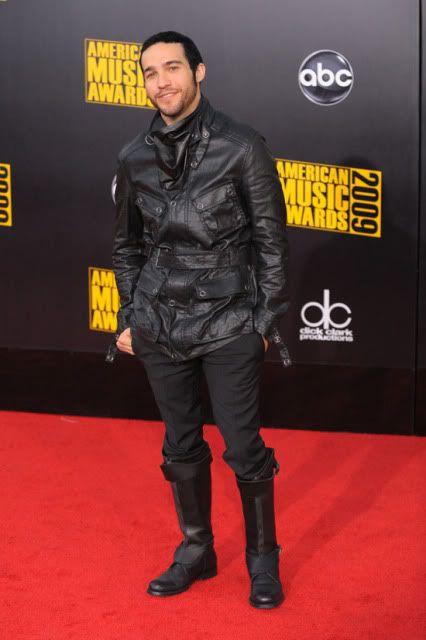 Sooo, this is Pete Wentz
Yea, I didn't recognize him either when I first saw the photo. I'm loving his new look, seriously, whoever is styling him- keep up the good work.

Pete Wentz
The profile is so sick… the jacket, the boots, the overall swag.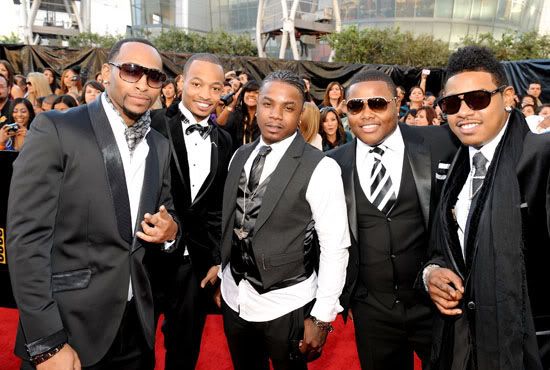 Day 26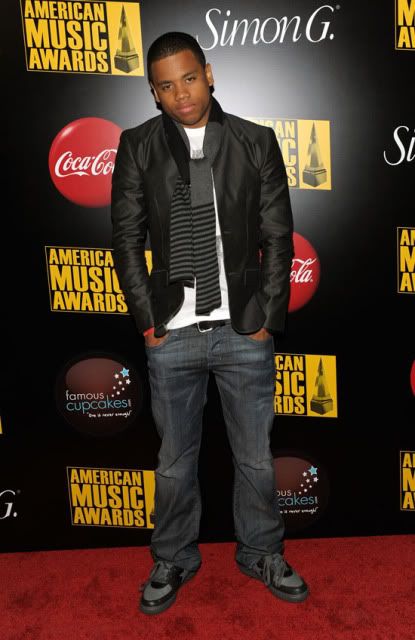 Tristan Wilds

Columbus Short at Planet Hollywood promoting movie Armored
Now I hate to do this, because Columbus is a good-looking guy and he's buddies with one of my close friends, but gentlemen
this is a perfect example of how not to dress
. Okok, let me back up, there are great components in his outfit– the pea coat, white slight v-neck tee, grey trousers, textured grey scarf, but the fit the FIT is sooo off and he looks sloppy.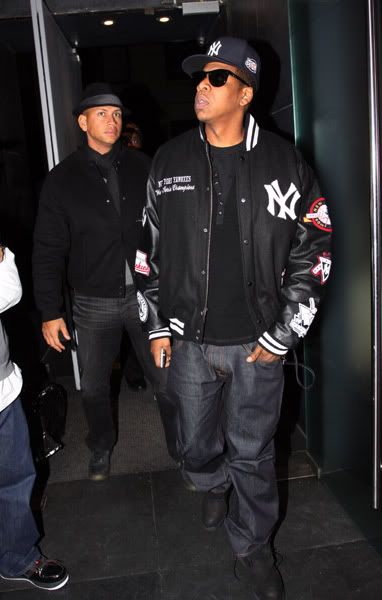 Jay-Z hosts a Yankee 2009 World Series Victory party 40/20 club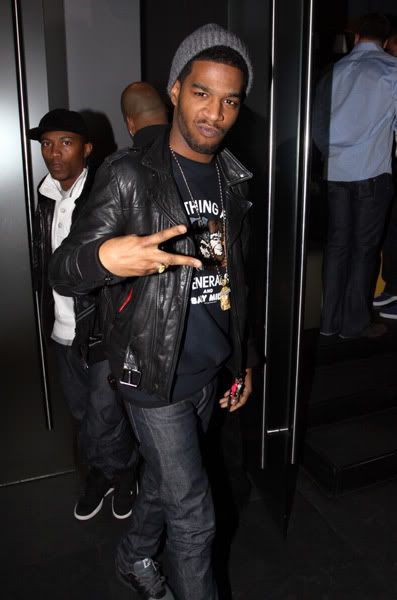 Kid Cudi at the 40/40 club

NY Yankee Maverick Caryer celebrating
at Jay-Z's 2009 World Series Victory party

Alex Rodriguez, Donald Faison, Spike Lee, and Reggie Miller kick it court side at the Knicks vs Lakers game in Los Angeles

Blast from the Past
Grammy-winning band Boyz II Men on the trading floor at the NYSE
Nathan Morris, Wanya Morris, and Shawn Stockman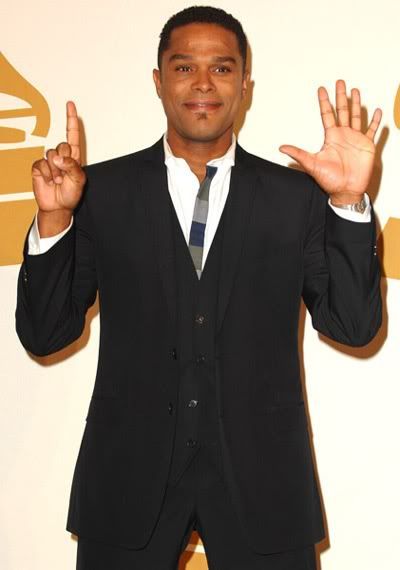 … and speaking of Grammys,
Maxwell
received 6 nominations– very well deserved. What's the deal with his shirt? Looks to be an upscale re-invention of the "tie-shirt". Hmmm, it could just be fabric on the placket, but I have a feeling if he buttoned the shirt up it would look like a skinny tie.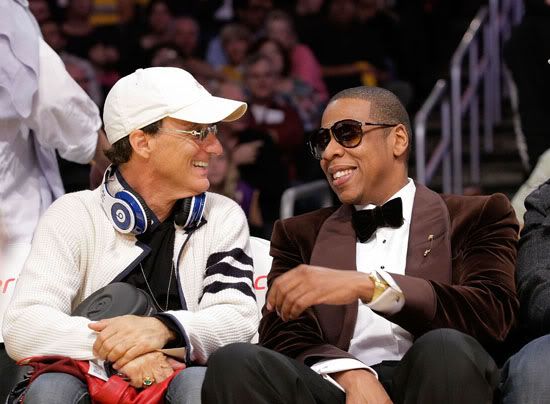 Record exec Jimmy Lovine and Jay-Z at a Lakers game
Mr. Carter looks nice, he loves himself a velvet bow-tie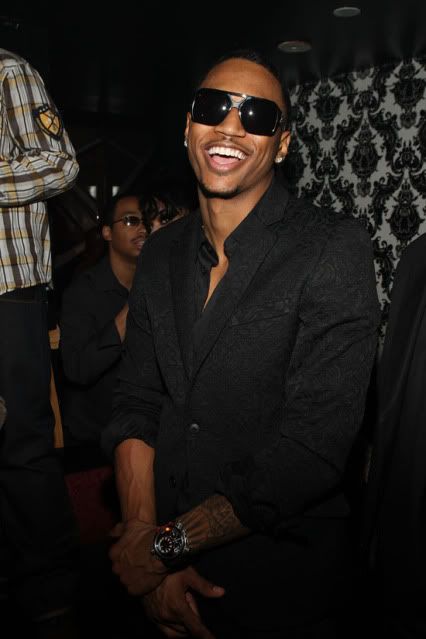 Trey Songz celebrating his 25th birthday at the M2 Ultra Lounge in NYC
I love his textured damask print jacket.
photo cred:


getty images, theybf, just jared
That was alot of celebrity style to take in in huh?
The one thing that they all had in common was color– everyone was wearing black or grey with a little blue here and there. But that's mainly because its winter and blacks, greys, and navys are the most popular colors for wintery clothing.
So whose recent style do you like, dislike, sorta kinda like….
This years VMAs were sort of… reckless. Kanye on stage with Taylor Swift, Lil Mama jumping on stage during Jay-Z's and Alicia Keyes performance, Lady Gaga's costumes were scary, it was a mess. But I guess that's what makes it fun to watch- it's just a random fun award show. And for that same reason celebrities don't always take their attire seriously. From both the women and men their were more plain, okay, and bad clothing than good. On the women's side, I think Solange Knowles had the best total look, and from the men… I'll let you guys decide, who do you think?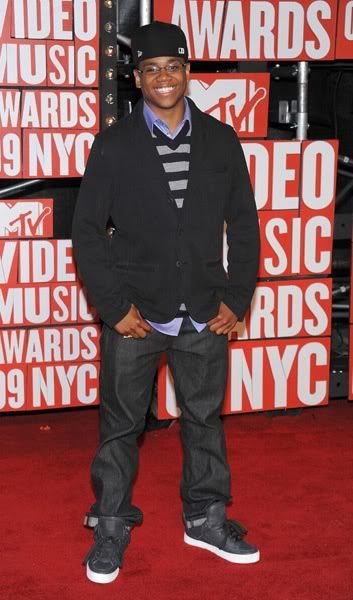 Tristan Wilds
The new 90210 sports a very casual ensemble… looks like something a prep school kid wear when they have casual day at school. He has alot of potential though, I could see him dressing like
Chris Paul
once he matures.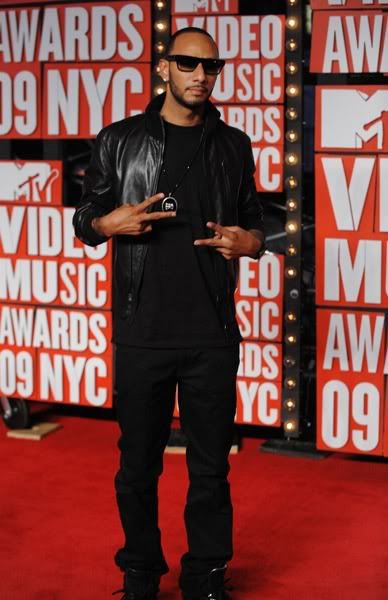 Swiss Beatz
All black, simple, classic, casually clean. Everything fits well- the jeans, the tee, the jacket. His shades are really hot.

Jermaine Jackson and guest
A very nice, top-notch quality marching band jacket. Very appropriate for the tribute to MJ.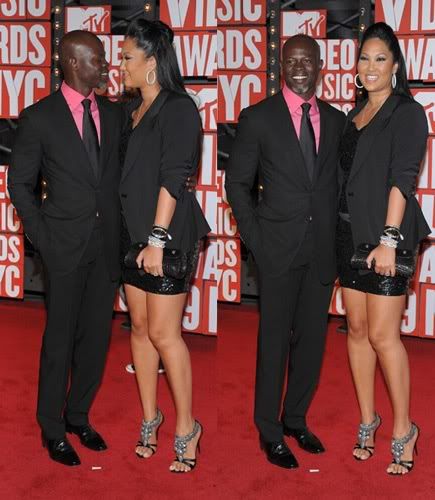 Dijmon Hounsou and Kimora Lee Simmons
cute couple, her baby weight is coming off nicely.

Adam Brody
Superb grooming. He has the whole "I just got off of work from my 6 figure job" look going. You know how it is when some of your banker friends get off work: they have a really nice suit on, tie a tad loosened, and their attire looks very relaxed- since they've been mostly at a desk all. That's the look Adam has going on, I like it.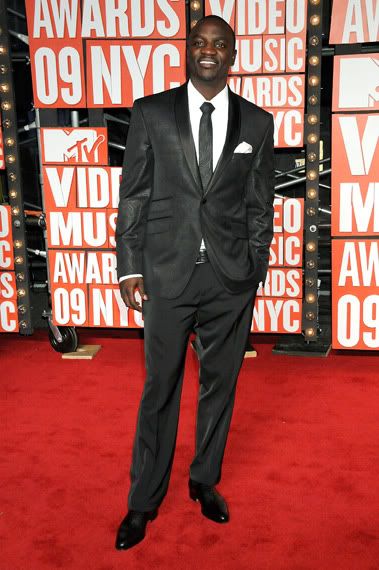 Akon
This is okay, I saw a close-up of the prints on the suit and it's not my favorite thing in the world, but it fits his style and taste.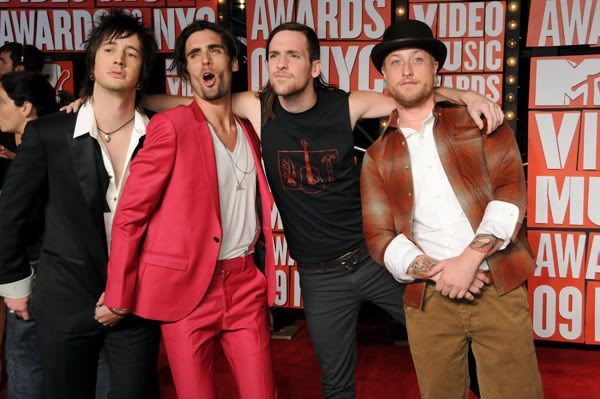 All American Rejects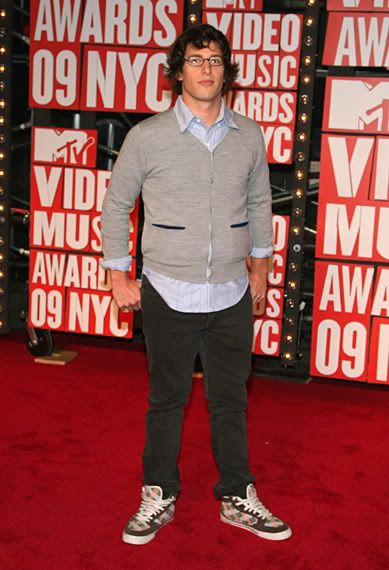 Adam Samberg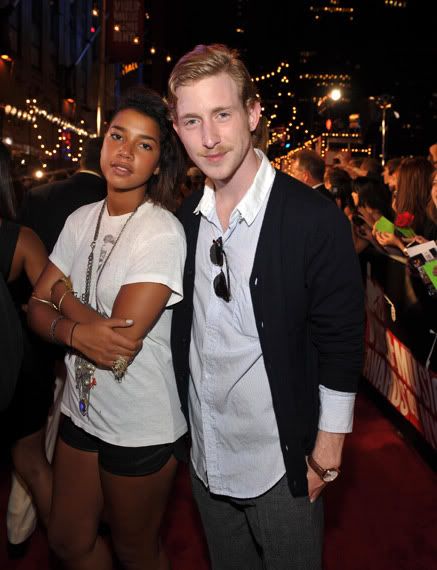 Asher Roth
This is opposite of his usual look, but I think I like it with the mustache.
He looks like a dad from the late 50s.

Chace Crawford
He looks just about perfect, good job Chace.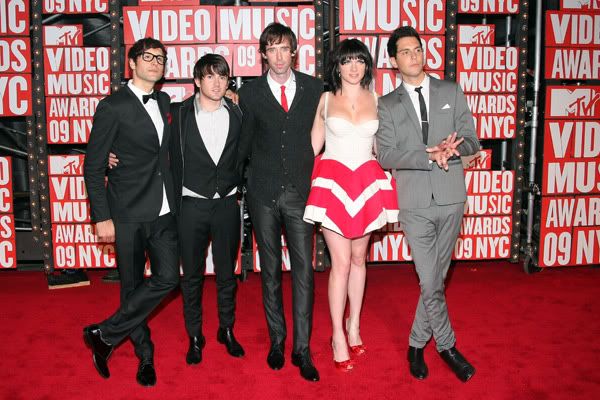 Cobra Starship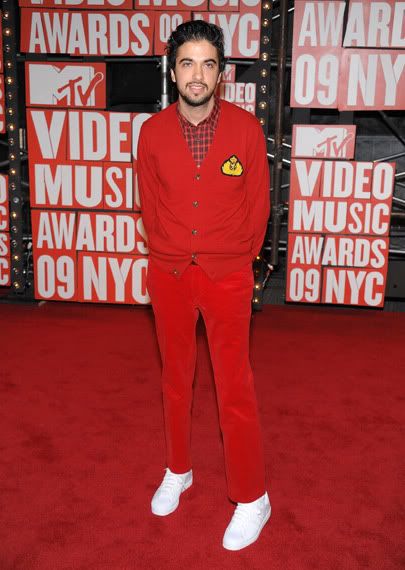 DJ Cassidy
I get what he's doing, but the look would have been much better with loafers, and if he stood up straight.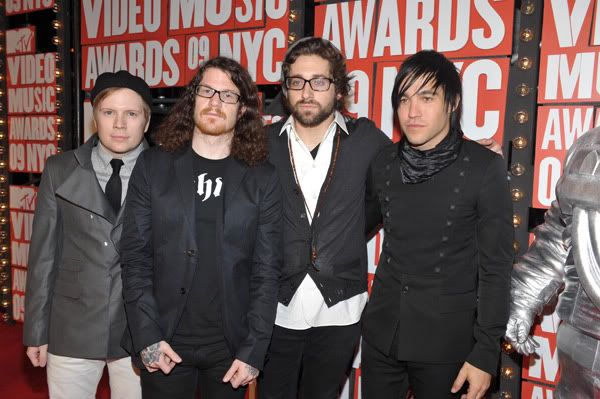 Fall Out Boys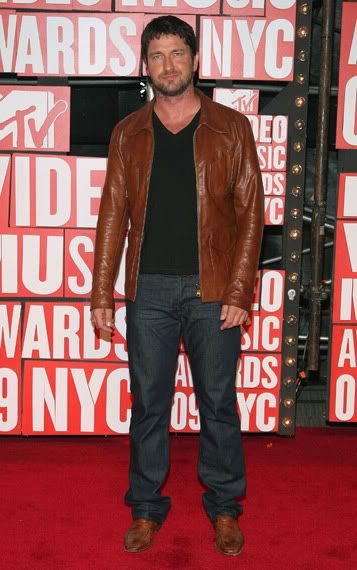 Gerald Butler
I wanna say this looks sloppy, buy I think it's mainly the camera angle. But actually, his pants are too long, jacket sleeves a little long, shirt is too short for his body type, and I wish someone would style his hair and beard better because they always look messy (not in a good way).
The Ugly Truth was really good though.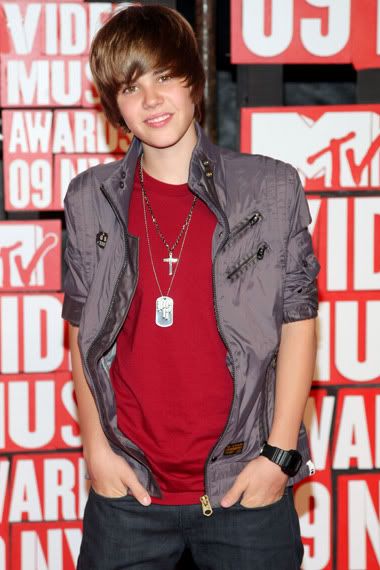 Justin Bleber
This is a very nice look for our young urban gents.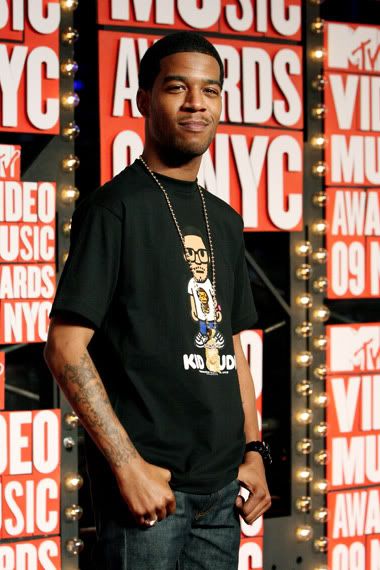 Kid Cudi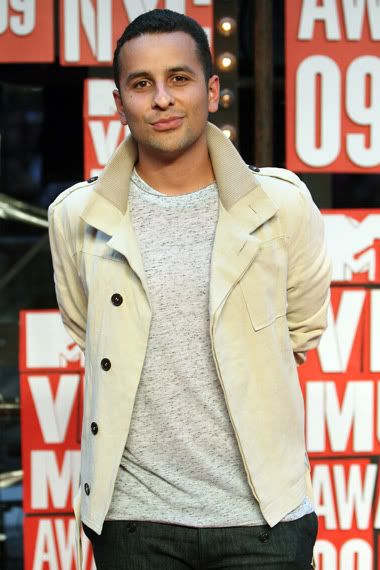 Mando Fresko
The quality of all his clothes are superb- jacket, jeans, and t-shirt

OK GO

Pitbull
Very clean

Russell Brand
(no comment)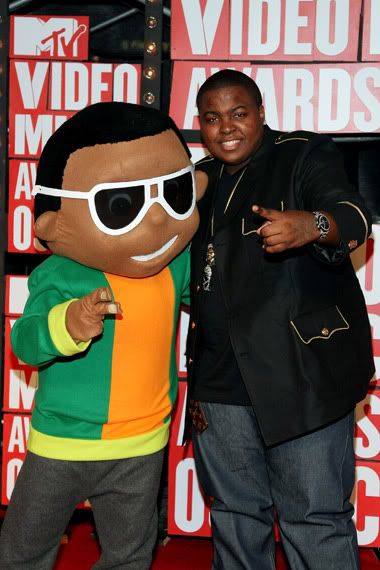 Sean Kingston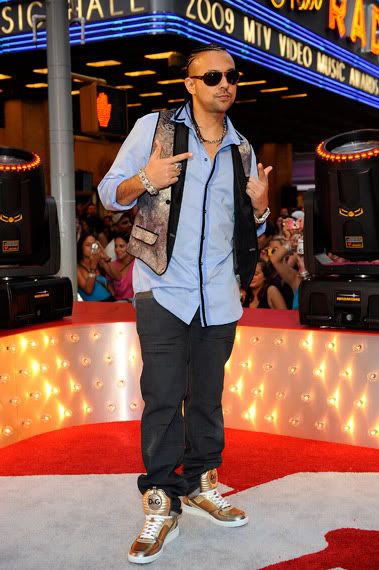 Sean Paul
I like Sean Paul, but his style is just off… its sort of stuck or something, he hasn't allowed his style to evolve. Idk, but he needs some help.

Taylor Lautner
Another almost perfect look
My favorites are probably Taylor Lautner and Swiss Beatz…
To be honest, I rarely watch BET (for obvious reasons), but I knew they would be paying tribute to Michael Jackson so I had to tune in. And I must say, Jamie Foxx had me rolling the entire show. He and Ne-Yo dominated this years Awards with their musical ability and I liked their many wardrobe changes into MJ inspired ensembles… basically their jackets were cool. Aside from them everyone else was decently dressed, no crazy ridiculousness except for maybe the over-sized chains of T-Pain and Souljah Boy. Check out some of the photos from the 2009 BET Awards: