Yesterday I found myself spending hours designing shoes. One of my friends was in need of a few new kicks and instead of going to the store to try on a variety of shoes, he decided to get creative and make his own. He already knew about
Nike ID
and
Reebok
, I hipped him on
Converse
, and we both re-discovered
Puma
. Ahhh, Puma- so refreshing- I LOVE Pumas, especially high-top ones. All the best dressed guys I've ever known wear high-top pumas. Well, not all of them, but a few of my favorite well-dressed guys exclusively wear Pumas as their casual sneaker of choice. Anyway, he and I spent hours changing colors, shoe styles, textures… in the end he bought one custom made pair from each brand. And I must say, though time consuming, it was fun. Here's a random colorful selection of a few of the shoes I made:
Though I like all 4, I must say that my favorite has to be Puma's Mongolian Shoe Barbeque "Spice Needed"… They offer the best textures and color combos, and you'll get the most elegantly stylish shoe from them. To be honest it would be very hard to not make a rockin sockin shoe with Puma's Mongolian BBQ, buuuut I am sorta biased. Converse came in a close second, it's a classic shoe that you want in every color anyway, so being able to customize every part of the shoe- down to the thread is pretty sweet. These are all great options for someone who is searching for a certain color or has a hard time finding shoes that match a 'certain look' they had in mind. It's also a great gift to give a sneakerhead or a person who likes exclusive apparel.
More "Make Your Own Shoe" Tidbits….
If you're looking to make a specific type of shoe, maybe for a sport or a particular event, then
Nike
is the obvious choice. If you're looking for a classic shoe with a twist-
Converse
is #1. If you want a head turner, show-stopper type shoe… c'mon
Puma
(it seriously doesn't get any better). And if you're looking for a small mixture of all of the above then choose
Reebok
.
When you get the time go check out their sites… 4 great brands with endless creative possibilities. I'd love to get the opinions of people who have gotten customized shoes from one of the brands- how did you like them? Which brand is your favorite?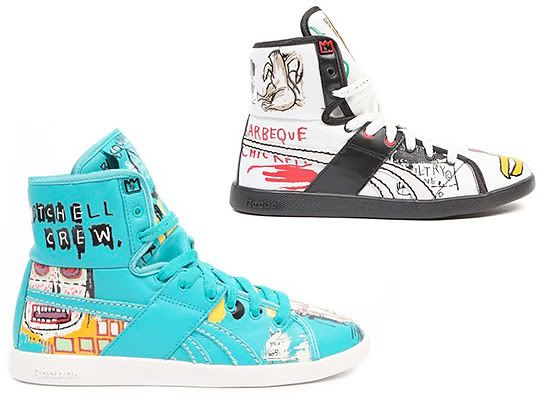 flyAzz shoes. makes me wanna create some kind of shoe-painting contest…
Reebok Fall 2009.
Tribute to New York-based street artist Jean-Michel Basquiat.
Two colors.
buy them at Colette.
I got word of Reebok's Spring 2009 collection months ago. I heard it was cool, but never really got around to seeing what it was about– how the shoes looked and so on. Today, I aimlessly discovered the photos of their collection that until today- had just been taking up space on my hard drive.
And to Reebok I say- Bravo, way to take today's fashion culture by the reigns and completely upgrade. There collection is what alot of big shoe brands should do– modernize. Creative Recs sort of have a monopoly on this certain market niche and I'm sure they're loving it, but there's nothing wrong with good ole competition– it keeps fresh ideas-a-coming. Now, don't get me wrong- I don't think everyone should suddenly began to make boldly patterned and brightly colored shoes, by all means stay true to your brand. BUT, there's nothing wrong with introducing one collection, or atleast a few kicks that will leave the M.I.A and Kanye West of the world wanting more.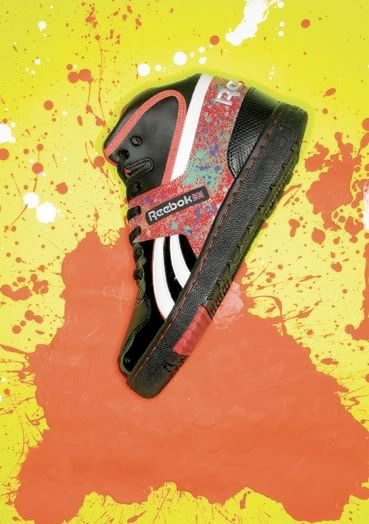 Unfortunately many of these were/are limited editions that have already sold out, but you can still find many of the main styles… oh, and did I mention… these are women's shoes. Usually, I would never prompt a male to purchase shoes designed for a woman, buuuuuut these are kinda fly and I think guys can certaintly pull them off. (just don't buy the pink ones).