AT&T x The Urban Gentleman Holiday Giveaway
12 Days of Giving #ATTGiftSweeps
We've teamed up with AT&T to bring Urban Gentleman readers our first 2015 holiday giveaway #TUGiveaways… a brand spankin' new Samsung Galaxy S6 Edge+. Yea bruh… only the best for our loyal TUG fans. AT&T is running a 12 Days of Giving campaign (started Monday) and we're happy to be apart of it.
To prepare for the giveaway I was able to experience the Samsung Galaxy S6 Edge+, and overall it's hands down one of the most beautiful phones on the market right now. The gold case, the beautiful screen spilling over like an infinity pool, vibrant colors… seriously, it's nice.
THE REVIEW.
I went snowboarding and skiing in February with a group of friends, one of which is an avid Samsung gadget collector. My friend sported both the Samsung Watch and the Edge. He was showboating a little, but I had to go ahead and admit that the phone was gorgeous. I'm happy to be able to experience it, see The Urban Gentleman review below:
LOOKS: Beautiful… the Samsung Galaxy Edge is the infinity pool of phones – it's modern, luxurious, and attractive. The large 5.7 inch HD screen, vibrant color, and clarity are everything… it almost looks 3D.
DURABILITY: I've found Samsung Galaxy's to be very durable in general– my S4 was dropped on several occasions and never cracked. The S6 Edge Plus suffered it's first drop this morning, face down on a granite floor — I'm happy to report it's still pristine. That said, I'm always sure to have a case and screen protector on my phone.
EDGE:
The edge feature is the highlight of the phone, hence the name. My first few days of having the phone I didn't really do much with it, besides admire it of course, lol… then I decided it was time to learn the Edge. With a few back and forth swipe motions you're able to view the time, your alarm, weather, and any notifications you have set up (texts, emails, etc). You're also able to have folder like tabs for your main contacts and apps.
MORE STATS AND FEATURES:
The battery changes super fast– fully charged in an hour, for the win! 4GB RAM Memory, Storage in 32GB or 64GB. 16megapixel camera. Mobile wallet – so you can keep your cards at home and just carry your phone. And of course, tons of apps.
CHANGES: With all its beauty and perks it doesn't have a removable battery and SD card slot, which is a bit of a bummer. Buuuut that's been standard fair in the world of iPhones for years, so really its not the biggest deal.
Overall we're definitely fans of the edge. After visually swimming in an infinity pool, it'll be hard for my fingers to go back to the regular.
Check out the
A
T&T/Samsung Holiday Gift Guide, here.
In the spirit of giving, I was asked to mention an item that I've re-gifted. That got me thinking… hmmm, I don't think I've ever re-gifted something, but I'm not opposed to the idea. If the items is worth giving and you're pretty sure the receiver will be happy then it's a win. You've saved money, you've saved time and energy, you cleared up some space, and perhaps reduced your carbon footprint just a little.
I have a new luxurious chocolate colored cashmere cardigan sweater I was given a couple years ago that's just sitting in my closet… I think I'll be re-gifting that this year. What's your take on re-gifting? Have you ever done it and if so what?
How To Win the Samsung Galaxy S6 Edge Plus: Follow us on all social media, repost a link to this article, and comment below on re-gifting. Contest starts Monday, December 7th and will run until Monday, December 14th.
It's always fun to receive new gadgets from companies, one of our latest is the Samsung Focus from Microsoft.
I must admit– I subconsciously doubt almost every touchscreen phone. It's a bad habit, I know, but I just automatically assume they won't work as quick and effectively as, well, yanno… that other phone with the fruit symbol. But once again my doubts are proven to be unfounded– the Samsung Focus not only has a touchscreen that work darn-near flawlessly, the start up is quick (this means the world to us BB users), and the display screen is bright, clear, and quite gorgeous.
The main differentiating feature that makes the Samsung Focus unique is its navigation. The "windows" or "tile" menu makes navigating easier and faster, allowing you to be updated on everything (messages, Facebook, calls, etc) without having to open and close multiple applications, ergo, you can focus on what matter to you the most. That sounds kinda cliche', but it's true. Other notable features: its light-weight and slim size, Xbox LIVE and Zune integration, and "audience noise reduction" feature for crystal clear calls.
For more Tech specs and to purchase, go here
.
The new Samsung 9-series

The age old "Mac vs PC" debate/rival has been nearly pointless to some, as Apple has shown that Macs are truly in a league of their own, and Apple's monumental success in the past decade has solidified that truth. But these days, companies are just saying "f*ck it, if we can't beat em, let's join em". And that's EXACTLY what Samsung is doing. Two of their most recent products — the Samsung Galaxy Tab and Samsung 9-series not only rival Apple's iPad and Airbook, but many (yes many) boost that they outshine them too.
Sidenote: I wish Samsung would send us "samples" to review these products first hand, but for now we'll give you the specs, photos, and links. (if any Samsung rep is reading this article, we'd LOVE to try out these products… that goes for Apple too *wink wink*)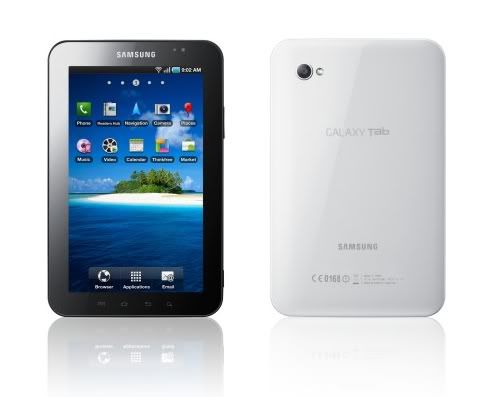 Samsung Galaxy Tab

To sum it all up, the Samsung Galaxy Tab is smaller and lighter, and it has the same speed processor but twice the RAM. Like the iPad, the Galaxy Tab comes with different options for internal storage. It also supports up to 32GB of expandable storage; (The iPad is limited to the internal space only.)
You know how Apple is infamous for leaving off features that they could easily include, just to make you buy the new one? (Case in point: leaving video-recording off the iPhone and a camera off the iTouch when they first came out). Well, The Galaxy Tab gives us the best they have to offer on the first go-round with TWO cameras — a rear-facing 3.2-megapixel camera and a front-facing 1.3-megapixel camera for video chatting — and of course the Apple iPad has none (even though we all know that it could). Samsung's Galaxy Tab states that it has 7 hours of video playback, while the iPad states that it can last up to 10 hours.
As far as software goes, the Galaxy Tab's Android 2.2 operating system totes many features or "selling points" that Apple's iPad lacks, like full-featured multitasking, support for Adobe Flash, GPS on all the models, and unrestricted access to applications.
Don't get me wrong, I love a Mac (I'm using a MacBook Pro right now, and I have the new iTouch) but I love that Apple has some competition, it'll make them give us all the best features at once instead of over a span of 2-3 years. And this Galaxy Tab seems to be a mix of the iPad and Amazon Kindle
with lots of extra bonuses. PLUS you can get it through a number of outlets (basically every network: Verizon, Sprint, T-mobile, etc).
Though I would usually choose a Mac, in the case of the touch-screen tablets, Samsung Galaxy Tab seems to win because of its size, two-cameras, and support of flash — so I can watch all my Adobe Flash supported online TV shows and movies without getting the dreaded "Flash Player not available for your device" message. I can totally respect Apple for wanting Adobe to improve on its product, but I mean…. I needs my Flash on my iTouch, lol, and in this case iPad. With that said, Apple is an American company, so that alone might just lead me to purchase an iPad instead and tolerate its lack of Adobe Flash support… extra stress on the "might".

Read more about the Samsung Galaxy Tab here, Order a Galaxy Tab here.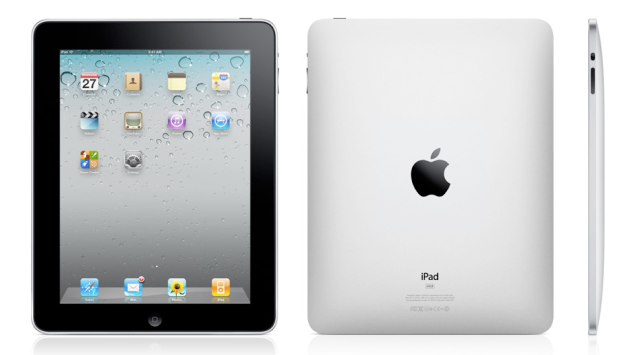 Apple iPad
Read more here, order an iPad here.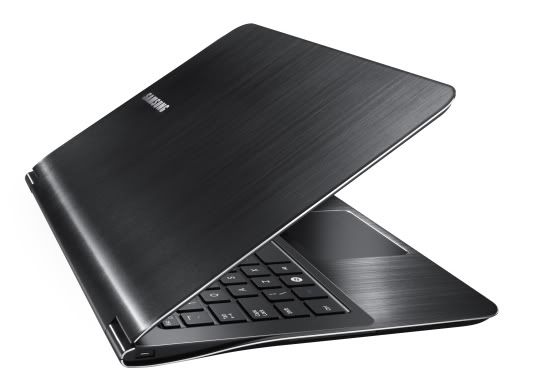 Samsung 9-series.
The Samsung Air, I mean, Samsung 9-series 😉 , gives it to us again by rivaling the MacBook Air and becoming the world's thinnest laptop. Its dapper black outer-casing is said to be made out of Duraluminum, which Samsung claims is the same kind used for building aircrafts… some folks think it's just brushed aluminum, I say it's easier to just believe them. The 9-series also has better speakers than the MacBook Air and comes with higher RAM, but besides that they're virtually the same.
So this just comes down to PC vs Mac -or- silver laptop vs black laptop. While I think Samsung's Galaxy Tab pretty much beats the Apple iPad, I think the MacBook Air still sorta beats the Samsung 9-series… just because it's still a Mac at the end of the day (that's just me though, the person who's using a Mac right now).
Read more here.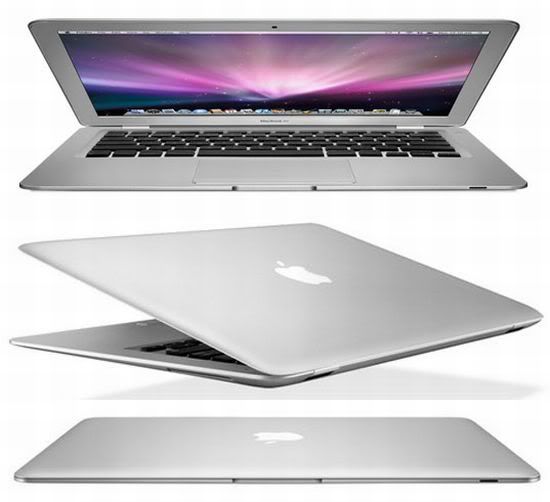 MacBook Air.
CLICK Below, to see comparison charts for all the products —> CONTINUE READING MORE >>>