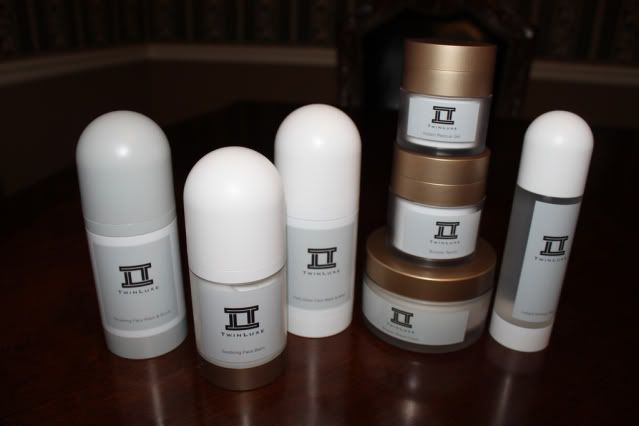 Twinluxe is a line of fine grooming products for the modern man. TwinLuxe's 'Shaving Skincare' line consists of multi-functional formulations with a 'TwinLuxe Blend' core of soothing Asian botanicals, such as Hydrolyzed Rice Protein and Centella Asiatica Extract, scientifically-proven to help strengthen skin tone, improve skin smoothness, and promote anti-aging properties.
Reviews below:
Renewing Face Wash & Scrub: The unique formula combines two professional treatments in one "every day product". Gentle microbeads in the softening formula exfoliate the skin, smoothing away roughness and prevent ingrown hair. Unclogged, exfoliated skin is the key to a close shave. The integrated nourishing cleanser unclogs pores, removes dirt and excess oil to promote glowing, fresh skin. The Renewing Face Wash & Scrub is a 2 in 1 essential for everyday use and for pre-shave preparation. For all skin types.
Urban Gent Review: It has a soothing eucalyptus mint smell and exfoliating beads.The Renewing Face Wash & Scrub is able to take off dead layer of my skin without irritation. I've used several exfoliaters in the past and many irritate my skin, this one does not.
Booster Serum: Customize shaving results – this intensive power serum revolutionizes any shaving experience. Pre-shave, apply to create an additional protective barrier between your skin and your blade. Post-shave, soothe any problem spots on your skin to help boost skin's ability to renew and fight irritation. Anytime, apply to problem spots on skin to help revive your complexion.
For all skin types.
Urban Gent Review: Using it pre and/or post shave, the Booster Serum has helped reduce my razor bumps.
Soothing Face Balm: This intensive, non-oily balm infuses just-shaved skin with a soothing botanical blend to hydrate and nourish without clogging pores. This long-lasting and gentle moisturizer is a refreshing boost to battle the look of fine lines and inflammation, while restoring healthy, glowing skin. After spritzing Instant Energy Mist onto skin, apply a pea-sized amount for entire face and neck. Repeat if needed. For all skin types – even the most sensitive.
Urban Gent Review: I mainly like the Soothing Face Balm because it's not greasy or oily, and it goes right into the skin. This is hands down one of the best moisturizers I've used because you can use a little and it goes a long way. My only complaint is the mild plastic smell, it's unappealing, but it doesn't linger so I suppose it's okay. But besides that the product works great.
Daily Detox Face Wash & Mask: This miracle 2 in 1 daily deep pore cleansing treatment can be used as a bacteria-fighting facial wash, or as a detoxifying, pore cleansing mask to balance skin before shaving. To use as a mask, use a generous amount and leave on face for a few minutes before washing off. This one step multi-tasking formula provides the benefits of a professional deep cleansing treatment, while nourishing and soothing the skin as an essential daily face wash or prior day night time pre-shave preparation.
For all skin types.
Urban Gent Review: The Daily Detox Face Wash & Mask is light (not thick) and has a nice eucalyptus mint smell. It does a good job cleaning my skin without overdrying it. After I finish using it my face definitely feels rejuvenated.
Others to try: Instant Energy Mist, Smooth Shave Creme, Instant Rescue Gel
Learn more about the complete line of TwinLuxe, here.
Purchase Twinluxe products, here.
For some reason somebody created the myth that men don't need to do worry about skincare… "Lever 3000 and Suave is all I need" are words that have been echoed by many- and I must say, "It's sad, oh-so sad". A man doesn't need 20 cremes to take care of his skin, but please guys you can do better than Lever, Suave, and Old Spice.
First off everyone has a different type of skin, some of you may have really dry skin while others may have really oily, sensitive, normal, or problem skin- it's important to realize what type you have. Once you realize it you can buy products that are best for your type of skin.
There are a few key products that most men should use and own:
1. Palmers Products: Shea, Cocoa, or Olive
The realness of it all is that Shea Butter, Coca Butter, and Olive Oil are GREAT for the skin of people of color. If you want smooth, bump-free, stretch mark free (yes men get stretch marks too, especially if you work out) then it's all about these products. Palmers has the best range of products from oils to lotions to cremes to soaps they have it all. And the price of their products are great!
Where to buy: Walmart, Target, Walgreens (most drug stores), and online.
Try this:
After washing your body in the shower, rub some Palmers Coca butter oil on from neck to toe then rinse it off. And once you step out the shower dab yourself dry instead of harshly rubbing the towel against your body… I promise you'll see a difference within a week or so.
2. Jack Black Products
They have such a comprehensive range of products that fits all skin types and complexions. There are many men who absolutely swear by Jack Black (I've met a few).
Where to buy: Nordstrom, Bloomingdales, Sephora, and online.
Try this:
After washing your hands put on some Jack Black Hand Healer. It's the perfect product for men who work out alot and have rough hands from lifting weights, it's also great for guys who always work outdoors or have jobs that leave their hands rough and dry. I suggest carrying some in your car and having one at home.
3. The Art of Shaving
Oh how I love the name… it just sounds like it's good, huh. Like Jack Black, The Art of Shaving carries products that are great for all skin types. But the difference is that this brand specializes in products for shaving, every gentleman should own atleast one Art of Shaving product.
Where to buy: The Art of Shaving Store, Nordstrom, online.
Try this:
Many men, especially men of color, tend to get ingrown hairs and lots of bumps when shaving.
If you run into this issue then dab some Ingrown Hair Night Cream before going to bed.
Other Good Products:
4. Lab Series
5. MenScience
Try these:
Buy it online from labseries.com
Buy it online from menscience.com

For ALOT more Men's Skincare products go here.
*BEST SKIN CARE PRODUCTS FOR MEN
What are your favorite skincare products?
There are many facets to men's grooming, but there are a few basics that every man should remember, practice, and keep dear to his heart.
Hair + Nails = the bare minimum
No matter the amount of money you have in you pockets $5 or $500, it doesn't take much to keep your hair and nails up.
Every man needs to own a manicure set.
There is nothing more distasteful than seeing a man with long nails. . . its just disgusting. Having long nails makes a man look like an old-school pimp, drug dealer, drag queen, or junky. When you have long nails it's easy for dirt to collect underneath, and what woman wants her man to touch her with long dirty nails? . . . none.
Buy your manicure set from any store: Walgreens, Target, or Publix. . .everyone has them. OR you can order them online, we have a few in The Urban Gentleman Store.
Hair is also very important . . .and for men it's really easy to keep your hair looking good. If you have the dough then make sure you get a fresh cut every 2 weeks. And do your own shape-ups on the weeks in between. For all the longer hair guys keep the hair-do neat and be sure to keep your hair washed . . . nobody likes snowflakes in July.
Once your nails and hair are in tact you can move on to the other basics . . .
Skin + Teeth = a little above the bare minimum
Tyrese Gibson may just be the poster-child for great teeth & skin
Don't just use a Dial soap bar and a washcloth to clean your beautiful physique . . . use a body wash with cocoa butter or shea and a loofah. And if you're blessed to have a face with great skin, then keep doing your regular face cleansing routine, but if you have bumps, pimples, or other little face blemishes try: Noxzema, Sea Breeze, and/or Proactive. Check out the best acne treatments here.
There's nothing more refreshing than a great smile. Everyone may not have the straightest most-even and Hollywood-esque teeth, but it's easy to have the cleanest and whitest. First off, be sure to brush and floss your teeth twice a day. Secondly, the best method to getting a killer-smile is using Crest Whitestrips. Crest Whitestrips are a guaranteed whiter smile, and I strongly believe that everyone should use them at least every 2 1/2 years. If you have really dull or yellow teeth you may want to start by using them every 4-6 months for no more than 2 years- I've seen some great things sticking to that teeth-whitening schedule:-) Check out the best Crest has to offer here.
Okay guys, once you have these 4 basic things down, you're on your way to possessing characteristics that are innately gentleman-like.
Maintaining your hair, nails, skin, and teeth are not only good hygiene, but they will surely get you extra points with the ladies because those are the first things that women notice about a man.
Need Help with finding Grooming Products:
- Manscaping 101 (hair removal and shaving products)
- Grooming Items (colognes, lotions, and more)
- Manicure and Pedicure