It's fashion week in New York and all the designers are showing their Spring/Summer 2010 collections. While many sites are covering the actual collections I feel it would more beneficial to cover the street style… to see what the guys are wearing as Fall sweeps in. (I'll cover ss2010 later).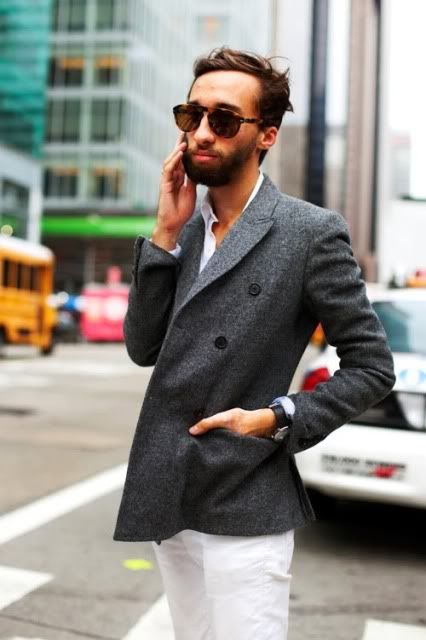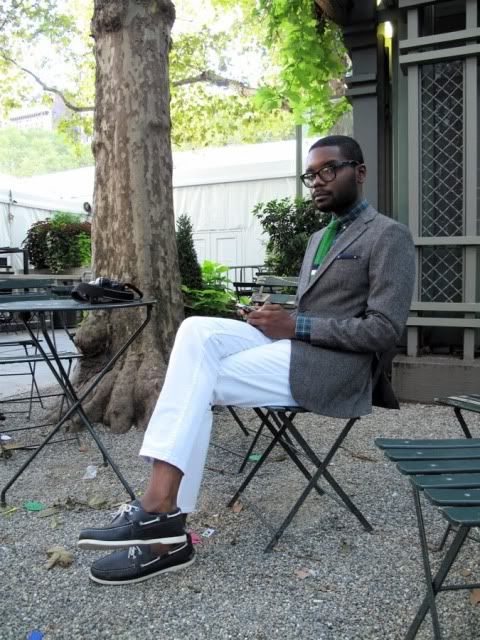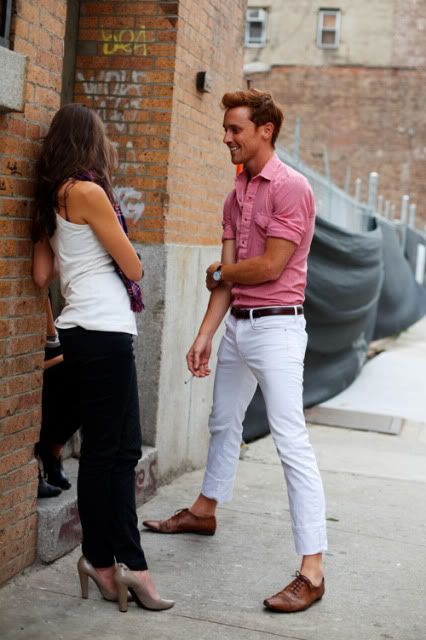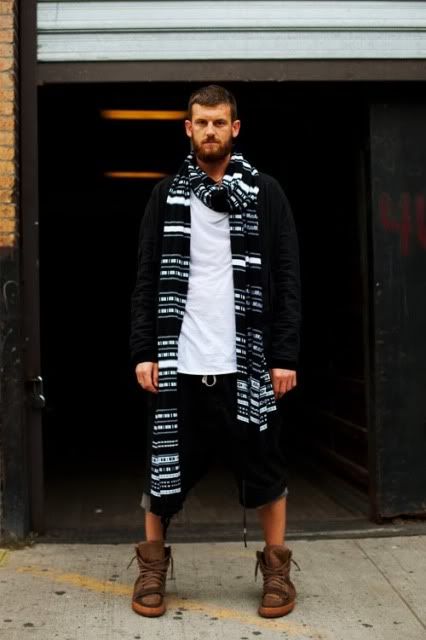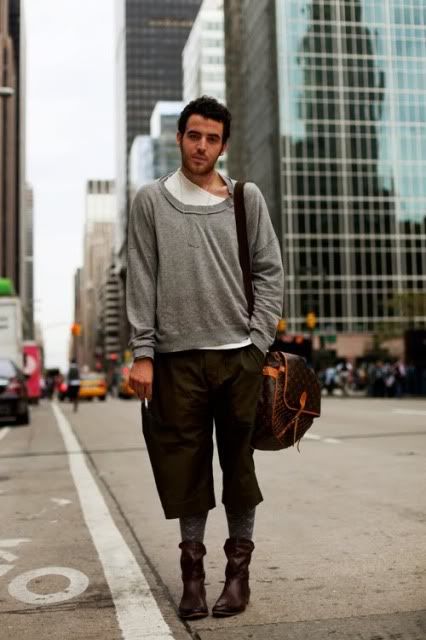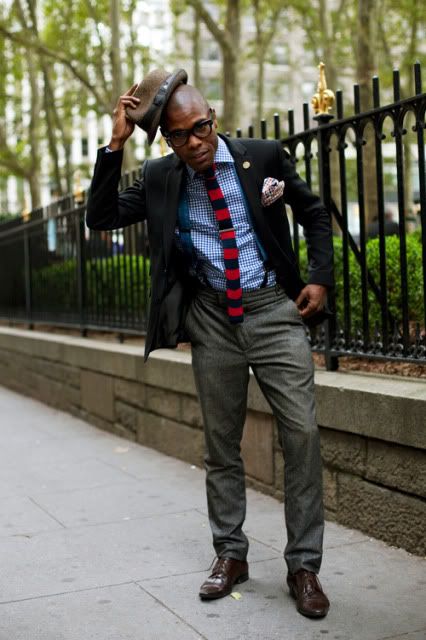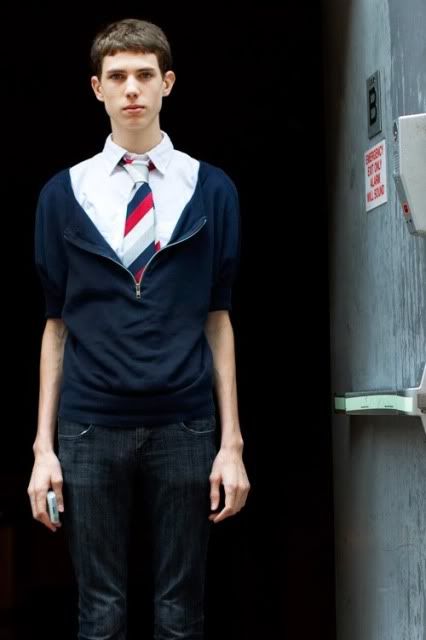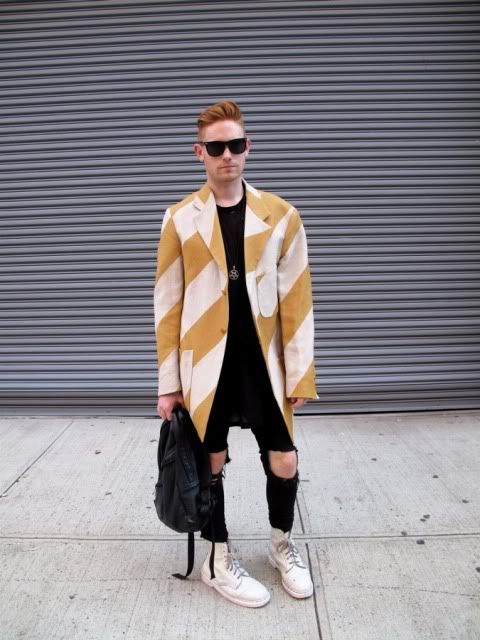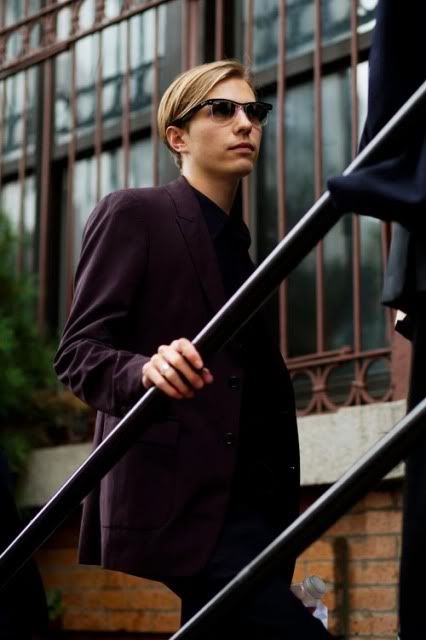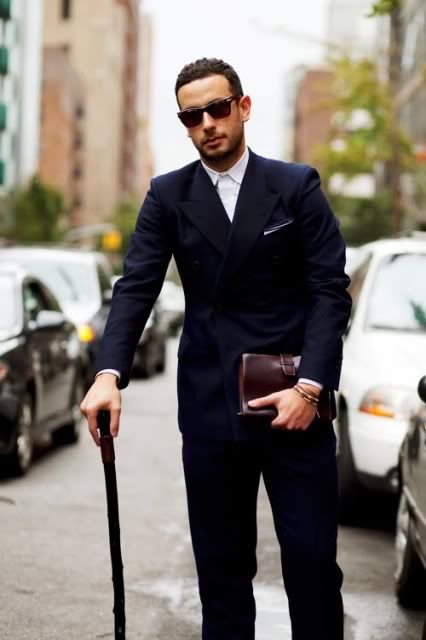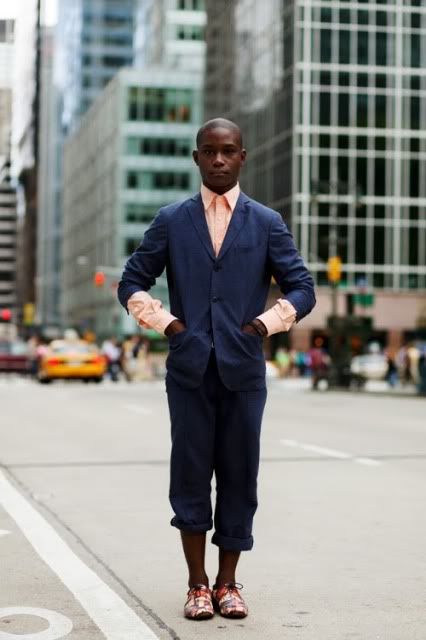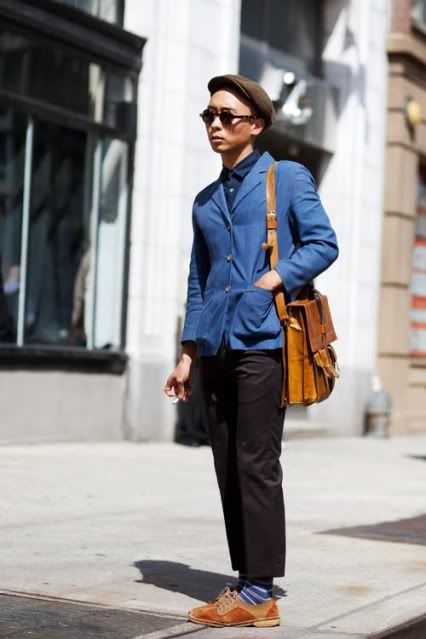 Bryan Boy (sunglasses: Marc Jacobs, tulle top: Veejay Floresca, pants: Gucci, sleeveless shirt: Zara, shoes: custom made)
Ykiro Nigel, designer for the clothing line Laissez-Faire.
(jacket: Laissez-Faire, top: Laissez-Faire,
jeans: Cheap Monday, shoes: Top Shop)
Teen Vogue editor Andrew Bevan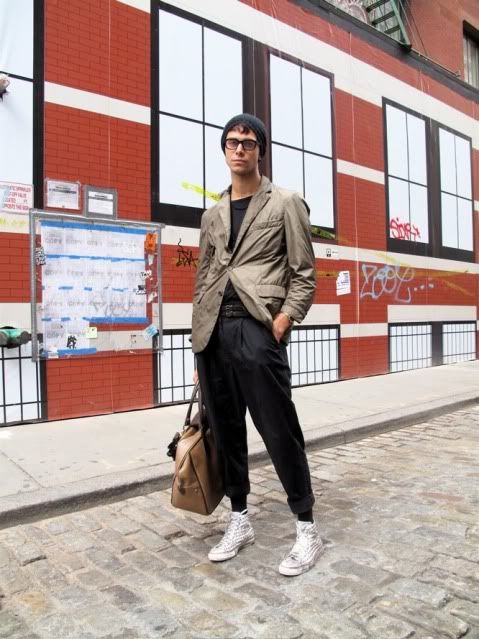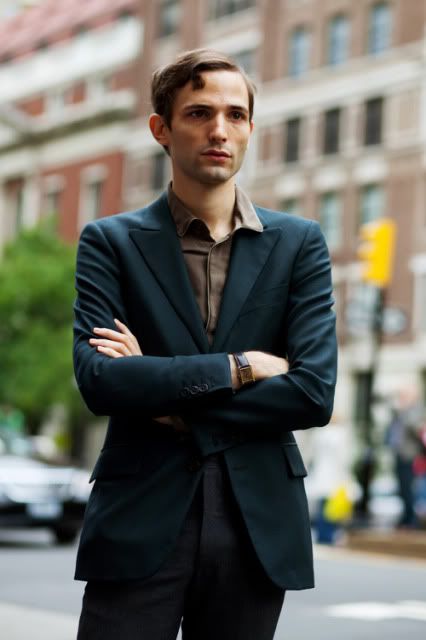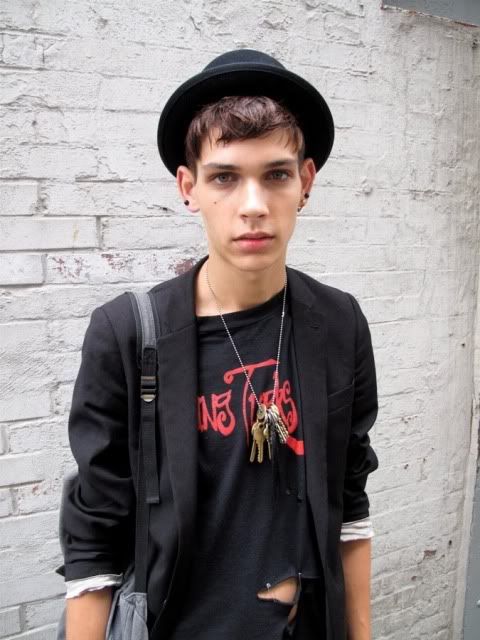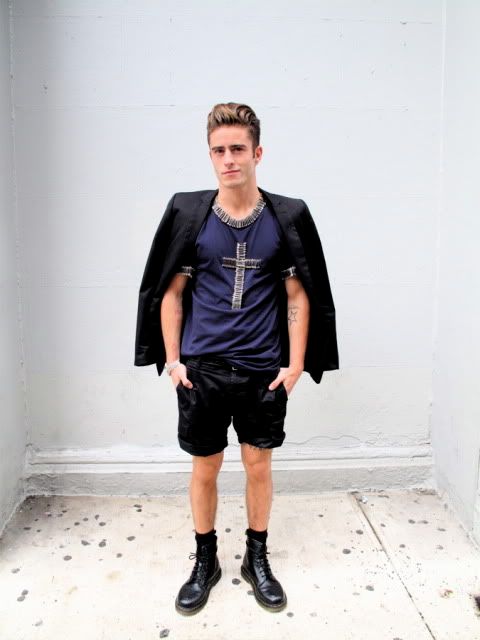 designer Kristopher
(white Gap shirt, rolled up torn Levis Jeans, Ferragamo loafers)
As a woman- the thing to envy about men's fashion is that it doesn't radically change. The styles subtly adjust overtime allowing a stylish man to really enjoy the current trend. And as per last Fall there's still these extremes of men's style: the over-sized vagabond type look, very skinny/very tailored styles, rugged/torn edginess, authentic preppiness, rolls rolls and more rolls. It's interesting to see the trajectory of only a few guys consistently rolling up their pants in Spring 2008 to now. It's hard to catch a stylish guy without them rolled/cuffed up in Fall 2009. I wonder how this will play over in deep fall and winter? Will patterned and colorful socks be all the rave again, so that guys can keep their Thom Brown look without their ankles getting cold, hmmm, I wonder?
For now I advise all guys to purchase a really nice pair of oxfords and boots. Get one pair of each that you feel you can wear with almost anything. I'll do a post on my favorite oxfords and boots sometime this month.
photos from: thesartorialist.blogspot.com, facehunter.blogpsot.com, altamiranyc, streetpeeper, jack&jil.
You guys know I like to do a complete Sartorialist post every now and again… so I visited his site and chose a few of his recent men's street style.
true gentleman, Brooklyn
perfect cuff, Florence
slim jeans, dapper style, Florence
skippers, sweater, cotton in Florence
Cucinelli suit, Milano
how to match red in the Fall, New York City
accessories, Florence
blue, khaki, white- always matches, Paris
monochromatic in Milano
casual in Milano
When I look at the photos, I can't help but think about how much I love seeing older well-dressed men, and women for that matter. It's just something about it… as one of my close friends always says "it gives me this strange kind of pleasure", lol. No but really, I think its like seeing real-life perfection. Everyone, no matter your income or social status, wants to be elegant in old age… and the Sartorialist does a great job of showing a variety of people who look how we all want to look when we're in our 60s, 70s, and beyond.
And a style note for you guys, minus two pictures, notice how all the men have creases in their pants, even their jeans. Creases are a subtle but definite way to show that you care about the way you look. Do I think all pants need them? perhaps not. But the men that I admire, that indirectly and directly taught me about Men's Style… almost always have them- even in their lounging attire…
Scott Schuman's book is out now, it would be a great permanent coffee table book for anyone remotely stylish… buy the
bespoke edition here
(around $100) or the
paperback here
(around $16)
the perfect tank top to shorts ratio.
jean shorts ,right at the knee
tank top, right below the pockets
and a fedora and wayfarers to boot
(sandals, optional)
this is style. perfect ensemble to wear in places like
rio de janeiro, san juan, ocho rios.
gosh, he looks so relaxed and happy
I've been getting alot of emails about how to keep cool in the hot summer months, here's one of the recent emails :
Question:
Hi. I'm a 30 year old urban gent from Birmingham, Al. My girlfriend lives in Tallahassee so I usually there on holidays and weekends. Recently I've changed to an older more sophisticated look. Similar to Kendrack Lewis your most recent featured urban gent. My problem is I don't know what to wear when it's really hot. When the temp is in the 90's, it's really humid, and sweating is unavoidable. Could you help me out?
Answer:
Hey (name of Alabama gentleman)
When it's hot keep it simple… its all about wearing quality or proper fitting clothing. Examples of looks to wear on a hot summer day:
1. white polo, seer sucker shorts, navy boat shoes
2. white/colored short sleeves v-neck, very light-weight cardigan with the sleeves rolled up, khaki shorts, canvas shoes
3. long sleeve plaid shirt w/ the sleeves rolled up, jeans, and your choice of shoes
accessorize with a nice pair of trendy shades like black wayfarers and you're good to go.
The thing is Steven, I know its Really hot, but you're a gentleman so its never really appropriate to wear combinations like tanks, shorts, and flip-flops unless you're going to the beach… again, I know its hot, but guys just don't have as easy as women when it comes to looking very stylish and keeping very cool in the sun… we can always just put on a sleeveless light weight dress and sandals, which would be the coolest thing we could put on aside from a bikini.
_______________________________________________________________
The gentleman above was focused on keeping his look sophisticated, that's why I gave him the options above. But, if you're a hipster of sorts then you could pull of the tank/shorts/flip flops look depending on the combination.
I pulled some photos from the Sartorialist (one of my fav street style blogs), that I feel are nice examples of summer Gentleman gear…
What do you see…
– mostly light colors with the exception of navy
– shorts are right at or just above the knees
– sockless w/ loafers, boat shoes, or sandals
(some people say gentleman do not wear sandals,
but I'll leave that up to you)
– long sleeve shirts and sweaters are rolled up
– top buttons un-done (usually 2)
For more info, check out:
– Summer Rolls
– Sockless
– Sartorialist Does Brooklyn
Also for the summer months:
– carry a linen handkerchief/pocketsquare to dab at sweat
– use sunblock
– always carry sunglasses and/or a hat
– drink LOTS of water
– boxers may keep you cooler than briefs
– use a good deodorant
– consider taking a quickie mid day shower in addition to your morning or night shower, this usually keeps you a little more cool
photos: Sartorialist.blogspot.com
Seems like every other guy is rolling it up for the hot summer months, whether its their jeans, khakis, or shorts. The rolled up look has managed to find its way into both casual country and the distinguished preppy look. What do you think, will you be rolling it up too?
PS- If you're going to roll have the socks or well moisturized ankles to match.
via The Street Style Kid
(many street style blogs into one)