We've been holding on to this article since Feb 18th, sorry for the delay guys, 2010 has been crazy busy.
The task of creating this Spring/Summer 2010 was a bit more arduous than I had foreseen. When I initially began to outline this article in my moleksine I kept coming up short… nothing dramatically stood out, nothing new atleast, but then when I thought harder, just a little harder it became so clear. Check out..
The Urban Gentleman's Official
My standout show from the Spring/Summer 2010 shows was
Dsqaured2
. When glancing at their collection I could only think–, "Camp Anawanna we hold you in our heart and when we think about you, it makes me wanna…." Lol, only the 80's and early 90's babies will get that Nickelodeon reference. Dean and Dan's collection most favorably represents this spring. It's happy with the colors, yet masculine, and creative. It fits the current adventurous spirit many men are channeling this year.90s Summer Camp is all about embracing that enthusiasm and glee you had back at summer camp. Basically, you should be dressed and ready to go on almost any kind of adventure at a moment's notice– but just in 90s colored clothing and camping gear. Hi-top boats shoes and duck boots become staples. Paired with shorts and/or jeans, in every color and texture.
Get the Look:
90s looking graphic tees, rolled up shorts and jeans, well-fitting cargo shorts, hi-top boat shoes (or mid-top), duck boots, chukka boots/sneakers, boy scout or military shirts, 90s looking hats.
Remember when we
first reported
these pants… well the time is here. I saw a guy in harem pants yesterday and they actually looked pretty darn good. I saw one in them today and this guy wore them even better. Designers have gotten creative and are offering many different types of harem pants… maybe these are the new skinnys? Well, they probably aren't but as each month passes the amount of guys and gals wearing them seem to increase.This is the most avant-garde choice of all the spring/summer trends, if you dare to be different you should scoop atleast one pair.
Get the Look:
Harem pants, slippers, blazers, t-shirts, low-top sneakers. With Harem pants its all about proportions and editing. The easiest way to seamlessly integrate harem pants into your wardrobe is to first create an ensemble using trousers the same color as the harem pants… this can be any ensemble: casual, dressy, preppy, rock, etc. Now take away the trousers and replace them with the harem pants. From here the harems will either flow nicely or the other items you have on will look a little off. If it is the latter, then look in the mirror and try on different jackets/sweaters, shirts, and shoes until you get a look that you like.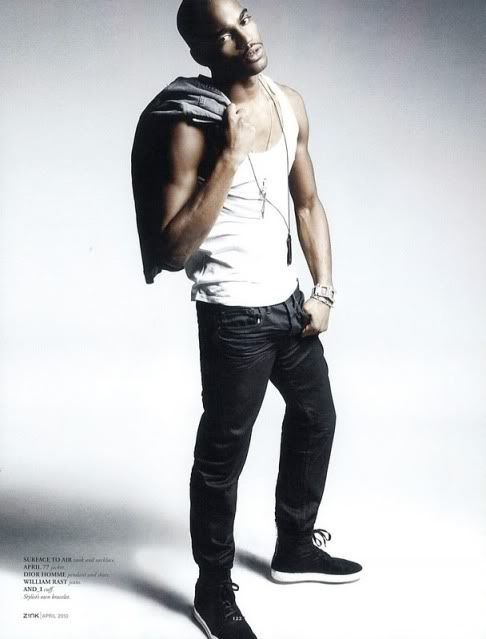 We're back to our rockin' American roots. T-shirt and distressed jeans if you're the simple american rocker type– but I say nothing but ripped and/or distressed jeans in a variety of washes, random ass t-shirts, random ass hair styles, maybe a blazer, maybe some lace-ups or maybe some velvet slippers. Basically do whatever you want, but keep it classic hardcore rock.
Get the Look:
T-shirts of all shapes, sizes, and colors. Distressed, ripped, torn, and/or slashed jeans. And anything/everything rock and roll!
www.theurbangent.com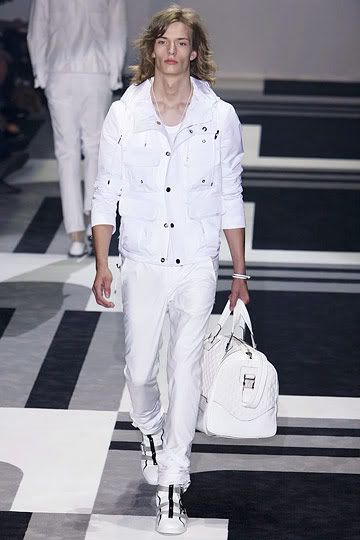 From stylish jackets to t-shirts to ripped jeans… everyone seems to be going completely white a bit more than usual. But not in the stereotypical linen and brogues kind of way, nah, the stylish gentlemen folk are whiting out in a scruffier, edgier, 'masculinely' polished type way… it's like there's some kind of unofficial "who can look the most fly in all white" contest going on.

Get the Look: Wear white on white on white. Atleast 3 white items on at all times.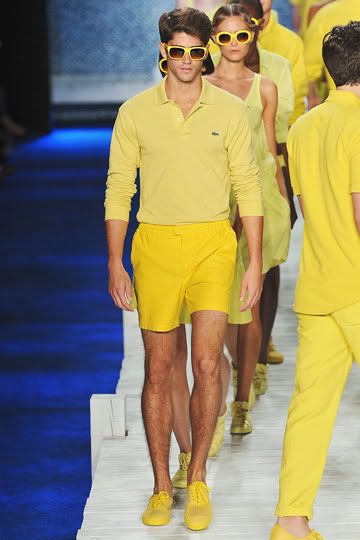 It's like we're refined 80s babies this year. We match it all, but in the most tasteful ways– sorta elegant, but mostly preppy.

Get the Look
: Wear the same color all over, or almost all over. Then prep it out by going sockless, adding a cardigan, maybe opting for a polo instead of a v-neck. If your 'color on color' is too much then break it up by adding a article of clothing or accessory that is white or complimentary to your base color.
The Urban Gentleman

Other Spring Summer 2010 Trends:
Colors: Orange, shades of blue, white, plaids
Accessories: colored sunglasses, buttons, colorful boat shoes, boots, bookbags, sew-on patches.

1.
Summer layers
– wearing a little, but alot of it (ie. tank, loose tee, a jean jacket)
2.
Booted Up
– this spring and summer is all about finding ways to integrate boots into your spring wardrobe. Hi-top boat shoes are easy for most guys, but integrating chukkas and desert boots may be a bit more challenging for some, buuuut if you can do it, if you can pull it off, well, you win 😉
3.
Shorts
(usually cargo)
over thermals
,
skinny jeans, even leggings
4.
Subtle military shirt
s
– we're not going into full combat anymore, keep your military flares a bit more discreet unless the occasion calls for full decoration.
5.
Printed slippers
(ie. monogrammed
velvet slippers
)
6.
Denim shirts
7.
Sockless
8.
Summer rolls
— rolling up pants and shorts and sleeves and and and, lol… nah, just kiddin'.
Must-Haves for the Spring and Summer:
– jean jacket
– high-top/mid-top boat shoes and/or desert boots
– bright colored hat
– pair of colorful sunglasses
– jean shirt
– clear pair of glasses
– slim-fit jeans
– white shorts, jeans, or trousers
– blazer
– a favorite plaid shirt
– harem pants/shorts (if you're bold enough)
More Spring/Summer Trends
Inspiration photos:
(Designers above: G-Star Raw, D-Sqaured, Gucci, Martin Margiela, John Richmond, Lacoste, Givenchy, Jean-Paul Gaultier, Costume National, Salvatore Ferragamo).
Photos from:
NYMAG.com
The Urban Gentleman
Stayed tuned for How to Get the Look for each trend &
the Urban Gentleman Spring Summer Trends photo shoot.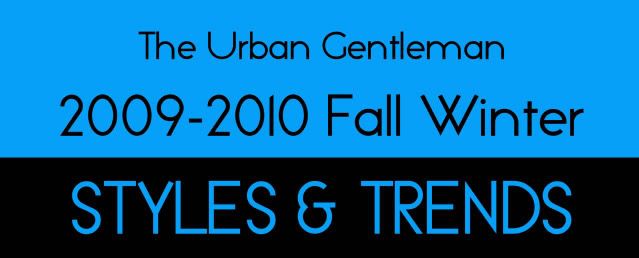 We've gotten many many emails inquiring about the Fall/Winter trends post, we're sorta tardy with it, but hey we have lives– busy ones at that. Nevertheless, without further ado we present to our stylish/intelligent/fly/super-cool readers…
T
he Official Urban Gentleman 2009-2010 Men's Fall Winter Fashion and Trends.
(above: clothing by designer Calvin Klein)
Being polished, being perfect, being well-groomed– these are the makings of a conservative man. He gets his haircut every week, he gets his shoes shined, he opens the door for a lady, he knows to undo the lower button on his 2-button suit jacket when sitting down, and to just as quickly button it up as he stands. This, is the man that women dream of.
Editors notes: There has been so many colors, so many styles, so many… well, there is just so much going on with men's fashion these days. You have guys bringing back the eye-catching hairstyles, the cross colors, the bright plaids, and much more. So this, Conservative Dapper, is like a break, a relaxing break from it all. It's a return to simpler, easier, classic times. This is my favorite trend for the fall and winter.
To get the look: Trench coats, suits, crisp white button downs, tip-clips, white pocket squares, perfectly polished lace-ups.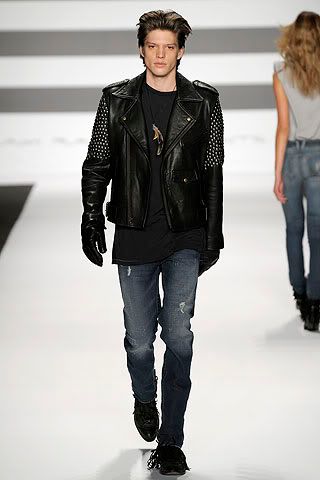 (above: clothing by designer William
Rast
)
Hard times call for drastic measures. Some people are recession proofing their lives literally, while others are taking the figurative route. This means roughing up the wardrobe, showing the world that "you got this", you're hard and you know it, you're tough and a few troubles really don't phase you.
Editors notes: To me this look is like Pony Boy meets Michael Jackson. You take the main edginess and ruggedness from the guys of the Outsiders and mix it with the jeweled/metallic/shiny/studded MJ from his "Bad era". The late world icon has inspired alot of us this year and this trend is where his inspiration is placed for the fall and winter.
To get the look: Torn/ripped/worn jeans, leather jackets, studded everything- shirts, shoes, accessories, jackets, white t-shirts.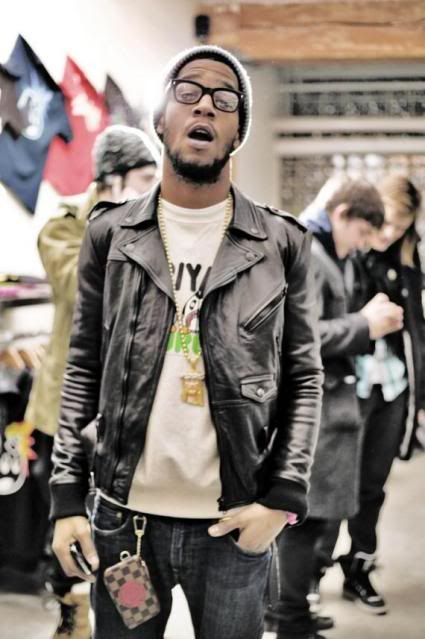 The men of the world are pleased with the fashions they have been dealt over the past year or so; therefore many of them have decided to just combine what they have learned. They mix their military jackets with their nerdish glasses, they combine their college cool tees with their Thom Browne inspired pants and oxford shoes. This season many guys are opting to be fashion connoisseurs, their phrase "we collect fashion, we create style".
Editors notes:
I've said it once, I've said it twice, and I'll say it again– men are lucky. Why? because their trends change so slowly allowing them to revel in trends for quite some time. And more than ever I have seen stylish guys mixing it up quite nicely-
Retro Bandstand
mixed with
Geometric Retro Nerd
mixed with
Clodhoppers Delight
with a little
College Cool
on the side. It's like whatever is necessary to look fly is what guys are doing… daring to be to different by adding their own spins on the hottest trends. To that I say "touche'."
To get the look: band-jacket, cardigan, loafers, glasses, graphic tees, harem pants, torn jeans.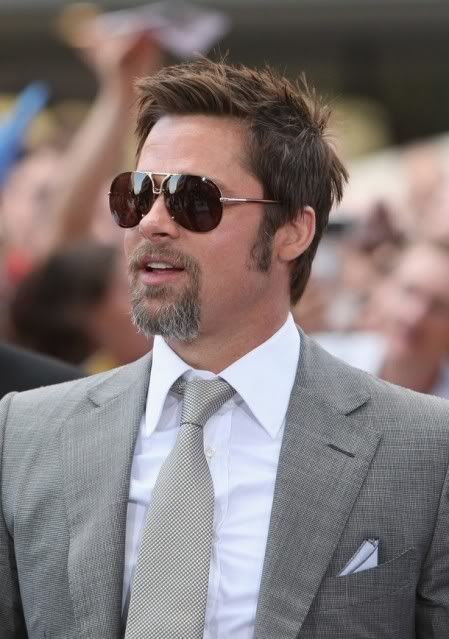 (above: actor Brad Pitt)
As
Men's.Style.com
stated "enough with the skinny shit". I think we're all tired in some way or another of going out and seeing grown men in girl jeans, v-necks so low we can see their belly-buttons. We know there was a call for androgynous looks last year and men wanted to express their feminine side, but some people took it too far and now we have to
re-instate manhood
.
So that means get inspired by the manliest men you know then get either rugged or classic. Think Ocean's 13– Rusty, Danny,
Rueban
,
Basher
, and the whole crew- all men, all masculine, all stylish, but in their own way. We're not saying be cookie-cutter models of
gq
men, but we do want you to "man up".
Editors Notes: "Ahhh (pleasant sigh of relief)" I feel like I just drank a nice tasty soda pop after being parched for an hour… well not literally, but that's the feeling I get when I think about this trend- it's just refreshing. Starting from this summer we saw all the men in Hollywood roughing it on the beaches- letting their beards grow in, chest hairs grow out. They were indirectly telling the world- it's time to be men again, so let's continue this trend for the fall. (I was going to make this apart of the summer trends and I did touch on it a bit in some posts, but I knew it would be better placed in Fall/Winter.)
To get the look: dark denim, perfectly fitted suits, ties, elegant and serious fedoras (none of that funny colorful ish), wing-tips, boots, blazers.
More 2009-2010 Fall Winter Styles:
Other trends: Band/Military jackets are still at large, v-necks (there's a boycott against deep v's though), velvet ( ties, jackets, loafers).
Accessories: tie-clips, brooches/buttons, gold watches, knit ties.
Colors: Grays and dark tones.
PLEASE NOTE: If you have posted our Fall|Winter Style Guide on your site or plan to
PLEASE have direct links back to this posting
. It's wrong to copy and paste complete articles without including links to the original source. Urban Gent Fans, if you see this puh-leez call them out on it.
(we added this note b/c there have been reports of this happening, thanks guys!).
Stay Tuned for places to get these looks.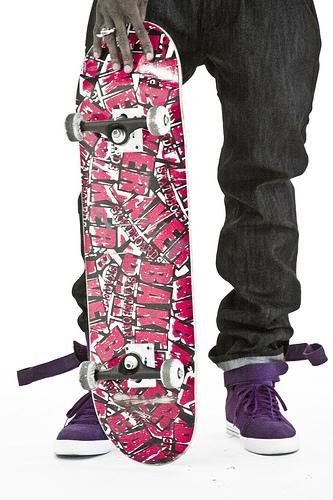 First, let me start out by saying I think skaters are cool– they just are. I had a friend who dated a skater once… a few times last year we went to Union Square (New York) and watched her bf and his friends skate (in this randomly blocked off area). It was fun and the guys were really chill. It seems to me that skaters are the new "rockstars" of sorts… they're cool, get loads of cash from sponsors, everyone wants to be like them, and the list goes on. There are alot of great skaters out there: Jereme Rogers, Terry Kennedy, Paul Rodriguez, Stevie Williams, Ryan Sheckler, etc etc. But today I will only focus on two of the "skater kings":
Terry Kennedy
and
Jereme Rogers.
For those who aren't versed on the skater world- you may know Terry Kennedy from his dramas with ex girlfriend Angela Simmons- yeah Rev Run's daughter. And Jereme Rogers well his recent
mushroom shenanigans
has lot of people shaking their heads laughing, but you also may have seen have him hanging with rockstars like Travis Barker on occasion.
Quicky Bios:
Name:
Jereme Rogers
Hometown: Boston
Years in the game: Four (pro)
Signature trick: Backside flip
Name: Terry Kennedy
Hometown:Long Beach, California
Years in the game: Seven (pro)
Signature trick: Fakey stuff down handrails
I think it goes without saying that the typical skater style is… the stereotypical hip-hop style. I say stereotypical because these days most categorical "hip-hop" artist dress preppy or "
urban prep
" or they just do their own thing- which could mean wearing suits or dressing like a nerd. The baggy jeans, graphic tees, fitted hat, and bling bling can truly only be seen in movies or tv shows, on certain rappers, and on skaters kings.
Up first….
Jereme Rodgers
: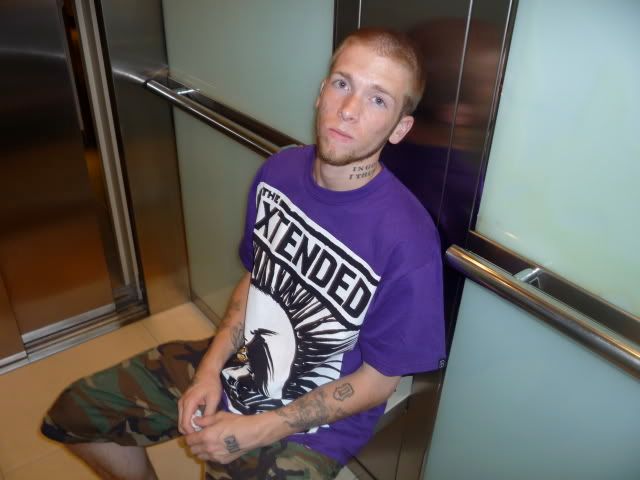 Jereme reminds me of some of the guys I went to high school with. He just seems like he's really laid back and always up to have a good time.

Terry Kennedy
Terry is seemingly one of the freshest skaters alive with his blinged out grills, chains, and he even has his own line of shoes and apparel-
TK Fly Society
by Supra. His shoes have been worn by the Fall Out Boys, Lil Wayne, Heidi Klum, and Souljah Boy just to name a few.
Overall, to get their looks it doesn't take too much:
graphic tee + baggy jeans + fitted hat + fresh kicks (Supra) + blinged out necklace = The Pro Skater Look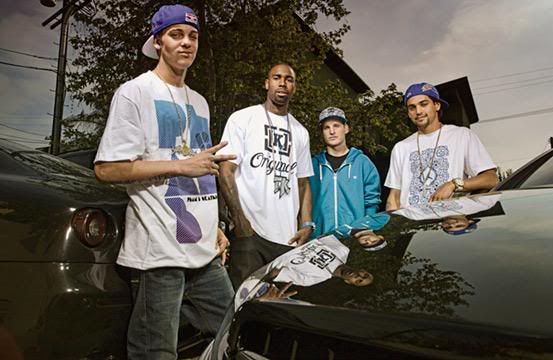 Popular brands
among
pro skaters
range, but they usually wear the threads of their endorsers plus whatever they feel is hot: DVS Shoes and apparel, Supras, Fly Society, KR3W clothing, Famous Stars and Straps, BBC, Nike SB, Nixon watches, RS by Sheckler, New Era fitted hats
Where to buy these brands? … they all have a website.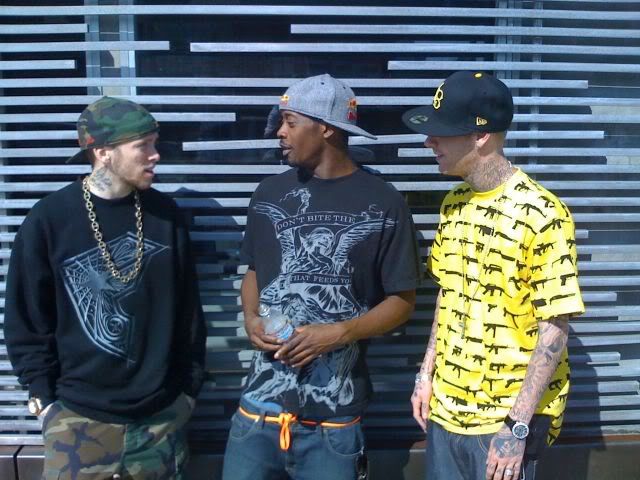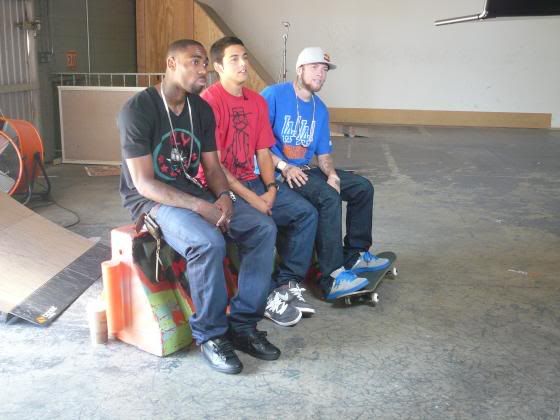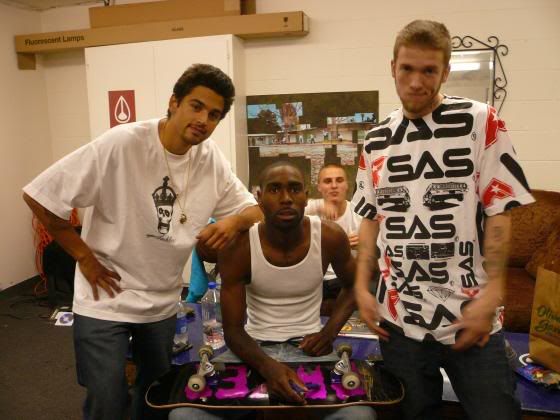 Both guys along with buddy Paul Rodriguez have a website called SK8SITE (go figure). And on it it has everything a skater fan could possibly want… videos, photos, event info, etc etc.
So what's your take on skater style?
Long time overdue. I've probably gotten an email a day asking me to post up information on what I think you guys should wear for the spring and summer… this should have been posted in late February/ early March,
buuut
its cool because global warming has many of us still feeling winter on certain days… spring on others… there have been days in Atlanta and NYC in which I felt like I experienced every season and type of of weather within ONE week…. But anyway, we have about another 5 (maybe 6) warm months to look forward to and my list of spring/summer looks will have you guys fully prepared.
(<—- I wrote that in April,

geeez

I really don't why I procrastinated with this article,

lol

… anyway its here,

yay

!)
There's nothing more refreshing than seeing Americans go back to the basics. Focusing on simplicity and ease, the "Farmer's Delight" look is the spring version of the
blue-collar worker.
.. but instead of dressing like you're working in factories and coal mines you dress like you're about to plow the cornfields.
Get the Look: Plaids, gingham, stripes. plain tanks, suspenders, rolled up jeans and sleeves, khakis and cords, fedoras, grandpa reader glasses… combining rustic colors and bold solids work best.
Designers for this look: Paul Smith, Junya Watanabe, Z Zegna
Wayfarers, band jackets, and ripped jeans- its time to party, let's Rock n Roll! Retro Bandstand is a mixture of the 50s/60s and 80s… think James Dean "Rebel without a Cause" meets Michael Jackson "Thriller" plus a bit more… let's add The Beatles in the mix too.
Get the Look: Alot of denim- ripped and worn, retro glasses, basic shirts and basic color combinations mixed with overly glamed or basic band jackets. Everything you wear should be well fitted.
Designers for this look: Gucci, True Religion, BBC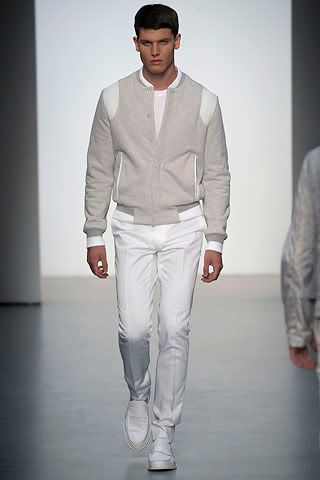 *Pale Ambitions:

Spring's

Monochromatic
Earlier this year I wrote about the monochromatic trend that has been showing up in many designer collections over the past 3 seasons -and- upon trendsetting stars. Well, Spring's Monochromatic seems to revolve around 3 main colors: khaki, grey, and white. Keeping it clean and simple for spring is the high-fashion thing to do.
Get the Look: Flat front pants, light blazers, windbreakers that look like baseball jackets, basic tees, man capris (lol, sounds sort of funny to say that), and skinny ties. To take this look to another level pair your khaki/grey/white with a pastel sorbet color (ex. pink, green, yellow.)
Designers: Calvin Klein, Alexander McQueen, Lacoste
"You look like you don't care, yet your work is impeccable." That's what people will say when you rock this look. This is the new-baggy… no it's not gangsterish instead it's care-free and beggarly. It's all about seemingly oversized clothes that may leave some mistaking you for being destitute (but don't worry it's only a mistake).
Get the Look: Harem pants, exaggerated cardigans, loose fitting button-ups, and wide leg trousers. This trend can be best accomplished with visiting your local thrift store- just one visit to a Salvation Army and you'll atleast have 2 articles of clothing to rock.
Designers: Junya Watanabe, Bottega Veneta, Burberry Prorsum
Barack Obama has inspired us all. He has even inspired people who have, well, completely hated America for atleast 8 odd years to have hope in the US of A once again. Many designers have candidly said that Mr.President has had alot to do with their design choices these days, some even creating logos based upon their renewed since of patriotism (i.e Justin Timberlake/William Rast). The point is– we're proud. So rockin' red, white, and blue has Neeever felt sooo good.
Get the Look: loafers with no-socks, ray-ban clubmasters, polos, leather goods (belts, shoes, watches, murses/manbags ), canvas shoes, khakis, baseball jackets, you should always look like you're about to go sailing or to a barbecue.
Designers: Ralph Lauren, Marc Jacobs, Michael Kors
Some people are tired of the bold bright colors and seemingly random pairing of styles from opposing decades. Their answer: Technically Polished. This look is Exactly how it sounds… hair should be perfect, facial hair well-groomed, suits perfectly fitted, obvious matching, and very clean straight-line silhouettes.
Get the Look: Keep it simple. Nicely fitted blazers and suits, satin ties, loafers and lace-ups, light colored button-ups, and white pocket squares. Combine black with a light neutral color.
Designers: Tommy Hilfiger, Louis Vuitton
* original Urban Gentleman trends
+men.style.com inspired.
__________________________________
Best Designer for this Seasons Trends:
Band of Outsiders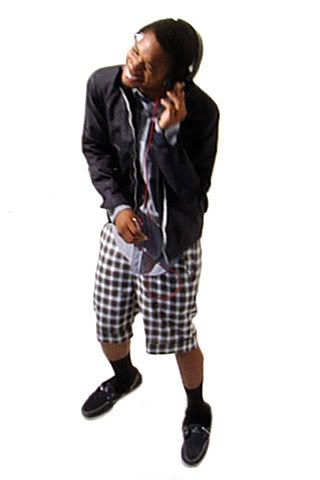 They cleverly combined many of this seasons freshest looks: Mr. America, Clodhopper, Retro Bandstand all covered, and they even used Charles Hamilton in their ads to boot!
(DSqaured came in a close second, followed by Gucci.)
Best Star to watch for this seasons Trends:
I Hate to be
soo
cliche, but
Kanye

West
.
Well, no I can't say him because it's way to cliche' so I'll say,
Zac

Efron

.
(And to be honest they're both neck and neck…
with a slight edge to

Zac

because he just seems so amazingly cool.)
Whether he's premiering a movie or cruising around Hollywood with girlfriend Vanessa
Hugdens
,
Zac
Efron
is always sporting the latest trends.
Must-haves for the Spring/Summer
:
– plaid shirt
– wayfarers or the modified wayfarer (aka "the lady gaga glasses)
– jean jacket or light weight baseball jacket
– canvas shoes
– worn or ripped jeans
– a pack of quality white tees
– gold jewelry is still hot on the scene
– consider putting a "ring on it" with a silver knuckle ring
The thing I love most about these trends- they're RECESSION PROOF. Over half of these trends can easily be created by simply taking a trip to your own closet… perhaps depending on your closet. Everything else can be found at a variety of stores– from Target to Bloomingdales, Salvation Army to TJ Maxx or Filene's Basement.