Yasiin Dante Smith Bey aka Mos Def

Sometimes it's those simple defining pieces, that make you different. Gotta have the proper accessories to add that special uniqueness to your look.
Take your pick: Sunglasses, Pocket Squares, Ties
(pocket squares and ties below, click the article title or "continue reading more") CONTINUE READING MORE >>>
I've always been a fan of J.Crew and with their Obama presidential endorsements it seems like everyone is a fan these days. One of my favorite items in J.Crew are their ties- a guy can always find a nice tie there.
I really like their knit ties, you can't wear them with everything, but if worn properly they can go with a variety of looks:
1. Basic button-up and chinos.
2. Collar shirt, vest, and khakis or jeans.
3. Fitted/Athletic suit or blazer and trouser combo.
4. etc… you get the picture, they can pretty much go with anything that has a preppier/ralph lauren/benjamin bixby/j.crew look. But they don't go well with formal looks and materials (like silk).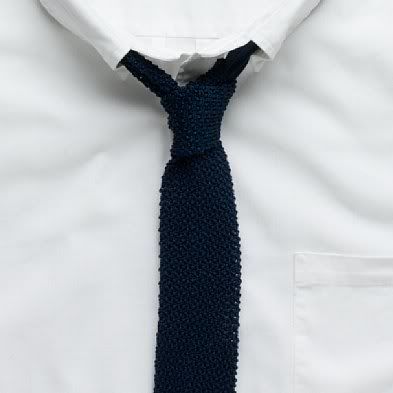 $49.50,
J.Crew
.
So, this morning I decided to head over to
Fox.com
and catch up on 24. I had seen
24 Redemption
, but none of the episodes that followed. So I'm watching the show… its soooooooooooo freakin' good by the way, I mean Jack Bauer is the truth he really is… Anyway, so I'm watching the show and by episode 2 the tie of FBI Agent Larry Moss caught my eye. At first I thought to myself "That's an impeccable tie" then I'm like,
"Wait… he's wearing a 7-fold tie".
As I continue to watch and I began to notice that every tie that is worn- by the agents, prime minster, doctors, lawyers, good guys, bad guys, etc, is a Robert Talbott ties. Some of the guys are wearing Talbott 7-fold ties that are $225.00 each, while others are wearing Robert Talbott "Best of Class" ties that are about $135.00
Robert Talbott 7-fold ties are hand cut, handsewn, luxurious silk ties
. Each tie is a limited edition tie and is hand signed. For example, they may make only 40 of a certain pattern and color tie, so each one is numbered 1/40, 2/40.. 15/40 and so on… basically when you have a Robert Talbott 7-fold tie you don't have to worry about seeing someone else with it EVER, some may even say that they're sort of like rare pieces of art. I became an expert on these ties and other fine men's products while at Nordstrom. I had one client who collected Talbott 7-fold ties, he would purchase 6 or so at a time and regularly called me to see if we had gotten any new designs in that I thought would fit his style.
The name

'seven fold' comes from the way a single piece of fabric is exactingly folded in on itself seven times

creating a tie that drapes fluidly, hangs straight and is very durable. The tie is a definite standout.
A few screen shots of the
24 Cast in Robert Talbott Ties
:
These are some pictures from the premiere of Brad Pitt's upcoming movie– The Curious Case of Benjamin Button. I'm actually looking forward to seeing this movie. Brad is sporting a bow-tie to the premiere which is quickly becoming the number one choice for stars on the red carpet.
Angelina Jolie and Brad Pitt
Brad
Pitt
, Manuele Malenotti and Michele Malenotti
In the light you can clearly see the different color blacks that each guy has on. It's important to try to match your blacks if possible. Usually it's hard to tell the difference, but sometimes it's quite obvious.
Tyrese Gibson, Taraji P. Henson, and
Brad
Pitt
Tyrese opted for an ascot and velvet jacket- it's okay, but he should have worn a bow-tie:-)
Brad Pitt and David Beckham have both recently developed a love for 3 piece suits as well. I've been spotting them in 3 piece suits more than usual.
A scene from the movie….
There's a so many ties out there, many types, many brands, so only a few brands stand out and Vineyard Vines is one them. Vineyard Vines ties were a favorite to many of the wealthy old executives and rich preppy guys that I shopped for while I was at Nordstrom. When I first saw them they seemed cheesy, but after awhile they really grew on me. Now I feel like it's good to have atleast one Vineyeard Vines tie in your wardrobe, some guys even collect them, but I don't quite think that's needed.
Vineyard Vine ties have little pictures on them, the pictures range from animals, to food, to hobbies, to college logos. They go for $75, but you may be able to find them on sale at major retail stores and online.
vineyardvines.com
From John Legend to Scott Whitman to Jay-Z. It seems like velvet or velour bow-ties are the way to go. There's only so much you can do with a tux, so it's nice when gentleman find ways to make their tuxedo special. If you have any black tie events coming up, you should try wearing a velvet bow-tie.
John Legend
at the unveiling of Tyler Perry's
new multimillion-dollar TV and film studio.
(Atlanta, October 2008)
Sarah Jessica Parker,
Scott Whitman,
and Valentino Garavani.
Scott is in the velour bow-tie.
(New York City Ballet Opening Night- November 08)
where to buy
: Thomas Pink in London, Alexander Olch in New York, or
ebay.com
.