I just got word of
Rock & Republic's new recession jeans.
.. and I would have to say guys- now is the time to buy. There jeans usually retail at about $300, but the new recession jeans will be a staggering $130— hey that's cheap for them. And that's without the store sale, so I figure you'll be able to buy these for $80-$100 at some point. They come in 2 styles: straight leg (Neil) and skinny (
Colburg
). The jeans will be available
March 1
st at
rockandrepublic
.com. Looks like some of you will be upgrading the wardrobe
.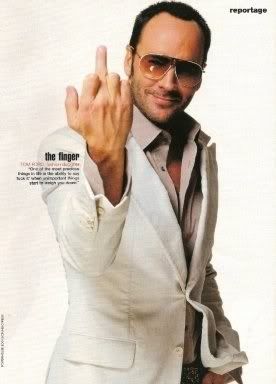 But on the opposite end of the spectrum
WWD
reports Tom Ford is saying, "
Fck
the Recession" (he didn't literally say that,
lol
) and has created a pair of
$990 jeans.
.. yeah you read that correct. Nine hundred and ninety dollars…

Check out the excerpt (from wwd.com):
Tom Ford is taking designer denim to a whole new stratosphere with men's jeans that retail for $990

. The jeans, hitting stores now, are made from Japanese

selvaged

denim that feels and looks raw, but has been

pre

-washed and

pre

-shrunken so the indigo

doesn

't rub off. They also come in

black or white

. The seat is distinguished merely by a straight line, stitched across the pockets, and a small black tab reading

TF

001 or

TF

002. The first number designates the boot cut that Ford wears himself, and the second is a straight-leg cut. In the front, the

button is plated with 18-karat gold,

and the

pockets are lined with

the same

silk

as Tom Ford suits. But is the price justified for classic,

unembellished

jeans? If you have to ask, you can't afford them.
I can just hear him now, "
Fck
the
recession
" "hahahaha".
I don't know why, but…. I'm sort of
lovin
it,
lol
.
Many people ask me this question (almost daily) and I always answer it on an individual basis, but just for the record- Pharrell Williams wears Tom Ford glasses 😉
Just for kicks, here's the Pharrell Williams "I'm a PC video". I love this whole "I'm a PC thing" (even though I'm personally a Mac), when I first saw the whole commercial months ago I was moved. It's a great marketing campaign, whoever thought of it definitely got paid.
Oh and here's some more
Tom Ford frames
worn by the stylish and famous.
all frames between $260-$320 at go-optics.com
(also in the urban gentleman store)
Oh, and here's the entire PC commercial, the one I was "moved by"