Socks socks socks– whether striped or native-printed they're the latest essential statement making accessory for men. Stance and Nigel Knox loaded us up on socks, so in a late winter shoot we paired them with a few new pairs of Toms, stylish threads from Onassis, and a few other pieces.
"playing chinese checkers"; vintage Gant plaid button-up; selvedge Levis: Nigel Knox skull socks; Toms desert botas; LRG belt, Nixon watch

A few years ago it was all about skull scarves, last year and the year before skull velvet slippers, this year you gotta have atleast one pair of skull socks.
LRG crewneck sweater; Meltin' Pot denim; Stance camouflage socks; suede Toms shoes

Toms continues to recreate their "buy a pair, we give a pair" espadrilles with newer styles like the suede cordones (featured above) to the canvas desert botas.
vintage Atlanta snapback; Onassis chambray jacket shirt; Onassis harem pants; UGG sneakers; LRG scarf

Onassis has created a perfect pair of modern harem pants, not too over-exaggerated and Hammer-like, but just enough dimension in the shape to a second-look. (You can't see it in the pic, but the crotch of the pants does sag a bit, which of course adds to the authenticity of it being a pair of harems)
More reviews, photos, and get the looks below: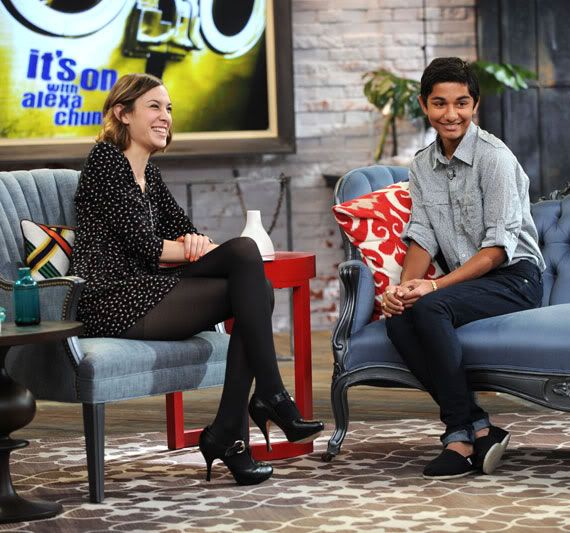 Mark Indelicato

(of Ugly Betty) wearing TOMS on the "It's on with
Alexa Chung" Show,
she's like the MTV version of Chelsea Lately
(but Chelsea is a bit more hilarious).
For the past couple of years, depending on what store I enter, I'll see a pair of shoes that remind me of earnest and simple living of people in certain foreign countries. When I see these shoes many images come to mind- monks, kung-fu, and nature in general. I used to only see these simple shoes here and there now I see them everywhere, but for good reason. These shoes are espadrilles and the brand that I see everywhere are called TOMS.
Tom shoes are truly inspirational, the company gives away a pair of shoes for every pair that is purchased. Not for every other pair, not for every 500 pair of shoes, but for EVERY pair of shoes that is bought. That's extraordinarily commendable, and that makes you feel guilt free when shopping. Other companies have had similar missions; for every shirt you buy they'll give 25% percent to a charity- which is nice, but nothing compares to directly giving a person in need the full amount or worth of the product… read more about TOMS mission here. Oh and TOMS basically stands for "Shoes for Tomorrow" or "Tomorrow's Shoes".
The shoes come in a variety of colors and textures,
here's a few of my favorite for men: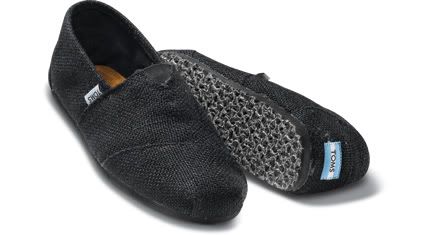 Black Burlap
, $48
VEGAN Khaki Herringbone Stitchout, $65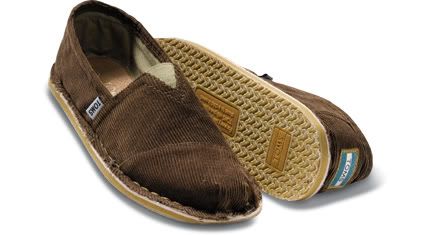 Chocolate Corduroy
Stitchout,
$58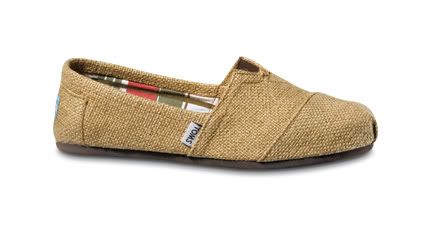 Burlap Woven, $48
Other angles, click to enlarge:

And they have very cool packaging:
The shoes come tucked inside their own TOMS drawstring bag.
If you have some extra cash and you're in need of a new pair of casual shoes, then order a pair of TOMS.