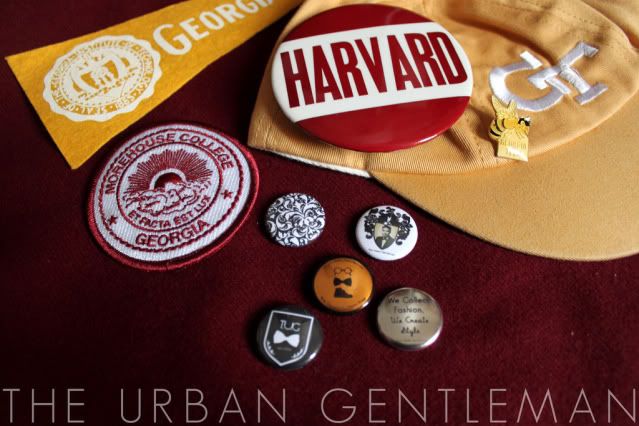 Finally, you can own a little piece of The Urban Gentleman, and a historic piece at that! We've created 5 pinbacks/badges in celebration of our relaunch (including two special edition gold/silver pinbacks).
First Edition Set of 5 includes:
– classic Urban Gentleman logo
– modern Urban Gentleman logo
– damask print (one of our favorite prints)
– Urban Gentleman motto, "We Collect Fashion, We Create Style"
– Urban Gentleman motto,"The Original Urban Prep"
The designs are classic, and can be worn in MANY ways: on a shirt, jacket, hat, shoes, bag, tie, suit jacket lapel, anywhere there's a soft enough surface our First Edition pinbacks will certainly enhance it. And most importantly these are meant for every type of style; whether you're a prep, a hipster, a rocker, or like to keep it street this is a must-have accessory.
**Each set comes in a classic, american made, individually hand-stamped, eco-friendly reusable cotton bag.
Own a piece of Urban Gentleman history and order your set today...
T.U.G editor Kanayo King can be seen wearing them in the American Workwear Lookbook.